Christmas DIY Gifts for Her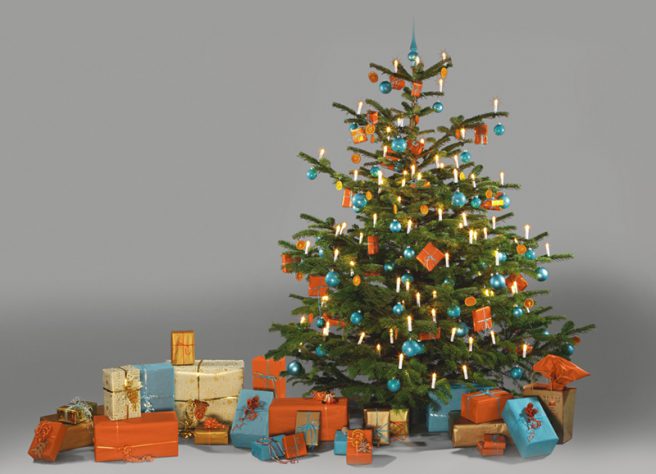 With Christmas just around the corner it's that distressing time of year when many of us are rushing round trying to find the perfect presents for the women in our lives – be they girlfriends, wives, relatives, friends or coworkers. Now historically there's no doubt that tools and DIY gear have been seen as staple gifts for handyman husbands but the good news is there's no shortage of girls and women tackling creative building projects or taking on those essential maintenance jobs around the home and garden. So if you're looking for some inspiration, read our guide to Christmas DIY Gifts for Her to get the lowdown on some of our best sellers and top tips!
No. 1. Ryobi R18GLU 18v Cordless Glue Gun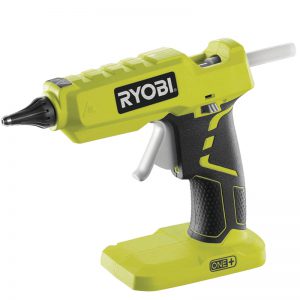 My first and absolute foremost favorite which I'm sure anyone will get use out of is a hot glue gun – honestly, this is one of the tools that you really wonder what you did before you had one. It glues almost everything in seconds – not just for crafting or repairing things around the home, it can be used on fabric, electronics, school projects… the list goes on. Glue sticks can be easily replaced and they are solid until heated up – meaning you won't ever find them all dried out when you go to use them! And as the glue rapidly cools dry once it's left the gun, you can simply hold the two parts together until they're firmly stuck. Most glue guns are fairly affordable corded electric models, but for the ultimate in go-anywhere portability look for cordless devices like Ryobi's R18GLU which uses the popular ONE+ lithium ion battery system.
2. Ladies Pink Household Tool Kit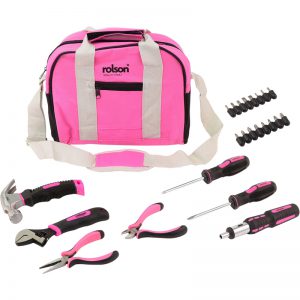 Now for this little pink tool kit which has been especially designed with female users in mind, containing essential hand tools which are comfortable to grip with smaller hands. I know to many people the idea of buying a tool kit for a partner, mum, sister or daughter may seem bizarre but speaking from personal experience they are fantastic. Like most men, I like to think I can take on all the DIY jobs around the house but this has all the tools my wife needs to tackle these jobs on those rare occasions  (ahem..) when I'm nowhere to be seen or otherwise occupied. In fact my sister has also asked me to send her a new one as her daughter's just bought her first house and taken theirs with her! For a complete solution, why not team it up with this matching pink tool belt.
3. Bosch PSM Primo Multi Sander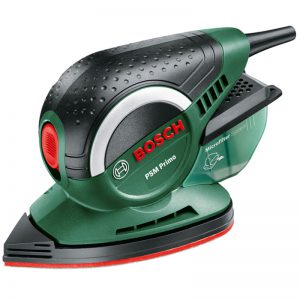 Sanding is a common DIY task around the home and this tiny little Bosch delta sander will tackle all those smaller jobs which just need a little rub down before painting or refinishing. Small, light enough for optimal control during one handed use, and corded for non-stop operation, this machine uses hook & loop backed sanding sheets which can be stuck on or ripped off in a second, meaning that changing sandpaper is a breeze. Complete with a built in dust collector, you can also get to work in your living room without having to fight through a cloud of dust and debris. If you're looking for something that's more suited to those outdoor jobs like garden furniture or exterior window frames, why not consider the cordless PSM 18 LI which also shares battery compatibility with a huge range of additional Bosch Green DIY & Garden power tools.
4. Bosch Ixo Cordless Screwdriver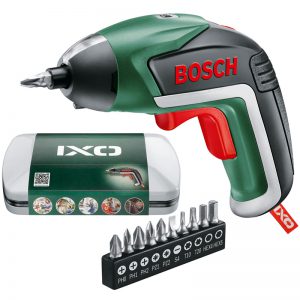 Well now you've ticked off a glue gun, hand tool kit and sander, why not look at a nice little cordless screwdriver for those times when she brings home all that flat pack furniture from her favorite Swedish store. This little gem is the Bosch Ixo – small enough to fit comfortably in even the smallest hand, it lets you drive in screw after screw without suffering from the fatigue that rapidly sets in when attempting these jobs with a manual driver. Its compact size is ideal for getting into the tightest corners, and each model in the range is supplied with a screwdriver bit set to cover all the commonly required screw heads (the Ixo is compatible with standard screwdriver bits so this collection can be easily replaced or expanded upon if required). Now the Ixo is a win win as not only does it include a built in LED worklight for illuminating dark workspaces, it is also compatible with a range of additional angle adaptors and attachments which can transform it into an electric grass shear, fabric cutter, spice mill, corkscrew or barbecue fan. This is a screwdriver that will prove its worth for many birthdays and Christmases to come.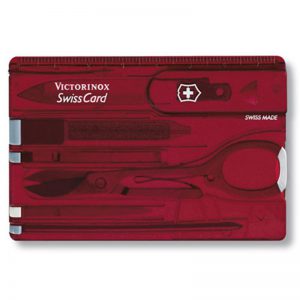 Ok, now one for keeping in the purse or handbag. This is the Swiss Card from Victorinox, manufacturers of the world famous Swiss Army Knife. You'll be amazed at how many tools are packed into this little gadget and you'll be surprised at how often she will need one of those tools which can all be tucked away in her bag for whenever she needs them. Its clever, award-winning design and incredible functionality is currently available in four variants and a selection of colours so it's easy to pick out the perfect gift from the range.
6. Wera Tool-Check PLUS Bit & Socket Set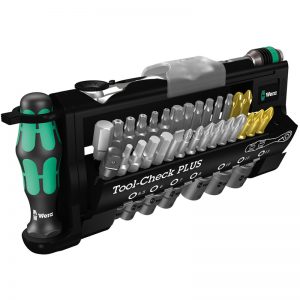 One for the serious tool nuts in your life, Wera are renowned for the quality of their fastening gear and this compact portable Tool-Check PLUS set includes a huge selection of screwdriver bits and sockets, along with separate screwdriver and ratchet handles – meaning whatever she has to take apart, fix or repair, this handy little set is sure to have the right tool for the job, all while being packaged in an unbelievably compact form factor which makes it ideal for space saving transport or storage on the road or at home. Made by Wera in Germany, it's the Rolls Royce of quality and you really are getting a versatile, reliable and dependable professional grade tool kit with this purchase. If you're familiar with Wera or simply appreciate the value of high quality tools, we're sure you'd be happy to unwrap this on Christmas morning!
7. Sirius Tape Measure & Trimming Knife Set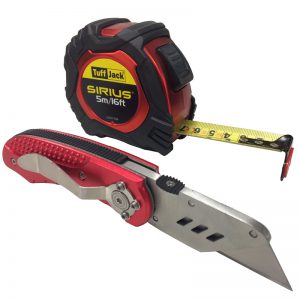 Now, did you know that the most mislaid tools around the home are the tape measure & trimming Knife?  As a little stocking filler you'll be able to re-claim the ones shes taken from your tool box with this handy measuring and cutting set from Sirius. The Tuff Jack tape measure has an extra wide, magnetic hooked tape and comes encased in a durable, shock resistant housing so it'll stand up to daily abuses like being dropped from ladders or thrown into tool bags, and the accompanying utility knife has a folding blade release action, metal body and integrated belt or pocket clip for hands free transport. With this set on hand, you'll never have to look for a tape measure or trimming knife again! Indispensable for sizing up new houses and opening up packing boxes, this would make an ideal gift for relatives who are off to uni or leaving the family nest for the first time
8. Black & Decker WM825 WorkMate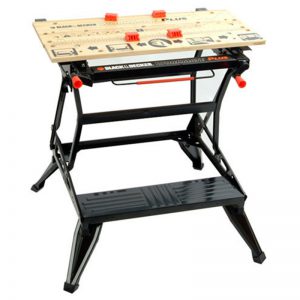 Working round the home can have its challenges, and you often tend to find that you need an extra pair of hands to hold materials in place while you're gluing, drilling, sanding, screwing or nailing. Luckily, the classic Workmate workbench has been providing DIYers with an extra pair of helping hands for years, and you can't get much more classic than Black & Decker. The WM825 is a dual height stable and sturdy workmate which can fill in as a vice, bench tool stand or sawhorse and it will allow her to make use of the one-handed clamp system which allows the WM825's clamps to be adjusted simultaneously or independently – all of which means your hands will be free on Christmas day (freeing them up for important tasks like wielding the TV remote, eating festive food and drinking beer).
9. Bosch Keo Cordless Garden Saw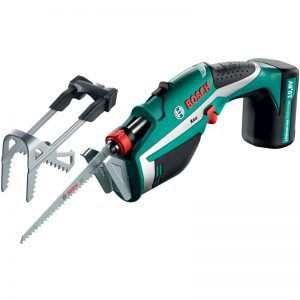 For those outdoor types, the ergonomic and lightweight Keo cordless garden saw from the Bosch Garden Tools range cuts through branches with ease. This cordless tool will save strain on her hands and is easy to operate, even for people who are inexperienced with outdoor power tools. An integrated 10.8v lithium-ion battery means instant starting with no need for tangled extension leads or worries about cutting through the cord, while the detachable A-frame grips onto the material to hold the tool steady while you saw. Much less intimidating than tools like chainsaws for lighter pruning jobs around the garden, the Keo also has a lithium ion battery which means it doesn't suffer from the self-discharge or memory effect that plagued previous battery technologies, meaning it is easy to keep it charged up and ready to go in between uses.
10. Gardena NatureUp! Vertical Planter Set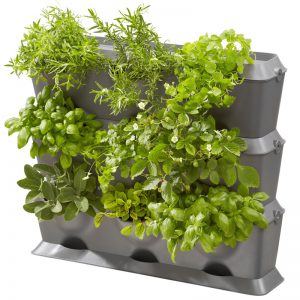 Green-fingered gardeners are also sure to appreciate a Gardena NatureUp! Vertical Planter set which enables you to grow rows of herbs, flowers and plants in vertical stacks, helping to save valuable space around your property. The beauty of Gardena's NatureUp! system is that it includes a whole range of components and accessories, enabling you to easily add additional planters or irrigation systems if you feel the need to expand your set-up at any time. Planters can be used free standing or mounted to a wall using the included fixing points. We have a dedicated Gardena NatureUp! range page on our site which enables you to easily view all available components and plan your system.
---
So that's our Top 10 Christmas DIY Gifts for Her recommendations. Just think about her lovely little smile of pleasure when she opens your gift of choice on Christmas morning.
Then again, its always a good idea to have a gift voucher for her favorite store in your back pocket.
😊
---
Categories mentioned in this article: