Flat Drill Bits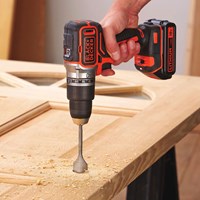 Flat Drill Bits Information
Also known as flat wood drill bits, paddle bits or spade bits,
Flat Drill Bits
are usually the quickest, easiest and cheapest solution for drilling larger diameter holes into wood, though they can leave a rougher finish than alternative methods (and will create splintered exit holes if driven straight through a piece of timber).
Flat drill bits
are designed purely for wood so they are not as versatile as
hole saws
, but they can drill to much deeper depths and do not need to be used with additional equipment like arbors or pilot drills. It is common to find
flat drill bits
which have a hole in the centre of the paddle; this enables cables and wires to be affixed and pulled through holes after they have been drilled. Loading...
End of content
Error - No more pages to load