Forstner Drill Bits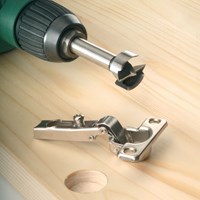 Forstner Drill Bits Information
Forstner Drill Bits
are used when drilling larger diameters into wood and they are capable of very clean cuts; however, their principle advantage is that they carve out flat bottomed holes (with the exception of a small indent left by the centre point). Unlike other drill bits they can also be used to make multiple overlapping holes.
Forstner drill bits
are commonly used when installing hinges into cabinet doors, or for removing large amounts of material before routing applications (to save wearing out the more expensive router cutters). Forstner bits will deliver best results when used in a drill press or with a corded drill mounted in a
drill stand
, but many of the smaller sizes are ideal for use in handheld drills as well as stationary machines.
Filter Options

Price Range

Brand

Diameter

Shank Diameter

Set Loading...
End of content
Error - No more pages to load