Glass & Tile Drill Bits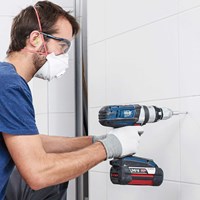 Glass & Tile Drill Bits Information
Glass and kitchen or bathroom tiles are extremely hard, brittle materials and standard drill bits are ineffective on them. Drill bits designed specifically for glass and tiles are usually made with diamond grit or tungsten carbide tips and may be designated as "dry", or less commonly "wet". Due to the intensive heat and friction encountered when drilling into these materials, it is often recommended to keep the bit cooled with water and one of the most common solutions is a type of self adhesive drill guide with water inlets which serves the additional function of preventing the bit from sliding around on the smooth surface when starting the hole. "Dry" drill bits on the other hand are designed to be used without water and many have wax-based coolant integrated into them which melts and lubricates the tip during use.
Wet tile drilling guides are available separately and can be found in our
Drilling Guides & Jigs
category. Loading...
End of content
Error - No more pages to load