Plunge Routers
Plunge Routers Information
A router is a versatile woodworking power tool which is used with router cutters (also called router bits) which enable various grooves and profiles to be carved into material. On a
plunge router
, the cutter is ordinarily held suspended above the workpiece until the operator brings it down to the required depth using the handles on the machine. The cutter can be locked in place once it has been plunged, and upon unlocking, it will spring back up to its original position. This means the
plunge router
is a more versatile alternative to fixed base machines - and due to the fact the cutter is brought up out of harm's way in between routing tasks, it is potentially safer too. On some machines, the router can be detached from the plunge base, enabling it to be used like a fixed base tool as well. The tool holder that grips the cutter is called a collet and in the UK these are most commonly either 1/4" or 1/2". Although many routers can be used with both 1/4" and 1/2" collets, the machines themselves are commonly classed as either 1/4" or 1/2"
Here's our Quick Application Guide:
• 1/4"
Plunge Routers
- typically much more compact than 1/2" routers, these machines are also lighter and easier to control, making them a popular choice for more intricate applications as well as general duty routing tasks. Unless the collet can be swapped out for another model, 1/4" routers can only be used with 1/4" shank cutters.
• 1/2"
Plunge Routers
- Usually larger and more powerful than machines in the 1/4" class, these routers typically excel at heavier duty applications like jointing worktops. Unless the collet can be swapped out for another model, 1/2" routers can only be used with 1/2" shank cutters.
Plunge Router Safety:
Routers are loud, powerful machines designed to spin sharpened cutting tools at high speed, and the dust created by routing applications can often be hazardous so suitable eye, ear and respiratory protection should be worn. If you've never used a router before it is also important to familiarise yourself with the correct processes before switching on the tool. An untrained operator runs the risk of losing control of the machine, so make sure you are confident in your ability to use it correctly.
Filter Options

Price Range

Brand

Power

Carry Case

Dust Exhaust

No Load Speed

Wattage
DeWalt DW615 Plunge Router 1/4"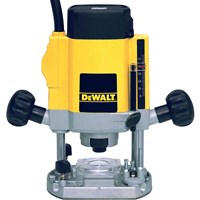 2 variants
£248.95
In stock
Festool OF1010 EBQ-Plus Plunge Router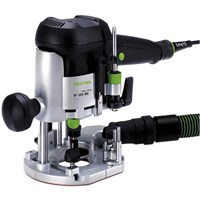 £481.95
Available to order Loading...
End of content
Error - No more pages to load