Torx Keys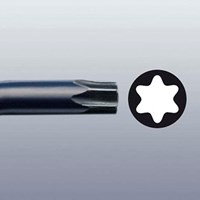 Torx Keys Information
Torx keys
are also commonly known as star keys. Like hexagon allen keys, most
torx keys
are small enough to be carried in a pocket and enable the user to drive the appropriate fasteners without needing a separate screwdriver or power tool. As well as the standard torx fasteners which have become increasingly common in a variety of industries, you may also come across a type that has an additional pin in the middle of the star. These are called Security torx screws and require an appropriate
security torx key
or screwdriver bit in order to drive them.
Here's our Quick Application Guide:
• Ball end Torx Keys - usually supplied as a tool that has a ball end one side and a standard key on the other, ball end keys enable you to access a fastener from a slight angle if there is an obstruction in front of it or it is otherwise awkward to get to. This can get you out of trouble when there is no alternative but bear in mind that there is also an increased risk of causing damage to the key or fastener.
• T-Handle Torx keys - often fitted with an ergonomic plastic handle, these keys are more comfortable to use and usually enable greater torque to be applied without fear of breaking the tool. Loading...
End of content
Error - No more pages to load