Wheel Sanders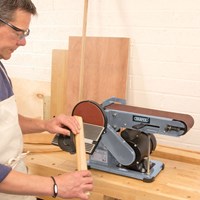 Wheel Sanders Information
Wheel sanders
are commonly known as disc sanders, and, when combined with an additional sanding belt, disc & belt sanders. These machines are useful in situations wherever it is preferrable to bring the workpiece to the sander rather than the other way round. The added versatility of the disc & belt sander means it can be used for sanding inside curves as well as exterior curves, flattening and chamfering. Most disc sanders incorporate a tilting table and mitre gauge for working with specific angles and bevels. They are commonly used for metal as well as wood and can also be used for other materials like plastic. Machines with larger discs are especially useful for creating a uniform flat edge on an uneven workpiece (for example when finishing a wooden bowl).
Wheel Sander Safety:
As with all sanding machines, you should take measures to protect yourself against any hazardous dusts generated during operation. As the work is held against the sanding belt or disc on these machines, take care to keep your hands away from moving parts and ensure your hair and clothing is not at risk of becoming snagged in the machine. When sanding against the disc, you should always work on the side that is on the downwards rotational arc (usually the left side) - otherwise the sander will try to pull the workpiece away from the table and it will be impossible to maintain control.
Eye protection
should be worn at all times to protect against dust and debris. Loading...
End of content
Error - No more pages to load