ARS Tools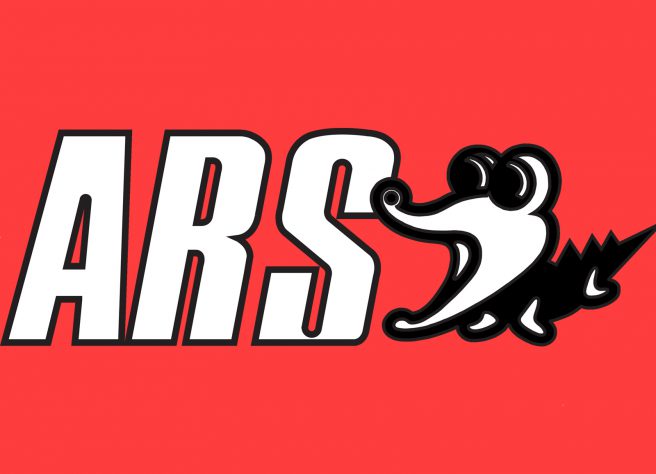 A Cut Above the Rest
ARS Tools may not be exactly a household name in the UK but there can be few people who have tried their products who remain in doubt over their quality. In this post we'll take a look at some of the Japanese brand's specialities and some of the new releases in their catalogue.
ARS Tools: A Brief History
Japan has a long history of producing some of the world's finest cutting tools and ARS helped to further cement this reputation when they were established in 1876 (though they were originally known as Takigawa, after the founder Torakichi Takigawa). The first product to be manufactured in the Takigawa factory was a tobacco knife but by the 1950s, under the third generation of Takigawa leadership, they began to introduce a range of pruning shears which would eventually find themselves in the hands of gardeners around the world. They were the first manufacturer in Japan to apply a hard chroming process to their pruning shears, a technique which remains a hallmark of many ARS tools to this day, and the 210DX Pruning Saw was introduced in 1954, which has remained in production ever since. By the 1960s, nearly 100 years after they were established, the Takigawa corporation was attracting more of a worldwide audience and they decided to adopt the shorter and more memorable moniker "ARS" along with the distinctive crocodile logo. These days, ARS remains a family owned company which still manufactures most of its product line in Japan, along with a supplementary manufacturing facility in Thailand.
Product Ranges
ARS are probably best known for their outdoor and gardening tools, but they also manufacture cutting tools for other markets, including a few specialized products like the 370 Industrial Line scissors which are designed for cutting Kevlar and aramid-based materials. The main ranges we stock here at Tooled-Up can be broadly categorized as fruit pruners, garden scissors, hedge shears, loppers, pruning saws, secateurs, snips & scissors, and we'll go over some of the best sellers in the range now.
ARS 300L Pointed Fruit Pruner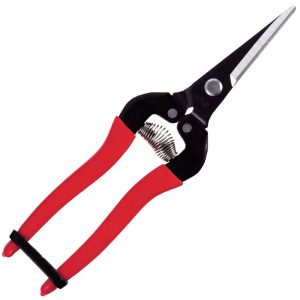 By far the best selling model of all the ARS tools we stock, the little 300L fruit pruner has marquench hardened high carbon steel blades in a straight, pointed configuration for precise cutting in tight spaces. Compact, lightweight and razor sharp, these needlenose pruners are ideal for lighter duty cutting tasks like harvesting fruit and herbs, deadheading, flower arranging and pruning back softer stems. The 300L is a high quality pruner at an extremely affordable price which has made it almost an essential purchase for many gardeners, as well as a popular gift for friends and relatives. The 300L needlenose straight bladed carbon steel model is a longstanding best seller but there are other variants available, including the 310, which has a curved blade, and the newer 300L-DX, which has stainless steel blades.
ARS KR-1000 Ultra Light Hedge Shears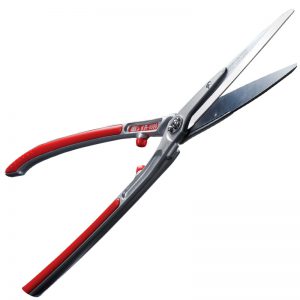 The KR-1000 shears get their "Ultra Light" designation from the ultra low density composite material used for the handles, a design feature that keeps the weight down and thus reduces the fatigue that can set in when trimming hedges for longer periods of time. It's not just the handles that are noteworthy though – the blades are made from strong, corrosion resistant hard chrome plated high carbon steel with an increased width for long-term durability, and are angled slightly to ensure an ergonomic cutting position when using the tool. Shock absorbers in the handles also increase user comfort when shearing through tougher materials. Designed to provide years of reliable service, the KR-1000 has replaceable blades which are secured in place with large fasteners for a secure and solid fit.
ARS 210DX Pruning Saw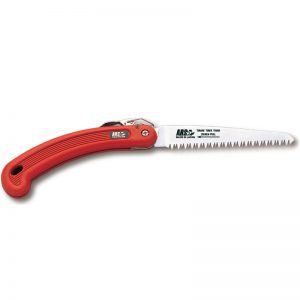 Introduced in 1954, the 210DX is one of the longest-standing folding saws on the market today and shares many design characteristics with pruning saws introduced from other manufacturers since. It has a replaceable 150mm blade equipped with precision-ground razor sharp teeth which cut on the pull stroke (as with classic Japanese saws) for fast, clean and safe cuts with less effort. The blade is hard chrome plated for rust resistance and ease of cleaning, and can be folded back inside the handle when not in use. This folding action means that saws like the 210DX are extremely portable, making them a popular tool amongst bushcrafters and outdoor enthusiasts as well as gardeners and professional landscapers. The 210DX has a shaped handle for a secure grip and a hole for attaching a lanyard.
ARS 180ZF Telescopic Razor Edge Tree Pruner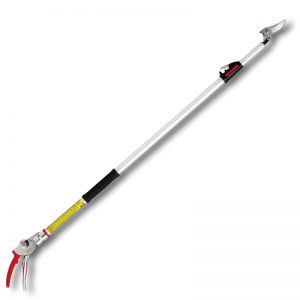 The 180ZF series of telescopic pruners are designed for trimming high tree branches from the safety of solid ground. Available in two models which can be extended to a maximum of either 2 metres or 3 metres, they have strong but lightweight shafts to keep fatigue down to a minimum while guaranteeing a longer operational life. The hard chrome plated high carbon steel blades enable powerful, clean cuts through branches and all models in the range weigh less than 2kg.
New Products
You don't see new ARS tools coming out with great regularity but the catalogue has been updated recently with a handful of new products that might have flown under the radar, and we'll have a quick look at them now, starting with the new KR1000-L hedge shears.
ARS KR1000-L Ultra Light Professional Long Hedge Shears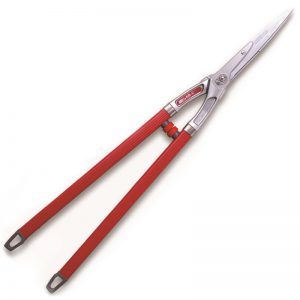 The KR1000-L is more or less the same model as the aforementioned KR-1000, except with slightly wider blades and longer handles for comfortable access to higher parts of larger hedges without having to scale a ladder; however, it also features redesigned shock absorbers for improved comfort. It retains the award-winning high carbon steel cutting blades which have proved so effective on the KR-1000, which are also replaceable and securely fastened with large, solid fasteners. The KR1000-L has a blade length of 180mm and total length of 750mm; it weighs 840g.
ARS VA-8Z Anvil Secateurs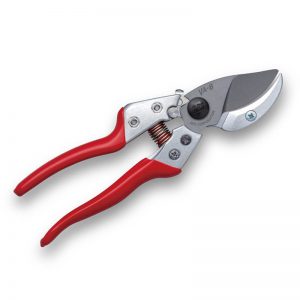 The VA-8Z secateurs are also based on an established range of ARS tools: namely the VS series of bypass secateurs. These new anvil models (which are designed for dead and dry wood) have fluorocarbon coated blades and have been weight balanced to reduce fatigue when using them for longer periods. They have a die cast aluminium body for strength and durability with low weight. As well as the VA-8Z model, a slightly smaller VA-7Z variant was also introduced at the same time. Both tools have thinner cutting edges for effective application of force, ergonomic non-slip grips and a new locking system which helps to prevent malfunction during use.
All these ARS tools and many more are available on our website. We keep most of the popular models in stock ready for immediate despatch or collection from our store in Enfield, and if you're after a more specialist tool we can usually get it to you within 3 working days. Take a look at our ARS Tools Brand Page for a complete list of products that we stock.
---
Categories mentioned in this article: