Black & Decker GKC1000 Loppers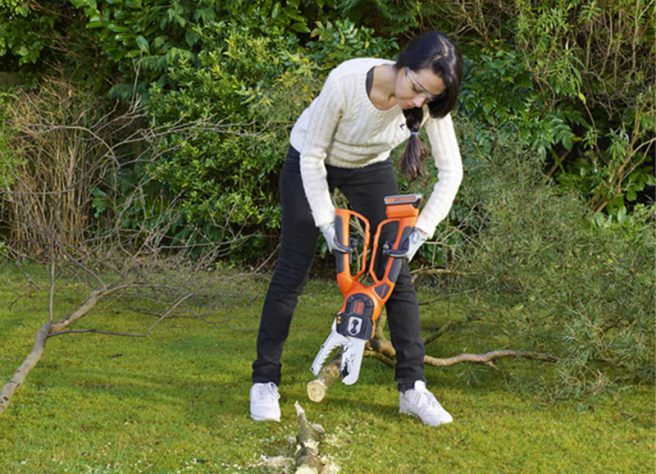 Black & Decker's Alligator loppers have been released in a few different incarnations since their introduction and the latest is the new GKC1000, a cordless machine which runs on 18v lithium ion batteries. Designed for garden wood cutting applications, these handy tools confer some unique advantages which we'll go over in this blog post.
Safety First
A chainsaw is an extremely powerful, fast and effective tool for keeping excess tree growth in check, but it is also notoriously dangerous. Kickback can cause the machine to jump back towards the operator and a careless stance can result in the chain contacting parts of the body when coming out of a cut. These safety risks are enough to deter a large proportion of gardeners from considering such a machine for their backyard tree pruning, and others may think a standard chainsaw is simply overkill for the task at hand. Hand saws are a much safer alternative, but for larger jobs they can quickly prove tiring and painfully slow-going. The Black & Decker Alligator lopper was developed to fill a gap in the market between these options with an ingenious and unique design.
Essentially, the GKC1000 (like the other Alligator loppers before it) is a chainsaw, albeit with a much smaller bar. However, unlike a standard chainsaw, it is shaped like a pair of large shears, and the bar is sandwiched between two jaws. The safety switch design of the machine means both hands have to be on the handles before power can be engaged, and as only one part of the chain is exposed, it is virtually impossible to come into contact with it unless you somehow insert part of your body between the jaws.
Alligator Lopper Applications
Alligator loppers are designed for processing small and medium branches and the GKC1000 can cut through material up to 10cm in diameter. This makes them ideal for pruning trees, hedges and bushes, as well as breaking down offcuts or fallen branches into smaller pieces, eg for disposal or use as firewood. The unique gripping action of the jaws also means they are ideal for cutting through younger, more flexible growth that often bends out of the way when it is not possible to grasp it with a free hand. Compact and lightweight, they can be used comfortably when working above head height, and enable large jobs to be completed in short time and with minimum fatigue.
Advantages of the GKC1000 Alligator loppers
New for 2018, the GKC1000 is a cordless model which is powered by a Black & Decker 18v lithium ion battery. The machine can be purchased with a battery and charger, but if you've invested in other cordless garden or DIY power tools from Black & Decker's 18v lithium range, you can alternatively purchase it as a bare tool and save a bit of money by using the batteries and chargers you already own. Going cordless gives you much greater freedom to roam around your garden but it also means no more time spent fiddling around trying to untangle power cables and extension leads, and no chance of accidentally cutting through them!
If the GKC1000 appeals to you but you'd rather have the unlimited runtime of a corded model, the 550w GK1000 is also still available from our website.
---
Categories mentioned in this article: