Bosch Universal & AdvancedLevel Lasers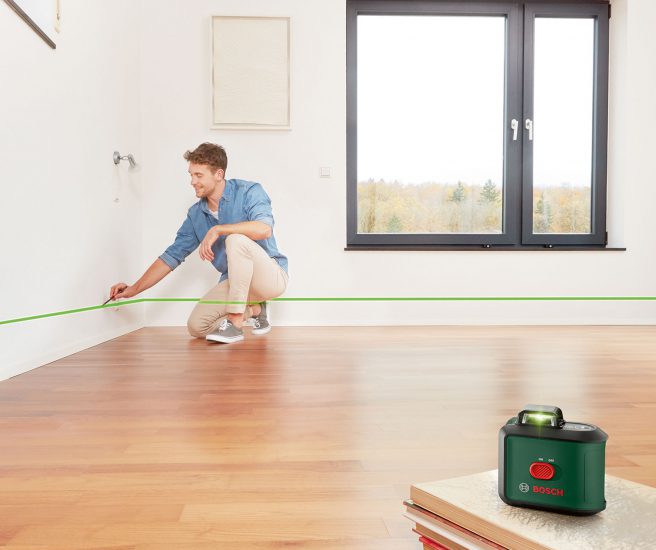 Bosch Laser Level Lineup
When it comes to laser levels, Bosch have got one of the biggest ranges (if not the biggest range) on the market – and what separates them from most of the competition is they make levels designed for a broad range of users, from professional contractors through to novice-level DIYers. Part of the Home & Garden range, the new UniversalLevel and AdvancedLevel series of levels are intended for the domestic market and will be perfect for homeowners looking to take on basic shelf and picture hanging jobs as well as more ambitious renovation projects.
Laser Level Basics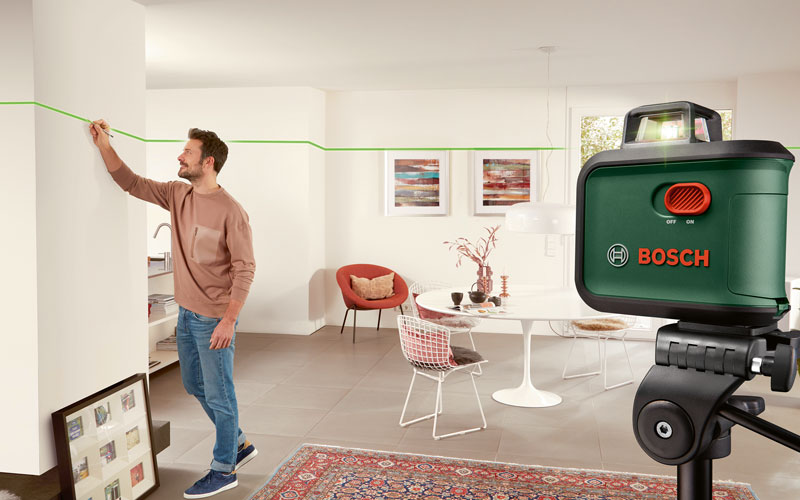 A laser level might not be part of every DIYers tool kit, and you might think of them as something of a luxury item for use around the home – however, as the technology has become more widespread over the years, and as companies like Bosch have developed affordable options for the consumer market, they're becoming a much more practical investment even for the occasional user. And while for some jobs you might find you can achieve the same results with your trusty spirit level, there are others where a laser level is much more of a necessity than a luxury – when you need an accurate, consistent, reference point across a wider area, for example when hanging multiple pictures or re-tiling a wall, the laser level really comes into its own. But when you add on features like multiple horizontal and vertical lines or the option to tilt the line, for example to match the incline of your stairs or a sloped feature of your house, you'll also find that you can quickly and easily get yourself set up for more complex layout jobs with no problem at all.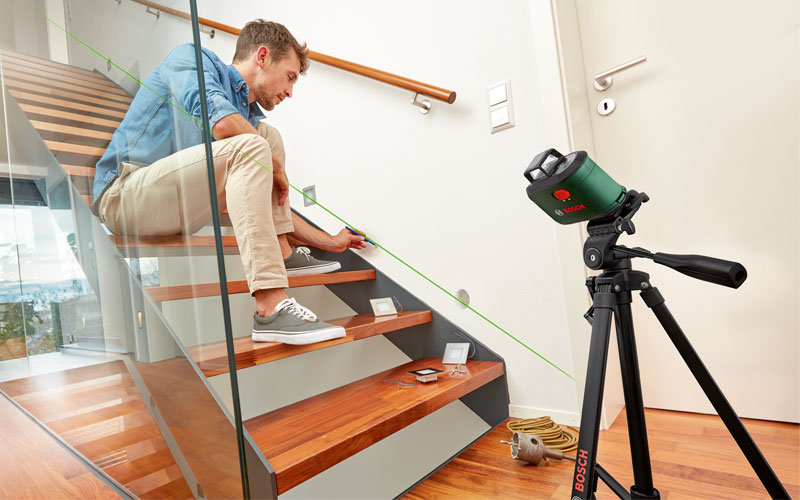 As well as this versatility, the laser level has a few distinct advantages for the DIYer – they're hands-free and can be placed safely out of the way so you can concentrate on the job at hand, and they enable you to work to a straight line without having to mark the surface you're working on (so you don't have to try and get lots of pencil marks off your wall once you've finished). They can also help you achieve a greater degree of accuracy; assuming they're properly calibrated, taken care of and not dropped or damaged, they are capable of pinpoint precision, especially over longer runs where any small errors introduced during the layout stage can easily get compounded into a much larger and more annoying problem as the work progresses.
Recently, as with the rest of their Home and Garden range of tools, Bosch have taken the decision to revamp their laser level lineup with a naming structure that clearly identifies the target market – so we have the UniversalLevel series, which is intended to cater for all the most common DIY jobs, and the AdvancedLevel series, which has a few more tricks up its sleeve and is ideal for tackling more complex projects.
Bosch UniversalLevel 2 Laser Level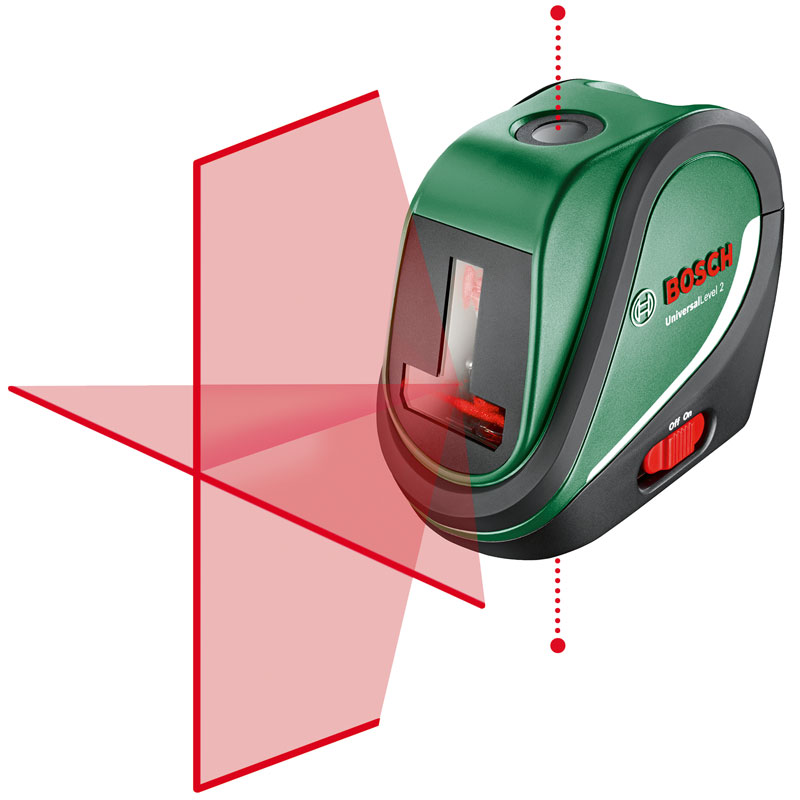 Starting off with the UniversalLevel 2, this is one of the most affordable laser levels in the Bosch catalogue and projects a red cross line laser beam with additional top and bottom plumb points. It is powered by standard AA batteries and has a 1/4″ tripod thread for mounting onto a tripod or similar accessory. Under normal indoor conditions the lasers are visible for up to 10 metres, and the UniversalLevel 2 has a self-levelling function – this means that the press of a button, the tool will check the lines for accuracy and adjust them if necessary, meaning you can get to work safe in the knowledge that everything is perfectly levelled up.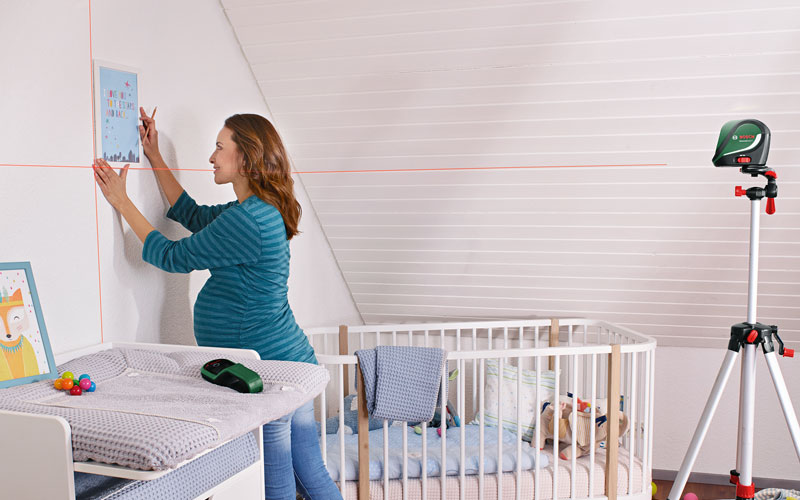 If you don't have a suitable tripod, but would like one, the UniversalLevel 2 Set is supplied as a complete kit with the laser level, batteries, a soft storage case, and an aluminium tripod.
Bosch UniversalLevel 3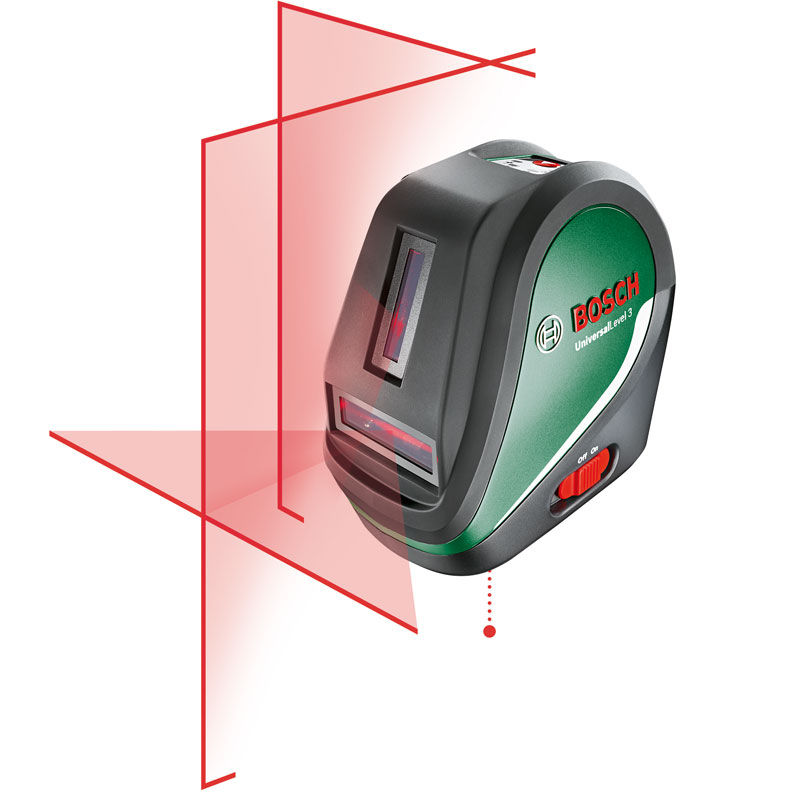 The UniversalLevel 3 comes in a very similar housing but has an additional vertical laser line which is projected from the side of the tool. In most other respects the features and specification are almost identical to the UniversalLevel 2, but the two vertical lines make it also suitable for many ceiling applications, as well as more complex layout jobs closer to the ground.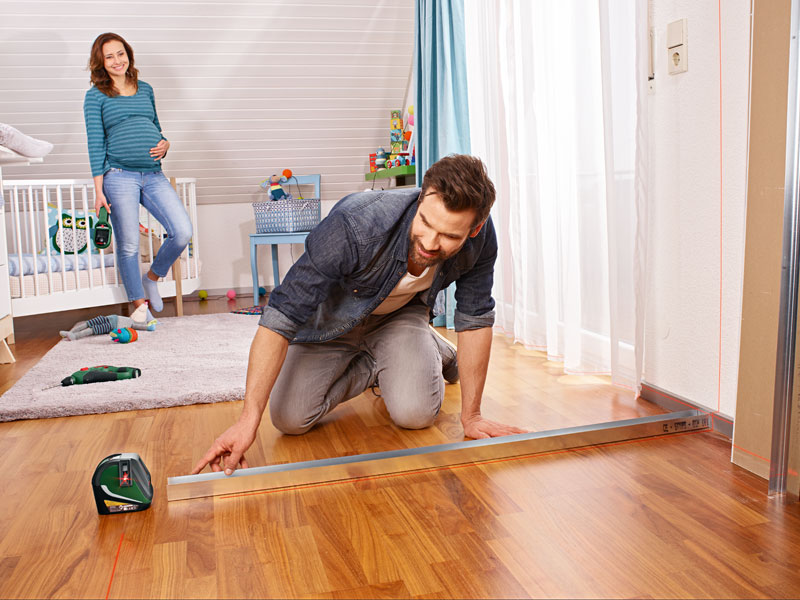 The UniversalLevel 3 is also available either as a basic model, or as the Set version, which comes complete with an aluminium tripod.
Bosch AdvancedLevel 360 Laser Level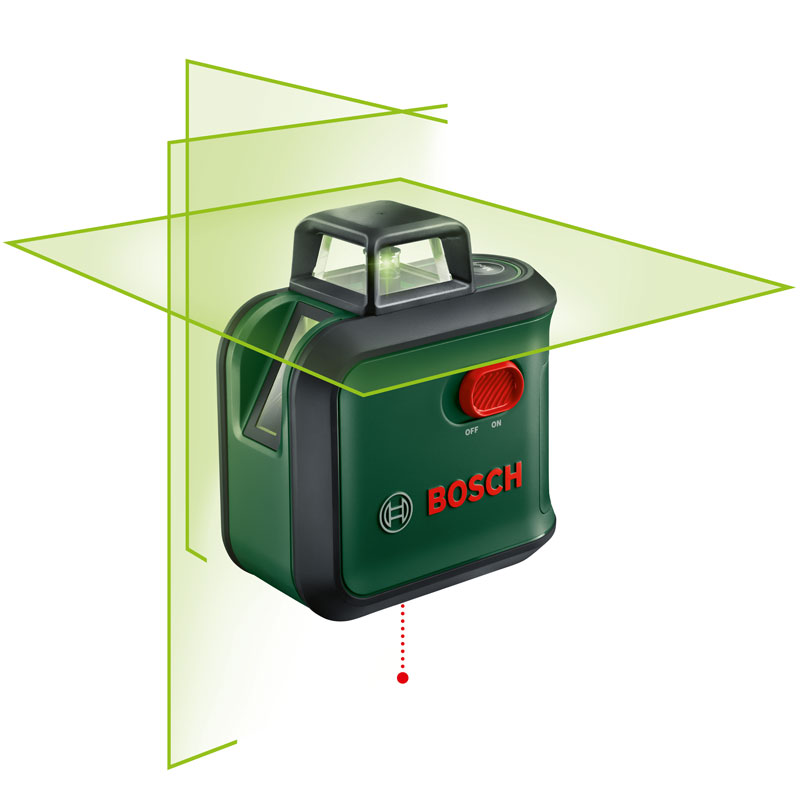 Moving on to the AdvancedLevel 360, one of the features you'll notice straight away is that it uses green lasers instead of red. This is because in brightly lit environments, green laser beams can be up to four times more visible to the human eye than their red counterparts, making it easier to see what you're doing when conditions are less than optimum.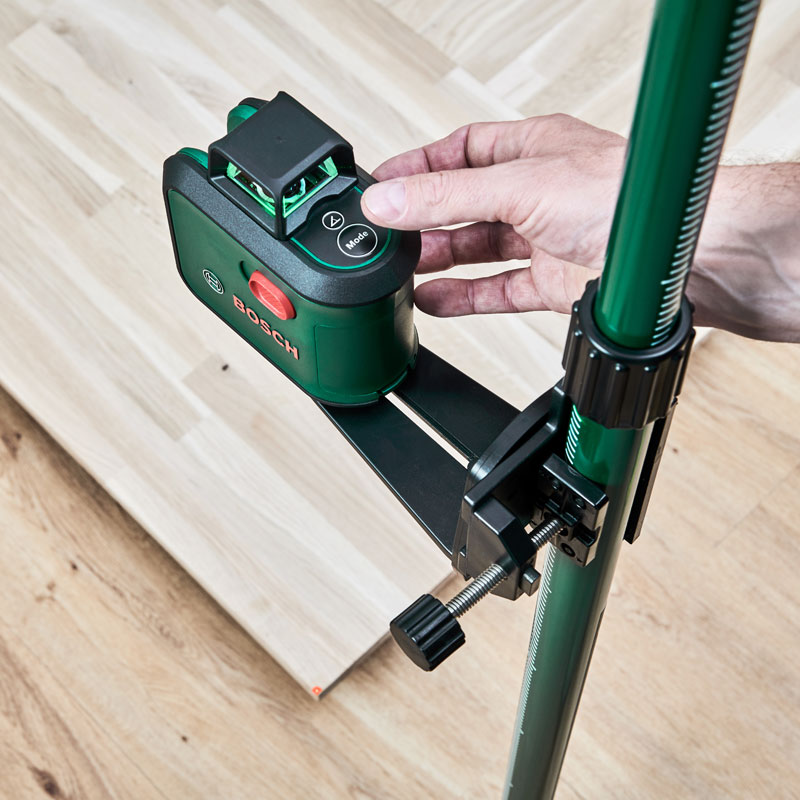 The AdvancedLevel 360 features a cross line laser and an additional vertical line, as with the UniversalLevel 2 – however it also benefits from a 360 degree horizontal beam which can be used to give you a singe reference line which spans all four walls of a room. This comes in handy for a whole range of renovation projects – for example hanging kitchen cabinets – where you want to ensure multiple fixing points are all perfectly flush with each other.
Like the UniversalLevel models, it also has a self-levelling function for automatic levelling, and an incline function for tilting the beam to the required angle. It is also available either as a basic model, or as a Set version with a tripod included.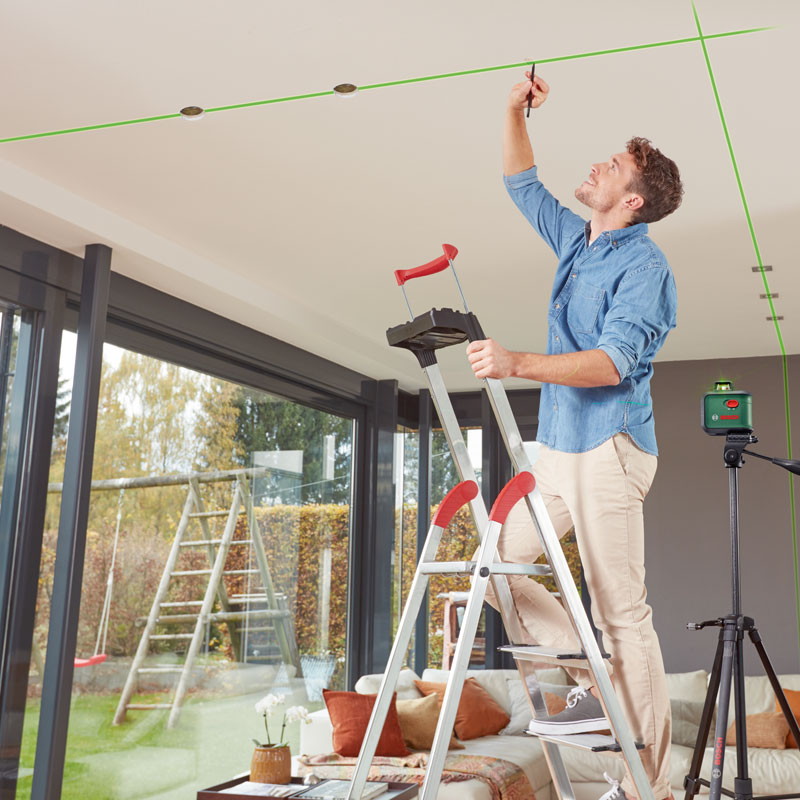 Available Now from Tooled-Up
You can pick up any of these laser levels from Tooled-up, where we also stock a wide range of Bosch measuring tools and other accessories, as well as the complete range of Bosch Home and Garden power tools. To see our complete range of laser levels, just follow the link to our laser levels category below.
---
Categories mentioned in this article: