Bosch EasyCut&Grind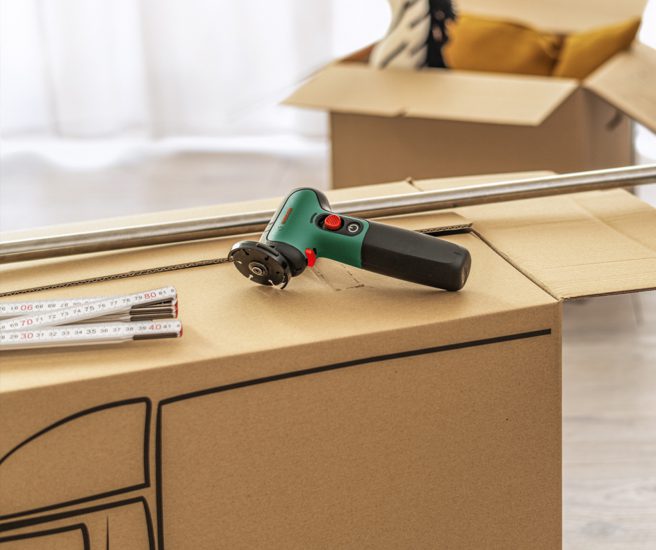 EasyCut&Grind: New Compact Cordless Tool from Bosch
The Bosch EasyCut&Grind is a recent addition to the Bosch Home and Garden range of power tools, and like many of its stablemates from the past few years, it's a tool that doesn't quite fit into any existing mould. Although (as the name suggests) clearly descended from an angle grinder, it's quite a different beast in its scope of application.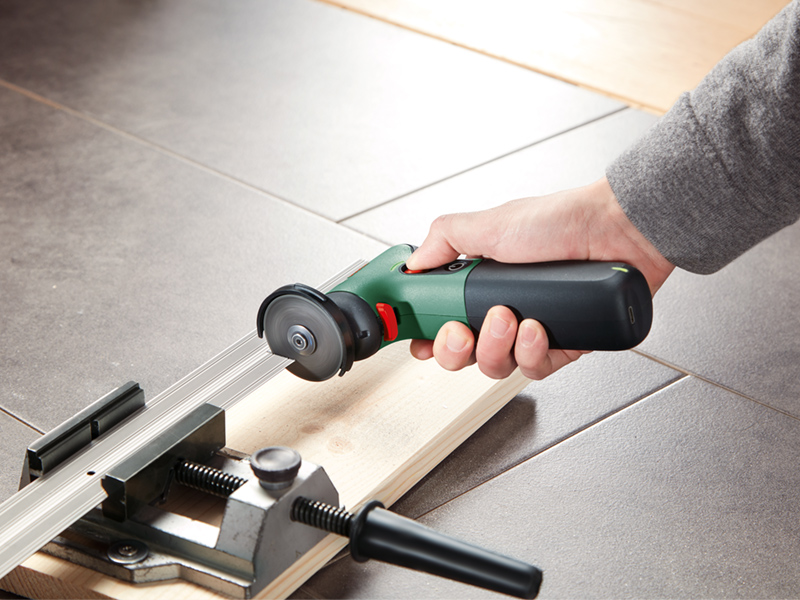 In fact "beast" is perhaps not the best choice of phrase, as the EasyCut&Grind is absolutely tiny! It takes 50mm discs – by comparison, the standard "small" angle grinder is the ubiquitous 115mm (4 1/2″) type, and while 100mm angle grinders aren't unusual either, the EasyCut&Grind is a much more compact design which is also intended to be used one handed. Interestingly, despite its name, Bosch haven't released any grinding accessories to be used with the tool, and the manual states that it is only intended to be used for cutting and sanding, going on to say that operations such as grinding, wire brushing and polishing are not recommended. So perhaps EasyCut&Sand would have been a more appropriate name?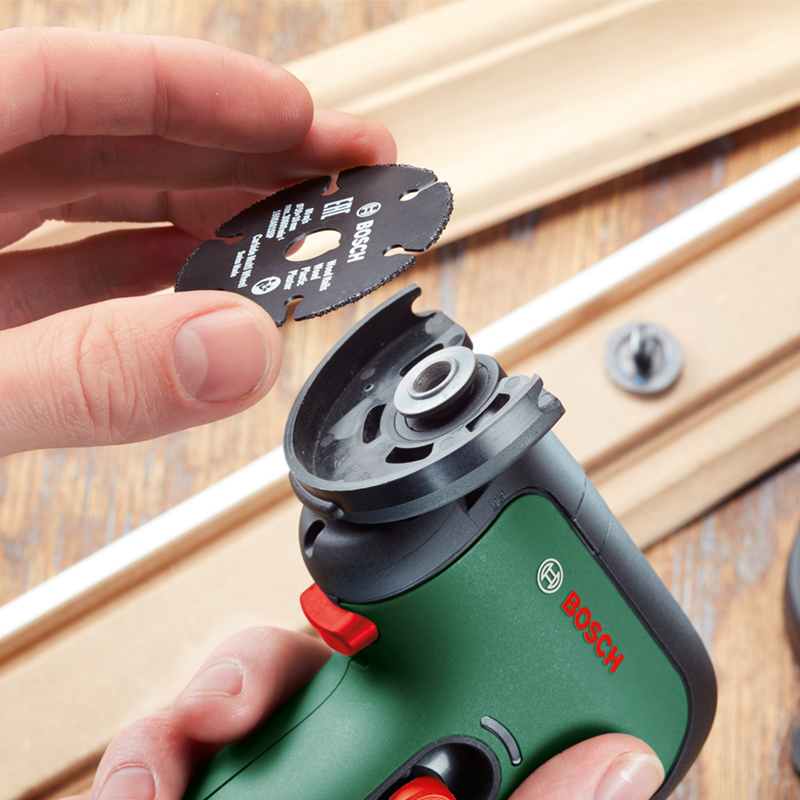 Cutting Capabilities
So what can it cut? Well, unsurprisingly, it won't be much use if you're laying a new patio and harder materials like concrete, masonry and stone are outside of its capabilities. But it can cut metal, and, when paired with a 50mm carbide multi wheel, it can also be used to cut a wide variety of materials that you wouldn't ordinarily consider an angle grinder for. Like the larger carbide multi wheels found in the Bosch Professional range, these versatile cutting discs can cut through wood (including nail embedded wood) and will also cut plaster and plastics. One handed operation means you can easily tackle precision cutting tasks with one hand free to steady the workpiece if required. The EasyCut&Grind is therefore suited to various cutting applications around the home and garden, such as cutting off protruding nails and screws, cutting plastic or metal pipes to size, cutting wooden rods, canes and dowels, making cutouts in laminate flooring, plasterboard, plywood or plastic panels, and cutting trim and mouldings. The EasyCut&Grind also provides an effortlessly way to slice through soft materials like cardboard, whether you're working on creative projects or simply breaking down packaging for recycling.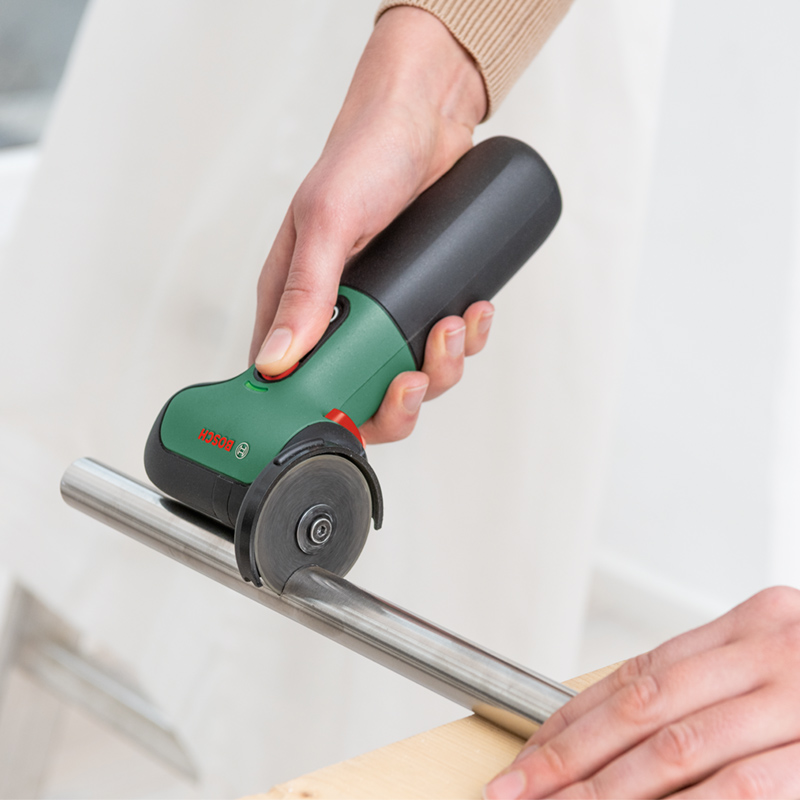 Sanding Capabilities
Swap out the cutting disc for the backing pad, and you've now got a compact electric sander too. The 50mm sanding discs have a hook & loop backing so you can quickly and easily stick them in place or rip them off once they're spent. These can be used on materials like metal as well as wood, so they'll be perfect for sanding down sharp edges or cleaning off rust as well as preparing, finishing or renovating wooden surfaces.
Battery Powered
The EasyCut&Grind gets all its power from an integrated lithium ion battery so you can take it anywhere without having worry about dragging out an extension lead to the work area. You recharge the battery much like you would with a mobile phone – it has a USB port on the housing, and just needs to be plugged into a USB power adaptor via the included cable. Note that (as with many new mobile phones) there is no power adaptor included in the box; the assumption is that most users will own a suitable adaptor already, and therefore leaving this part out helps to reduce unnecessary plastic consumption.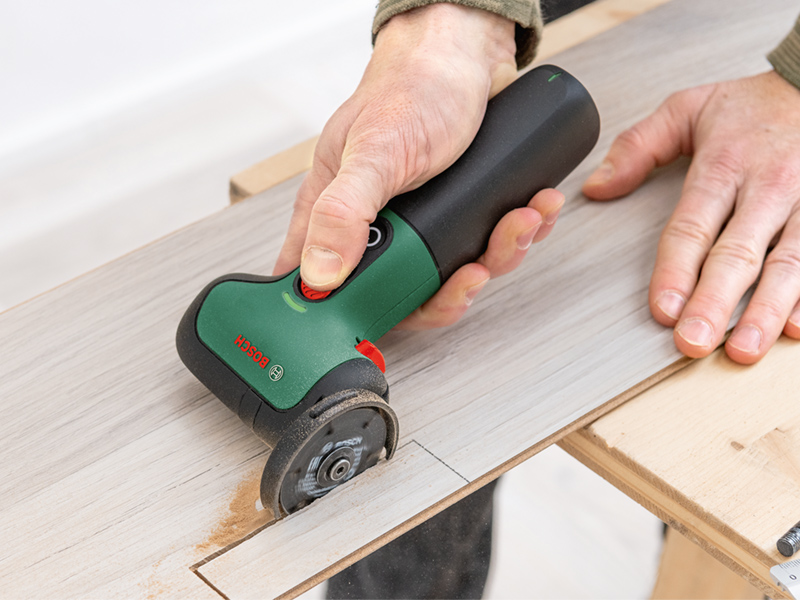 Bosch EasyCut&Grind: Available Now!
The EasyCut&Grind comes as a starter kit with a USB charging cable, a cover hood with an integrated key for changing discs, a freehand cutting adaptor, metal cutting disc, carbide multi wheel, backing pad and a starter pack of three sanding discs. It is available now from Tooled Up. View it here! And for more info from the Bosch website, follow this link.