Bosch EasyPump Cordless Air Pump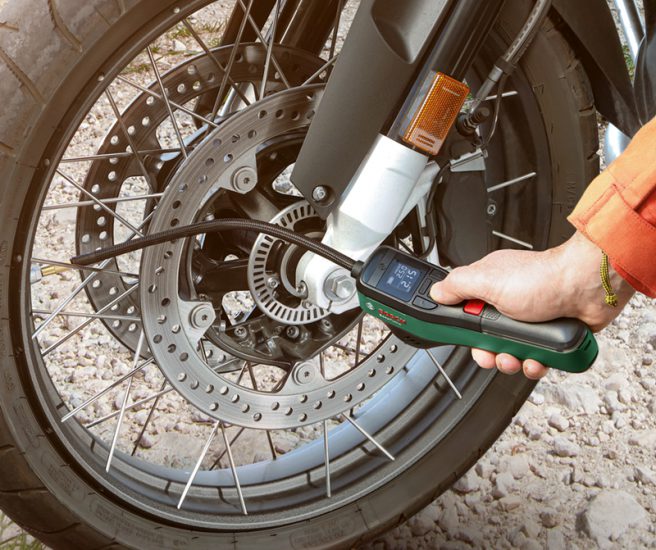 EasyPump: New Lithium Ion Battery Powered Air Pump from the Bosch Home & Garden Range
With the new EasyPump, Bosch have introduced a cordless air pump to their Home & Garden ("Green") range which is powered by an integrated rechargeable lithium ion battery and features an electronic display and a built-in LED worklight. In this blog post we'll go over some of the features of this handy little tool and see what you get in the box.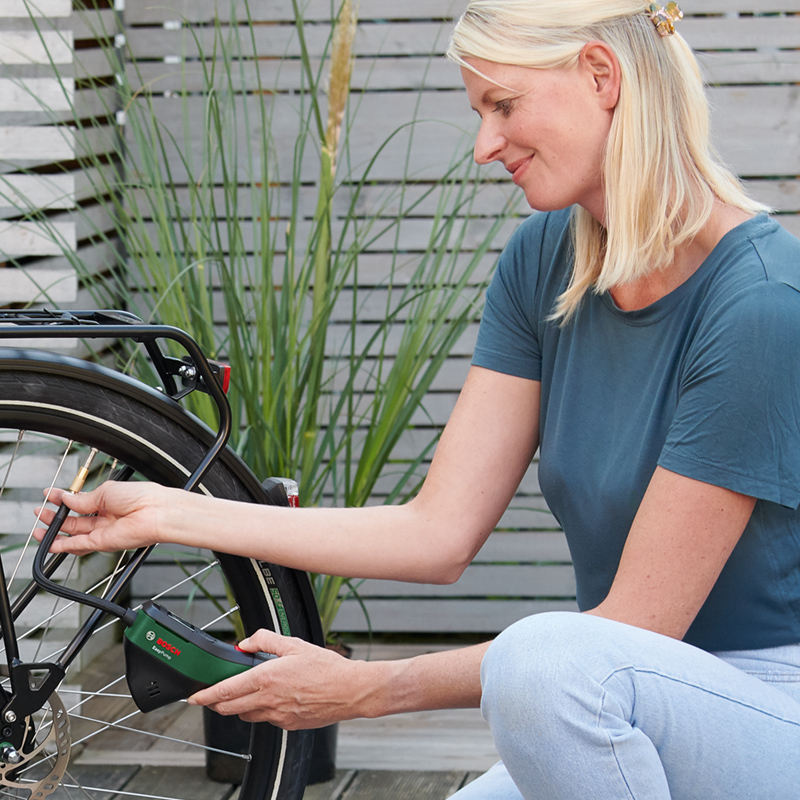 EasyPump Tech Specs
The EasyPump has a 3.6v lithium ion battery and can deliver pressure of up to 10.3 bar (150 psi) at a maximum output volume of 10 litres per minute. It's a compact and lightweight pump which has clearly been designed with portability in mind: weighing just 400g, it measures 49mm x 215mm x 106 mm and should easily fit into your rucksack, pannier bag, saddle bags or glovebox if you're intending to take it on the road.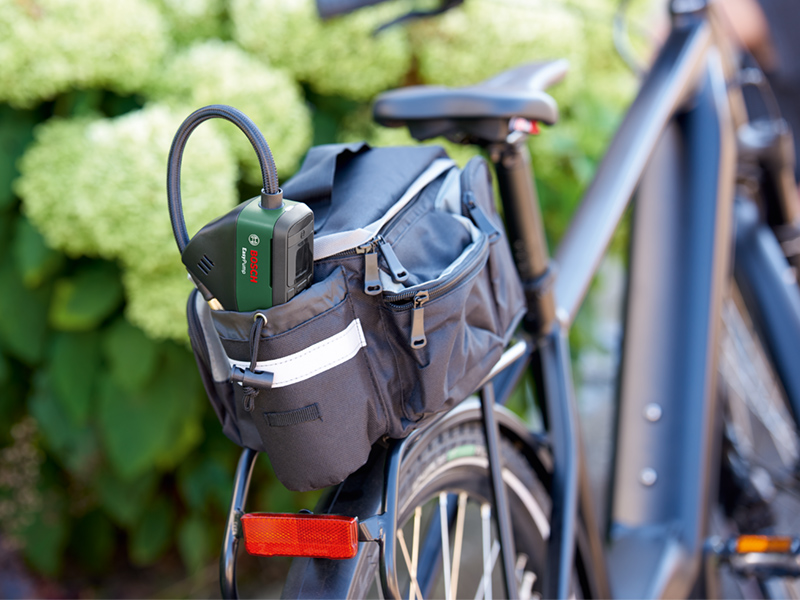 EasyPump Controls
The EasyPump will provide measurements in bar, psi or kPa, and you can switch between these from a button on the control panel. If you need to inflate to a specified value, the EasyPump lets you select this by using the +/- buttons, and its AutoStop function will ensure the pump switches off as soon as it has brought pressure up to this target value. This makes it really easy to accurately inflate tyres to the manufacturers specifications, and the EasyPump saves your settings in between uses so you don't have to re-enter the same value every time you use it. As well as a large Start/Stop button which enables you to stop the pump manually, a light switch is provided which turns on the LED worklight at the front of the tool to provide handy illumination in dark conditions.
The screen shows you the preset value as well as the current reading while the pressure increases, enabling you to monitor it in real time. A battery charge indicator on the screen also means you'll always know when the battery is running low and needs recharging.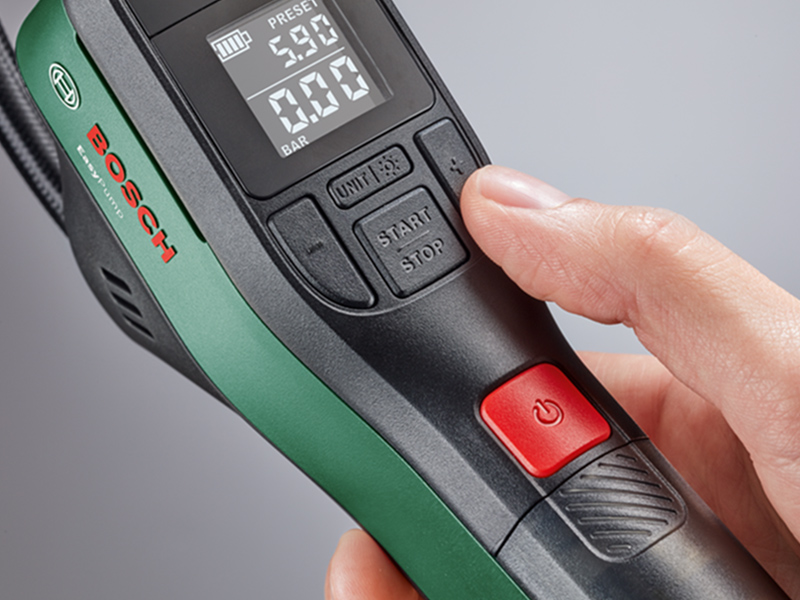 EasyPump Battery
Speaking of batteries, the Easypump uses a lithium ion (Li-Ion) battery which should hold onto most of its charge for long periods in between uses. This wasn't the case with previous battery technologies like NiCAD and NiMH which tended to self discharge whilst in storage, the result being that you would often have to charge your batteries before you wanted to use a cordless power tool. This could be severely impractical for a portable air pump, but luckily battery technology has improved a great deal in recent times and you can pack the EasyPump away safe in the knowledge that it will power up the next time you need it!
What can I inflate with it?
The EasyPump is suitable for most types of tyres, including car, motorcycle and bicycle tyres, but it isn't suitable for those found on larger vehicles like trucks – it's also worth pointing out that as part of the Bosch Home & Garden range, this tool is only intended for the domestic market, and isn't designed for everyday use in commercial facilities like garages. The Easypump will also pump up other small inflatables like footballs and water sports accessories, but it isn't suitable for bigger items that require larger volumes of air (such as air beds).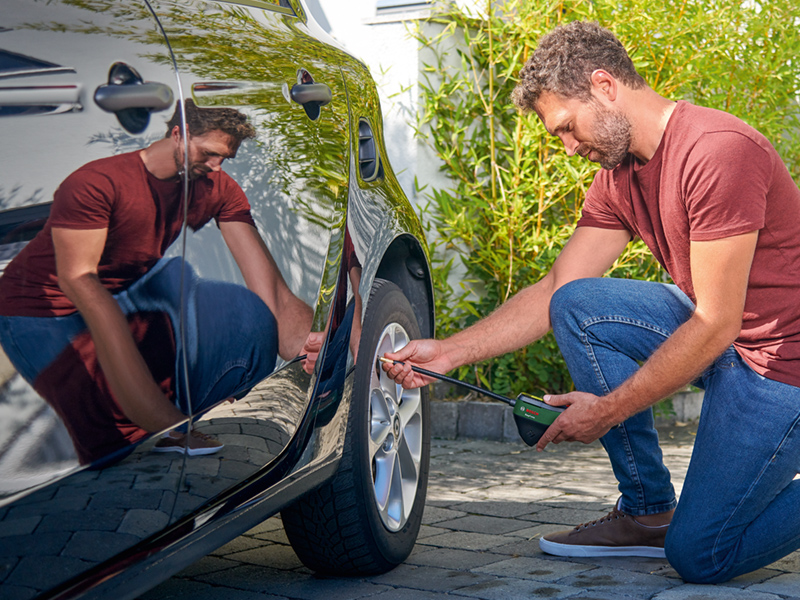 What's in the Box?
The EasyPump comes with a versatile accessory pack that will enable you to connect it to most of the common valve types with everything in the box, including a French valve adaptor, Volume adaptor and Ball Needle adaptor. As well as this you get a premium textile covered hose with a metal coupler, a USB cable for recharging the battery and a textile bag for storage. To help prevent you losing all the accessories, the pump has a built-in compartment which keeps them all safely housed inside the unit until you need them.
Available Now!
The Bosch EasyPump is available now from Tooled Up. Follow the link below to see more information and current pricing.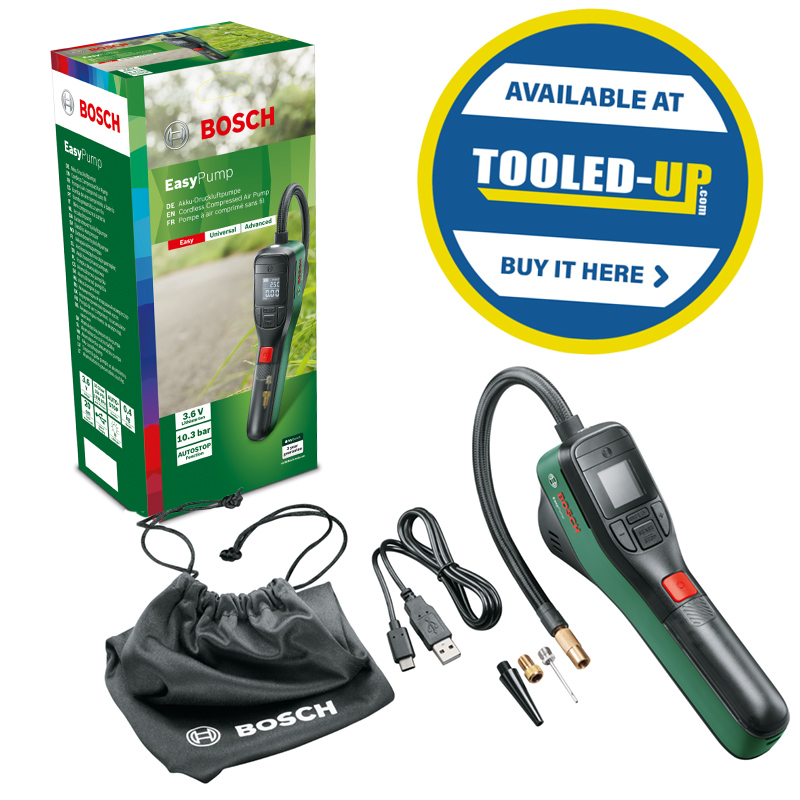 ---
Categories mentioned in this article: