Bosch NanoBlade Saws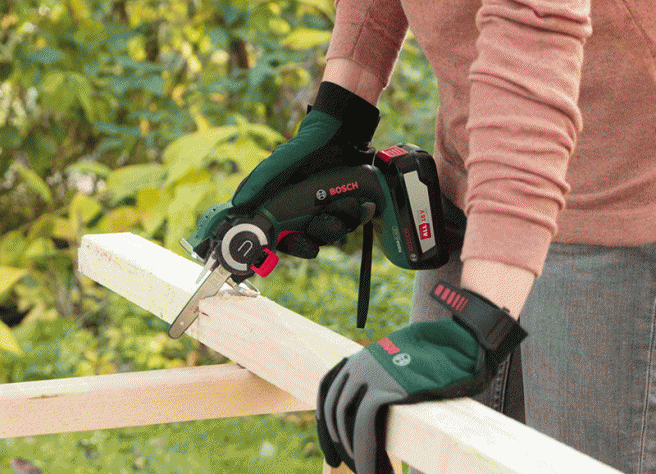 Bosch NanoBlade Saws Updated for 2018
The range of available Bosch Nanoblade saws was updated in April this year with the announcement of the AdvancedCut 18, a cordless 18v model which is compatible with the Bosch Green 18v Power4All battery system. In this blog post we take a look at the Nanoblade line-up and some of the advantages these unique power tools bring to the table.
The first Nanoblade saws came on to the market in 2017 and quickly gained the attention of gardeners and DIYers alike. The NanoBlade itself is essentially a miniaturized chainsaw bar & chain – precision engineered and manufactured by Bosch in Germany, each link in the chain is just 4mm in length and 0.9mm in width. The main impetus behind its development was the desire to create a low-vibration, easy-to-use powered saw for the home & garden market as a direct alternative to reciprocating saws and jigsaws (tools that inexperienced users can often find difficult to control). The fine cutting action on the NanoBlade enables it to cut smoothly without jarring or snagging, resulting in extremely low vibrations and enabling these tools to be easily controlled one-handed. This means there is very little learning curve required to achieve accurate cuts and makes it very easy to stick to a cutting line or to hold branches with your free hand when pruning trees. NanoBlades are suitable for cutting soft wood, hard wood and plastics like PVC.
Due to it's potential in both woodworking and tree pruning applications, Bosch decided to make this technology available in two form factors: a pistol grip cordless variant and a mains powered jigsaw-style D-handle tool. Currently there are two cordless nanoblade saws and two jigsaw-style nanoblade saws. Let's take a closer look at each model in the range.
Bosch EASYCUT 12 LI 12v Cordless NanoBlade Saw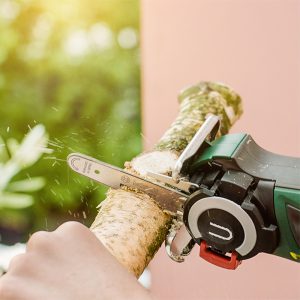 The Bosch EasyCut 12 LI can be powered by batteries from the Bosch Green 10.8v or 12v battery platforms and is a compact, pistol-grip machine. This model proved an immediate success on its release and most users find it to be ideal for pruning medium sized branches while being less tiring to use than a pruning saw or bow saw. The compact one-handed nature of the tool also makes it ideal for working up a ladder or in awkward locations, situations where it might be difficult or impossible to use a reciprocating saw. The EasyCut 12 LI isn't only suitable for cutting branches though; it's great for cutting a variety of DIY materials like dowels, slats and pallet wood, and of course it shares battery compatibility with a wide range of Bosch 10.8v and 12v cordless tools.
The EasyCut 12 LI is available as a body only machine, or complete with a 2.5ah battery, charger and carry case.
Bosch ADVANCEDCUT 18 LI 18v Cordless Nanoblade Multi Saw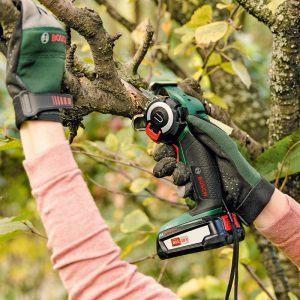 The newest addition to the NanoBlade range, the Bosch AdvancedCut 18 LI is a pistol-grip cordless machine like the EasyCut 12 LI but is instead compatible with batteries from the Bosch Green (Power4All) 18v platform. This means it shares battery compatibility with a larger range of garden and DIY power tools than its smaller sibling, and is likely to appeal to the larger user base of people who have already invested in tools from the Bosch 18v Power4All system. As you might expect, running off 18 volts means this tool is capable of drawing more power but it can also benefit from the higher capacity batteries (such as the new 6.0ah model) that are available on the 18v platform. These high capacity batteries will enable the AdvancedCut 18 LI to run for much longer periods without needing to recharge, and will therefore be ideal for tackling pruning jobs in larger gardens or sawing through larger quantities of construction materials. What's more, the AdvancedCut 18 LI also features an energy efficient brushless motor to ensure maximum runtime.
The AdvancedCut 18 LI is available as a body only machine or complete with a 2.5ah battery, charger and carry case.
Bosch EASYCUT 50 Electric Nanoblade Jigsaw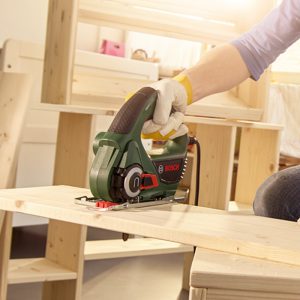 The first of two jigsaw-style Nanoblade saws, the EasyCut 50 is also the most affordable machine in the range if you take into account the battery and charger needed to power the EasyCut 12 LI. Clearly not designed for pruning trees, this is a workshop tool which functions in much the same way as a standard jigsaw, although without the versatility afforded by the different types of jigsaw blades on the market. Instead, the strength of the EasyCut 50 lies in its ease of use. While there is usually a learning curve involved in mastering accurate cuts with a jigsaw, the EasyCut 50 is a much more intuitive tool. Especially when using cheaper models, DIYers can find that jigsaws rattle about all over the place when undertaking difficult cuts, and due to the flexible nature of jigsaw blades they often end up with a sloped edge when cutting anything other than the thinnest materials. The nanoblade's rigid construction and smooth cutting action makes it easy to cut at a consistent angle from the top to the bottom of the workpiece, without the excessive vibration that can make it hard to stick to a cutting line. Additionally, an integrated dust blower constantly clears debris away from the cutting area while the tool is in operation so the operator always has a clear view of what they are doing. Another advantage of the NanoBlade is that it can make a plunge cut directly into the workpiece, meaning cutouts can be accomplished without having to drill holes first.
The EasyCut 50 is a mains powered machine which is supplied with a dust extraction hood, anti-splinter guard and plastic carry case.
Bosch ADVANCEDCUT 50 Electric Nanoblade Jigsaw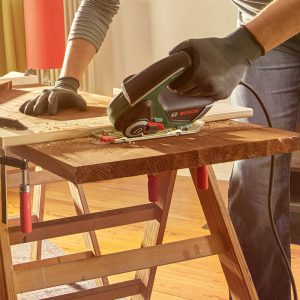 The AdvancedCut 50 closely resembles the EasyCut 50 but as its name suggests it has a few more advanced features built into it. Firstly, a stepless 0-45° bevel facility enables the saw to be used for bevelled cuts, while the EasyCut 50 can only cut at 90°. Secondly, a speed preselection dial enables the cutting speed to be tailored to the material or application for greater versatility and optimum control. As well as this, the AdvancedCut 50 is supplied with a larger accessory pack which includes a guide rail adaptor: this enables the tool to be slotted into a compatible guide rail for absolute precision when making straight cuts. Additional accessories include a selection of depth stops for cutting out grooves into a workpiece, as well as a dust extraction hood and anti-splinter guard as included with the EasyCut model. All of these features are likely to make the AdvancedCut 50 a more appealing choice for frequent DIYers.
The AdvancedCut 50 is a mains powered machine which is supplied with a dust extraction hood, anti-splinter guard, guide rail adaptor, 35mm & 21mm depth stops and a plastic carry case.
---
For more information on any of the models above, check out the Bosch DIY website or feel free to call our sales team on 020 8805 3535. Do you use any of the NanoBlade saws in the range? Let us know your thoughts below!