Bosch Paint Sprayers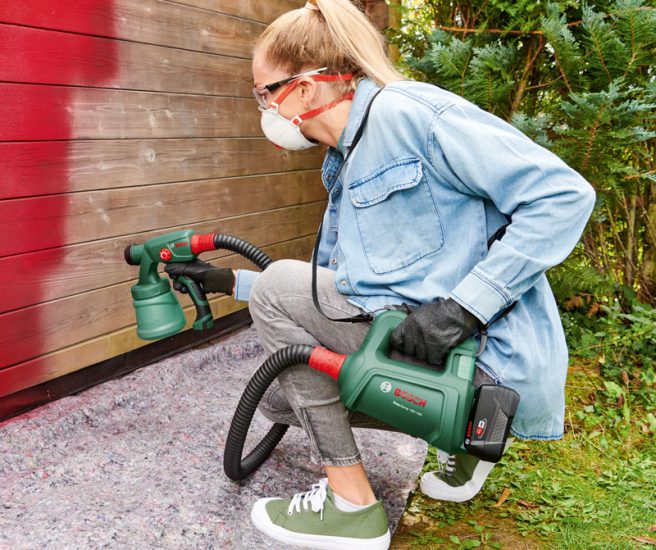 The Bosch Home and Garden power tool range features a number of paint sprayers which are designed for DIYers, and enable the user to get an especially smooth and even professional looking finish to their projects. As well as giving you great looking results, there are some applications where a sprayer is going to be a lot easier to use than brushes or paint rollers and this is another reason you might be considering adding one to your tool kit. In this blog post we'll take a quick look at some of the pros and cons of powered paint sprayers, and provide an overview of the Bosch paint sprayer range.
Paint Sprayer Types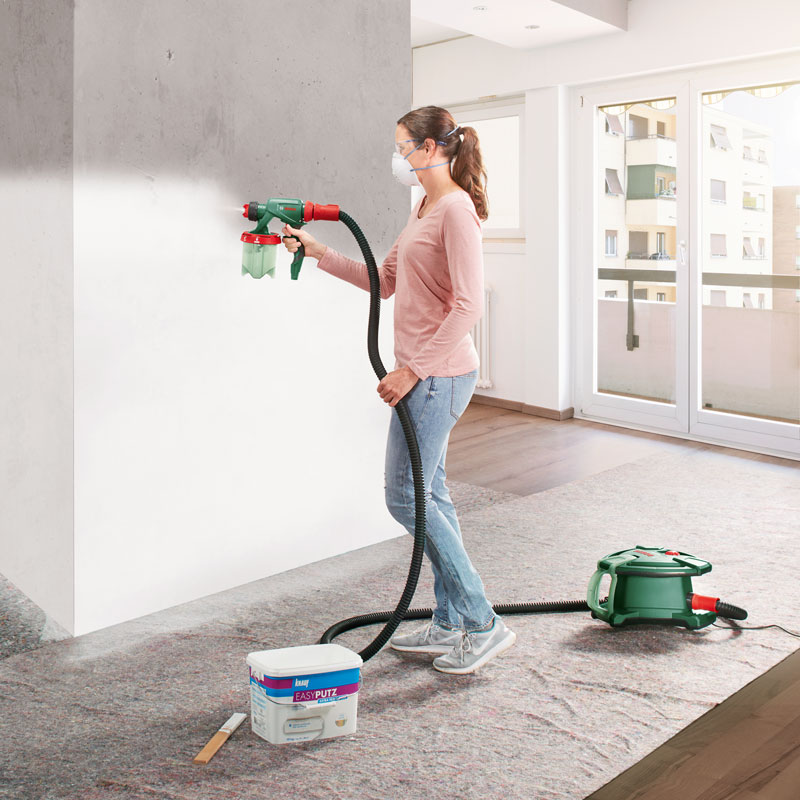 Paint sprayers are generally either one of two types: an all-in-one paint spray gun, or a paint spray system which consists of a handheld sprayer attached to a separate unit which usually contains the power source for the sprayer as well as some basic controls. On both types the paint canister is normally attached to the sprayer itself, and there isn't usually much difference between them in terms of capacity (800ml is a fairly standard size) – the main difference is that while an all-in-one spray gun may be slightly more convenient, there's a limitation to the size and weight of the motors and pumps that can be fitted to them before they become impractical to use, and they tend to be better suited to smaller areas. Paint spray systems on the other hand can be fitted with larger and more powerful pumps for increased flow rates and more efficient spraying over wider areas, but the separate power pack can sometimes be an inconvenience – if you need to work up a ladder for example. At the present time, all of the tools in the Bosch paint sprayer range are paint spray systems rather than all-in-one spray guns.
What Paints can I Use in a Paint Sprayer?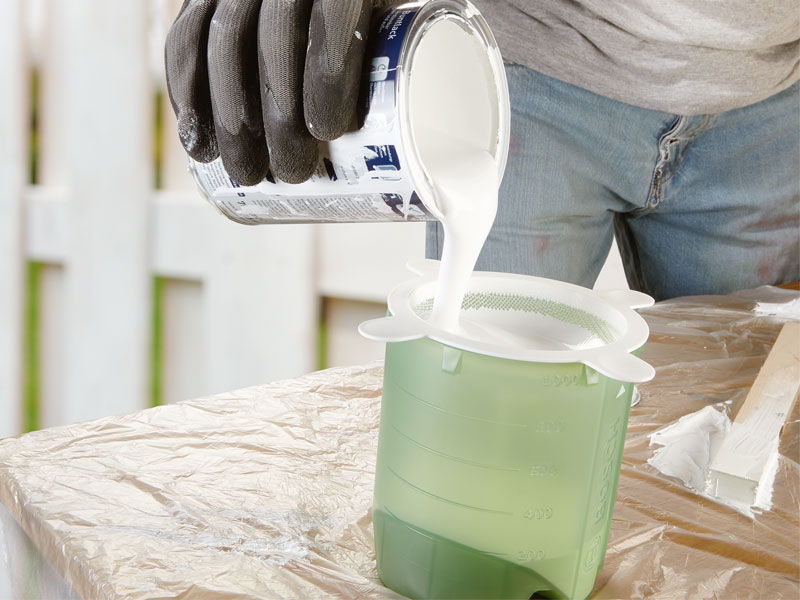 This is a question we get asked a lot here at Tooled-Up, but it can vary between tools so if it's not entirely clear from the product description, the best thing to do is to try and locate the user manual which will list the appropriate types of paint, as well as any dilution steps needed to thin it to the suitable viscosity for spraying. Most paint sprayers will be suitable for spraying other types of liquids as well – for example, oils or varnishes, but again this will depend on the individual sprayer to a certain extent. Whatever you're planning on spraying, don't attempt to do so unless you've taken care to ascertain whether there will be any health and safety risk to you or others in the vicinity first! Many substances are poisonous, irritating or flammable for example, so you always want to check this, even if it's something you know your sprayer is suitable for.
Are Paint Sprayers Faster than Brushes and Rollers?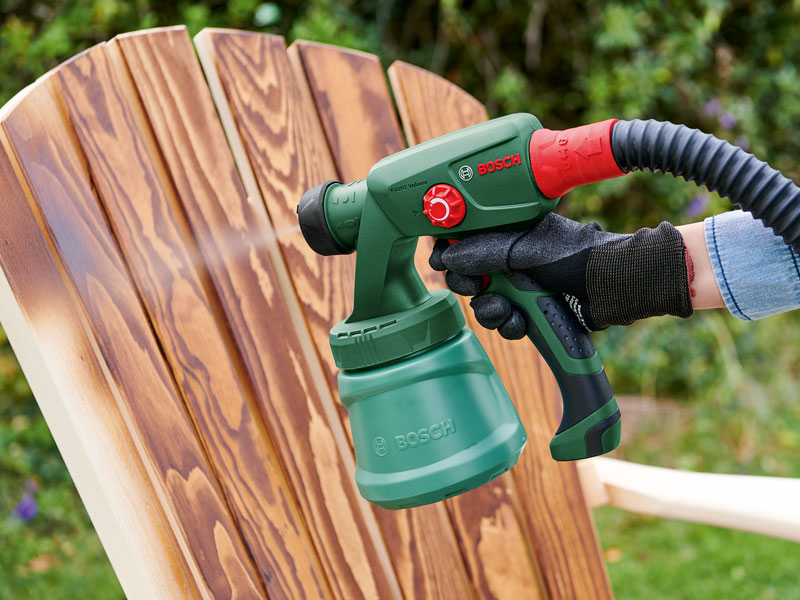 Not necessarily. Although the actual application is very fast and enables you to cover a large area in a short space of time, paint sprayers can require more preparation in order to get a good result, as well as careful cleaning and maintenance to ensure the tool stays in good condition. For instance, you may need to recharge your batteries (if you're using a cordless tool), carefully seal off any nearby surfaces you don't want to get coated in fine spray, dilute the paint to the required consistency each time you refill the canister, and then thoroughly clean the tool every time you finish for the day. Of course, the traditional brush or roller methods both involve preparation and cleaning too – just not as much.
Do Paint Sprayers Leave a Better Finish that Brushes and Rollers?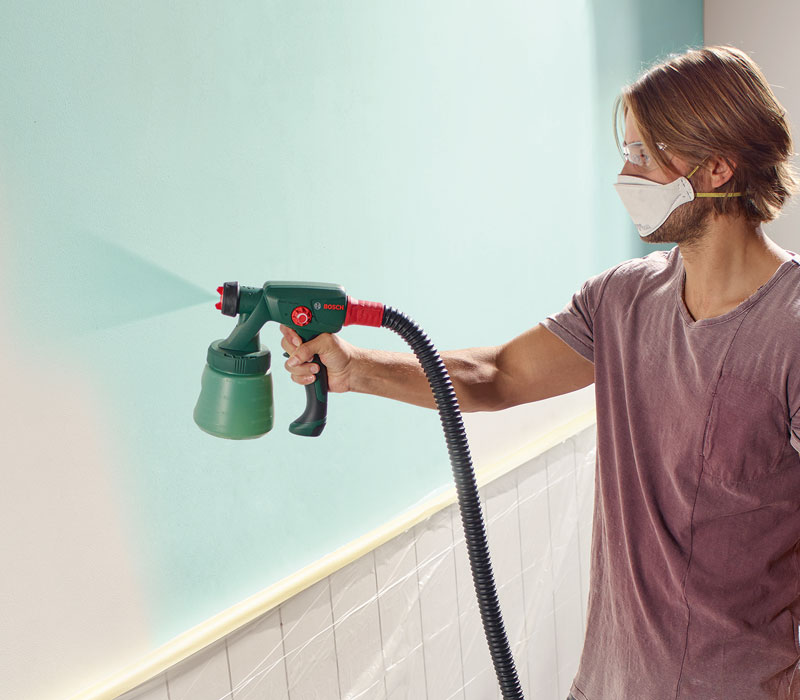 Here's where any extra preparation time may start to pay off: with a sprayer, it's possible to achieve a perfectly smooth, even and consistent coat with ease: what's more, you won't see any brush marks or have to try and pick out any stray brush hairs or bits of roller fluff that end up getting applied to the wall along with the paint (and which you often don't notice until it's dried). Overall, this means that even complete novice painters can get a great looking finish without much of a learning curve at all.
Ideal Paint Sprayer Applications
There are some areas where a paint sprayer excels, or can help to speed up your workflow. As long as you've sealed off anything you don't want covered, they can be used all over a room, without having to resort to smaller detail brushes in tricky areas like corners or along skirting boards, which can help to ensure a more consistent finish overall. They will apply an even coat over any bumps, dents, or embedded objects in the surface without leaving gaps, and are also ideal for textured or three dimensional surfaces, which can often be painstakingly laborious to paint by hand.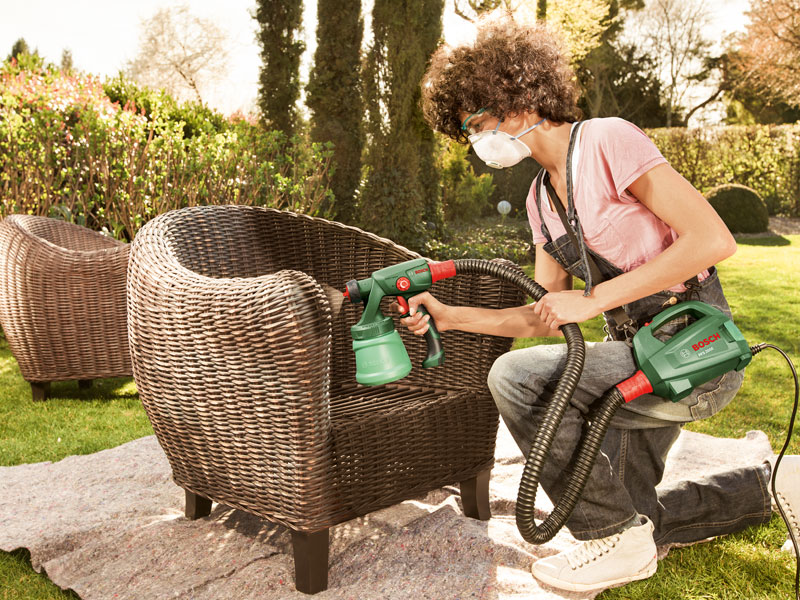 Times When a Paint Sprayer is Not Ideal
People often buy paint sprayers for outdoor projects like fencing and restoring garden furniture, and they are perfect for this kind of job – as long as its not a windy day! Even if you're not painting in gale force conditions, you should be aware of your proximity to any neighbouring properties, as you might find your neighbours don't approve of your colour choice if they find specks of it all over their house.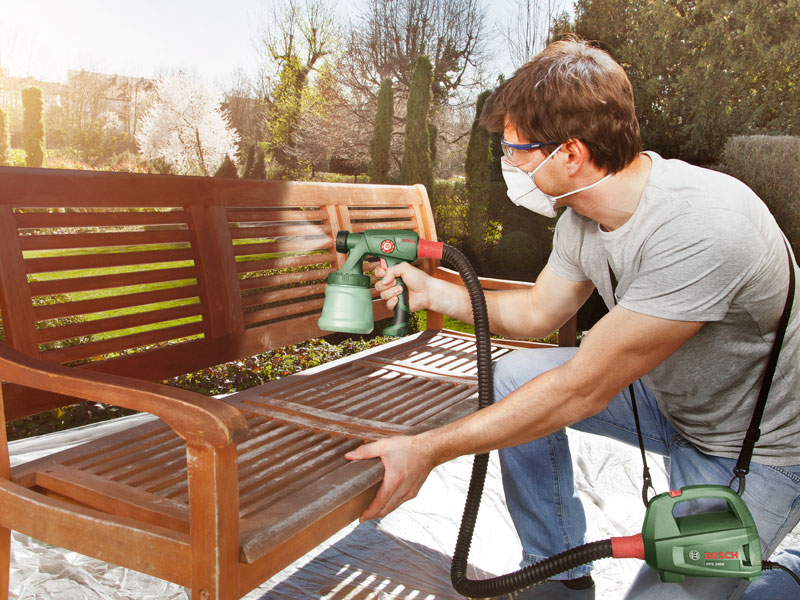 Paint sprayers may also seem like an attractive proposition for the dreaded job of painting ceilings, but unfortunately they are not always well suited to this – operating the sprayer in a vertical position usually stops the paint from flowing effectively to the nozzle, although if you're able to approach the ceiling from a less extreme angle you may have more success – additionally, some sprayers are specifically designed to work when held vertically, so it is possible to get good results with the right machine.
The Bosch Paint Sprayer Range
As mentioned at the start of this article, all of the paint sprayers we're looking at here are part of the Bosch Home & Garden (Green) range, and are designed for DIYers. This means they're affordable, easy to use, and all come with a three year warranty for domestic use.
Bosch PFS 2000 Paint Spray System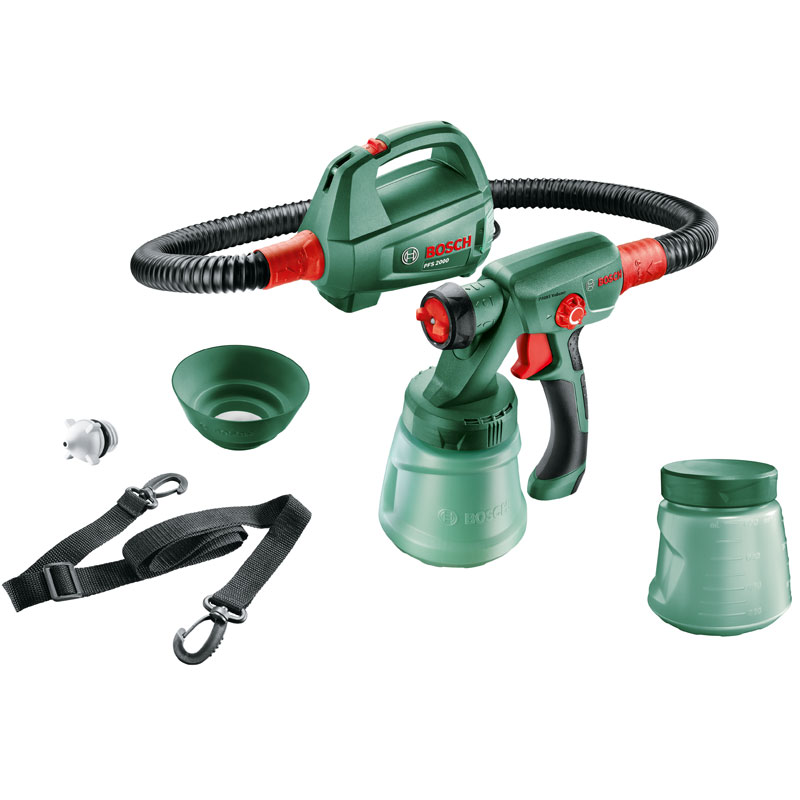 The PFS 2000 is a compact and lightweight system with a carry handle as well as an included shoulder strap for carrying it hands-free. It is a corded electric machine which plugs into a standard mains socket. Featuring a three stage adjustable spray and continuously variable paint flow control, it comes with a nozzle for wall paints and a separate nozzle for lacquers and glazes. Spraying up to 200ml per minute, Bosch say it is capable of painting 1.5 square metres every minute.
Bosch EASYSPRAY 18V-100 18v Cordless Paint Spray System
The EASYSPRAY 18V-100 is a similar design to the PFS 2000 except it is powered by a PowerForAll 18v battery rather than the mains. It shares battery compatibility with all the tools in the PowerForAll 18v Alliance (which has recently been expanded to include brands like Flymo, Gardena and Wagner as well as Bosch) and can be purchased as a bare tool if you already own a suitable a battery and charger, which will save you a bit of money in the process. Suitable for spraying solvent-based and water-dilutable lacquers, varnishes, primers, clear lacquers, impregnations, oils and water, the EASYSPRAY 18V-100 has a flow rate of up to 100 litres per minute.
Bosch PFS 3000-2 All Paint Spray System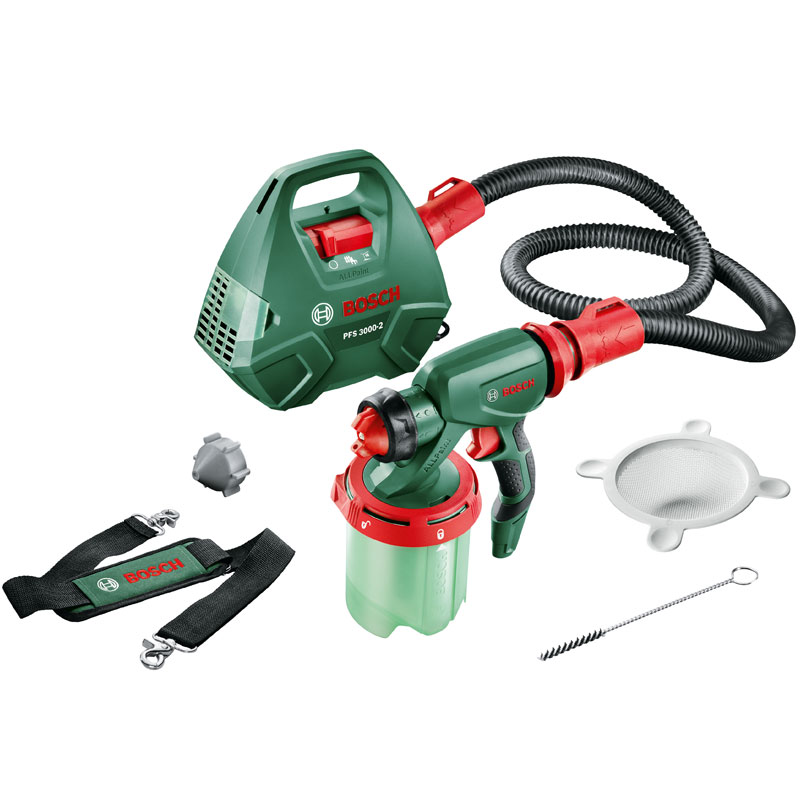 The PFS 3000-2 comes with a larger tank that has a capacity of 1000ml and also features Bosch ConstantFeed technology which is designed to maintain a constant spray when it gets tipped at an angle which would otherwise interrupt the flow – ie when working overhead or closer to the floor. Supplied with one nozzle for wall paints and one nozzle for lacquers and glazes, it can deliver up to 300ml per minute, which Bosch say provides a coverage of up to 2 square metres per minute.
Bosch PFS 5000E Paint Spray System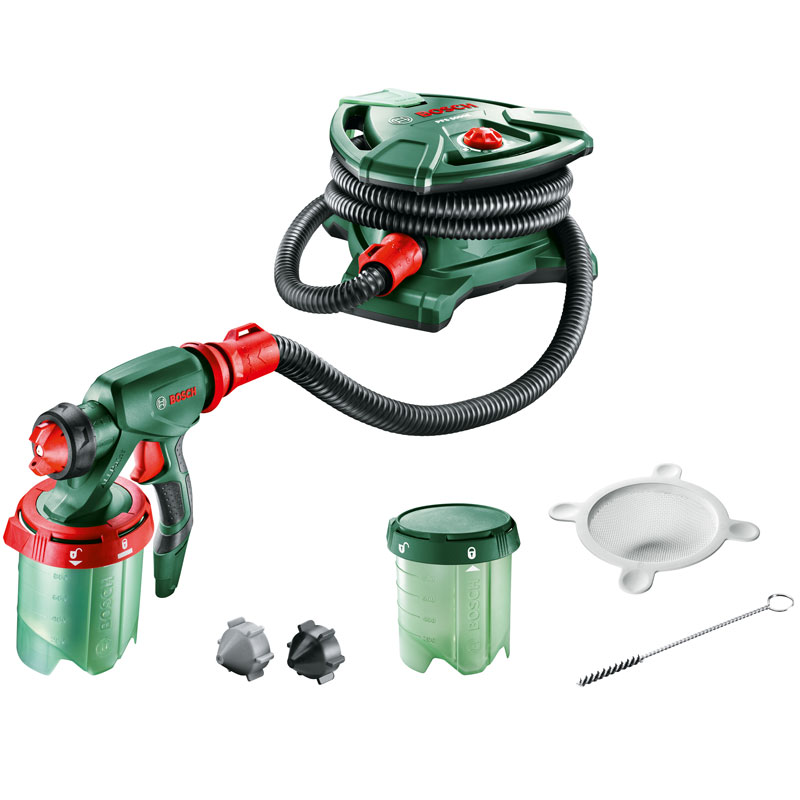 The most powerful sprayer in the range, the PFS 5000E has a 1200 watt motor and a maximum flow rate of 500ml per minute – this equates to 3 square metres per minute for rapid coverage, and like the PFS 3000-2 it takes 1000ml tanks (two are supplied) with ConstantFeed technology for consistent spraying even when the sprayer is held at awkward angles. It can also be used with undiluted paints. Unlike the other Bosch paint sprayers, the motor and pump housing is not designed to be carried but instead it has wheels for mobility, a long 4 metre hose for freedom of movement, and a handy foot switch for turning the sprayer on or off.
To take a closer look at the EASYSPRAY 18V-100 why not watch the official Bosch product video below:
For a complete range of paint spray systems and spray guns, you'll find plenty of options on the Tooled-Up website, as well as traditional painting tools like brushes and rollers. We can also supply a wide variety of paints, stains, varnishes and other treatments to help bring your projects to life.
---
categories mentioned in this article: