Bosch PushDrive Cordless Screwdriver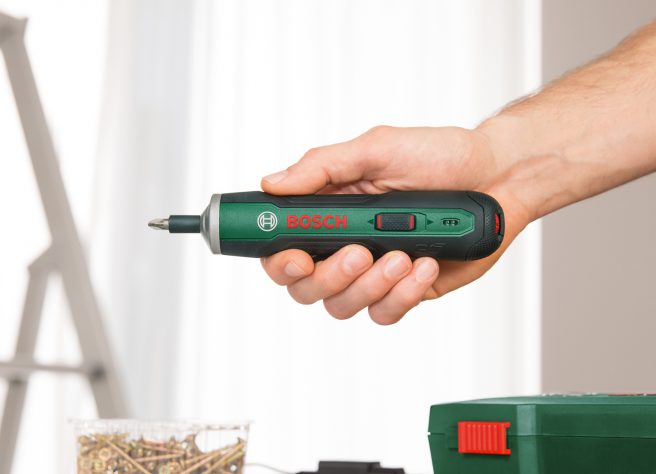 Bosch PushDrive: a Pocket-Sized Power Tool
The new PushDrive is by no means the first electric screwdriver to roll off the Bosch production lines – in fact they've also just released the anniversary edition of the highly successful IXO series in a limited black & gold finish – but it's definitely one of the smallest. Quite literally a pocket-sized power tool, this compact machine also boasts a few design features you might not expect. In this blog post we'll be taking a look at some of the benefits of the new Bosch PushDrive, starting with the all-important question: "do I need a cordless screwdriver"?
Do I need a Cordless Screwdriver?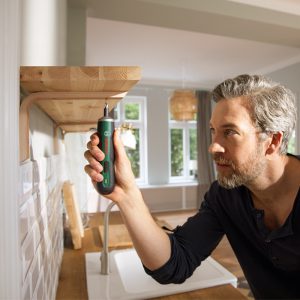 It's safe to assume that most of us will own a selection of manual screwdrivers already, and a large proportion of us will also have access to a drill driver of some sort. So what advantages does an electric screwdriver confer over these fairly ubiquitous tools? Well firstly, it takes the repetitive physical labour out of construction and disassembly projects – driving screws by hand quickly becomes tiring, and it can take a long time too. If you're going to be constructing larger items like pieces of flatpack furniture or racks of shelving, a powered screwdriver can take a great deal of time and effort out of the job. Battery powered tools also come in extremely handy when you're working in awkward locations – for example, if you need to drive a screw right underneath a shelf or tabletop and there's barely any room to manouevre your hand. Simply guide the screw into place, press the switch and away you go. So cordless screwdrivers can help save a great deal of time and frustration if you only have a manual screwdriver to hand, but what about the aforementioned drill driver? Drill drivers are excellent at driving screws, they are extremely versatile, and they're also pretty affordable, meaning most experienced DIYers will own one already. Well the primary advantage of a cordless screwdriver here is its compact size – reduced height and width means much better access to nooks, crannies and other tight spots where larger machines simply won't fit, and it can be easily stored away in a kitchen drawer, toolbox or bag in between uses. Machines like the PushDrive can also offer a much more ergonomic alternative to the traditional pistol grip trigger of cordless drills in some situations, for example when driving screws into the underside of a shelf from below, or when working inside cramped spaces like drawer interiors.
Bosch PushDrive Features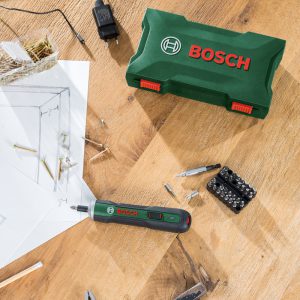 Moving on to the PushDrive itself, it's fair to say that Bosch have crammed a fair amount of German engineering into it. Although not much bigger than a standard screwdriver, it houses an integrated lithium ion battery and protective circuits which safeguard against overload, high temperature and deep discharge, all of which risk harming the battery and result in automatic shutdown of the tool. LED indicators on the side of the housing display how much charge is left in the battery in three stages (30%, 60% or 100%) so it's easy to check whether the PushDrive needs recharging before starting a job, and charging is accomplished via a standard USB cable which can be plugged into a computer or 5V mains adaptor, meaning it shares compatibility with a wide variety of common electronic devices. Controls include forward, reverse and neutral modes, along with an adjustable torque dial which can be set between 2.5Nm – 5Nm in six stages. The neutral mode locks the tool and enables it to be used as a manual screwdriver, for example if the battery is flat, while the adjustable torque enables you to dial in the optimum settings for driving different sizes of screw flush to the surface without worrying about causing damage to the material or fastener. This type of function is much more commonly seen on drill drivers than compact cordless screwdrivers and is one of the features that makes the Bosch Pushdrive stand out amongst its contemporaries. At the business end, a magnetic tool holder enables you to attach any standard 25mm 1/4″ hex shank screwdriver bit, and it ships from the factory with 32 of them so you should be well equipped to take on most jobs with everything included in the box. Speaking of the box, it comes in a really nice compact power tool case with an insert to keep all your screwdriver bits and charging cables organised while in storage.
Push & Go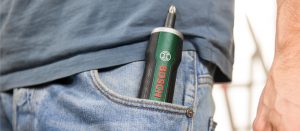 You might have noticed one feature missing from the Pushdrive and that's a power switch. In fact it doesn't have one – you simply apply pressure to the screw and the motor kicks in, whether you're in forward or reverse mode. This has enabled Bosch to make it really compact, streamlined and easy to operate even in the most awkward of workspaces. And if you're worried about it going off in your pocket while you're climbing a ladder or something, setting the direction to neutral mode in between uses locks the machine and prevents any incidences of accidental activation. External switches are often one of the first things to go on power tools and the largely de-cluttered exterior of the PushDrive should hopefully increase its durability over time too.
Conclusion
It's hard to find much to dislike about the Bosch Pushdrive. Lightweight and compact with an ergonomic form factor and ease-of-use that makes it especially well suited to working in awkward spaces, it's basically 32 screwdrivers in one with the included bit set, and of course you can use it with other standard screwdriver bits too. The plastic storage case will hopefully make it easier to keep hold of the charging cables, but even if you lose them they can be easily replaced with standard equipment and in the meantime you'll still be able to use it as a manual screwdriver.
Tech Specs
• Battery voltage: 3.6v
• Battery capacity: 1.5 Ah
• No-load speed: 360 rpm
• Max. torque: 5 Nm
• Max. torque for soft/hard screw. applications: 2.5 / 5 Nm
• Screw diameter up to: 5 mm
• Charging time: 1.5 hours
• Chuck: Magnetic 1/4″ hex shank bit holder
• Machine weight: 0.28 kg
---
You can purchase the Bosch PushDrive Cordless Screwdriver here.