Bosch UniversalHumid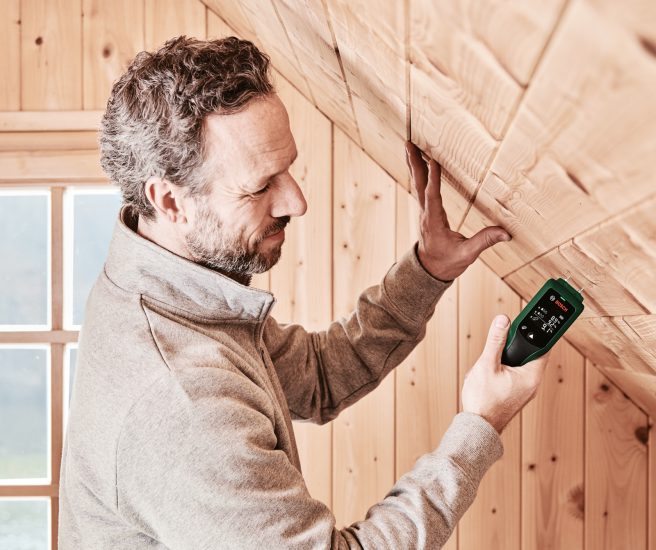 New Bosch UniversalHumid Moisture Meter
Part of the home and garden (Green) range, the Bosch UniversalHumid is a new measuring tool which is designed for testing wood for dampness. Being part of the green range, it is affordable and easy to use, being designed for homeowners and DIYers, rather than professional use. Bosch do make professional grade moisture meters of course, and these can be found in the Blue range of tools for trade and industry, but the UniversalHumid is currently the only tool of its kind available in the Bosch Home and Garden catalogue.
Why Might You Need a Moisture Meter?
There are a number of situations in which it is useful to be able to gauge the level of moisture in a piece of wood. You may be concerned about damp penetrating parts of your home, or you might want to be certain that conditions are ideal for applying paint or finish. If you're a woodworker or DIYer you might want to check your materials before starting a project to avoid issues with expansion, contraction and warping. Alternatively, you may want to make sure you're only putting dry logs on your fire to avoid excessive smoke.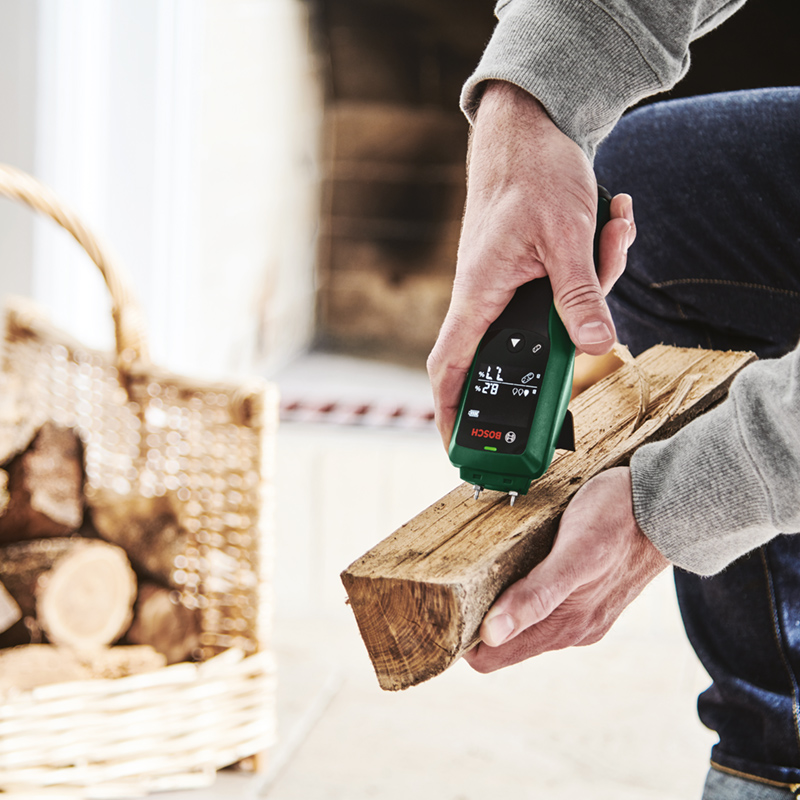 While higher levels of moisture can be detected fairly easily by sight and touch, it's a lot harder to make an accurate judgement when the wood isn't completely saturated and there are no visual clues. This is where the Bosch UniversalHumid comes in: simply insert the two metal prongs into the test piece and it will give you a readout on the screen.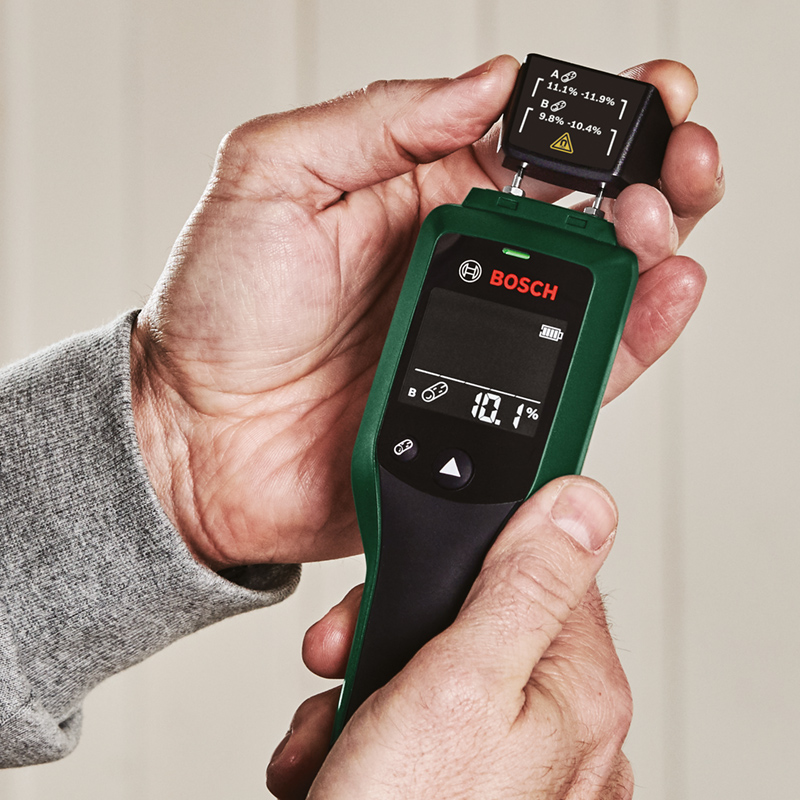 Suitable for Various Wood Types
Different species of wood absorb moisture differently, so the UniversalHumid has two different test modes, based on whether you're measuring a wood from group A (Maple, Birch, Larch, Douglas Fir, Cherry, Spruce) or group B (Ash, Pine, Oak, Walnut, Beech). Of course, in many cases the user may have no idea what species of wood they're testing, so Bosch have provided an identification guide along with the tool to help you make sure you've selected the appropriate grouping.
Once the UniversalHumid has taken its reading, it displays this on screen for you as a percentage, but it also features a simple traffic light display that gives you the broad consensus: Green means the wood can be considered dry, red means it is damp, and amber indicates a low level of moisture.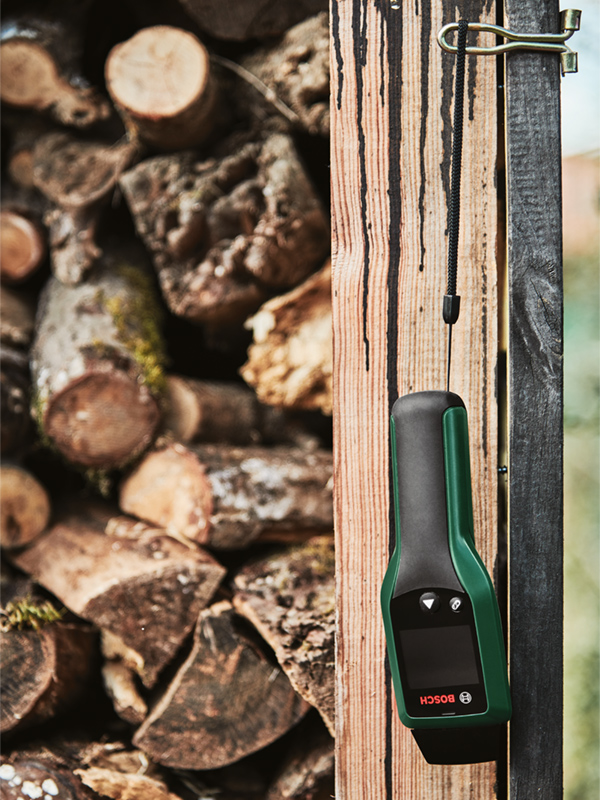 Powered by standard AAA batteries, the Bosch UniversalHumid is supplied complete and ready for immediate use with a set of batteries and a wrist strap which can also be used as a hanging loop. To protect the prongs when not in use, a plastic protector cap is provided which can be affixed magnetically to the rear of the tool while it is being used.
Available now from Tooled Up
The Bosch UniversalHumid is available now and can be viewed here on our site.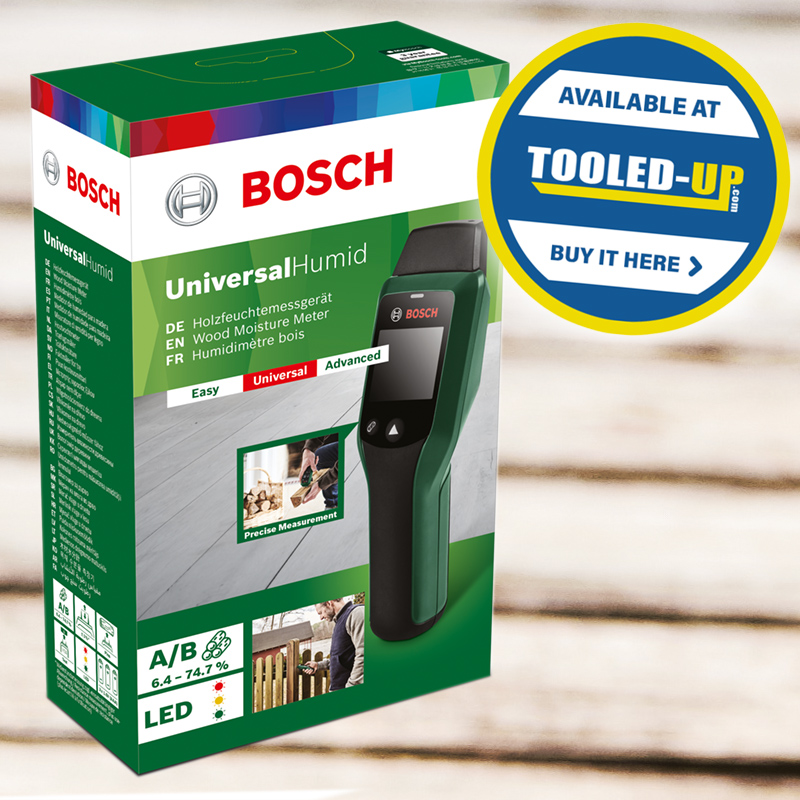 ---
Catgories mentioned in this article: