Buyers Guide to Plunge Saws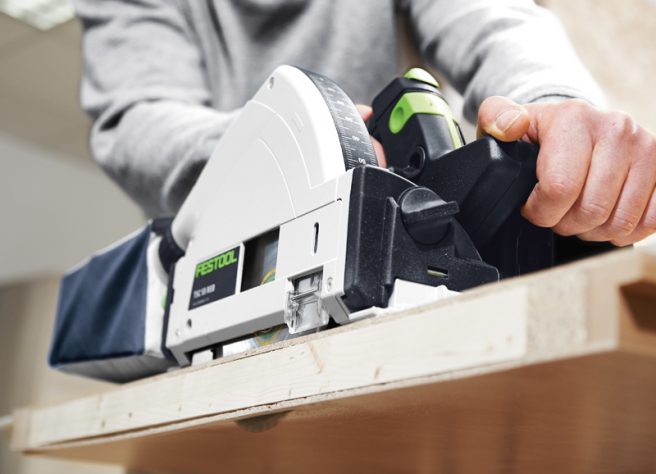 Although they have been commercially available since at least the 1980s, when Festool – then Festo – released their AXF and AT series machines, there have never been as many options of plunge saw available on the market as there are today. Whereas they may have once been regarded by many as a specialist and slightly expensive investment, this proliferation of tools from various manufacturers has resulted in them becoming one of the fastest growing sectors of the power tool industry. If you're wondering whether a plunge saw is right for you, or what features to look out for, then read on.
What is a plunge saw?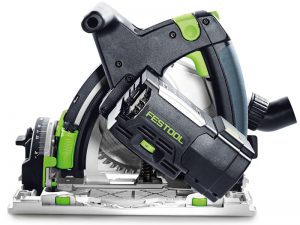 A plunge saw is a type of circular saw which typically houses its blade on a spring mounted system inside a solid metal blade guard to the right of the trigger. The blade must be plunged down to the required depth before it can engage the workpiece, hence the name. The machine can be fed into the edge of the material once it has reached plunge depth, or alternatively it can be plunged directly into the material, e.g when performing cut outs in work tops for sinks, cooker hobs etc. As soon as pressure is released on the handle, the blade retracts back into its housing.  Most plunge saws have a bevelling facility along with an adjustable depth stop and gauge which enables you to limit the descent of the blade to match the thickness of the material being cut. Although they can be used to fulfil the same role as a standard handheld circular saw, plunge saws have become synonymous with guide rails, or tracks, which is why they are also commonly referred to as track saws. Not all plunge saws are supplied with tracks, or even designed to be used with them (e.g smaller machines like the Draper MPS600SF Mini Plunge Saw). However, anyone thinking of investing in a plunge saw for the first time will likely be considering a track system for the considerable advantages this offers.
Benefits of Using a Plunge Saw
In its most common application, a plunge saw will be placed on to a guide rail, or number of guide rails, which can be connected together to achieve any length of track the operator requires, and which the machine simply glides along in use. These rails self adhere surprisingly well to any sheet goods you are likely to want to cut, but can also be clamped down for extra security, using specialist clamps (e.g the Festool FSZ 120 Guide Rail Clamps). Upon first use of the saw, a rubber strip on the outside edge of the rail is trimmed to the exact path of the blade, whereafter it will act as an anti-splinter device. This, combined with the absolute precision afforded by the guide rail, and especially in conjunction with a good quality blade, enables extremely clean and accurate cuts, of comparable quality to a table saw.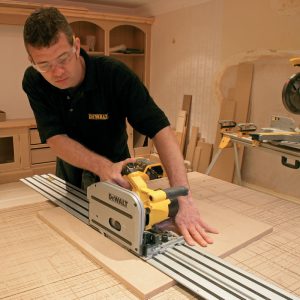 However, a guide rail system also brings the capability to saw much larger workpieces than would be safely or easily achievable with a table saw (one of the reasons plunge saws are especially popular in applications such as cabinet making). It is also a lot easier to take onto a job site, and can be disassembled and transported between locations quickly and easily. Likewise if you are strapped for space in your workshop, a plunge saw and track can fulfil a lot of table saw roles without taking up too much space. That being said, there are some applications, such as repetitive cutting of identical, smaller pieces, at which a plunge saw is a less than ideal replacement for a table saw, and most users will reserve their plunge saw for cutting up larger sheet goods and mobile applications if they have access to both.
Another key advantage of plunge saws compared to other options on the market is that they usually offer excellent dust extraction, a primary concern when cutting large amounts of sheet goods and especially materials like MDF. The enclosed blade guard common to most plunge saw designs means that dust is largely trapped inside the enclosure where it can be efficiently sucked out through the dust extraction port.
So we can see that the primary advantages of plunge saws can be summarized as follows:
1. Cut Capacity: a plunge saw is usually the best option for safely and accurately trimming large boards and sheet goods to size.
2. Quality of cut: plunge saws are capable of producing exceptionally clean, splinter free and accurate cuts.
3. Portability: a plunge saw and guide rail system can be easily transported to and from work sites, and likewise takes up very little room while in storage.
4. Dust extraction: The enclosed blade guard enables very efficient dust extraction for a cleaner working environment
What to look for in a Plunge Saw
So far we've gone over the features common to plunge saws, but before choosing a prospective model for your requirements, it's a good idea to identify what sets them apart. Here are some of the common and not so common design features, and a selection of machines that they apply to.
Battery Power
Plunge saws are power hungry beasts, and with motors rated at 1200 watts and upwards, have historically been corded machines. However, with recent developments in battery technology, notably the DeWalt Flexvolt system, battery powered variants such as the DeWalt DCS520 54v Cordless XR Flexvolt Plunge Saw are now a viable alternative. As well as benefitting from increased portability and flexibility in jobsite environments, cutting the cord means the length of cut you can achieve in one pass is no longer limited by the location of your power socket, and removes the concern of having to keep the cable out of harm's way while sawing. If cordless operation is a must for your work requirements, then a battery powered plunge saw may be a no brainer, especially if you've already invested in a compatible battery platform.
Variable Speed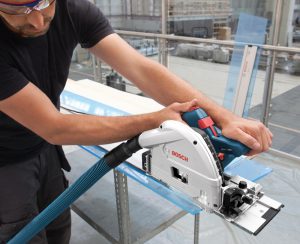 Variable speed control gives you greater versatility and enables optimum performance if you are likely to be cutting a range of different materials. Most professional grade plunge saws offer this feature, including the Bosch Professional GKT 55 GCE Plunge Saw pictured.
Soft Start
A machine without a soft start system will be subjected to the recoil of the motor on start up. Where this can prove an issue on plunge saws is if this is substantial enough to shift the track from its carefully aligned position just before starting the cut. As well as ensuring accuracy on startup, a soft start machine will also be more comfortable to use. However, if the secondary benefit is not of huge concern, a good pair of guide rail clamps can also be pressed into service to help ensure the track remains firmly in place for critical applications. As with variable speed control, most professional grade machines will have a soft start motor as standard.
Electric Brake
Although the automatic self retracting action of plunge saws helps to remove many of the hazards associated with circular saws, an electric brake provides an additional measure of security and ensures the blade is brought to a rapid halt whenever the trigger is released. Also useful when performing more precise cuts, this feature can be found on machines such as the Makita SP6000 Plunge Saw and the Festool TS55 Plunge Saw.
Riving Knife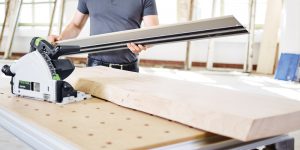 A riving knife is a safety feature added to some plunge saws which is especially worthy of consideration if you are likely to be ripping lots of timber and natural woods. A riving knife helps to maintain an equal distance between the two cut sides and stops them from closing back around the blade as it passes through the material. Without this feature, the tool may be more susceptible to kickback (a sudden, and violent reaction to the blade becoming pinched or jammed while in motion). Saws that are equipped with this feature include the Festool TS55 Plunge Saw and the DeWalt DWS520K plunge Saw.
Anti Kickback System
Some systems have additional kickback protection in the form of an integrated device which prevents the saw from moving backwards in its track. This helps to ensure the machine cannot jump out of position if kickback occurs, though it is worth noting that as the saw will only slide forwards this can sometimes be a minor hindrance when setting up for a cut. Also, anti kickback devices are reliant on the guide rail being used, and even though there is a lot of cross compatibility between different manufacturers systems, they may not work with other manufacturers tracks. Anti Kickback mechanisms are common to the DeWalt guide rail system, which includes the DeWalt DCS520 54V Cordless XR Flexvolt Plunge Saw and the DeWalt DWS520K Plunge Saw.
Scoring Facility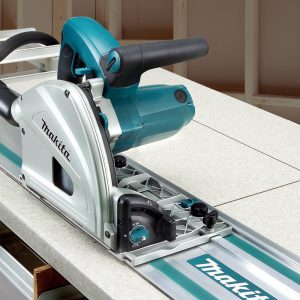 Some machines, such as the Makita SP600 Plunge Saw, include a dedicated scoring facility. This enables the operator to quickly and easily cut a very shallow initial pass into materials (such as laminates) which are prone to chipping and splintering. This enables the cut to be completed cleanly on the second pass, with delicate surface materials emerging unscathed, and is a feature that is worthy of consideration if you are likely to be cutting materials such as melamine panels, veneers and laminates.
Accessories
As well as the machines themselves, there are a range of guide rails and accessories available on the market. Plunge saws are often sold as kits, along with rails and additional accessories like clamps and transport cases, which can often be a more economical way to purchase all the equipment you need, unless you have already invested in a suitable guide rail system. As mentioned earlier, there is a degree of cross compatibility between different manufacturer's tools and rails, though unless you are able to confirm this before purchasing, it is best to stick to the rail recommended by the manufacturer of the saw to ensure everything performs as it should. With the correct adaptor, some guide rails can also be used with other tools such as routers or jigsaws as well.
To browse our range of plunge saws and accessories, check out the categories on our website and if you have any questions feel free to contact us or pop into our trade counter for more information.
---
Categories discussed in this article: