Choosing a Cordless Garden Power Tool Kit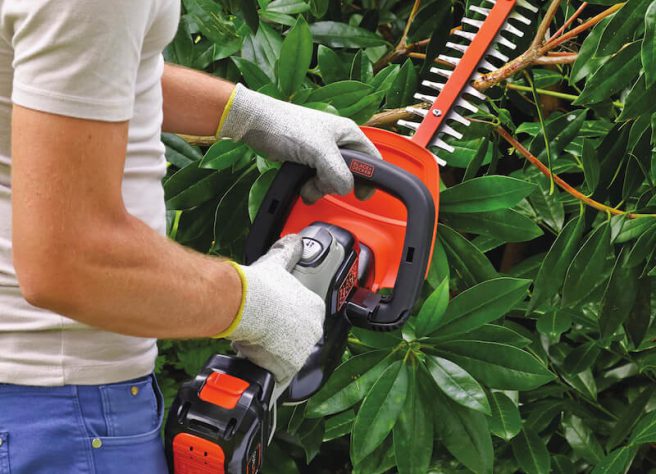 These days, more and more gardeners are eschewing petrol and corded electric garden tools for the convenience of battery power. There are a number of advantages offered by cordless tools: providing maximum operational freedom without the weight, noise and exhaust fumes of a petrol engine, they don't have any power cords to become entangled or accidentally severed by blades, and recharging a battery is a much simpler task than buying, transporting, mixing and safely storing fuel. Traditionally, the trade off has always been lower power and runtime; however, today's lithium ion machines are available in increasingly higher voltages, and with high capacity batteries for extended use, enabling the gardener to comfortably accomplish more demanding tasks.
So it's not surprising that cordless technology represents one of the fastest growing areas in the outdoor tool market, and many gardeners are keen to replace their old machines with battery powered alternatives. However, if you're thinking of investing in a new cordless garden tool, it is worth taking some time to consider the options.
Battery or no Battery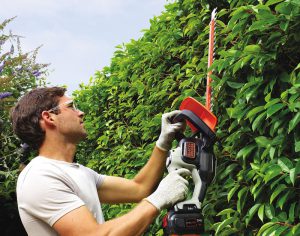 Firstly, it is worth noting that most cordless tools are sold either with battery and charger, or without (and you should clarify this before purchasing!) – the reason being that the battery is capable not only of powering the tool in question, but also a range of other tools from the same manufacturer. For instance If you bought an 18v Bosch Power4All hedge trimmer with a battery and charger, and later decided you needed a new grass trimmer, you could buy a "body only" Bosch 18v Power4All trimmer and power it off the same battery. And in fact, in the case of the Bosch Power4All range (and many other ranges), this is not just restricted to garden tools. The same battery can be used to power any 18v Power4All machine from the Bosch DIY range of power tools. This saves you the expense of having to buy multiple batteries and chargers for every machine, so it's worth considering what cordless tools you may want to add to your collection in the future, and indeed any that you already own. It may well be the case that you already own a compatible battery and charger for a suitable tool. As a general rule, as long as the manufacturer, battery voltage and battery chemistry are the same (for example, Black & Decker 18v lithium ion) then batteries are interchangeable. One notable exception to this is in the case of manufacturers who split their product groups into Professional & DIY grade ranges, in which case the batteries are generally incompatible – for instance Bosch Blue (professional) & Green (Garden & DIY).
Available Platforms
If you're choosing a cordless platform that offers you the most versatility, then you're likely to consider an 18v range, as this is currently the most popular voltage for day-to-day professional and consumer grade cordless tools. Most manufacturers offer a wide range of options in this category. Makita's 18v range, for example, consists of over 100 tools. Unfortunately, some garden machines (like lawnmowers) are quite power hungry and require higher voltages in order to run efficiently. If this is a problem, you may find a solution in the new Flexvolt and DualVolt ranges introduced by DeWalt and Black & Decker respectively. These powerful 54v tools run on special batteries which are also compatible with those manufacturers' 18v ranges, meaning you can power a wide range of cordless tools on just one battery. Some manufacturers also offer 36v tools which are compatible with their 18v ranges, being powered by two standard 18v batteries installed on the machine.
Accessories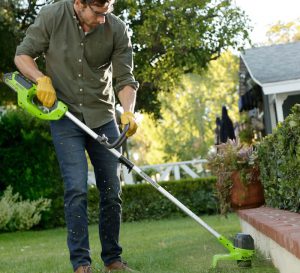 When buying any new cordless garden tool, it is worth checking what accessories are available from the supplier. Stocking up on consumables (such as strimmer line, brush cutter blades, hedge trimmer oil etc) will save you the hassle of having to order more in the future, and if you can afford it, it is a good idea to purchase a spare battery for your tools in case you need to replace one further down the line – additionally, having a fully charged battery on hand will enable you to complete longer tasks with minimal downtime. If you'd like to achieve longer runtimes, look for compatible batteries with a higher ah (ampere hours) rating.
Hopefully this blog has given you some pointers if you're thinking about making the jump to cordless garden maintenance. Check out the Garden Tools section of the Tooled Up website to see our available garden power tools, hand tools and machinery, including a wide range of cordless power tools from some of the biggest manufacturers in the industry.
---
Categories discussed in this article: