Choosing a Cordless Grass Trimmer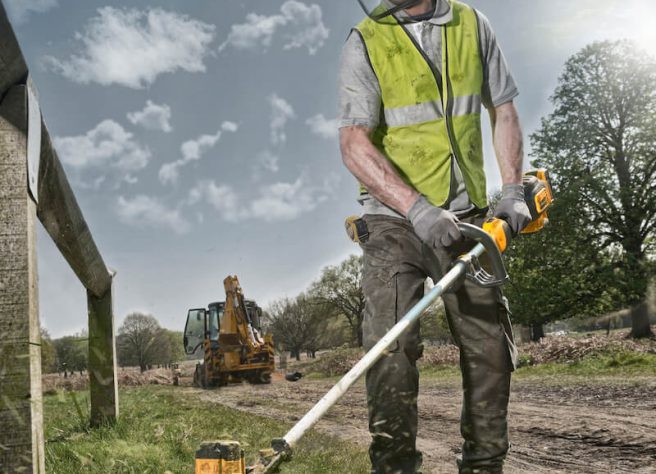 When it comes to tackling grass and weeds in awkward locations – for instance, when working near trees and garden furniture, or on sloped or rough terrain – a grass trimmer, or strimmer, is the tool most gardeners and landscapers turn to.
Advantages of Cordless Technology
Invented in the 1970s, the trimmer has since become a well established and almost indispensable component of many outdoor power tool kits, but it wasn't until fairly recently that advances in affordable battery technology have provided the consumer with an ever growing range of viable alternatives to the petrol or corded electric machines that have historically dominated the market. While petrol combustion engines have always provided the best combination of power, runtime and freedom of movement, the capabilities of today's battery powered machines are proving a tempting alternative to many users.
When we consider the main disadvantages of petrol trimmers – weight, noise, exhaust fumes, and the trouble of buying, transporting and safely storing fuel – it is clear why battery power can seem a more user-friendly option. As well as providing the cordless freedom to access the remotest areas, these machines are low maintenance and easy to operate, while being much lighter and quieter than their petrol counterparts. So if you're in the market for a new cordless trimmer, or are thinking of making the switch over to battery power, what should you look for?
Battery Chemistry
The dominant battery currently is lithium ion (li-ion) which offers several advantages over older formats like NIMH or NICAD. Lithium ion batteries can be stored for longer without losing their charge, and can be charged at any time without risk of damaging the cells. For increased efficiency, many manufacturers have begun combining lithium ion battery power with brushless motors, which generally offer higher torque to weight ratio with less mechanical wear and a longer lifetime. Going with a lithium ion machine from a well established manufacturer should offer the best long term sustainability, since you will probably still be able to find spare or replacement batteries further down the line if you need them.
Voltage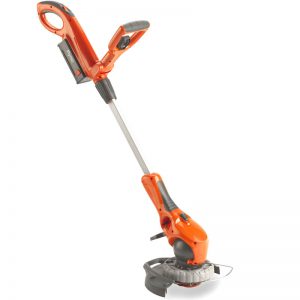 Another important factor to consider is voltage. It will be fairly obvious to anyone with a rudimentary grasp of electricity that higher voltages equal more power, and it is not uncommon to find modern trimmers with voltages of up to 54v and 80v, exceeding that of most cordless industrial power tools. However, it is worth weighing this up against compatibility with other tools you may already own, or wish to purchase. For instance, investing in a machine from the Black & Decker 18v range gives you the option to power a wide range of additional garden & DIY power tools using the same battery and charger, whereas an 80v battery platform will generally consist of far fewer options. An antidote to this problem is the recent addition of the Flexvolt and Dualvolt ranges from DeWalt & Black & Decker, which use dual voltage batteries, capable of powering both 18v and 54v machines, giving you a much greater scope of options. Cordless power tools are often available as body only machines (without battery or charger) to save you unnecessary expense if you already own them.
Battery Capacity
Though the voltage determines how much power your machine is capable of, it is down to the batteries themselves to provide the runtime to complete your strimming tasks, and this can be gauged by checking the Ah (ampere hour) rating provided. The higher the number, the longer the battery will go for before needing recharging. Professional landscapers will probably want to invest in higher Ah rated batteries and keep a few fully charged spares on hand to ensure they can keep going throughout the day.
Variants & Accessories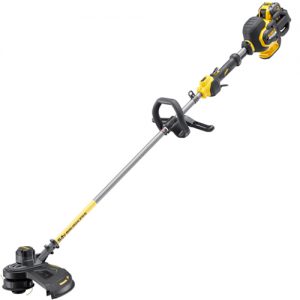 As well as the factors specific to battery powered trimmers, first time buyers or inexperienced users may also want to look out for other considerations depending on the work that needs to be done. If you're likely to be clearing heavier foliage (like thick clumps of overgrown weeds) it may be worth investing in a brush cutter. These are generally designed to be fitted with either a line, for grass trimming, or a heavier duty brush cutter blade for more intensive clearing jobs. The shape of the tool is worth considering too: some users find a curved design is more comfortable to use, though a straight shaft offers much better access when working underneath obstacles like shrubs or garden furniture. Likewise if you are especially tall or short it may be worth checking the total length of the machine or whether it has an adjustable shaft to ensure comfortable operation. Trimmers and brush cutters can throw up stones and other debris from the work area and for this reason you should also always make sure you have some form of eye protection to hand before you start using the tool.
---
Categories discussed in this article: