Choosing a Pressure Washer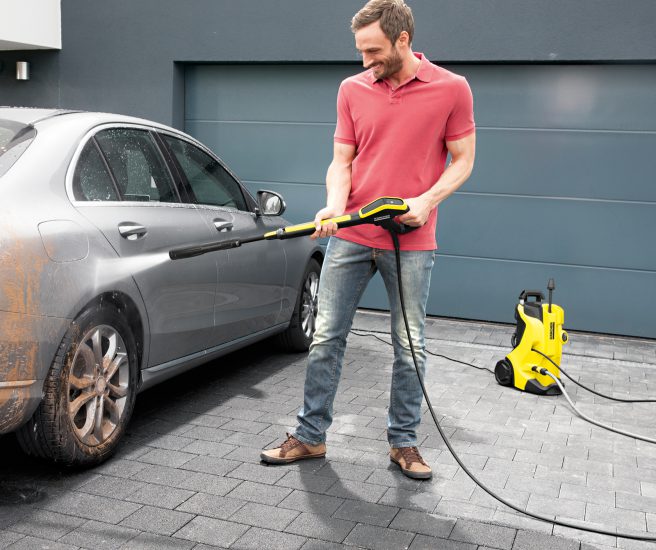 When it comes to tackling tough dirt and grime on outdoor surfaces, the pressure washer has become a much sought after cleaning tool, both for domestic users and commercial or industrial facilities. Because of this broad user base, a wide range of machines and accessories are available: here we will go through some of the options on the market today.
Domestic vs Professional
If you are purchasing a pressure washer for your business, you will want to check whether the machine is intended for professional or commercial use. Pressure washers designed for the household market are not intended to be subjected to the demands of continuous operation, and may not be covered under warranty if used in this way. A commercial grade machine should be constructed using robust materials and high quality components that will help it provide a long service life even with heavy duty use. Some manufacturers only make pressure washers for the domestic or professional market, whereas others like Karcher and Bosch split their ranges into two distinct product groups (in the case of Karcher, professional machines are grey and their domestic counterparts are yellow, whereas Bosch uses blue for their professional range and green for the domestic range).
Where will the machine be used?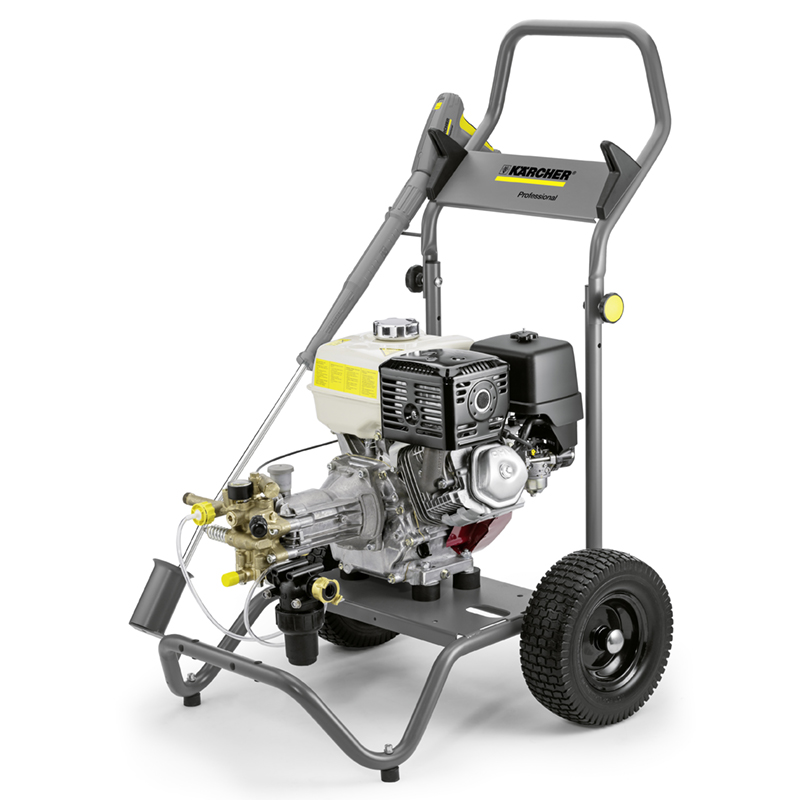 Pressure washers need power and a water supply to operate. The vast majority sold in the UK are electrically powered and supplied with standard 240v plugs for connection to UK mains sockets. When using corded outdoor power tools, and especially around water, it is advisable to ensure there is an RCD in the circuit for optimum safety. This can usually be easily achieved by plugging an inexpensive adaptor in between the plug and socket. Some pressure washers are also available in 110v options for use with transformers, making them suitable for safe use on construction sites and other industrial environments. A less common variant, which is ideal for agricultural facilities and sites without electrical power, is the petrol engine type, usually combined with rugged tyred wheels for mobility.
A pressure washer is commonly connected to a tap to ensure a steady supply of pressurised water, though where this is not available you can also use a machine with a still body of water (eg a tank or water butt), provided it has self priming capability. If you need to use a self priming pressure washer in this way it is worth checking what accessories are supplied with the machine as you may require a separate suction hose and filter. And it is important to note that even with a filter attached (for keeping particles and impurities out), most self priming pressure washers are not suitable for use with dirty water.
As well as the fundamental considerations of power and water requirements, there are other environmental factors to take into account, such as space. Some upright wheeled pressure washers can be fairly large and unwieldy when it comes to negotiating stairs and obstacles, though on larger areas of flat terrain they generally offer a convenient, powerful and highly mobile solution. People who live in flats or built up urban areas will probably want to invest in a smaller model like the Bosch AQT 33-11, which can be easily carried by hand and does not need to be connected to a tap thanks to its self priming function. As well as these portable variants, pressure washers are also available in wall mountable designs, making them ideal for fixed position use in busy environments like garages and vehicle depots.
Under pressure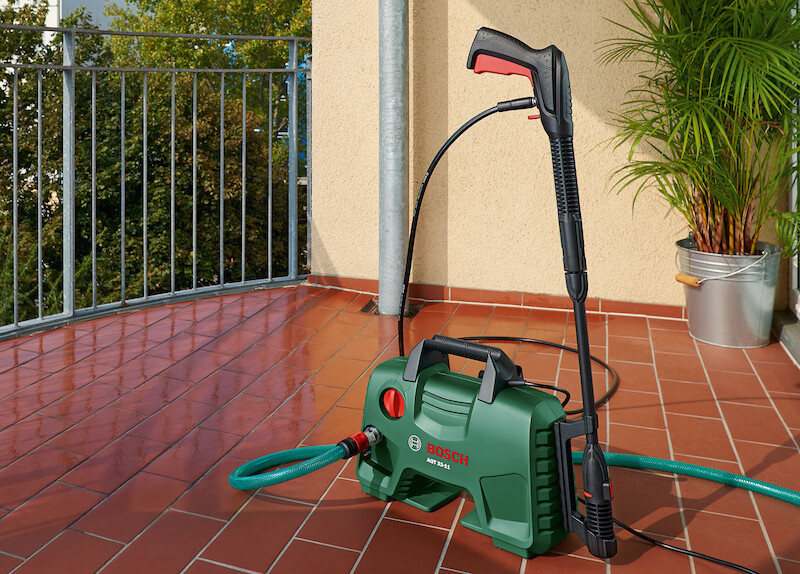 Water pressure is measured by the bar, and you can quickly gauge the power of a pressure washer by identifying this rating in the title or product description of a machine. You may find cheaper or smaller domestic pressure washers for under 100 bar, but the majority on the market today are 110 bar and above. 120 – 150 bar machines represent some of the most popular choices for general purpose applications, eg cleaning cars, bikes, driveways, patios and garden furniture, while higher end professional models can be found encroaching on and exceeding the 200 bar mark. Bear in mind that if you don't need a particularly high pressure cleaner, the extra power delivered by these models can be detrimental to sensitive surfaces, so it's not always worth investing in the most powerful machine you can afford. Spray lances like those found on the popular Karcher Full Control range provide a handy way to quickly and easily adjust the pressure to a suitable level for the task at hand, enabling inexperienced users to achieve optimum results in every application.
As well as the bar rating, it is worth checking a pressure washer's stated water flow rate if provided. This gives you an idea of how much pressurised water it can deliver to the target area.
Pressure Washer Accessories
Pressure washers are often available in a multitude of different kits and configurations, which can often provide an economical way to acquire any accessories you need for your requirements, though these are also usually available separately. One of the most common of these is a type of domed nozzle attachment, usually referred to as a patio cleaner or hard surface cleaner, which fulfils a similar role to splash guards which can be mounted onto a standard lance. The idea of these tools is to contain the spray inside the unit, which stops water and debris from covering the surrounding area. This enables you to jet wash your patio or driveway without spraying nearby walls, windows or other objects with dirty water in the process.
There are a great deal of detergents and shampoos designed for use in conjunction with pressure washers, suitable for cleaning cars, decking, patios, stoneware and more. If you are going to be using detergents regularly, you may want to choose a machine that offers a direct connection, like the Karcher Plug & Clean system, whereby detergent bottles are loaded into the machine itself. Other types of detergent application include nozzles with integrated tanks, and hose connections that siphon the detergent from an external location.
To assist with removing manually dust and grime as you go, there are a number of wash brushes available which mount onto a pressure washer's spray lance. Many of these are optimised for vehicle cleaning, and some for specific tasks like accessing difficult spots in between alloy wheels and bike spokes.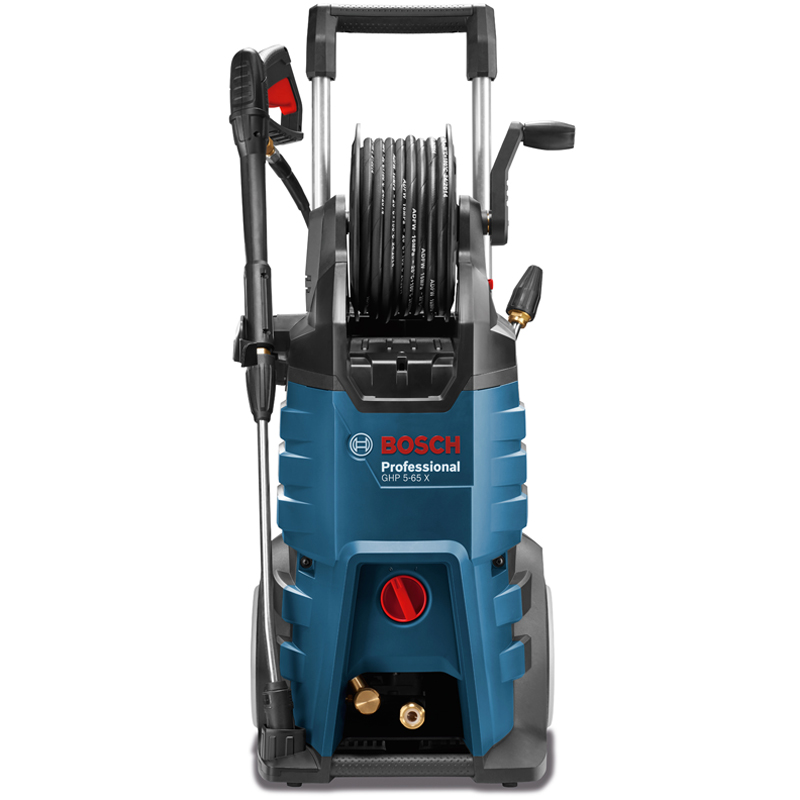 Drain and gutter cleaning kits provide an ideal way to keep external plumbing and piping clean. A useful tool which is sometimes supplied with these kits or available separately is a 90° nozzle, which is great not only for spraying into gutters from below but also for easily accessing other awkward areas like the roof or underside of a car.
One further accessory which is usually only available at time of purchase is a hose reel which may be mounted on some machines. Instead of uncoiling the hose manually each time you use the pressure washer, a hose reel allows you to rapidly wind it out when you need it, and just as easily reel it back in after use. This can save a lot of time and effort, especially if you use your pressure washer regularly and in numerous different locations.
---
Categories discussed in this article: