Choosing the Best Impact Driver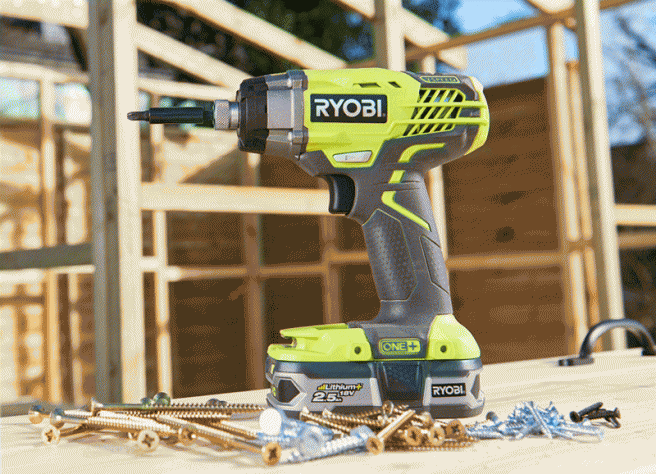 Choosing the Best Impact Driver – Buyer's Guide
Impact drivers have probably never been as popular as they are right now. As well as the professional grade machines which have become virtually indispensable on the jobsite, we've also seen an increasing number of models aimed at the DIY market over the last few years. If you've been thinking about upgrading your tool kit and are wondering what the best impact driver for your requirements might be, then read our Buyer's guide to find out more.
What is an impact driver?
First of all, what does an impact driver do? As the name implies, they are designed primarily for driving screws, and they are fitted with ¼" hex bit holders for direct connection of screwdriver bits. However, to the casual observer the benefits may not be immediately obvious. For instance, your average combi drill has an adjustable chuck, a choice of two or more gears, separate modes for drilling, hammer drilling and screw driving, and a clutch that enables precise application of torque. An impact driver on the other hand seems significantly limited in comparison. It can only be used with ¼" hex shank accessories, and is typically bestowed with a far less impressive compliment of bells and whistles – in fact many impact drivers don't offer much more than a choice between either "forward" or "reverse".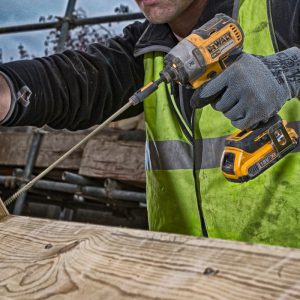 So why would you use an impact driver instead of a standard cordless drill? The adjustable clutch on a cordless drill would appear to make it much more suitable for driving screws, and indeed it can offer more "set and forget" control. However, what impact drivers may lack in precision they make up for in speed and power and they can really come into their own when driving larger fasteners like decking screws and coach screws. If you compare the specifications of drill drivers and impact drivers you will see that impact drivers are capable of far higher levels of torque. For instance, DeWalt's DCD996 18v XR Cordless Combi Drill (currently their most powerful 18v combi) has a max hard torque rating of 95Nm, which is impressive in itself and necessitates the inclusion of an auxiliary handle for user safety. The DCF887 18v XR Cordless Impact Driver on the other hand is capable of delivering more than twice as much than this at 205Nm (despite being a smaller and cheaper tool). The reason impact drivers can supply so much torque is that they have a type of rotational hammer mechanism which kicks in as soon as the tool encounters significant load conditions. This means they can work faster and harder than other machines and have a serious edge when it comes to longer or thicker screws. The impact mechanism enables them to pound large fasteners straight into timber without having to drill pilot holes first, an undertaking which would quickly stall a conventional drill driver. Likewise they are ideal for unscrewing tough, rusted or deeply set fasteners during demolition or renovation work. So if you're building or dismantling something where large fasteners are involved, an impact driver can save you a lot of time and effort.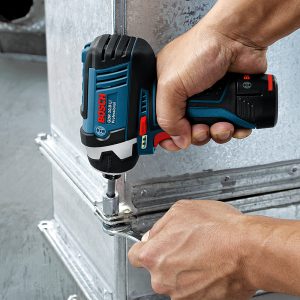 That's not to say they're only for big jobs necessarily. Impact drivers are increasingly being designed with versatility in mind, and some of the most powerful models have settings which enable them to tackle more delicate applications just as effectively. Most of the compact 10.8v and 12v machines are also more commonly used for driving small and medium screws rather than heavy duty fasteners which would be beyond their capabilities. Many users prefer these smaller tools for lighter duty work due to another benefit inherent in the impact driver's design: they tend to be much less likely to slip out of the screw whilst under load. The succession of impacts help to keep the bit firmly in place, while the standard rotation of a drill driver can sometimes allow the bit to jump out of the screw head, especially if you are using the machine in an awkward position.
Impact drivers are also designed to be ergonomic, lightweight and user friendly. If you remember the example of the DCD996 combi drill, it has to be supplied with an auxiliary handle due to its potentially hazardous levels of torque. Even though many impact drivers are much more powerful than this, they can be used one handed as very little of the forces generated are transferred to the user's wrist. This means you don't need the upper body strength of a silverback gorilla to control them and they can be used comfortably and safely even when undertaking heavy duty applications. They are also designed to be as compact as possible, and the lack of a traditional drill chuck or clutch means they can be easily squeezed into tight workspaces.
So now we've established some of their advantages, how do you decide which is the best impact driver for your requirements? Luckily, we've compiled this buyers guide in which we will go through some of the features and specifications to look out for.
Choosing an Impact Driver: DIY or Professional
Like most power tools, impact drivers are generally designed either for DIY or professional use. DIY in this context means someone who will only require light use from the tool, eg for home renovation projects. A professional user on the other hand would be classed as someone who uses the tool every day. DIY brands include Ryobi, Greenworks, Black & Decker and Bosch Green, and these typically represent the most affordable impact drivers on the market. However, if you do need the tool for work these models will not usually be covered under warranty if used in this way. Professional grade tools are designed to withstand the conditions of working environments and these include models from brands like DeWalt, Makita and Bosch Blue.
Voltage
Though there are a handful of corded impact drivers on the market, the vast majority are cordless machines. These are commonly either 10.8v, 12v or 18v. Machines in the lower voltage ranges are much more compact and can be easily carried without adding excess bulk and weight, though bear in mind that their lower power can be a limitation and they can't match the brute strength of their larger cousins – the compact machines will punch above their weight but if you want the capability to drive really large fasteners rapidly and effectively, an 18v impact driver is usually the way to go.
Torque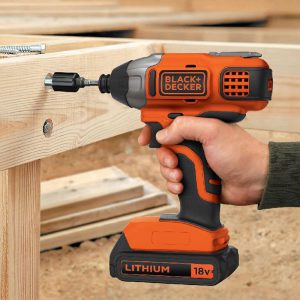 In the UK, torque is usually stated in Newton metres (Nm). The higher this value, the more turning force a machine should be able to generate, and this is usually the first specification tool enthusiasts check to gauge the capabilities of an impact driver. However, it is worth noting that manufacturers stated torque measurements do not always translate as accurately to real-world performance as you might expect. Nonetheless, this gives you a good indication of the machine's capabilities.
Speed
One of the main advantages of a good impact driver is the speed with which it operates. There are usually two quoted speeds: the no load speed, which is stated in rotations per minute (RPM) and describes the free spinning speed of the tool, and the impact rate, which may be stated in blows per minute (bpm) or impacts per minute (ipm). Both these factors are important with regards to how quickly you will be able to drive screws; the higher the speed, the quicker you will be able to finish the job. Most, if not all, impact drivers manufactured today have variable speed triggers which enable you to start screws with optimum control and back off the speed for the last few turns to ensure they are not sunk below the surface of softer woods.
Brushless Motors
It is common these days to find cordless tools with brushless motors. Although more expensive to implement than brushed motors, the advantage of this design is that it is much more energy efficient. In a cordless tool this means you can expect to get more runtime per battery charge, allowing you to work for longer without having to recharge or swap out batteries. This can also mean you may be able to make do with smaller, lighter and cheaper batteries rather than having to use high capacity alternatives.
Multiple Modes
Impact drivers are great for driving large screws but they have not historically been renowned for their precision or finesse. Without any form of clutch, it is easy to overdrive smaller or more delicate fasteners, which can also be snapped by the powerful impact mechanism.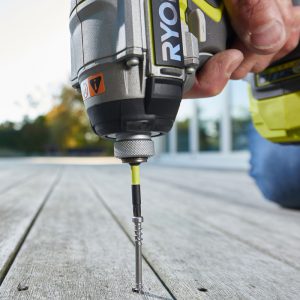 A comparatively recent development which increases their versatility in this field is the introduction of multiple driving modes. Found on tools like the Makita DTD154 18v Cordless Brushless Impact Driver and the DeWalt DCF887 18v XR Cordless Brushless Impact Driver, these switchable settings afford a greater deal of control when working with different sizes of fasteners. In the case of the Makita DTD154, it is equipped with three impact modes and an additional setting designed specifically for working with Tek screws, while the DeWalt DCF887 has three settings, including a precision drive mode which enables it to drive even the smallest screws without fear of damaging the fastener or material, greatly increasing the application range of the tool. In the DIY market, Ryobi's R18IDBL ONE+ 18v Cordless Brushless Impact Driver includes 3 gears for driving anything from small hinge screws to large coach screws, along with a dedicated setting for driving decking screws (one of the most common applications homeowners will buy an impact driver for).
Oil Pulse Mechanisms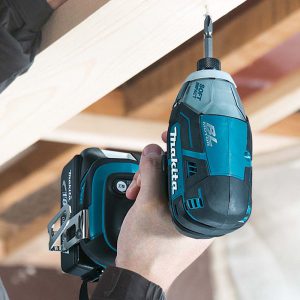 Anyone who has seen an impact driver being used in anger will have quickly realised that they are extremely loud. Loud enough to have to wear hearing protection and definitely loud enough to wake the neighbours up on a Saturday morning. Machines such as the Ryobi R18QS ONE+ Cordless Quietstrike Impact Driver and Makita DTS141 18v Brushless Oil Pulse Driver are designed specifically to operate at lower noise levels than standard impact drivers; they use hydraulic fluid in their impact mechanisms for a significantly quieter action that is much easier on the ears. Oil pulse drivers are perhaps most commonly used by people who work in noise restricted areas like hospitals or schools but if you can afford the extra expense they can be a lot more pleasant to work with wherever you are.
Hybrid Tool Holders
Some Bosch Professional machines (for example the Bosch GDX 18 V-LI 18v Cordless Impact Wrench / Driver and the Bosch GDX 18 V-EC Cordless Impact Driver) are equipped with hybrid tool holders which enable screwdriver bits or impact sockets to be mounted directly onto the machine. It is still possible to use impact sockets with a standard impact driver by way of an adaptor – for example this Bosch ¼" Impact Socket Adaptor – though one of the advantages of a hybrid tool holder is that you will still be able to use them if your adaptor gets lost or broken.
Note that impact drivers are still primarily designed for driving screws – dedicated professional impact wrenches and air impact wrenches typically supply far higher levels of torque for heavy duty applications like removing wheel nuts or erecting scaffolding.
Other Things to Bear in Mind when Choosing an Impact Driver
Impact drivers place a great deal of stress on accessories, which normal screwdriver bits or sockets are not designed to withstand. Instead they should be used with impact rated accessories, which are usually identifiable by a black or dark grey finish (though check that the packaging specifically states they are impact rated before using them). As well as multiple types of screwdriver bits you can also get other impact rated accessories like drill bits and hole saws which help to increase the versatility of these machines further. Impact drivers can be surprisingly good at drilling holes and they are ideal for use with accessories like flat bits and hole saws as the risk of personal injury is greatly reduced during high torque operations. As mentioned previously, they can be loud tools so it is a good idea to pick up some ear protection if you don't have any to hand; as with all drilling machines, you should also wear eye protection whenever using an impact driver.
---
Categories Discussed in this Article: