Choosing the Best Screwdriver Set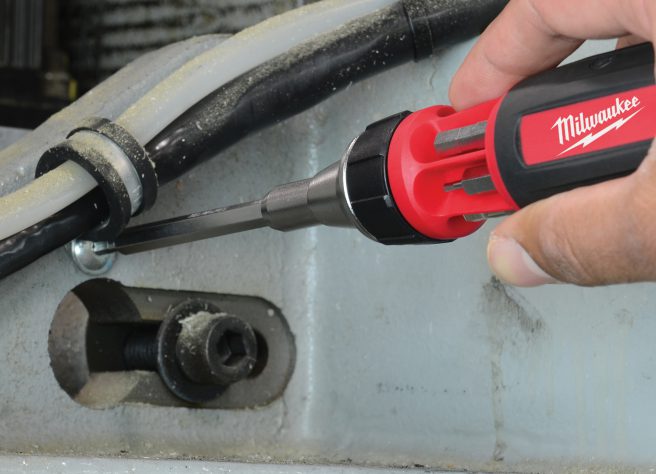 A Tooled Up Guide to Choosing the Best Screwdriver Set
Decided it's time to upgrade your screwdriver set? There are a huge range of options on the market, and the best screwdriver set for your requirements will depend on a variety of factors but we've compiled this buyers guide to go through some some of the key points to consider and some of the best selling screwdriver sets available right now.
Price Point
Screwdrivers are essential hand tools and many of them are mass produced on a grand scale. We've all probably got a handful of cheap unbranded examples lying around and you can probably pick up a new one when you do your weekly food shop. At the other end of the spectrum you could alternatively substitute your weekly food shopping for a premium set of top quality screwdrivers from a specialist retailer which will cost you considerably more. The amount you'll be willing to spend will depend on your usage requirements, but is it worth spending more?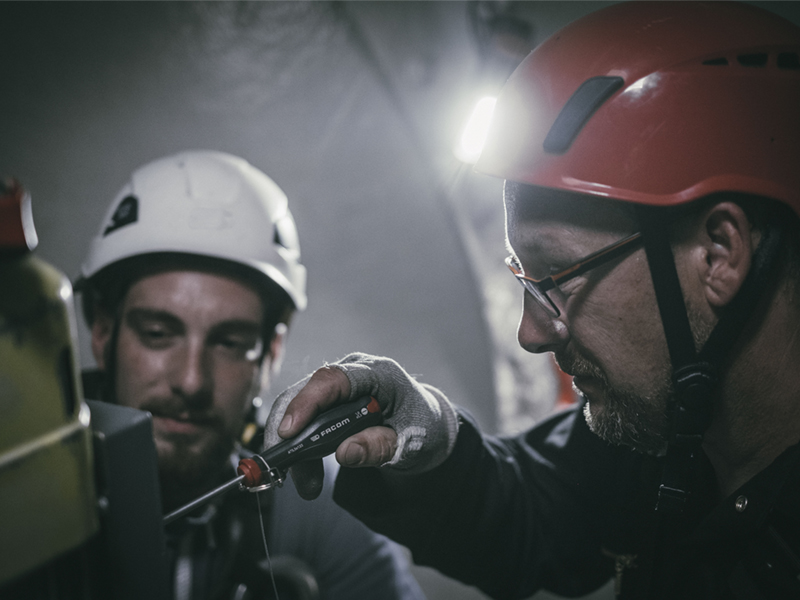 The most common problems with unbranded bargain bin screwdrivers are that they tend to feature tips which won't engage precisely, steel which will rapidly become chipped and worn, and handles that will cause blisters when using them for any length of time. These won't be huge problems if you just need to fix your kitchen drawer or something, but they don't bode well for repeated use and may eventually become a source of great frustration. Worn, badly fitting screwdrivers can't turn fasteners effectively and need to be applied with much more force, at which point they are likely to slip out of the screw and potentially cause damage or injury in the process. Generally speaking, the more you spend on a screwdriver set, the more you can expect those screwdrivers to be effective, durable and comfortable, enabling you to turn greater volumes of screws with a minimum of frustration.
One of the good things about screwdrivers is that individually, even the highest grade top end models are likely to be within your budget (something that is not necessarily the case with power tools for example) so there's definitely a case for buying a small selection of good quality screwdrivers, or maybe just the one or two sizes that you will need most regularly if you don't want to spend too much on tools that won't see much use.
Type
Next up, you'll probably be faced with two main choices: either a screwdriver handle with a selection of interchangeable bits, or a set of complete screwdrivers, each with their own handles. There are pros and cons to each, and the most obvious one is space – a bit holder takes up far less room and will be a no-brainer if you're looking for something compact to carry in a tool pouch or clip to a belt. On the other hand, if you're looking to fit out a workshop or tool box and have a bit more room, you can mount a set of individual screwdrivers to a wall or fill a cabinet drawer up with them for quick and easy access whenever you need them.
There are occasions where a set of individual screwdrivers will be preferable – firstly, more than one can be used simultaneously, whether you're sharing a workplace or working with a variety of fasteners, which helps to speed up your workflow. Secondly, they tend have a greater reach than most screwdriver bits, enabling them to access recessed fasteners – many bit holder screwdrivers, in comparison, are only suitable for screws which are fairly close to the surface. You can get around this with longer screwdriver bits, but in many cases you will have to purchase these separately. As individual screwdrivers are much bigger and harder to lose than screwdriver bits, you're also much less likely to discover them missing when you need them..
There are also other advantages to the bit holder types to bear in mind. Firstly, they are very versatile – take out a screwdriver bit and you can also use it in your drill driver. Need to access a fastener in an awkward place? Stick it in a 1/4″ ratchet and you can get into much tighter spaces. There are also a huge variety of screwdriver bits on the market so you'll easily be able to create the perfect custom set for whatever applications you need a screwdriver for. You can also restore you screwdriver set to perfect working order simply by replacing any bits that get lost or worn out, making it an economical investment in the long term. One last advantage that is more or less unique to bit holders (simply because it is not cost effective to implement it in individual screwdrivers) is an optional ratchet action which will help to speed up repetitive screwing tasks if you're willing to spend a bit more.
Insulated or Standard
When shopping around for a screwdriver set you're likely to come across some which are described as "insulated" – if you're unsure what this means, these sets are designed for electricians, and the insulation guards against electric shock. The handle is certified non-conductive and the insulation forms a sleeve over the metal shaft, which would otherwise pose an electrocution risk if contacting a live component. These screwdrivers are usually a bright red and yellow colour for identification purposes. Aside from this, there is no difference between an insulated screwdriver and a standard screwdriver and no reason why you can't use them for everyday applications – in fact, many people will say that even if you're not an electrician the fairly small increase in price is worth it just for the added security and you should always opt for insulated versions if you have a choice. However, it is worth noting the protective sleeve can sometimes impede access into tight spaces, and some screwdriver types are more or less impossible to find in insulated variants.
Best Screwdriver Set: Current Contenders
To give you an idea of some of the different screwdrivers sets on the market and some of the best options for different applications, we've chosen a selection of products and will go over the unique advantages of each type.
Wera Kraftform Screwdriver Set. Ideal for: workshops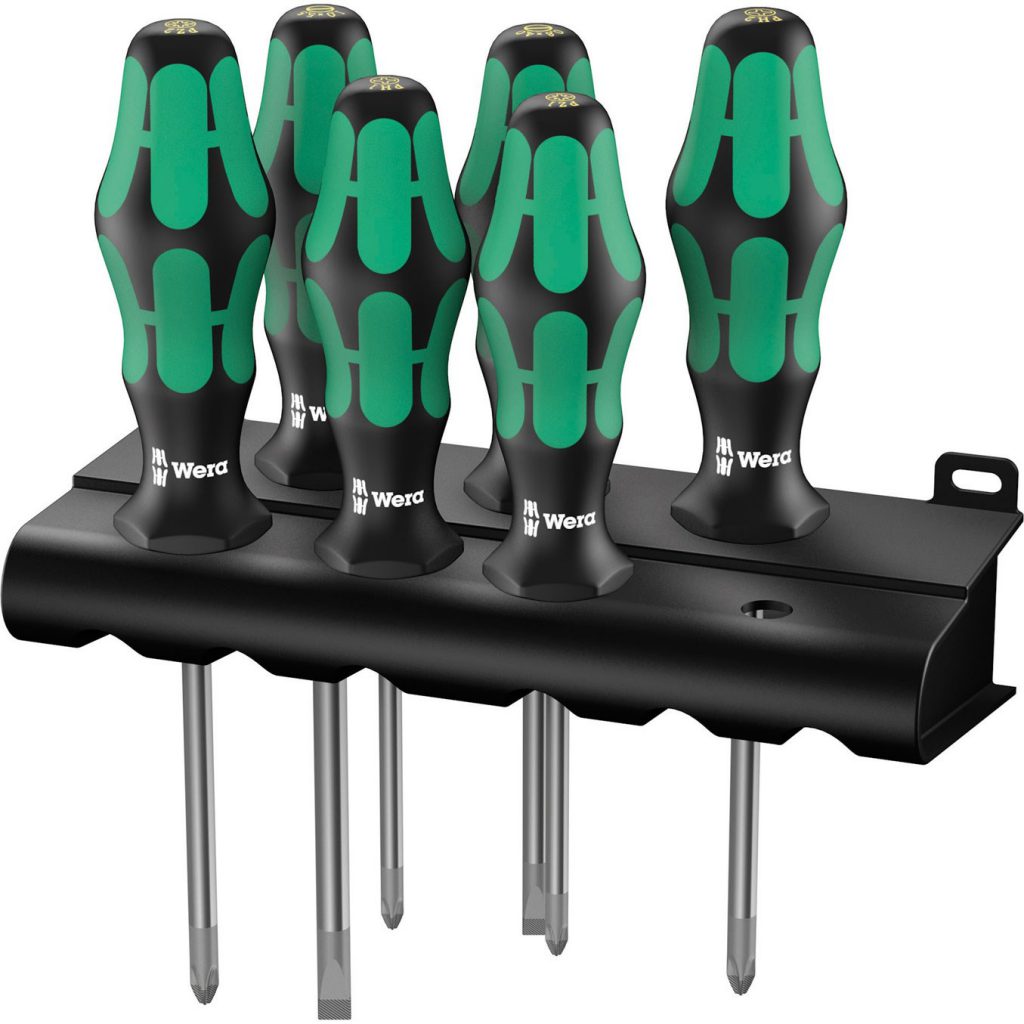 If you're fitting out a workshop, a selection of individual screwdrivers will be perfect for everyday use, and ideally you'll want somewhere to store them too.
Wera's Kraftform screwdriver sets are available in a variety of configurations, and the pictured set includes six of the most commonly required Pozi, Phillips and slotted types. The lasertips help them bite into screws for excellent grip and purchase, and the Wera Kraftform handles are widely regarded as some of the most comfortable on the market, having a two-component construction with softer pressure points and a contoured design that feels natural to grip in the hand. Manufactured in Europe, these sets are supplied with a plastic holder which can be wall mounted for ease of access.
Stanley Insulated Screwdriver Set. Ideal for: Electrical Work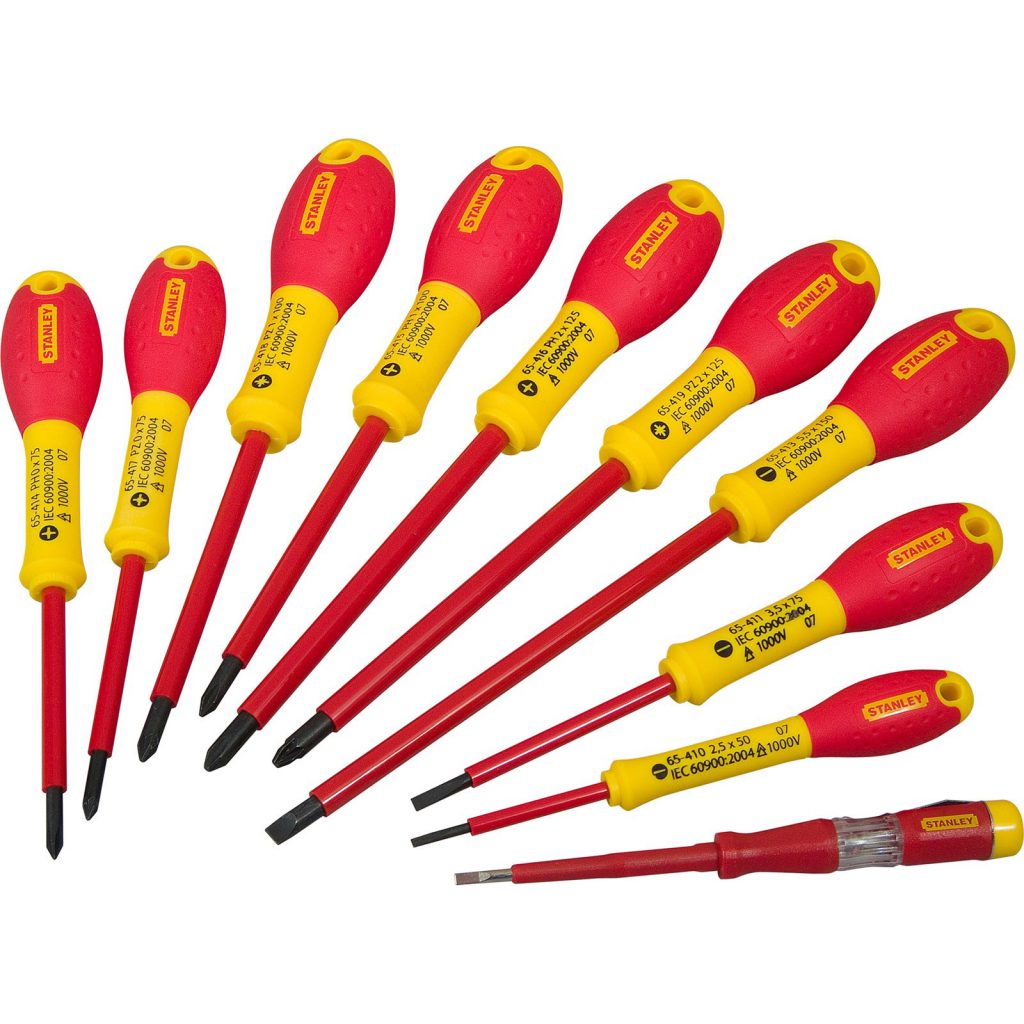 If you're poking a screwdriver anywhere around cables, plugs and electrical machinery then an insulated set is probably a wise choice.
This Stanley 10 piece set includes 9 VDE insulated screwdrivers and a voltage tester. These slotted, Phillips and Pozi screwdrivers are individually tested at 10,000 volts and offer guaranteed protection up to 1000 volts. The set includes some smaller sizes for precision work, and all the screwdrivers have softgrip handles with oversized ends for comfortable application of torque.
Facom Micro Tech Precision Screwdriver Set. Ideal for: Electronics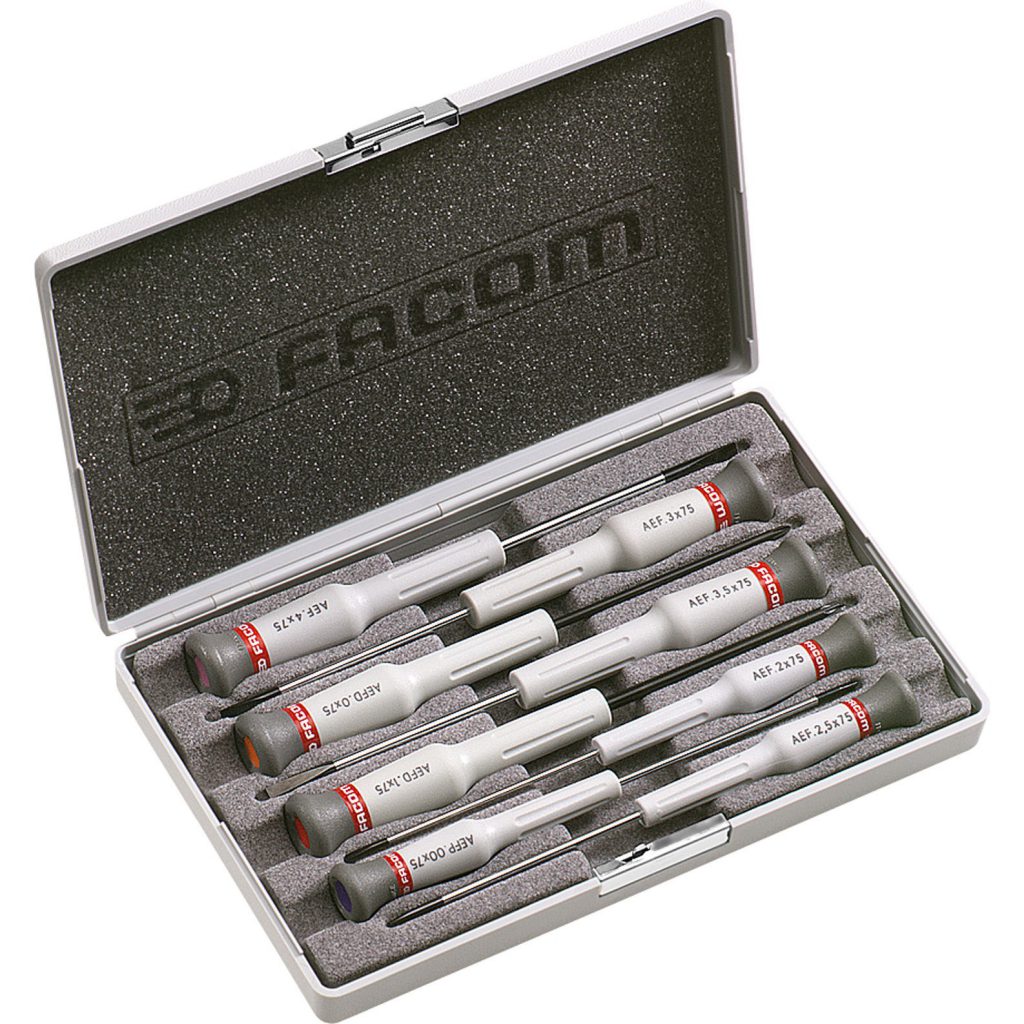 Today's computers, mobile phones and electronic components use a variety of microscopic screws, and these days the associated screwdrivers are much easier to find on the high street.
If you're looking for a professional grade set of precision screwdrivers, the Facom Micro Tech range is worlds apart from the cheap generic types and these top quality tools deliver accurate fitment to smaller fasteners for smooth, reliable driving without stripped screws – something that can be a real headache with small (and usually expensive) electronic components. The set pictured includes Slotted, Phillips and Pozi screwdrivers but there are several different sets available with a range of types. Each set comes packaged in a neat little storage case to keep everything protected in between uses and the handles are colour coded for quick identification.
Milwaukee Ratchet Bit Holder Screwdriver Set. Ideal for: Mobile Use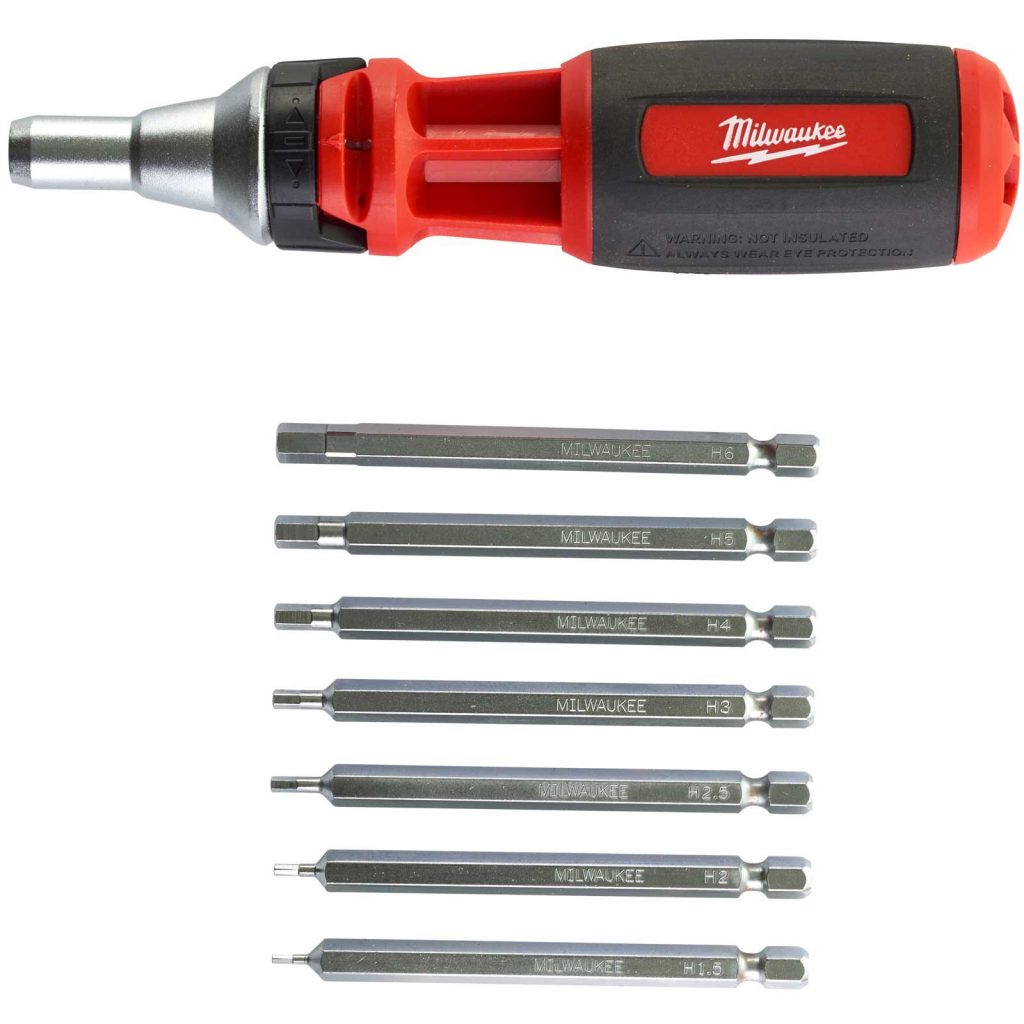 A bit holder will be the ideal choice if space is at a premium, but their versatility and compact form factor has made them hugely popular and there are countless varieties to choose from.
These Milwaukee bit holding screwdrivers must be some of the most versatile on the market – they have storage space inside the handle for up to six bits, but unlike most other types these are designed for longer 88mm bits, meaning that you can carry one compact tool that will still be able to reach recessed fasteners. That' s not the only ace up the Milwaukee's sleeve though – it has a bi-directional ratchet action for rapid, comfortable work, an integrated wire stripper and a wire loop maker. In addition, the bit holder doubles as a 1/4″ nut driver, and the included screwdriver bits are marine grade, chrome plated accessories which are suitable for use in damp conditions, and can of course be used with power tools like drill drivers and electric screwdrivers too.
Makita 1/4″ Ratchet Bit Driver Set. Ideal for: Tight Spaces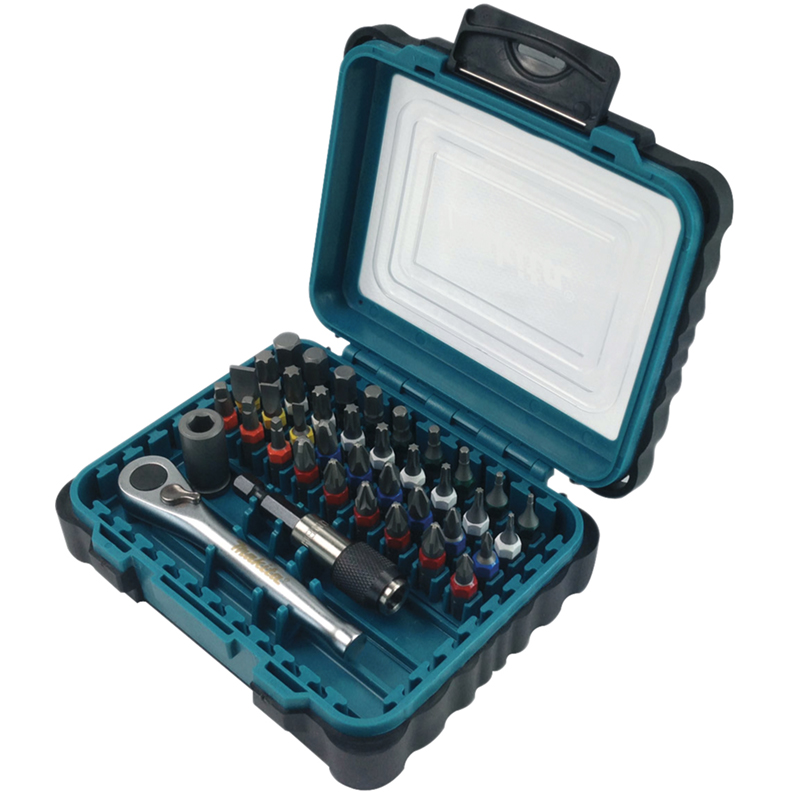 All of the screwdriver sets mentioned so far will do the job in most situations but what happens if you need to access a screw in a cramped engine bay or behind a curtain rail and find that there's no room to maneuver?
The main advantage of ratchet bit sets like the Makita P-79158 pictured is that they can get into spaces which you'd never fit a standard screwdriver handle into, and they're usually compact enough that you can easily find space for them in your toolbox and forget about them until you need them. The bit set makes a useful power tool accessory too.
CK Insulated Blade Holder Screwdriver Set. Ideal for: Mobile Electricians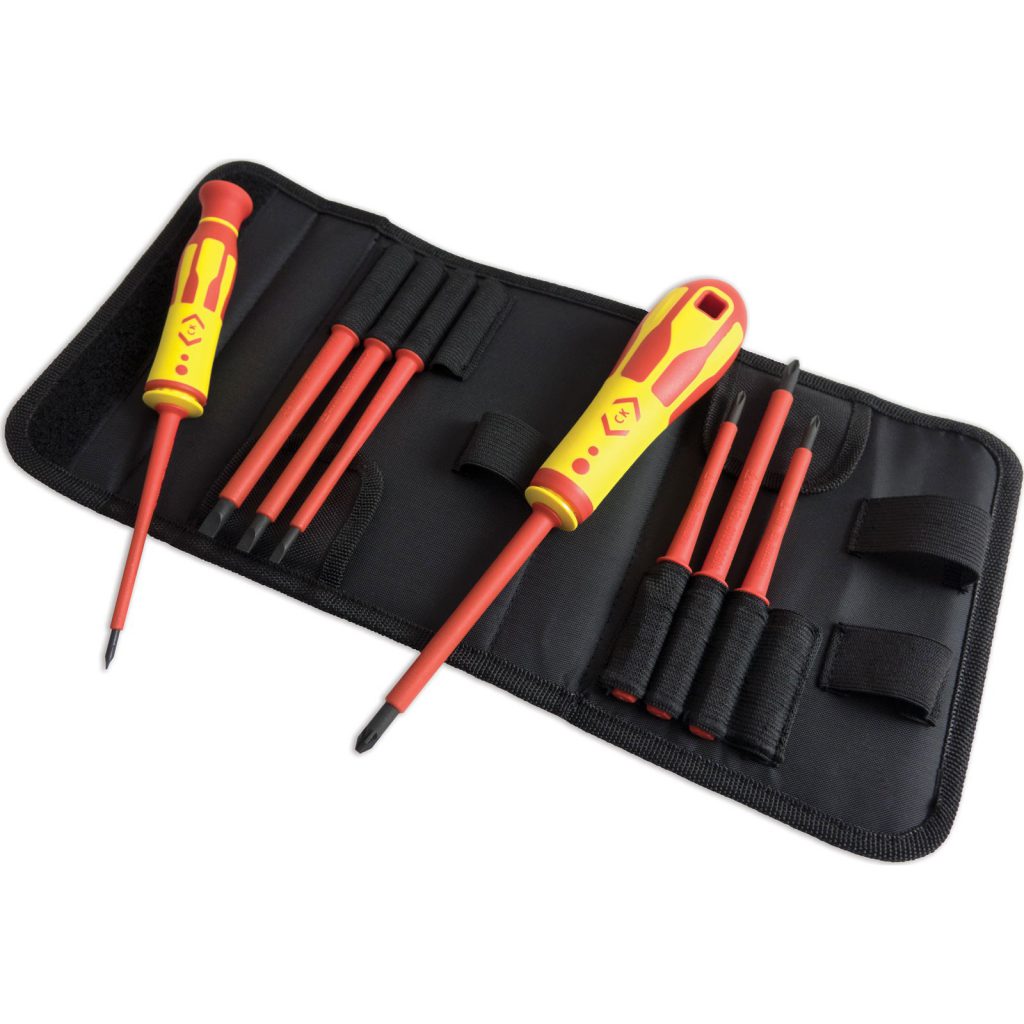 Sets like this CK 10 piece kit are ideal for space strapped electricians, enabling you to carry a selection of insulated blades and a couple of handles in a compact storage wallet which can be strapped to a belt for mobile use. Both the screwdrivers and the wallet are tough, durable and designed to withstand the rigours of daily professional use.
Wera Tool Check PLUS Screwdriver & Socket Set. Ideal for: Versatility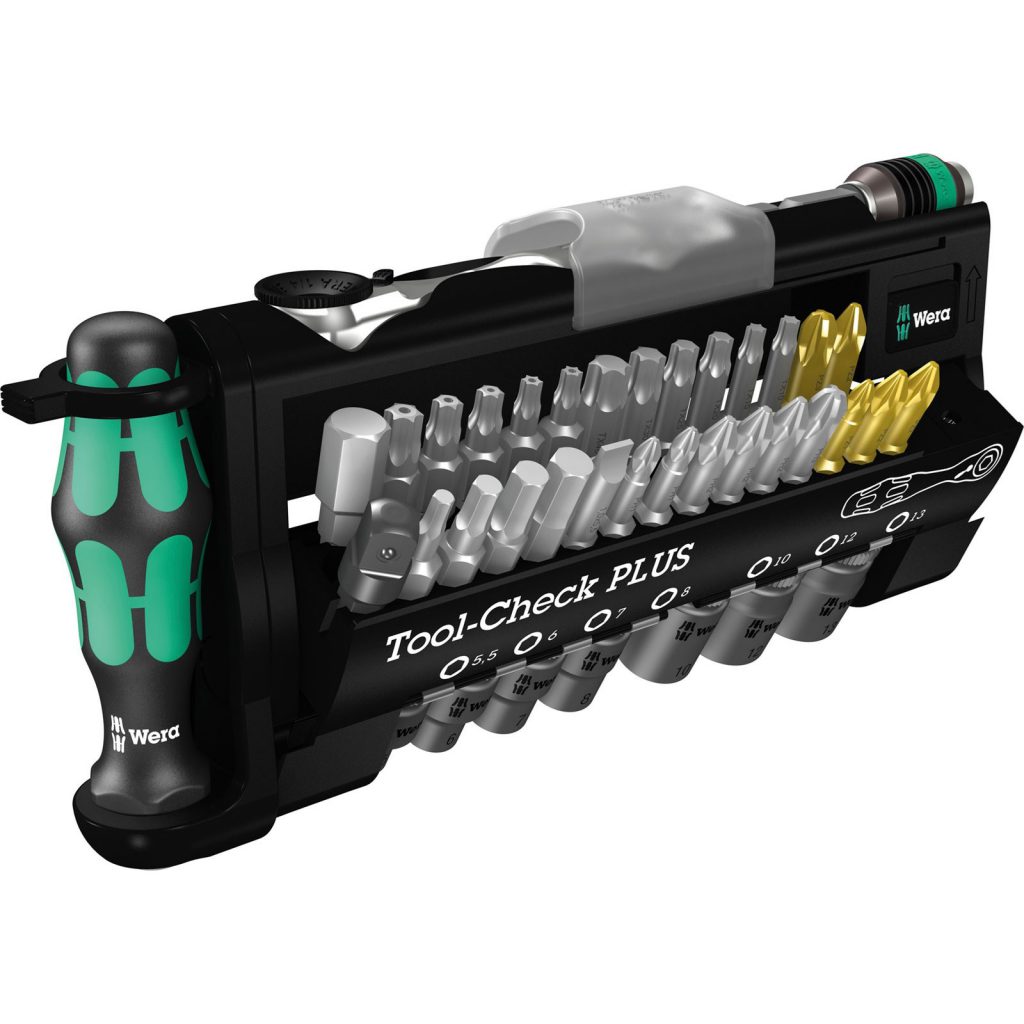 Wera's Tool Check PLUS set is an extremely compact but well thought out kit that provides you with a huge selection of 28 screwdriver bits and 7 hexagon sockets, along with a choice of a screwdriver handle or bit ratchet to drive them, as well as a bit holder for use with an electric drill. This combination will allow you to drive a wide variety of fasteners, even in confined or awkward spaces, and every single component of this kit is top quality, including the strong plastic organiser which keeps everything secure during transit. The small size of the Tool Check PLUS set means it can be easily stowed away for those emergency situations where you don't otherwise have the right tool for the job, and with the Wera quality it should give you many years of dependable service.
Choosing the Best Screwdriver Set: Conclusion
This brief guide only scratches the surface of whats out there – for instance you can also get ESD screwdriver sets for working around sensitive electronic components, hammer through screwdriver sets for releasing stubborn screws, manual impact driver kits, non sparking screwdriver sets for explosive environments, and many more specialist kits. To see the complete range of screwdriver sets and individual screwdrivers we stock, take a look at the Screwdrivers category on the Tooled Up website, and if you think you've found the best screwdriver set on the market, let us know in the comments below.
---
Categories mentioned in this article: