DeWalt 12v XR Tools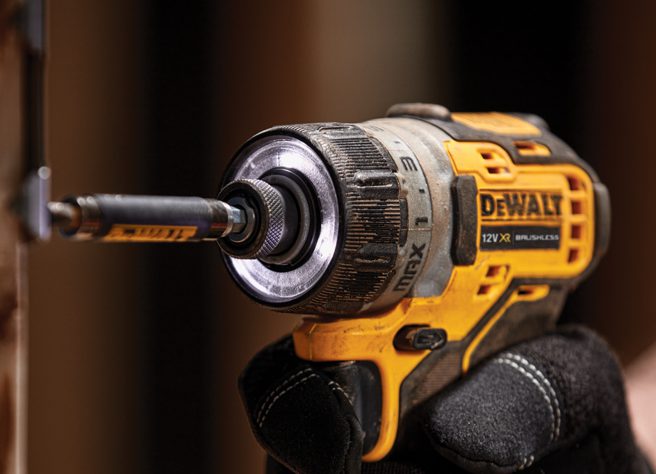 New DeWalt 12v Tool Range
All of DeWalt's current cordless platforms are classed as part of the XR range, and recently much of the attention has been on the top end of this spectrum with the Flexvolt battery system which can run both the powerful new 54v Flexvolt tools as well as the standard 18v machines. Amidst all the excitement of "world's firsts" like the DCS7485 Cordless Table Saw, it's been easy to forget that there is in fact a third XR platform, but to redress this balance DeWalt have just announced a slew of new compact cordless tools which make up the new Sub-Compact XR 12v range. This article will run through each of the new DeWalt 12v XR tools in detail and an overview of the system in general.
10.8v Becomes 12v
"But hang on a minute" you may be saying (especially if you've already invested in the tools, batteries and chargers) "what happened to the 10.8v range?" Well the good news is that both the 10.8v and 12v ranges share battery and charger compatibility. That means that the old 10.8v batteries will work in the new 12v tools and vice versa. And users already on the existing 10.8v platform now have much more choice when it comes to upgrading their system. So no problems there. But are there many differences between the two ranges? Although designed for compatibility with the previous generation of tools and batteries, the new DeWalt 12v range also benefits from a number of updates which we'll take a look at next.
12v Batteries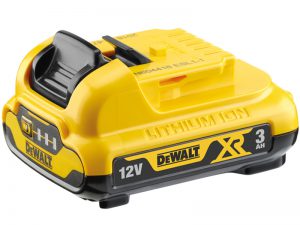 At time of writing the new 12v batteries are available in capacities of 2.0ah or 3.0ah, and probably the most notable addition that sets them apart from the previous generation is a charge indicator which lets you check how much power is left inside the battery simply by pressing a button. This helps to eliminate any guesswork before starting a job and has no doubt been a much-requested feature which brings them more in line with the bigger batteries from the 18v & 54v ranges.
Brushless motors
To take full advantage of these battery packs, all the new DeWalt 12v XR tools are fitted with brushless motors. Controlled electronically rather than via the carbon brushes that were fitted as standard on the 10.8v range, these motors tend to be smaller and lighter but they are also much more energy efficient. Without these solid carbon components continuously rubbing against the commutator, less energy is lost to heat and friction and more power gets to the drivetrain, meaning you can get more work done before the battery is drained. DeWalt say you can expect around a 20% increase in runtime compared to the brushed 10.8v models.
Reduced Size & Weight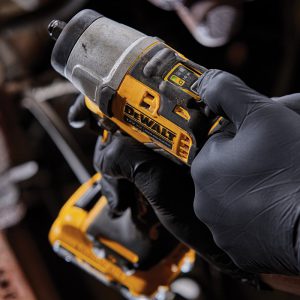 The primary advantage of 10.8v and 12v tools is that they can be made smaller and lighter than their 18v cousins, and they are a popular choice when it comes to working overhead, in tight spaces, and for lighter duty jobs where you don't need to carry a larger machine around with you. The new DeWalt 12v XR tools must be some of the lightest they've ever made: the DCF601, for example, comes in at just 680g excluding battery! They're compact too – shortened batteries and body lengths mean they can get into cramped spaces with ease. If you compare the rear of the motor housings on the old 10.8v drill and impact driver with their new counterparts it's clear just how much body length DeWalt have managed to shave off these new tools, something that should help reduce frustration greatly when using them in awkward positions.
Belt Hooks
While the older 10.8v tools featured mounting holes for belt hooks (or similar accessories like magnetic attachments) these weren't usually included as standard. However, you'll be pleased to hear that all the new 12v kits that have been released so far are shipped complete with an optional belt hook in the box. Perhaps not a deal breaker but good to know!
Now let's move on to the machines themselves, starting with the new DCD701 drill driver.
DeWalt DCD701 Drill Driver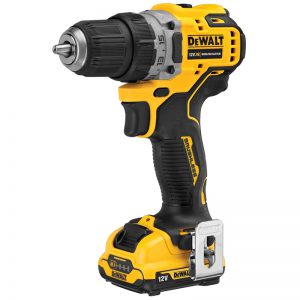 The DCD701 is a drill driver with two gears and an adjustable 15-position clutch which enables the application of up to 57.5Nm of torque. This is impressive for such a small tool and places it ahead of most of its competitors in the same voltage class. It has a 10mm chuck and is rated for drilling holes up to 20mm diameter in wood. A base-mounted LED worklight shines up at the work area and confers the advantage that the beam is uninterrupted by the chuck (as is the case with many drill drivers that have a worklight above the trigger). The DCD701 is available for purchase on our website now and is currently available as a kit with a belt hook, TSTAK compatible carry case, Multivoltage battery charger and two 2.0ah Xr lithium ion batteries. You can see it in action here.
DeWalt DCF801 Impact Driver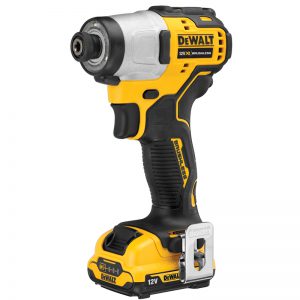 The DCF801 is quite a different beast to its 10.8v predecessor. Supplying up to 163Nm of torque, it's much more powerful than the DCF815 which tops out at 107Nm, but it's also more versatile, being fitted with a three-way mode selector as found on recent 18v machines like the DCF887. This lets you choose maximum or medium power, along with the Precision Drive mode which is perfect for those more delicate applications where you don't want to subject smaller fasteners to potentially destructive amounts of torque. The mode selector comes in the form of a membrane switch on top of the motor housing which is shielded by overmoulded bumpers to help ensure a long life in jobsite environments. A triple LED worklight array at the front of the tool ensures optimum visibility of the work area. As with the DCD701, it is available now as a kit with a belt hook, TSTAK compatible carry case, Multivoltage charger and two 2.0ah XR lithium ion batteries. You can see it in action here.
DeWalt DCF902 3/8″ Impact Wrench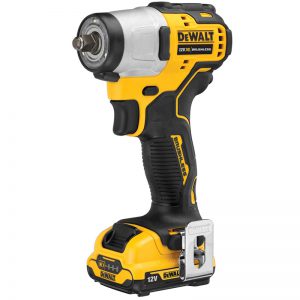 Dewalt have added an impact wrench to their 12v line-up in the form of the DCF902, which bears many similarities to the impact driver, including a slightly higher maximum torque of 168Nm, three way mode selector membrane switch (which can't get clogged with grease and grime) including Precision Wrench mode, triple LED worklight array and a shortened form factor which is ideal for cramped workspaces. The main difference of course is that the DCF902 has a male 3/8″ square drive fastener (with hog ring) for sockets. It will be available shortly as a kit with a belt hook, TSTAK compatible carry case, Multivoltage charger and two 2.0ah XR lithium ion batteries. You can see it in action here.
DeWalt DCF601 Screwdriver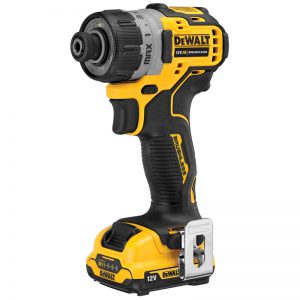 The DCF601 is the most compact and lightweight machine in the 12v range so far, with a quick release locking 1/4″ bit holder and a 15-position adjustable clutch. Though it is primarily designed for driving screws it can also be used for drilling holes of up to 10mm in diameter when used with a hex shank drill bit. Like the impact wrench and impact driver it features three bright LED worklights built into the nose for excellent visibility of the target area, but instead of an impact mechanism it is fitted with a clutch which has a grippy textured surface for ease of use in all working conditions. It is available now as a kit with a belt hook, TSTAK compatible carry case, Multivoltage charger and two 2.0ah XR lithium ion batteries. You can see it in action here.
Coming Soon
As well as the four tools outlined above, we're due some new 12v combi drills in soon but are just waiting on the final details to be announced. Going by press releases from across the pond it looks like DeWalt plan to expand the 12v line further with additional tools in the pipeline so with any luck we'll see the arrival of some of those on UK shores at some point in the near future.
---
Categories mentioned in this article: