DeWalt DCM571 Flexvolt Brush Cutter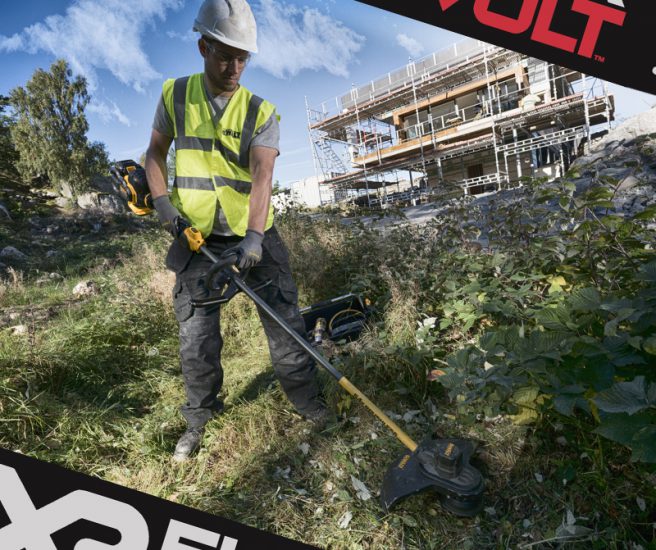 The DeWalt Flexvolt cordless system shook up the construction industry when it was announced in 2016. Since then, DeWalt have embellished the Flexvolt range with a selection of landscaping tools, including a chainsaw, leaf blower and two grass trimmers. Here we take a closer look at the DCM571 – a straight shaft brush cutter which is supplied with a brush cutter blade and grass trimming line.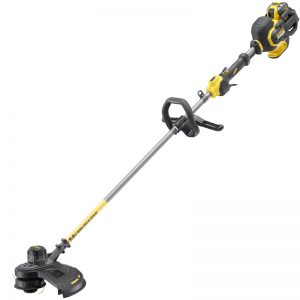 For those that don't know, Flexvolt was the first dual voltage cordless power tool platform to hit the market, and it's still the only professional cordless platform to boast this feature (though Black & Decker, who own DeWalt, have subsequently introduced the same technology into their home & garden range of power tools). Flexvolt batteries were developed to power 54v cordless tools while retaining compatibility with DeWalt's hugely popular 18v XR range. This means they operate at 54v when connected to a 54v tool but will automatically drop down to 18v when connected to an 18v tool. Because of the amount of energy needed to run the higher power tools, they are capable of providing substantial runtimes; for instance the DCB548 Flexvolt battery has a 12.0ah capacity when used with 18v tools, more than twice that of the 5.0ah batteries that have become standard issue for demanding applications over the last few years. This is great for running tools like grinders and circular saws which can be notoriously power-hungry, but perhaps more importantly it means Flexvolt users do not have money tied up in batteries and chargers that they only use a few times a year. The original Flexvolt product line consisted solely of construction tools, including a first-to-market cordless table saw, but DeWalt were quick to realise the potential for high powered garden machines with a flexible battery system and the Flexvolt landscaping range was announced shortly afterwards.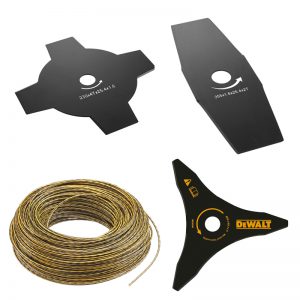 The DCM571 is one of two trimmers in the Flexvolt line-up, the other model being the DCM5713. The difference is that the DCM5713 comes as a split shaft machine with trimming line only, while the DCM571 has a one-piece straight shaft and is supplied with both a blade and spool of line in the box. One of the first things that strikes you when you look at this box is just how big the DCM571 is. All of the cordless DeWalt grass trimmers we have seen have been on the large side and the DCM571 is no exception, though the fact that it is packed with a one-piece shaft makes it tower over most other machines in the warehouse or shop floor. However, once you get it out of the box it feels well balanced and easy to handle. The larger size will definitely appeal to taller users, especially those who have had to bend over to use smaller tools in the past, while the solid shaft should prove a durable and maintenance-free component, making it ideal for rough handling in working environments.
Thanks to the solid shaft there is not much assembly required once you've got the machine out of the box, but it includes a shoulder strap, guard and a choice of either a line spool or a brush cutter blade. The blade is a metal tri-arc design which is designed for clearing thick weeds or heavily overgrown grass, while the trimming line has a braided construction which really toughens it up, meaning you'll hopefully spend more time trimming than feeding the line. DeWalt have also released a few additional accessories for the DCM571 – there are two alternative blade designs available, along with a heavy duty 2.5mm line which is intended for tackling tougher garden jobs (at the expense of battery charge, which will run down faster as a result). Speaking of batteries, there are currently three Flexvolt batteries available, all of which are compatible with the DCM571. These provide 2.0ah, 3.0ah and 4.0ah capacity @ 54v or 6.0ah, 9.0ah and 12.0ah capacity in 18v mode. The machine is available complete with batteries and charger, or as a body only kit for users who do not require them.
Feature-wise you get a variable speed machine with two speed settings, brushless motor, durable Xenoy™ battery compartment, loop handle, shoulder strap, metal motor housing and a cutting swath of 38cm in line trimmer mode or 25cm with the included tri-arc blade. According to DeWalt's spec sheet, with a 3.0ah/9.0ah battery and 2mm trimming line installed you should get 54 mins of no load runtime on low speed or 44 mins at high speed, and the same battery can be fully recharged in 70 mins. The machine weighs in at 5.4kg by itself or 6.6kg when combined with the aforementioned battery. I found it quite comfortable to hold without the shoulder strap and no doubt this would help to minimize fatigue over longer periods of use.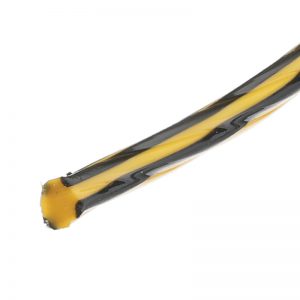 So who would benefit from the DCM571? DeWalt market it as a professional landscaping tool but I wouldn't be surprised if a large part of its appeal will be to homeowners who have already invested in a DeWalt battery platform, whether for work or for DIY use around the home. Any gardener who has struggled with tangled power leads or the inconvenience of petrol will have probably entertained the notion of a powerful cordless trimmer at some point; the only downside is that most comparable alternatives require a considerable outlay on batteries which can be used for very little else. If you already use DeWalt cordless tools on a regular basis, then a Flexvolt battery will slot right into your tool kit rather than being relegated to doorstop duties for half of the year. Additionally, the cost of replacing any chargers and batteries further down the line will be much less of a pain if they can be used for multiple tools. Even if you don't already own any DeWalt cordless tools, the DCM571 is more than worthy of consideration. The higher end battery powered brush cutters and grass trimmers available today have begun to really match petrol tools in terms of power, while far surpassing both petrol and corded machines in terms of convenience and mobility. If you're thinking about making the switch to cordless power and want something that can tackle heavier duty clearing jobs as well as general grass trimming duties then the DCM571 may well be the ideal machine for your requirements.
It is available from Tooled-Up now, with a choice of either one or two Flexvolt batteries, or as a body only tool (without battery and charger). Visit the DCM571 product page for more info.
---
Categories discussed in this article: