DeWalt DCS690 Cordless Disc Cutter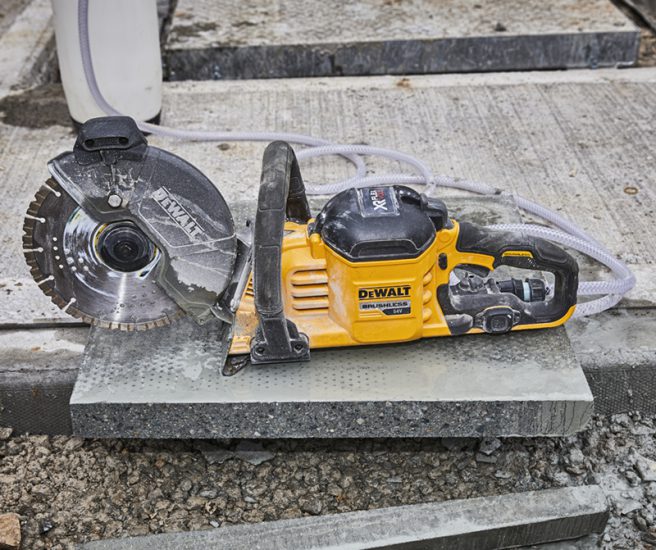 The DeWalt Flexvolt line-up continues to grow from strength to strength and one of the latest products to roll off the production line is the DCS690: a cordless disc cutter which offers a unique alternative to the petrol machines on the market. Let's take a look at some of its features.
Suitable for use with 230mm (9″) blades or discs, the DCS690 has a cutting depth of 83mm and has been designed in conjunction with two new accessories – a wet & dry diamond blade and a metal cutting disc. Like other Flexvolt accessories, these have been optimized to maximize runtime and performance when used with battery powered tools. An integrated dual-sided water delivery system provides dust management when cutting through concrete and masonry, and a 5-position adjustable guard enables the user to maintain a comfortable position and excellent line of sight when working at different angles. Additionally, the loop handle at the front of the tool can be gripped comfortably when using the machine in either a vertical or horizontal orientation.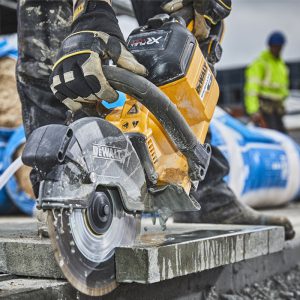 As with most of DeWalt's high end cordless tools, the DCS690 has a brushless motor for maximum efficiency, helping to ensure longer runtime per battery charge. The motor provides a no load speed of 6,600 RPM and is protected by a labyrinth air intake which helps to prevent dust and debris ingress through the vents. It is compatible with all Flexvolt batteries, including the new 12.0ah/4.0ah DCB548 model, and is available either as a body only machine or complete with two DCB547 batteries, a charger and an Extreme Runtime diamond blade.
So far so good. But the DCS690 also has some other tricks up its sleeve. Firstly, instead of the drive belts common to petrol saws, this tool is built with an all-metal belt-free drivetrain, which should mean significantly reduced downtime due to repairs and maintenance. Secondly, DeWalt's product designers have taken steps to ensure the DCS690 is protected against the water and construction dust that it will be exposed to in day to day use. We've already mentioned the labyrinth air intake which protects the motor from dust ingress, but the batteries are similarly shielded from the elements by a dedicated compartment with a latching lid. Once the batteries are installed and the lid is closed, they are sealed inside the machine, helping to keep the terminals free from contamination and preventing short circuits from water ingress. Another interesting feature built into the DCS90 is a heavy load light. This is a triangular warning light that illuminates when the machine is experiencing heavy load conditions, ie when significant demands are being placed on the motor. This enables the operator to ease up on the tool to conserve battery power (or simply power through if they like) and should help make it easier to prolong the lifetime of the machine in the long run. Lastly, a mounting point on the handle enables the attachment of a DeWalt Tool Connect tag (sold separately) – these small tracking devices are designed for inventory management and will send an alert to a smartphone or tablet if the the tool leaves the proximity of the owner, as well as making it easy to log machines going in and out of job sites, all of which helps to safeguard your investment against theft and loss.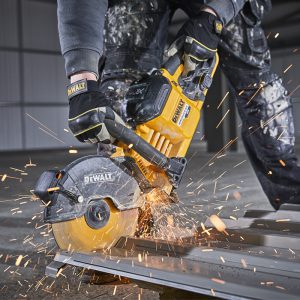 A battery powered disc cutter may have its work cut out convincing people to ditch their petrol saws completely, but the DCS690 is a unique product which offers a number of significant advantages for many applications. First off, few people would disagree that lithium ion batteries are much more convenient and user-friendly than petrol engines. With no hazardous fuel to transport and store, and hardly any maintenance tasks to undertake, these tools are also quieter to operate, start up at the press of a switch and don't belch out noxious fumes. In the case of the DCS690, it is also fairly lightweight at around 4.9kg (without battery). The ability to slap in a battery and go will make it an attractive proposition for many jobs, but it also means it can be used in areas where petrol machines would be hazardous, for example in enclosed spaces. The belt-free drivetrain, sealed battery compartment, labyrinth vents and overload indicator should also help to keep the DCS690 on the road for many years of service. And of course, Flexvolt batteries are compatible not only with other Flexvolt tools but just about the entire DeWalt 18v XR range as well – meaning you can power a huge variety of cordless tools from the same battery platform.
The DCS690 is available now from Tooled-up, along with the complete range of DeWalt Flexvolt tools, batteries, chargers and accessories. Check it out here.
---
Categories discussed in this article: