Festool TKS 80 SawStop Table Saw UK Release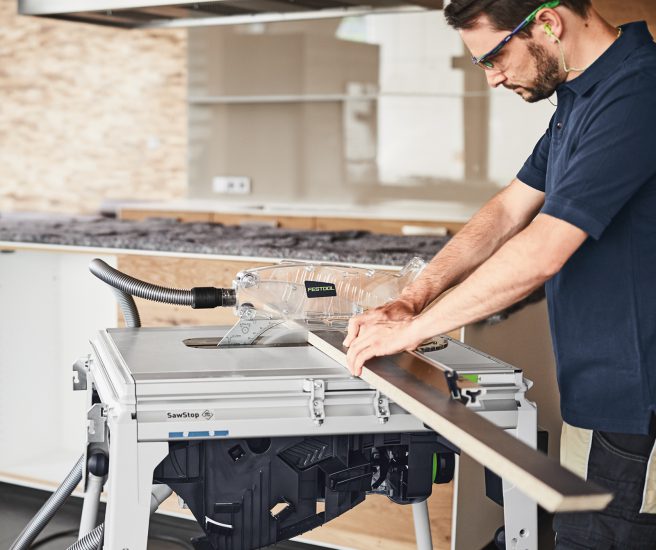 Throughout its relatively short history on this planet, the table saw has proven to be one of the most useful power tools available to the woodworker, and simultaneously one of the most dangerous. Few tools come close to the speed and ease with which a table saw allows the operator to accurately rip and cross cut large quantities of timber and sheet goods, and for this reason it has become the workhorse of most wood workshops. However, table saws are capable of causing horrific injuries, and a moments inattention when using one can have dire consequences. When you look at the statistics from groups such as the National Electronic Injury Surveillance System it's estimated that in North America alone, around 10 people are injured by these machines every single day.
Table saws started to become a much safer proposition when Sawstop technology was developed around the turn of the millennium. The concept came from a patent attorney called Steve Gass, a man with an uncanny set of specialities, including a degree in physics and an interest in amateur woodworking. Gass realised that as the resistance and capacitance of the human body will affect an electrical signal differently to a piece of timber, it could be made to trigger a sensor if it came into contact with an energised table saw blade. His idea was that if this could be made to activate a mechanism which instantly pulled the blade out of harms way, the operator would hopefully survive the experience relatively unscathed.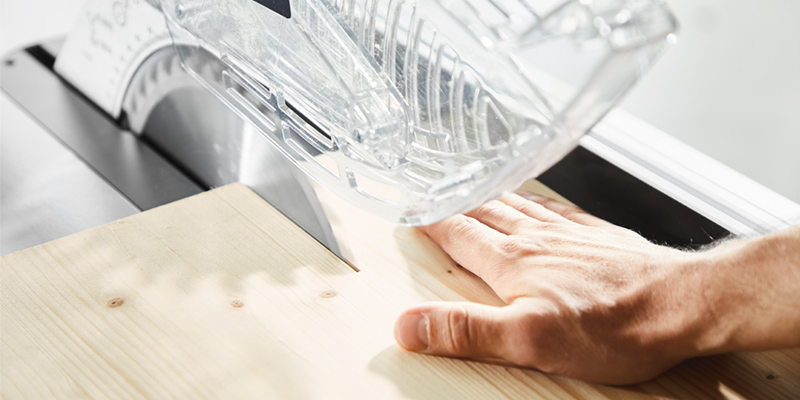 In 2004, the first Sawstop table saws entered production. Gass had managed to fine tune the technology so that the blade would be ejected into the base of the saw immediately on contact with human flesh, and since becoming commercially available, Sawstop technology has saved thousands of woodworkers from life changing injuries. However, even though 2004 was a long time ago, these saws have always been practically impossible to get hold of in the UK! That is finally about to change in 2020, as Festool are releasing a new table saw on the European market which features licensed Sawstop technology.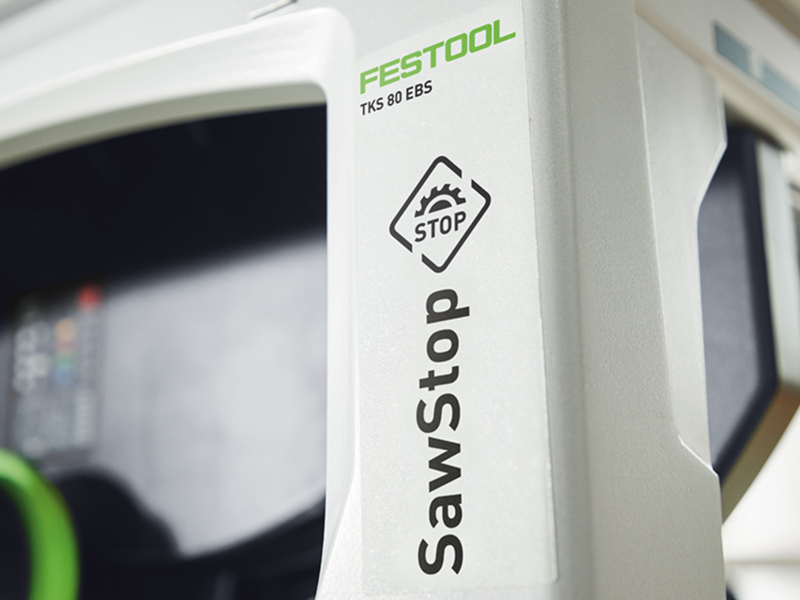 The New Festool TKS 80 SawStop Table Saw
Festool describe the TKS 80 as the first portable table saw with SawStop technology to be marketed in Europe, and it was developed by Festool in conjunction with SawStop's team in the US.
The TKS 80 uses a 254mm blade which has a cutting capacity of 80mm at 90 degrees. It features a test mode which enables you to ascertain whether a material is conductive, for example if you are working with especially green or damp timber – these materials can trigger the blade release, so this quick check helpfully enables you to find this out before it activates on you. If you still need to proceed with the cut, the Sawstop technology can be temporarily bypassed, although of course you should always switch it back on as soon as you have finished as the saw offers no additional protection while this is deactivated.
The TKS 80 will be available as a basic kit or as a more comprehensive set which includes additional accessories like side extensions for increased versatility. Festool have clearly got mobile users in mind, with features such as a compact design and folding legs for ease of portability, but it will fit into a workshop just as well.
Should I Buy the New Festool TKS 80 SawStop Table Saw?
Festool are a high end manufacturer so it goes without saying that this won't be the cheapest table saw on the market, but I'm sure most people would agree that this is definitely one of those cases where it's worth spending a bit more on safety features. Evidence suggests that it is not necessarily a lack of experience that causes table saw injuries but in fact is often the opposite – when you have used one every day for years on end, it's easy to let familiarity with the tool push safety concerns to the back of your mind, and forget just how dangerous a table saw can be, even if only for a second. Unfortunately that can be all it takes to cause a severe injury, and for that reason the TKS 80 should be worthy of your consideration.
Edit: the TKS 80 is now available from Tooled Up and can be viewed here.
---
Categories mentioned in this article: