Gardena AquaCount Range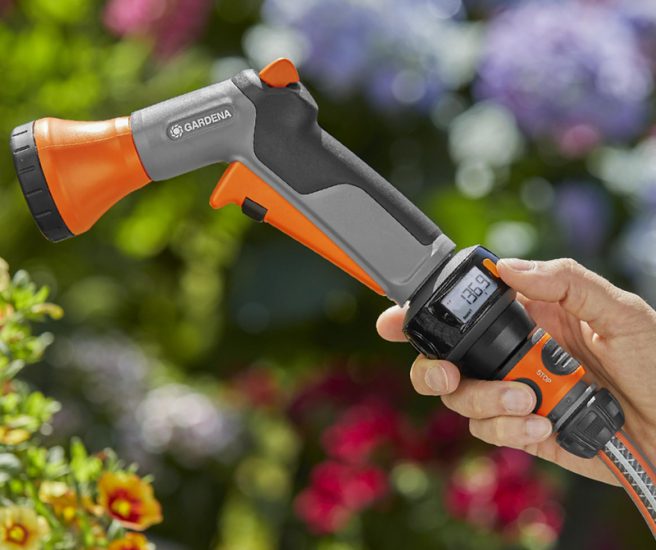 When it comes to keeping your plants, lawn and garden watered, it's often difficult to keep track of just how much water you're using, and there are a number of reasons why it's useful to know. Watering too little or too much can both adversely affect the health of your plants, and wasting excess water is a drain on resources that can also adversely affect your water bill too. But fear not – if you've been wishing there was an easier way to know how much water you're using, help is at hand with the new Gardena Aquacount range – easy and intuitive to use, these new products are designed to eliminate guesswork and show you all the relevant info whenever you need it .

Keep Track of Your Water Consumption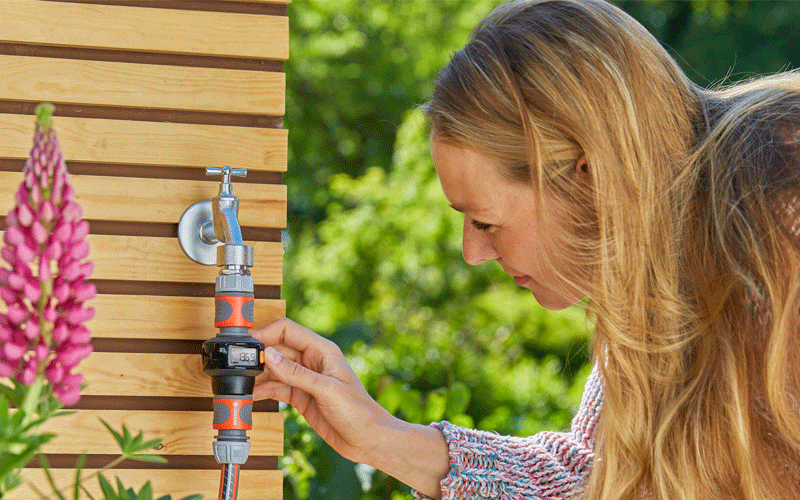 The core component of the range is the new AquaCount water meter. This is an extremely compact little unit which can be connected onto various elements at the start or end of a watering chain, for example onto a garden tap or water pump, or onto sprinklers, spray nozzles or hose guns. Powered via an included battery, the Aquacount water meter has an electronic display which shows how much water is flowing through the system – this display can be rotated around the unit, so you'll still be able to read it no matter where it's placed. The water meter is available as a standalone unit, or it also comes integrated into other products in the AquaCount range – currently an oscillating garden sprinkler or a spray gun for a hose pipe.
What can it Measure?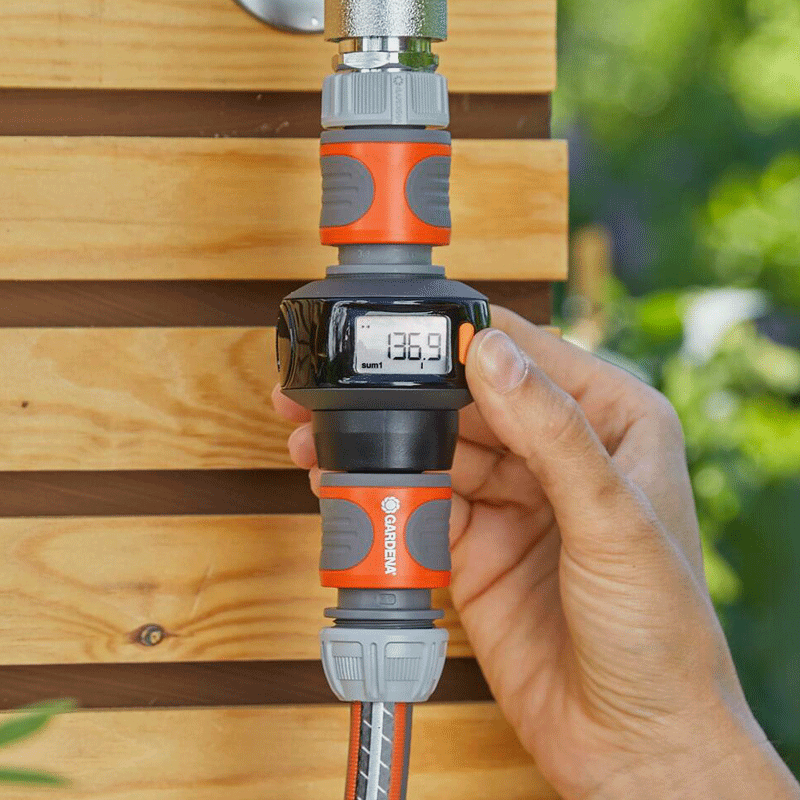 The orange button to the right of the display on the water meter lets you cycle between four measuring functions: water consumption per day, water consumption per season, water consumption per watering process and current flow (in l/min or gal/min). This means it's just as easy to keep track of how much water you're using in a single session as it is over longer periods. A handy battery indicator is also provided on the display which means you can easily see how much charge is left in the battery so you'll know when it's almost time to replace it.
Now we'll take a closer look at the products in the range, starting with the 18350-20 water meter.
18350-20 AquaCount Water Meter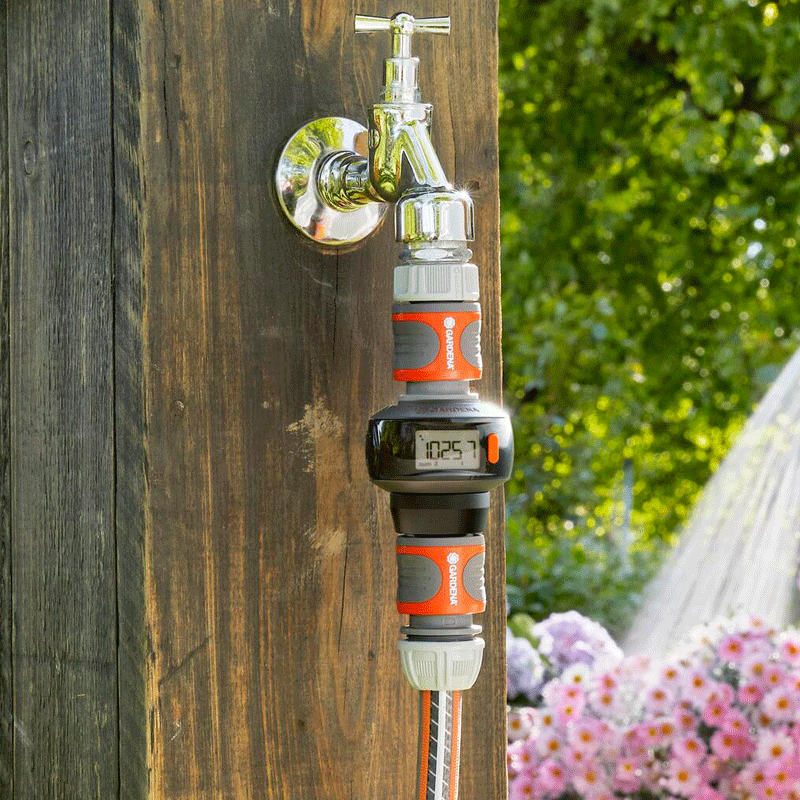 The 18350-20 AquaCount water meter is an affordable and versatile addition to any garden watering setup. Supplied with battery included and extremely easy to use, you can connect it up to components like garden taps, hose connectors, sprayers, sprinklers or pumps, and start measuring your water consumption in next to no time. Made from high quality, frost and UV resistant materials, the AquaCount water meter is designed to withstand harsh outdoor conditions and is supplied with a five year warranty.
18354-20 AquaCount Oscillating Sprinkler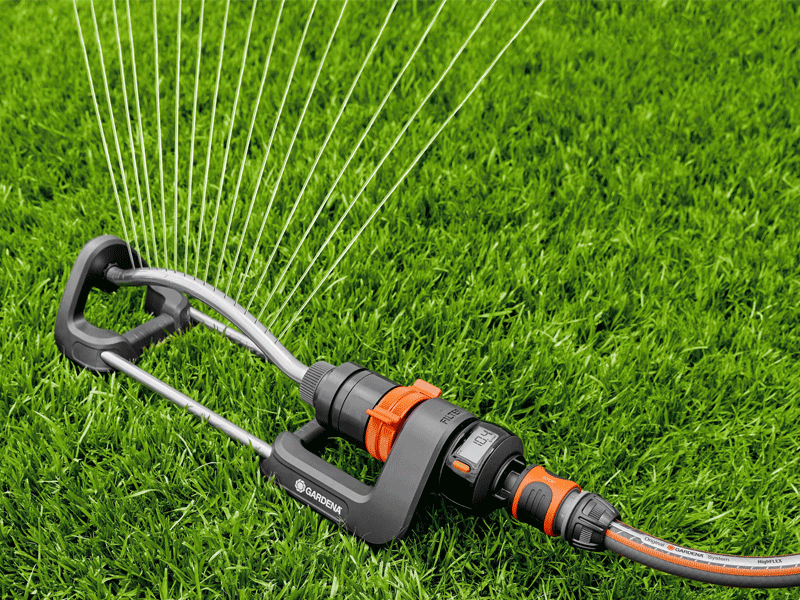 You can also get an AquaCount water meter integrated into an oscillating sprinkler. The 18354-20 AquaCount sprinkler is suitable for watering areas of up to 220 square metres and is ideal for lawns or rectangular plots. It has a stainless steel filter which can be removed for cleaning, and also comes with an included cleaning tool. The range is adjustable from 7 metres up to 17 metres, with a width of up to 13 metres.
18352-20 AquaCount Spray Gun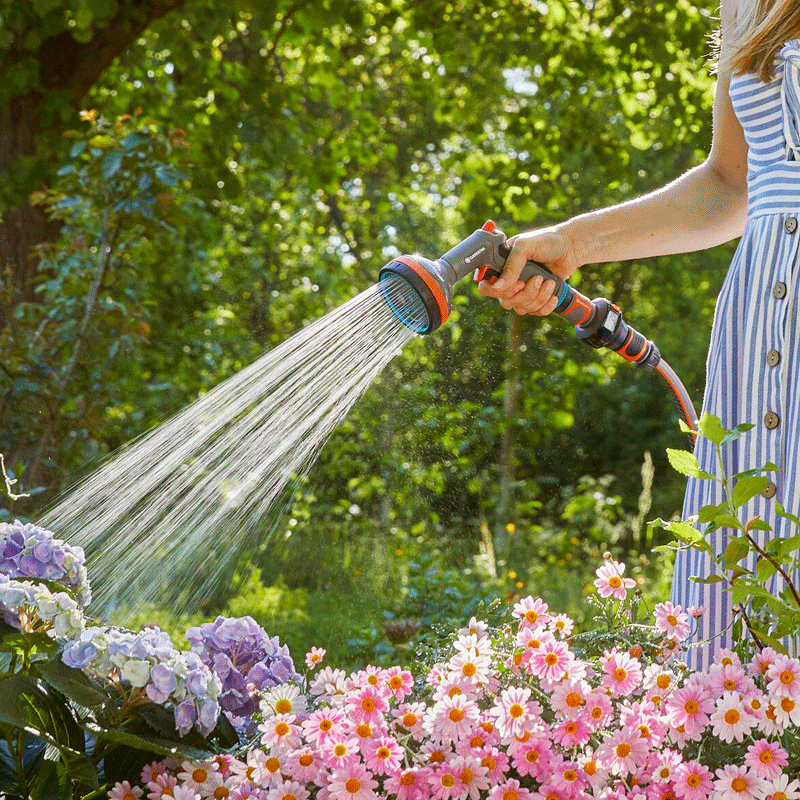 The 18352-20 AquaCount Spray Gun has a soft spray pattern and is ideal for watering pot plants and flower beds. The water flow can be regulated by a control on the back of the sprayer and the trigger can be locked on when required – this means you can comfortably tackle longer watering sessions without having to keep the trigger held down. The water meter display can be rotated so that it can be easily read whether you're left or right handed, enabling you to keep track of water consumption as you go. The 18352-20 spray gun is made from high quality materials which are UV and frost resistant so it will withstand the worst of the weather conditions if left outside all year. It comes with a five year warranty.
Available at Tooled-Up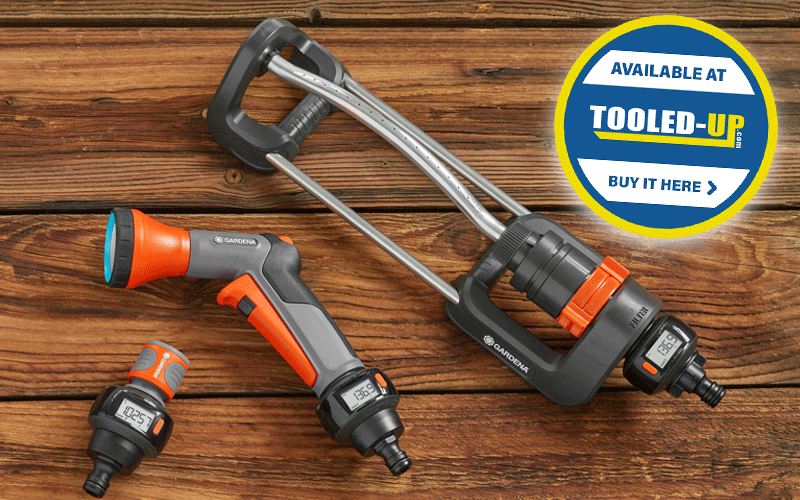 The Gardena AquaCount range is available now from Tooled-Up. We also stock the complete Gardena range, including hose pipes, hose reels, garden hand tools, power tools and the ever-popular Combisystem range of interchangeable tool heads and handles. You can view our complete Gardena brand page here.
---
categories mentioned in this article: