Gardena Cooling Mist Sets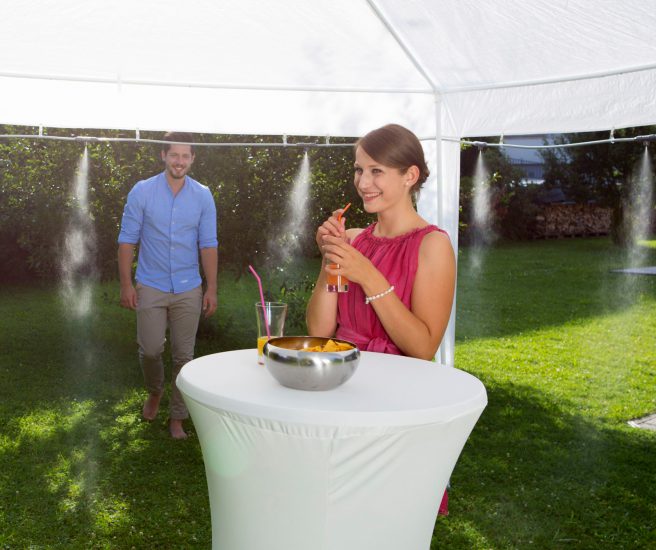 Gardena City Gardening Cooling Mist Range
I'm writing this at the tail end of an unseasonably wet and windy August, during which we've had two separate storms, with more thunder and lightning scheduled for this afternoon. Suffice to say, these were not the conditions the Gardena Cooling Mist set was designed for, but I will ignore the dark clouds outside for the time being and crack on with this overview of a fairly unique product which is intended to help beat the heat when you're spending summertime outdoors.
Beat the Heat with the Gardena Cooling Mist System
Gardena may not quite be a household name here in the UK, and they occupy a sort of "premium" slot in the garden tool market, meaning their products tend to command a higher price and aren't widely available on the high street. But they have long been a go-to brand for those wishing to spend a bit more on quality, and most of their hand tools are backed by 25 year warranties, many of which are made in Germany (where Gardena are based). The new Gardena Cooling mist system is something a bit different, as it's more of a leisure accessory than a garden tool but it has clearly evolved from Gardena's irrigation kits which are designed to keep your plants watered during the growing season.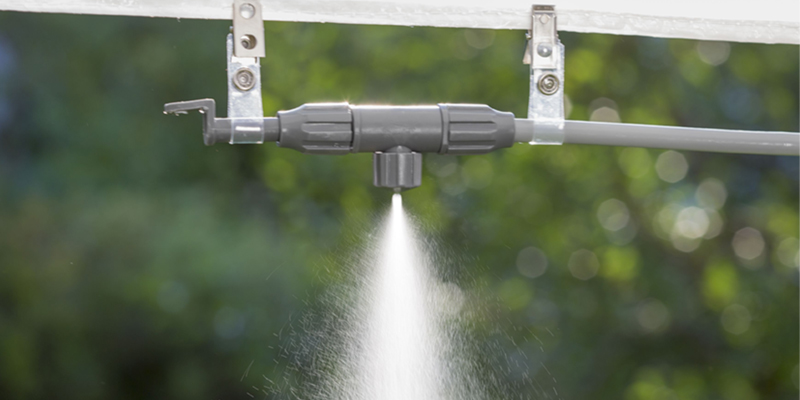 Like a garden irrigation setup for crops, the Gardena Cooling mist set channels water from an outdoor tap through a hose which is routed through the desired area, and which automatically dispenses water through a series of connected nozzles. Instead of drip feeding this water into the ground though, the Gardena Cooling Mist nozzles release it into the air in the form of a fine spray. The idea of this is that the ambient temperature will subsequently be cooled down, and Gardena say you can expect a reduction of up to 6°C, meaning you can create a relaxing environment during oppressively hot days outdoors. I suppose you can think of it like sitting on the beach and enjoying the cooling sea spray on a hot summer's afternoon.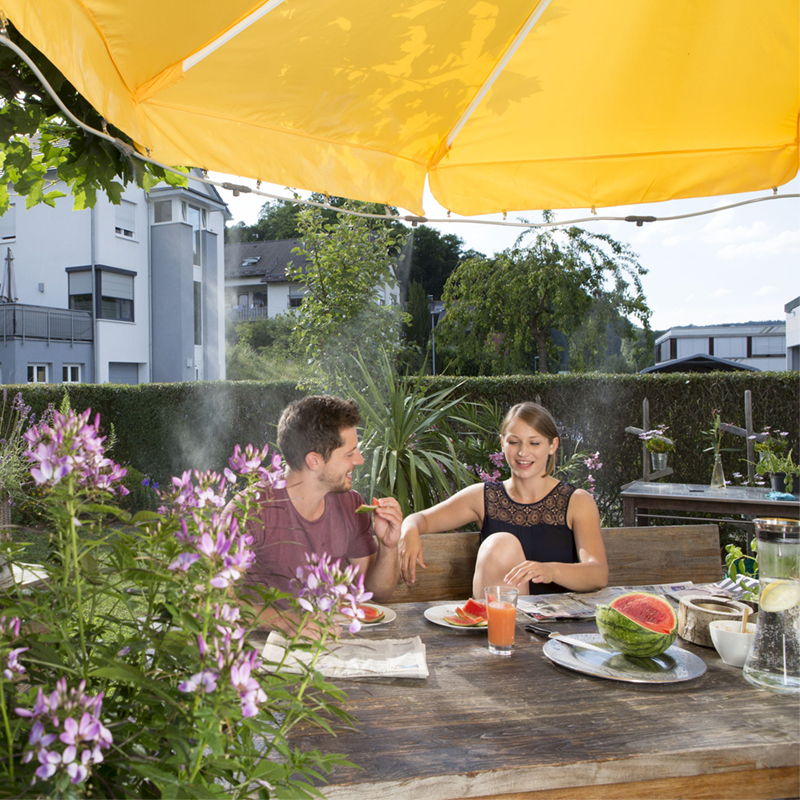 The basic system comprises 10 metres of hose pipe and clamps for fixing it in place, seven spray nozzles, and a hose connector with a flow control valve for adjusting the amount of water which is sent through it. You can also purchase a Gardena City Gardening Automatic Cooling Mist Set, which includes an additional EasyPlus controller – the controller enables you to preset the watering frequency so the flow is automatically switched off after a predetermined time, leaving you free to enjoy your time outdoors without having to remember to go and switch the tap off.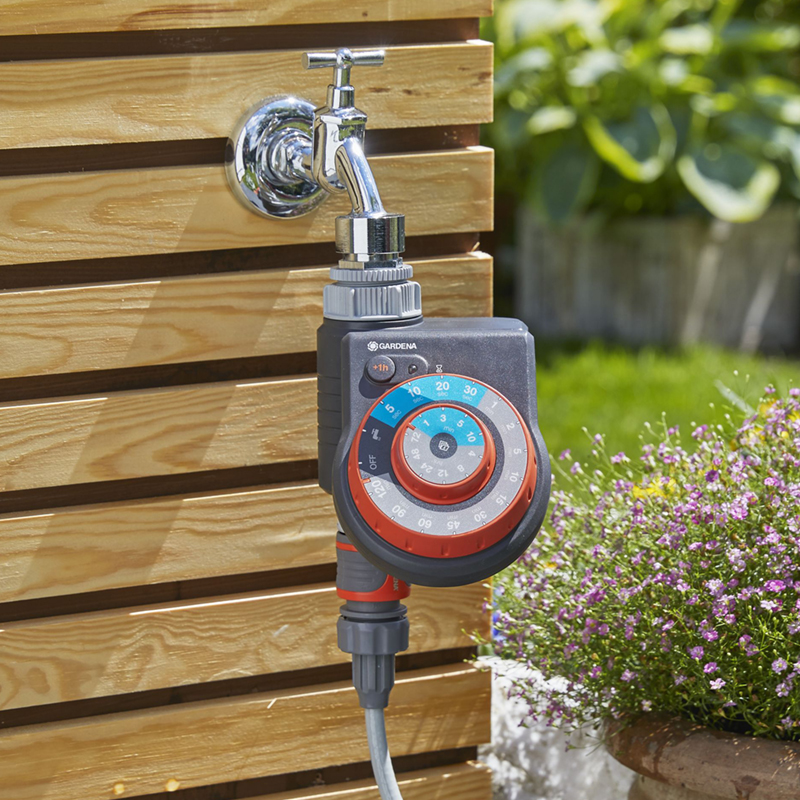 You're not just limited to the equipment provided in these two kits though, as Gardena also provide additional nozzles for sale separately, enabling you to customize and expand your setup according to individual requirements. Both starter kits and packs of spare nozzles are available from Tooled Up now, and you can view the complete range if you follow the link below.
Available Now from Tooled Up!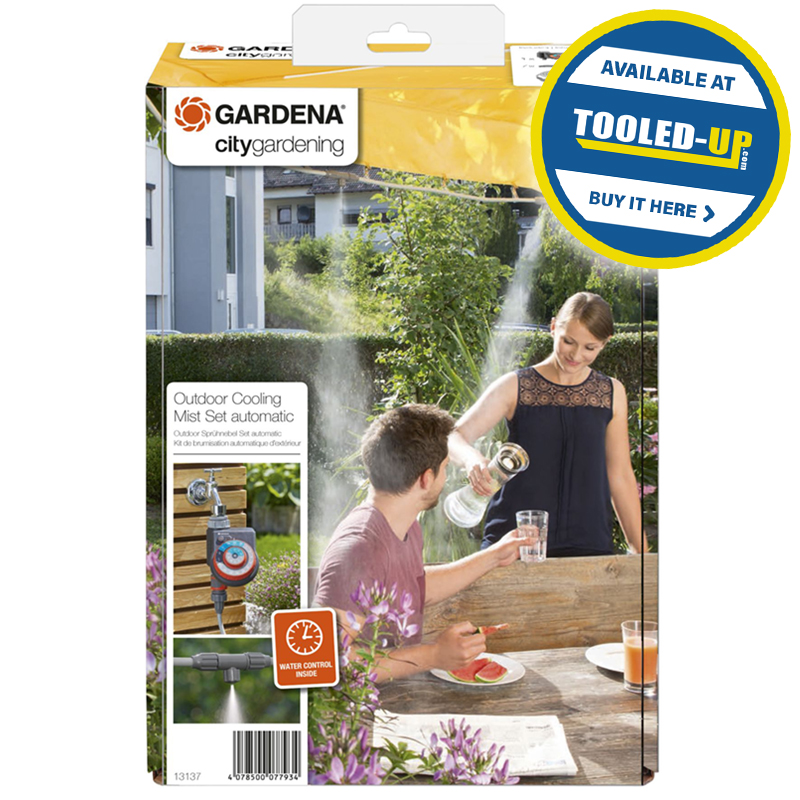 ---
Categories Mentioned in this Article: