Laser Levels Buying Guide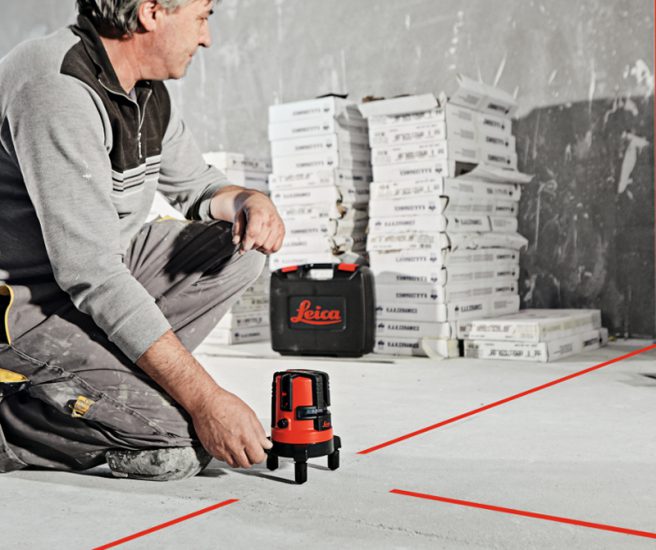 In recent years, the range of laser levels available on the market has dramatically expanded, with many variations becoming available for both for the professional and DIY market. The huge number of types and potential uses is sometimes bewildering even to the most experienced user. Cross hair, line, rotary, self levelling, indoor and outdoor; there are few other tools with such a wide choice of models and designs, or indeed potential tasks, that they can be used for. Before deciding which of the vast array available you should consider purchasing, it is important to decide upon it's purpose for you and then to familiarise yourself with the key types available.
In order to assist with your decision making, we have put together this guide to the various types of laser level that are out there, as well as a few of their potential uses. This should help you to narrow down the list of levels that will enable you to complete the job swiftly and accurately.
Line Laser Levels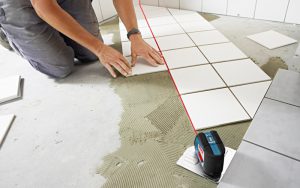 Firstly, the simple line laser level. This type projects a horizontal and vertical line either together as a cross hair, or as separate single lines on a ceiling or wall. Most are self levelling, ie the machine levels itself despite any irregularities on the surface it is placed on, but some options still need to be levelled the old fashioned way with a spirit level bubble set into the tool. The self levelling options are as expected much quicker, simpler and more accurate to use. Line lasers are a very useful tool in a wide range of trades as they give a vertical or horizontal line to work from. Regularly used by kitchen fitters, electricians or anyone building a partition wall for example; the list of tasks where this type can be utilised is endless. Options of line lasers that we prefer are the Dewalt DW088K or the Bosch GLL2-50 for professional use or the Bosch PCL10 and Bosch PCL20 for DIY'ers.
Rotary Levels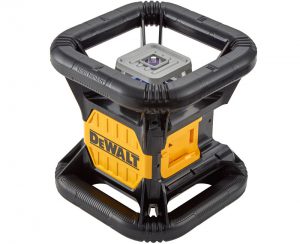 The second important option to consider are rotary levels. These spin around 360 degrees, hence the name, giving a constant horizontal line through a complete circle. Some can also be used to project a vertical line along a ceiling and floor. Thankfully these are a self levelling option, so you'll spend less time setting up. Again the range of uses for this type of level is huge and covers many trades and DIY jobs. Our favourite professional use rotary levels are the Dewalt DCE074D1R or the Bosch GRL400H. Beware of the cheap imitations which are often described as being 'rotary' – these have to be manually rotated by hand on their tripod.
Specialist Levels
Specialist laser levels are designed for very specific jobs. For example, the Bosch GTL 3  Floor & Tile Line laser level is specially designed for laying out, as the name suggests, floor and wall tiles.
Optical Levels
The optical or site level, replaces the old style dumpy site level and is used to set out sites prior to any work commencing. Used with a surveyors graduated staff and receiver, the Leica NA720 is our choice.
Dot Levels
Dot levels are now quite a rare style as they have been largely replaced by line and rotary levels, but they basically do a similar job by projecting a single dot onto the wall. A good example of this type is the Draper D896.
Choosing Your Level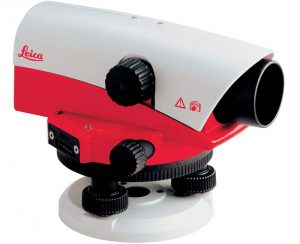 One of the questions we get asked the most here at Tooled-Up after 'Which one is best for me?' is, 'Can I use this laser level outdoors?'. Laser levels are always classified as being for indoor or outdoor use. Being suitable for use outside does not simply mean that it is a waterproof piece of kit, it actually refers to the fact that the laser is visible in outdoor light. An outdoor laser level is always more expensive than the indoor variety as it uses a brighter and more powerful laser to work, however they usually still need to be used with a receiver. Many of the outdoor rotary laser levels come as a full, ready to use kit with a tripod, laser receiver and surveyors staff such as the Stabila LAR200 Kit. It is impossible to see an indoor laser outside in most cases, so if outdoor use is envisaged then it is important to spend the extra amount and ensure the tool you buy is designed for outdoor use.
Being able to actually see the line that the level projects is the most important thing to consider when purchasing your new level. This is especially important when you are working in bright light conditions, here are a few tips that may help. Lasers are coloured either red which is the most common, but now they are also made with a green laser light as green is easier for the human eye to see because of its range in the light spectrum. This is really worth considering when making your decision. Using an accompanying electronic receiver will aid you during the setting out process and on the most basic level, a pair of laser glasses will help you to see the projected line clearly in most conditions.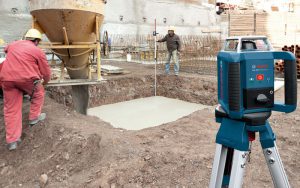 Physically using the level also requires some further considerations. Most users will mount a level on a tripod, so almost all have a standard British tripod mount thread so that they can be fixed atop any level or photographic tripod. There are also a variety of specific wall mounts available for certain models (eg the Bosch BM1) and also models designed or adapted for mounting on a staff or pole ( such as the DeWalt DE0882 telescopic pole)
As a power supply, many models use standard AA type or similar batteries but many are now designed to be used in conjunction with professional cordless tools. Prime examples being the Dewalt DCE079 and the Dewalt DCE088D1G which both use Dewalt 10.8v cordless batteries. This is well worth looking into if you already own a cordless system. Many of the upmarket laser levels are also supplied with a remote control function, particularly many rotary levels, which can be useful for preserving battery life whilst you're working on site.
Our advice to any prospective buyer is firstly decide what jobs you need the level to do; is it a specific job such as laying tiles or more for general use? Then, by using our buyers guide, identify the type that would suit you best. Most importantly, determine your budget. As with most things in life, buy the best you can afford. Unfortunately for your pocket, the more expensive the laser level, the more effective you will find it in day to day use.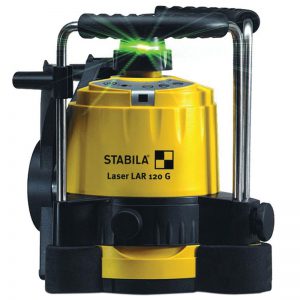 Once you have committed to purchasing your level, there are a few things you should keep in mind whilst you are using it. Laser levels are a precision tool with delicate components within their workings. They need to be treated with care as dropping the level could irreversibly damage the laser. Knocks and drops in or out of your toolbox can also knock the level out of true, servicing and re-aligning are time consuming and expensive processes. So, ensure that you look after your investment; if you do it will give you many years of useful service.
Laser levels are a brilliant, useful and modern tool that no professional should be without and any DIY'er will find invaluable for many tasks around the home. Builders, electricians, plumbers, ceramic tilers and decorators, to name a few, will all find laser levels to be beneficial time saving devices that allow the job at hand to be completed simply, professionally and most importantly accurately.
---
Categories discussed in this article: