New Bosch AMPShare Batteries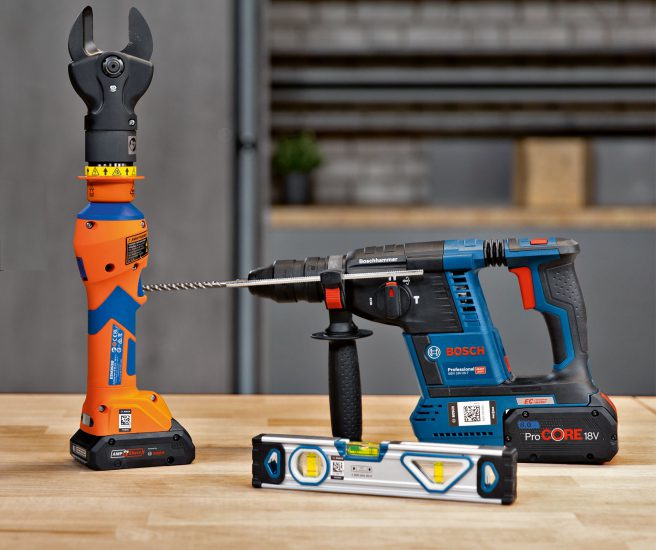 Bosch Join with Additional Partners in the New AMPShare Alliance
Not too long ago, Bosch announced that their PowerForAll 18v battery system, which until then had exclusively powered the Bosch "Green" range of cordless DIY and Garden power tools, had been opened up to other manufacturers – resulting in the PowerForAll 18v Alliance. This cross-brand partnership means that you can now use Bosch PowerForAll batteries in other tools for the home and garden market too, including options from Flymo, Gardena, Husqvarna and Steinel.
But Bosch also have another 18v battery platform which powers their Professional, or "Blue" range of power tools for trade and industry. These batteries are not part of the PowerForAll system, but have now become the central component of another own cross-brand battery alliance which is aimed at the professional market.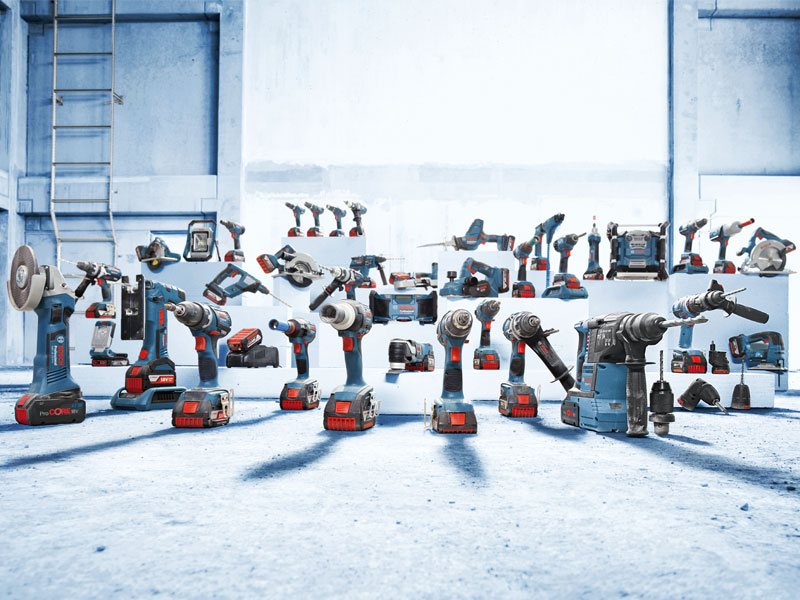 The New AMPShare Battery Platform
Bosch have called this new platform AMPShare, and it means that, as with the PowerForAll Home & Garden range, if you have a Bosch Professional 18v battery, you're no longer limited to only being able to use it in Bosch Professional power tools. When Bosch officially announced the AMPShare battery platform they revealed that 25 partners had already signed up to the alliance, and this number is likely to increase in the future.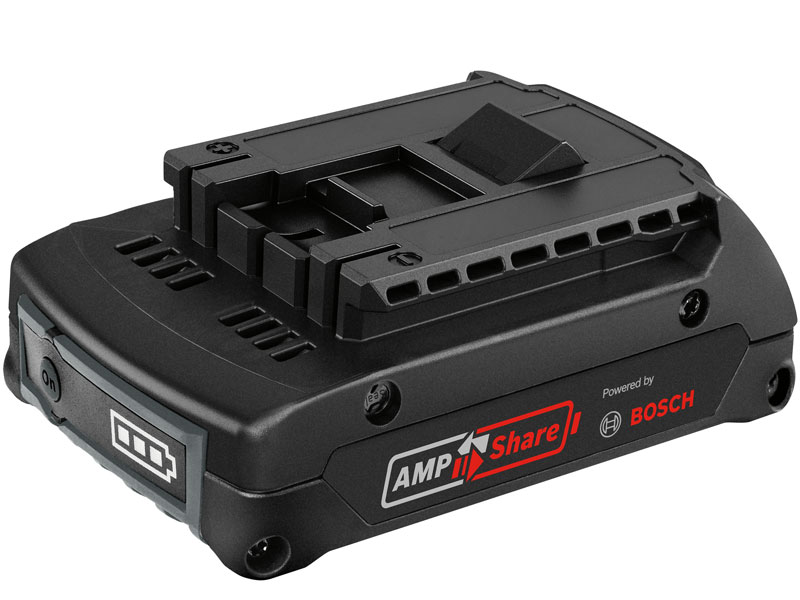 Who is Part of the AMPShare Alliance?
As well as the existing Bosch Professional 18v range of cordless power tools, the AMPShare alliance presently consists of: AAT, BEPo, Brennenstuhl, Cox, Fein, Fischer, Forch, Honsel, Klauke, Kolektor, Kummert, LED Lenser, Leister, Lena Lighting, MATO, MK, PerfectPro, Ramset, Rexroth, Rothenberger, SONLUX, Signode, Strapex, Orgapack and Wagner.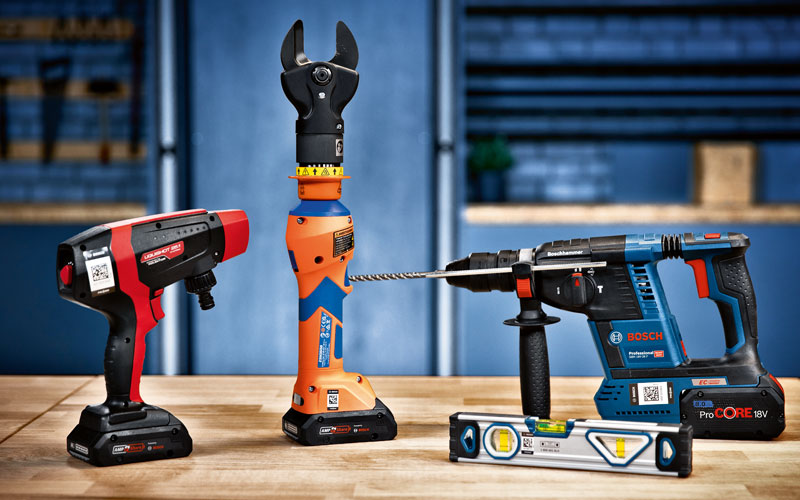 These brands are not all household names in the UK (although many will be familiar to trade professionals) and I imagine that most of the interest in this country will initially be focussed on Fein. As probably the most "general-purpose" manufacturer in this list, Fein are especially well known for their oscillating multi tools but they also make a variety of other high end power tools including all the usual staples as well as many specialist metalworking machines. Fein have had their own battery platform for many years, but it's fair to say it's never been widely adopted at a consumer level. A big part of the reason for this is that Fein simply doesn't have the same market presence as brands such as Bosch, Makita or DeWalt. Joining the AMPShare alliance changes that significantly and should mean their cordless tools will suddenly become a lot more accessible to many.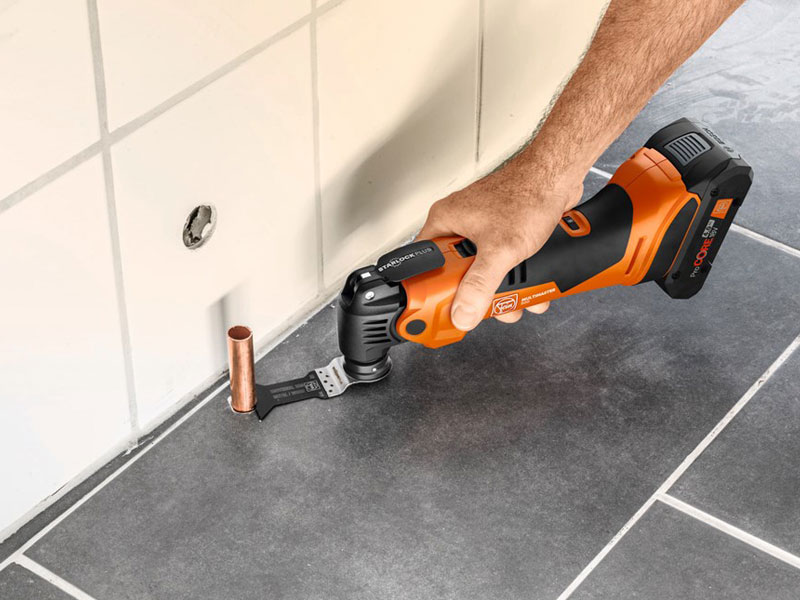 The other AMPShare partners will benefit from this too – many of these manufacturers make quite specialist equipment, and being able to use an established, widespread battery platform should simplify things at the design stage while greatly increasing their marketability in what tends to be an extremely brand-loyal retail environment.
But of course it's not only the manufacturers who benefit from this arrangement. There are several benefits to the end user too.
AMPShare User Benefits
When it comes to cordless tools, most professional users will choose a brand and stick to it fairly religiously. This is because when all your tools run off the same batteries, you can work a lot more efficiently, reduce clutter, free up power sockets, save space, and save money. It doesn't make a great deal of sense to carry around single-purpose batteries and chargers if you can avoid it, but sometimes there's no getting around it – for example if you need to use a cordless tool or piece of equipment which simply doesn't exist on any other battery platform.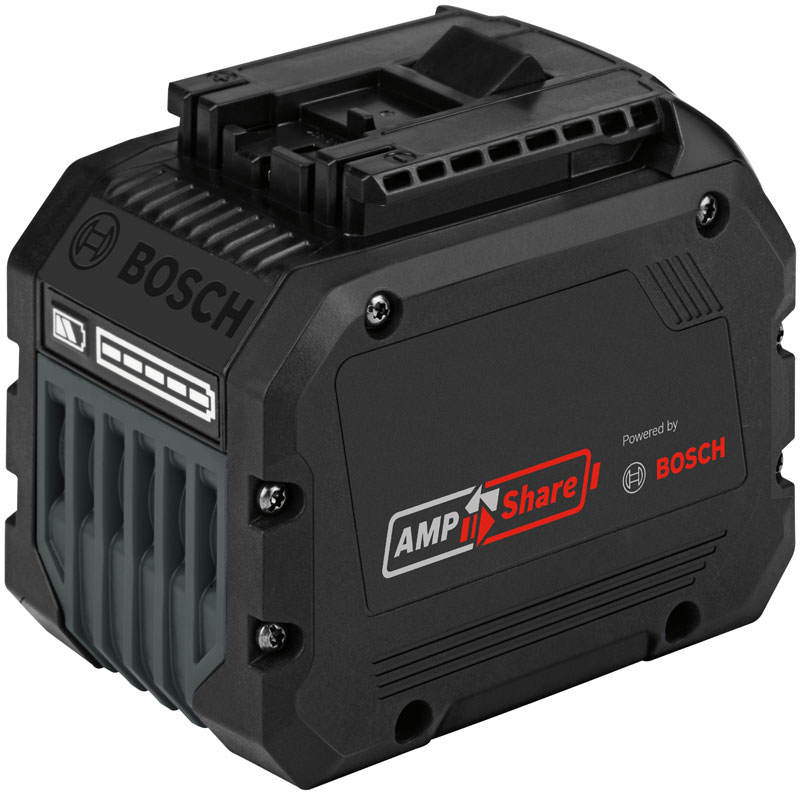 Power tool manufacturers are well aware of this and recently we've seen several innovations which have attempted to win users over with more versatile and universal battery technologies. In fact Bosch have already contributed to this innovation with their BITURBO and ProCORE systems as well as the PowerForAll 18v Alliance battery platform for the Home & Garden market. The new AMPShare partnership means that Bosch Professional users should be able to get more use out of their batteries and chargers than ever before, and opens up the potential for lots of development in the future.
It's not only the manufacturers and the people using the tools who benefit from more universal battery platforms, but it's kinder on the environment too. Fewer batteries and chargers in circulation means less demand on the earths resources, and helps to reduce unnecessary plastic waste. In fact for this reason alone it's likely that we'll see a general move towards much more universal batteries in the coming years, and I'm sure it's an area that's going to see a lot of development.
AMPShare Summary
We've yet to see any official "AMPShare" batteries arrive in stock so far, but it would appear that as with the PowerForAll 18v Alliance launch, they will essentially be rebranded Bosch Professional 18v lithium ion batteries. Bosch have confirmed that AMPshare batteries will be fully compatible with all Bosch Professional 18v tools released from 2008 onwards, and that existing Bosch Professional 18v lithium ion batteries will also be compatible with all new AMPShare tools. For more information why not check out our Youtube video on the subject here and keep an eye on the Tooled-Up website for new releases as they become available.