New DeWalt Cordless Tools for 2018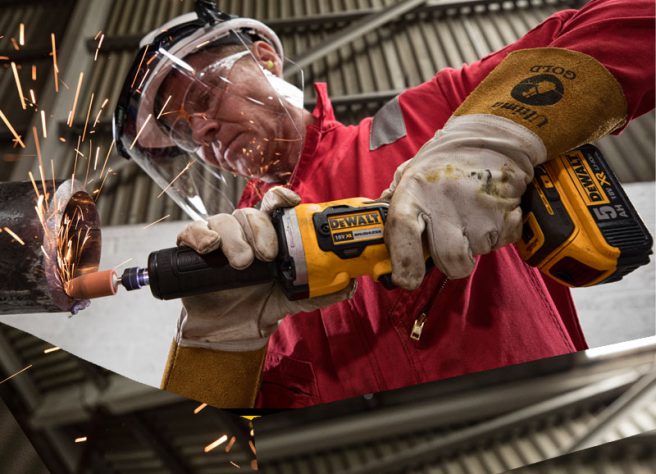 New DeWalt Tools
It can be hard to keep up with DeWalt these days. Ever since the Flexvolt system was unveiled back in 2016, it seems like a constant production line of brand new yellow machines has been continuously pouring forth from their design studios. In case you've missed them, we'll take a look at some of the most interesting tools they've announced over the last few months.
DCD240 Flexvolt 54V Cordless Paddle Mixer
The world's first cordless brushless paddle mixer which promises to deliver performance equivalent to the traditional corded mixing drill, the DeWalt DCD240 Cordless Flexvolt Paddle Mixer is a powerful machine will enable contractors to mix materials like plaster, paint and epoxy, no matter where they are on site. Fitted with a standard M14 spindle and equipped with 5 speed settings for maximum control and versatility, we can't think of any other cordless paddle mixers on the market right now that can compete with the DCD240 in terms of sheer power or the battery compatibility that comes with the Flexvolt system.
DCD460 Flexvolt 54V Cordless Angle Drill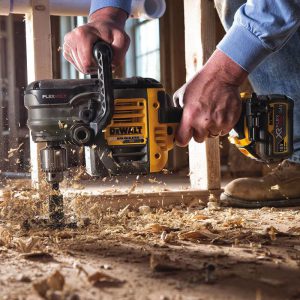 Rated for use with hole saws of up to 152mm diameter and 32mm auger bits, the DCD460 is a powerful machine which also includes DeWalt's Perform & Protect technology to safeguard against kickback. In the case of the DCD460 this is a DeWalt patented E-clutch mechanism which is designed to instantly reduce the speed and torque in the event that binding conditions are detected, protecting the operator against high torque reactionary forces if an accessory jams. Powered by Flexvolt batteries for 1500W of power output and equipped with multi position handles and an LED worklight, this beast of a machine is ideal for drilling large diameter holes in studs and joists without the inconvenience of a power cable. The DCD460 has been out in the US for a bit longer than it's been available over here and it's gone down a storm: just check out the reviews online to see what we mean.
DCL079 18V XR Cordless LED Tripod Worklight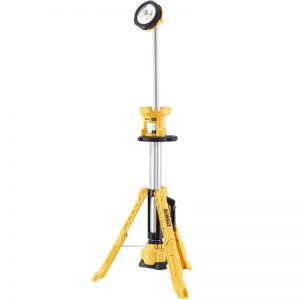 Especially in these winter months, portable lighting is often essential for illuminating darker jobsites, and the new DCL079 provides a convenient way of using your existing DeWalt power tool batteries to light your way. The DCL079 folds up and packs down for easy transport, and thanks to its IP55 rating it is protected against dust and water ingress, making it suitable for use in tough jobsite environments. The tripod is height adjustable (up to 2.2 metres) and the rotating & pivoting worklight has three brightness settings up to a maximum of 3000 lumens. The powerful COB LED is designed to project a neutral colour with reduced glare, making it perfect for checking surface finishes. The DCL079 is compatible with all 18v XR and 54v Flexvolt lithium ion batteries.
DCK2059D2T 18V XR Brushless Drill Driver & Impact Driver Kit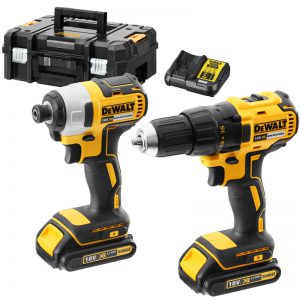 At the tail end of 2017, DeWalt released one of their most affordable power tool kits to date; the DCK2059D2T twin pack includes a DCD777 brushless drill driver and DCF787 impact driver, along with two 2.0ah lithium ion batteries, charger and a TSTAK case, at a price point which makes it an ideal introduction to the 18v XR platform or a cost effective addition to established users' tool kits. Though these machines obviously don't have the same specifications or the high grade features employed on DeWalt's high end tools, you're still getting a professional cordless drilling and driving solution with a three year warranty – for not a ton of money. And of course, the batteries and charger are fully compatible with the rest of the DeWalt 18v XR range, one of the most comprehensive cordless systems on the market.
DCG426 18V XR Cordless Die Grinder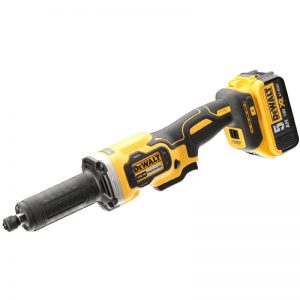 DeWalt now have a cordless die grinder available on the 18v XR platform: the DCG246, which is available as a bare unit or with two 5.0ah batteries, charger and case. Fitted with a brushless motor for maximum efficiency, the DCG246 has three speed settings with dual variable speed triggers, an LED nose ring worklight for enhanced visibility in dark workspaces, and a directional exhaust system which ensures the airstream is routed away from the operator. Like DeWalt's recent cordless angle grinders, the DCG426 has fine mesh filters installed in its vents to help prevent particle ingress into the interior of the motor housing.
DCMW564 18V (36V) XR Cordless Lawnmower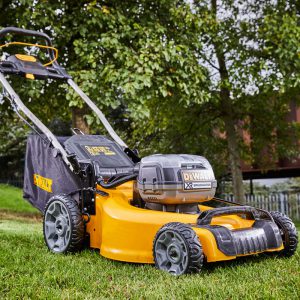 Although most lawns are probably a bit too frozen to mow at the time of writing this, gardeners and landscapers will soon be able to keep their grass maintained with the new DCMW564; a cordless rotary mower with a brushless motor. Although it uses 18v XR batteries, it uses two of them for a combined 36v of power. With two 5.0ah batteries installed, Dewalt say the DCMW564 will mow up to 800 square metres on a single charge, and it is fitted with an electronic dashboard that displays battery status as you mow.
Other Tools & Accessories
This is just a small selection of what DeWalt have released over the past few months. To check all the latest tools and accessories on our website, including many more from other manufacturers as well, take a look at the New Products section at the top of the page. This is continuously updated with new lines as they get loaded onto our website. Hope everyone is having a good 2018 so far and keep an eye on Tooled Up for more tool news throughout the year.