New Festool TS 55 F Plunge Saw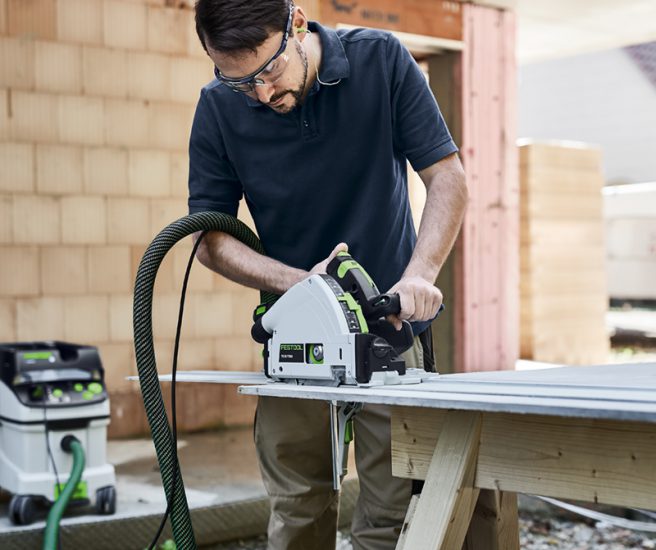 Festool add a new Plunge Saw to their lineup with the TS 55 F
Festool have been making plunge saws since the 1980s but when the legendary TS 55 was introduced in 2003 it became probably the most distinctive and widely recognized tool in the companies history. Quickly establishing itself as a mobile powerhouse, the TS 55 offered a perfect combination of spot-on accuracy and lightweight portability that made it a must-have for professional power tool users like kitchen fitters and cabinet makers who found they could cleanly and precisely break down sheet goods, laminates and timber with a tool that could just about fit in a backpack.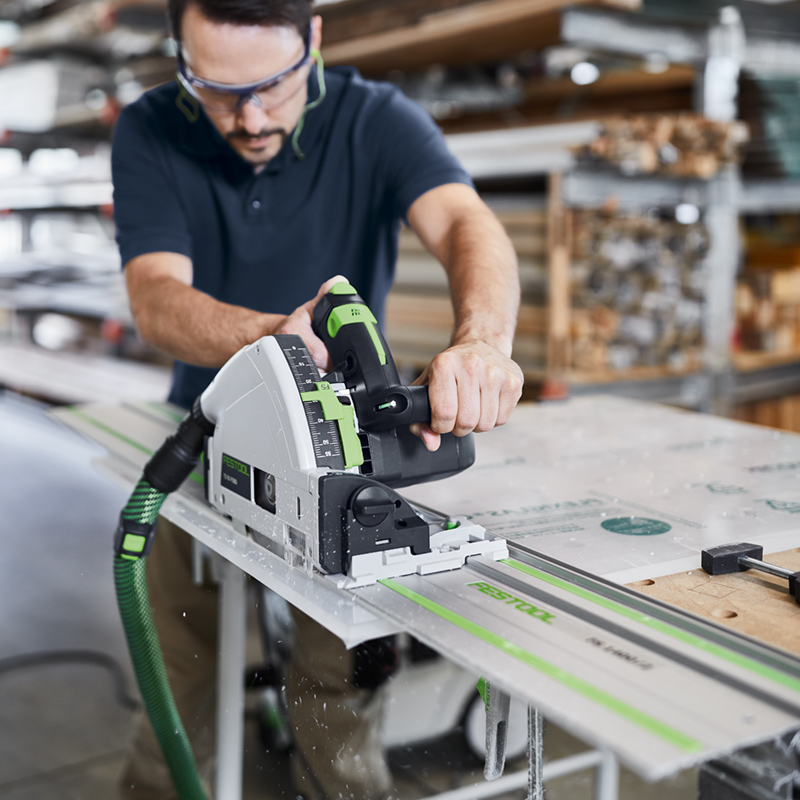 Back in 2003, plunge saws and track saws were a novel concept for many people. Nowadays of course that's all changed and they've become much more ubiquitous – a testament, no doubt, to the success of the TS 55. The machine has been a mainstay of the catalogue since it was introduced but Festool have released several revisions and updates to the design over the years and the latest is the new TS 55 F.
TS 55 F: What's New?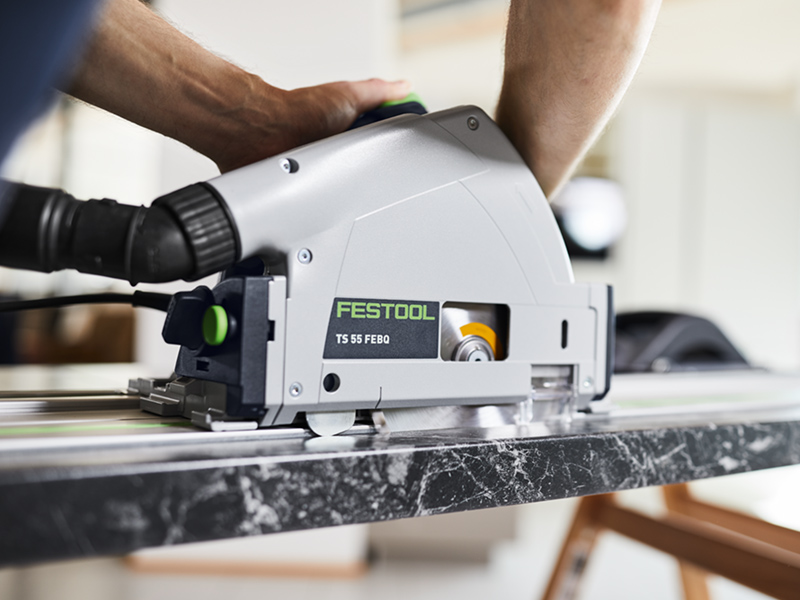 The major difference between the TS 55 F and its predecessors is speed – Festool have greatly increased the speed range and in fact the TS 55 F can deliver up to twice as many revolutions per minute when compared to earlier generations of the TS 55. To achieve this, Festool designed a whole new range of blades in conjunction with the saw – these blades have optimised tooth geometry, with sharp carbide teeth and a reduced cutting width which is key to maximizing the cutting speed. Therefore for best results the TS 55 F should always be used with these new F type blades.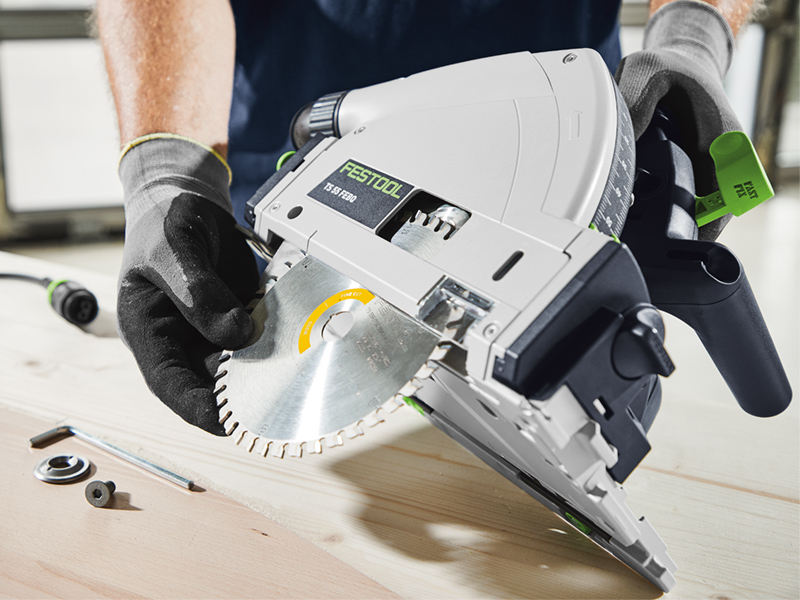 While the speed has been significantly ramped up, you'll be glad to hear that all the standard features that have made such a success of the TS 55 series are still here. You get a riving knife to help prevent kickback, a flat blade housing which enables you to saw right up against walls and solid objects, excellent dust extraction, precise depth and angle measurement, a detachable Plug-It power cable, and of course, seamless integration with the Festool guide rail system.
Available Options
In the UK the TS 55 F is available either in 240v (with a UK Mains Plug-it cable) or in 110v. You can purchase it as a basic kit, which includes the saw packaged in one of the new Systainer3 cases, or it is also available with an additional guide rail too. The TS 55 F will slot onto all existing Festool guide rails which are also available for purchase separately.
Available Now!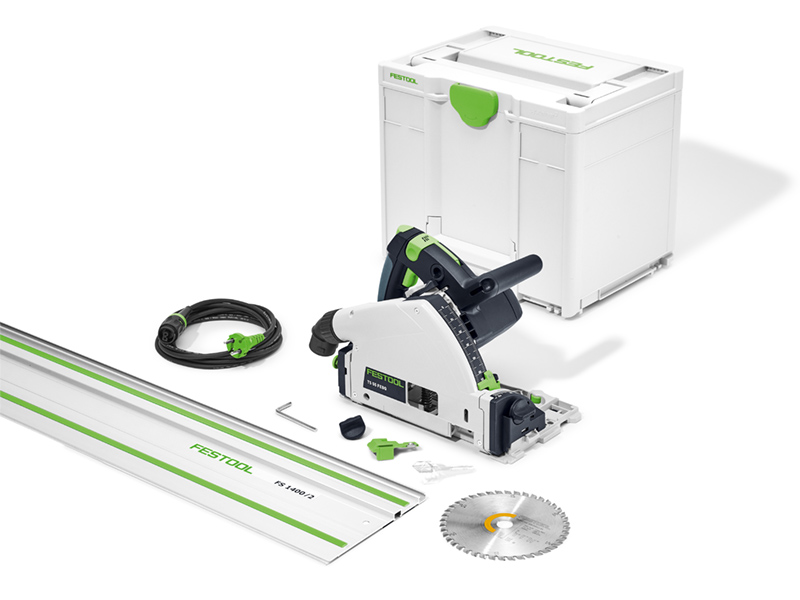 This new plunge saw is available now from Tooled Up. View the basic kit here or the complete guide rail kit version here. You can also find out more information on the available variants and the rest of the Festool range on the Festool UK website.
---
Categories mentioned in this article: