New Workwear Lines Added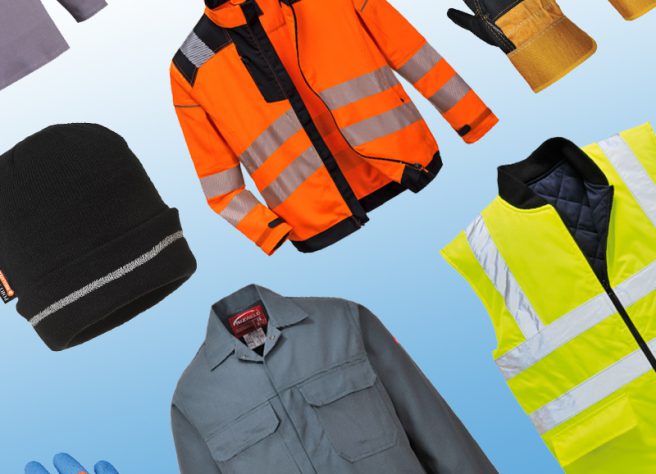 Over the last few months here at Tooled Up, we have been working hard to massively increase our range of workwear. As well as introducing a large selection of industrial clothing and PPE from Portwest and subsidiaries, we have added safety footwear from brands like Dr Martens Industrial, Puma, Timberland and Caterpillar. Let's take a quick look at some of our core workwear ranges and some of the new product lines we've added.
Work Trousers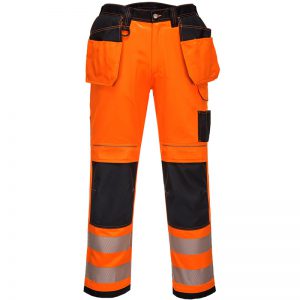 A good pair of work trousers is a workwear essential for most tradespeople and in many industrial workplaces, being hardwearing enough to cope with active use while providing a multitude of easy-to-access storage solutions for tools, equipment, documents and accessories. Many also include knee pad pockets to help save your knees when kneeling throughout the day. We stock work trousers in mens and womens sizes, including hi-vis, heat resistant, flame resistant and waterproof options. The PW3 Vision Hi-Vis Work Trousers pictured have triple stitched seams, reinforced panels, reflective piping, top loading knee pad pockets, a smartphone pocket, integrated D-ring, hammer loop, double rule pocket and holster pockets including an ID holder.
Overalls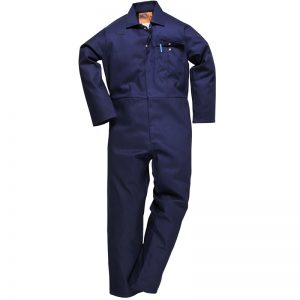 Overalls are another of our consistent best selling product ranges, being ideal for working in oily, grimy, dirty or dusty conditions and favoured in many automotive, industrial and agricultural environments. We stock lightweight and economical overalls which are suitable for protecting underlying clothing or as general workwear, as well as more substantial lined overalls which are ideal for use in cold conditions, The Safe Welder Overalls pictured are designed for welding environments, with a flame resistant design that is certified against molten metal splashes and incorporating a radio loop and rule pocket, along with concealed stud fasteners which will not become snagged or damage sensitive surfaces like paint or metalwork.
Fleeces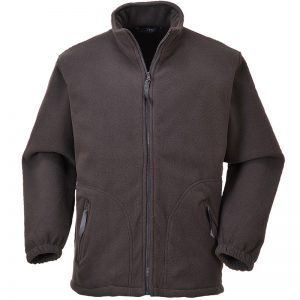 During colder weather a fleece makes an ideal outer layer if you work outdoors or in large, unheated areas like warehouses. Available as zip up jackets or partially zipped pullovers, fleeces are excellent for keeping heat trapped close to your body, and many feature zipped pockets for secure storage of keys, wallets, phones and other equipment. The Portwest Argyll Fleece pictured is an economical zip up jacket with a funnel neck, elasticated cuffs and a drawcord adjustable hem to prevent heat loss. Equipped with two zipped side pockets for secure storage of valuables, it can be worn as an outer layer or teamed with an exterior coat or jacket to provide excellent insulation in cold climates.
Hoodies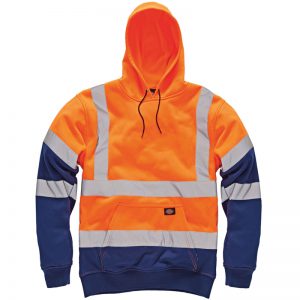 A classic versatile and comfortable garment which helps keep the rain off when working outdoors, hoodies are perennially popular and hi vis models like the Dickies Two Tone Hi Vis Hooded Sweatshirt are some of the best selling products in our workwear category. We also stock multiple options in standard colours which are ideal for use in low hazard environments and for wearing during leisure time. For ultimate working comfort, hoodies can be combined with another best seller, the Dickies High Vis Joggers, or the new Portwest Hi Vis Cargo Pocket Joggers.
Jackets & Bodywarmers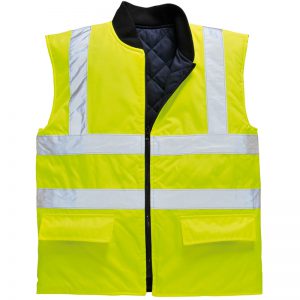 We stock a huge variety of outerwear options for protection against wet and cold weather. Jackets and coats offer the best warmth and insulation, while bodywarmers enable unrestricted arm movement, making them ideal for active use. As well as many products which are ideal as general purpose clothing, we stock coats, jackets and bodywarmers which are designed specifically for a range of workplaces, including the food industry, warehousing, wet weather, welding environments and rail or motorway maintenance. The Oxford Weave 300D bodywarmer is a Class 2 Hi Vis garment which is reversible, making it perfect for use outside of work as well as when working in hazardous environments or when walking or cycling near traffic.
Gloves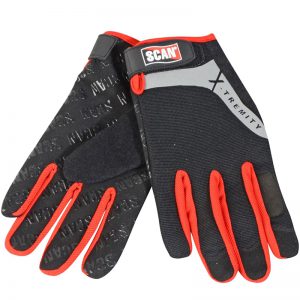 Whether you're protecting your hands against hazards, shielding them from oil, grease and grime or simply keeping them warm, we stock a wide variety of gloves for the workplace, for DIY and gardening jobs or for general outdoor wear. Workers in fields like construction, manufacturing, removals, transport and logistics often rely on grip gloves to ensure a secure hold when carrying materials as well as to protect against scrapes and scratches from rough handling throughout the day. These Scan Work Gloves with Touch Screen Fingers have silicone printed palms for enhanced grip, hook & loop wrist straps to keep them securely strapped onto the hands, an integrated terry brow wipe and fingertips which are suitable for use with the touchscreens on devices like phones, PDAs and tablets.
Hats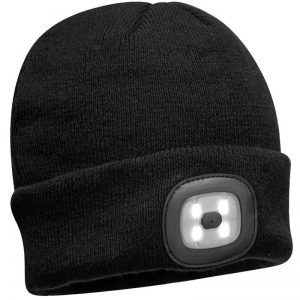 Hats can function to keep you warm and dry, shield you from the suns glare or to keep hair out of your eyes. In the case of headwear like bump caps, they can serve to protect you against light knocks and impacts such as when working around low ceilings or in confined spaces, and high visibility hats and caps help to alert others to your presence when in the vicinity of vehicles or dangerous machinery. Designed for improved safety and visibility after dark or in dimly lit conditions, the Portwest Rechargeable Twin LED Beanie Hat has a front facing white LED and a rear facing red LED, both of which are powered by batteries that can be recharged via USB. The white light helps improve the wearers visibility of the immediate area while the rear facing red LED helps to alert drivers or co-workers approaching from behind.
Safety Footwear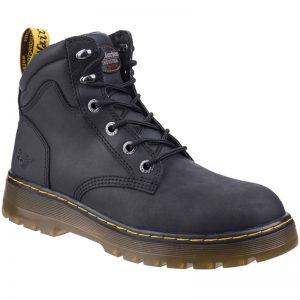 We have loaded lots of new footwear from manufacturers including Albatros, Caterpillar, Puma, Dr Martens, Portwest and Timberland, including safety boots, safety shoes and safety trainers for men and women. Safety footwear is commonly manufactured with either steel or composite toe caps and/or protective midsoles to protect the toes and soles against crushing damage or penetration by sharp objects like nails. We also stock safety wellington boots, non-safety footwear, and ice traction grippers which are worn over the soles of your feet to improve grip, traction and stability when walking on ice and snow. Part of the Dr Martens Industrial Footwear range, the Brace Safety Boots have steel toe caps, padded tongues and air cushioned outsoles for safety and comfort throughout the day. They are available in black or brown in sizes 6 through to 12.
Conclusion
This article just shows a handful of the new items we've loaded onto our website, which now includes workwear solutions for a huge range of industries and occupations. Don't forget we also stock PPE like dust masks, respirators, ear defenders, safety glasses and goggles, all of which can be found in our Safety & Detectors category
---
Categories mentioned in this article: