Solo Sprayers & Mist Blowers Range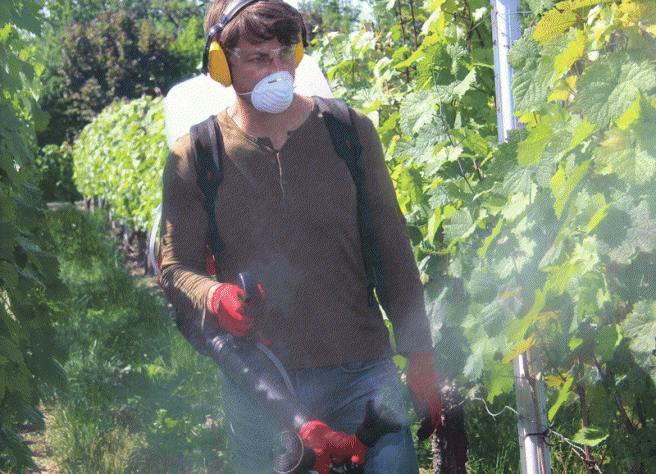 Solo Sprayers & Mist Blowers
Solo have a long history of innovation in the sprayer market. The company was founded in 1948 as KMS (Klein Motoren Stuttgart) and their primary goal in the early days of the business was to create a lightweight and compact engine for use in portable machines. Their early designs were incorporated into scooters, water pumps and lawnmowers but they truly (and literally) made their name in 1951 with the introduction of the world's first backpack engine driven mist blower for applying pesticides and fertilizer in agricultural sites. Prior to this, mist blowing required a large stationary machine which had to be operated by several people. The new portable design enabled a worker to operate solo for the first time and was quickly adopted by many of the vineyards around the Stuttgart area. In light of the success they enjoyed with the backpack mist blower, KMS decided the name "Solo" was a fitting and memorable trademark, and the company was shortly thereafter rebranded as Solo Kleinmotoren GmbH.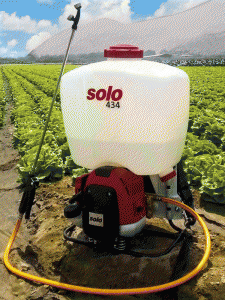 Solo continued to design and manufacture small motors throughout the twentieth century and once produced a whole range of powered garden and forestry tools; however in 2014 they sold off most of this side of the business and have since concentrated more or less solely on misting and spraying technologies (though they still specialise in a few other areas, including aircraft engines for motorized gliders). Solo still manufacture much of their range in Germany, but their reputation for performance, reliability and durability has earned them global recognition as a premium brand for professional plant care and pest control in many agricultural industries. As well as their specialist ranges, Solo also manufacture top quality spraying equipment which is ideal for use around the home and garden. Let's take a look at some of their product ranges now.
Solo Manual pressure sprayers
A familiar sight in garden and DIY stores the world over, the classic manual pressure sprayer is an affordable and highly portable solution for spraying a variety of liquids including water, pesticides, herbicides and fertilizers.  The BASIC series represents Solo's entry level pressure sprayer range and includes compact models perfect for watering and misting pot plants around the house or in balcony gardens and patios.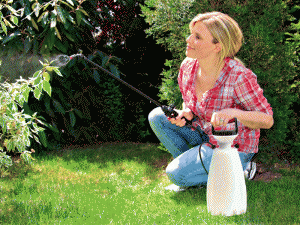 The COMFORT series offers a higher end domestic/professional range, and several of these models have interesting or unique features. For example, the Solo 402 COMFORT Telescopic Chemical & Water Pressure Sprayer has a pivoting nozzle which enables it to be used for spraying the undersides of leaves and other hard to reach areas, while the Solo 453 COMFORT Chemical & Water Pressure Sprayer has a large tank and an integrated trolley which enables it to be wheeled around larger sites. Solo were the first manufacturer to introduce UV resistant pressure sprayers and many products in the COMFORT range make use of this technology to improve their long term durability when exposed to sunlight, which can cause plastics to discolour and crack over time.
Solo's PRO pressure sprayers are best-in-class appliances designed for the professional market, and they are made to be especially robust and reliable. Thick walled, UV resistant tanks and robust, strengthened lances ensure these pressure sprayers deliver a lengthy service life in working environments, and for optimum resistance to chemicals many of them are fitted with Viton seals. Viton is a trademarked brand of synthetic rubber which is renowned for its ability to withstand chemicals and solvents that can permeate and cause degradation to standard sealing materials, making it a desirable component for pressure sprayers that will be used to spray aggressive compounds.
Solo Petrol Pressure Sprayers
Solo's petrol pressure sprayers harness 2 or 4 stroke engines for increased bar pressure that makes them ideal for spraying tree tops and other elevated or inaccessible areas. As they are petrol powered they can also be used continuously without having to stop and manually pump them back up whenever the pressure drops. These are professional grade machines which are ideal for more demanding pressure spraying applications; for example, the Solo 433 Petrol Backpack Chemical & Water Mist Sprayer has a 20 litre tank for long operating periods, anti-vibration dampers and a padded backpack frame for user comfort, a drain valve for excess liquid disposal and a maximum operating pressure of 30 bar which enables it to deliver the finest spray at an extended range, making it perfect for spraying fruit trees and tall plantings.
Solo Rechargeable Pressure Sprayers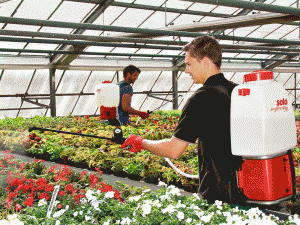 Solo also have a range of pressure sprayers that are powered by rechargeable batteries. Although not as powerful as the petrol pressure sprayer range, these models can be used in enclosed areas like greenhouses and nurseries, and without the concerns of safely transporting and storing fuel on site. Rechargeable electric sprayers are also much quieter than petrol machines, while still offering the increased convenience and speed of a powered spray system.
Solo Mist Blowers
While standard pressure sprayers produce a directional jet that makes them ideal for targeted spraying of individual plants, a mist blower is designed to cover a much larger surface area. Solo's backpack mist blowers are powerful petrol powered machines which are ideal for treating outdoor crops or plants in public green spaces like parks; additionally, they are often used for applications such as disinfection and parasite control in stables and farmyards. Having invented the original backpack mist blower back in 1951, Solo remain at the forefront of the market to this day and their mist sprayers are amongst the most popular in the world. The benefits of over 60 years of experience and product development include lower fuel consumption and emissions with low noise and vibration, reliable performance even in extremely hot conditions, and a durable construction that enables them to provide a long service life.
Conclusion
Solo's pressure sprayers and mist blowers cover a wide spectrum of uses in both domestic and professional fields, and there's something for just about everyone in their range. At Tooled Up we stock a large selection of Solo sprayers and mist blowers along with spares and replacement parts. If you'd like more information on any of the Solo products we sell, or would like to speak to someone regarding the best machine for your individual requirements, feel free to give our sales team a call or pop into our trade counter in Brimsdown.
---
Categories discussed in this article: