Steinel GluePRO Glue Guns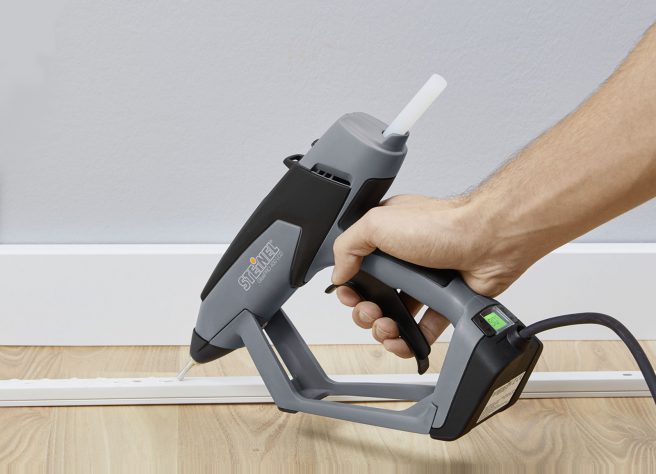 Steinel GluePRO Series
Steinel's professional grade heat guns and hot air tools have occupied a premium position in trade and industry for years, but their glue gun range has historically been more geared towards the DIY and consumer end of the market. However, 2019 has seen the introduction of two brand new professional grade glue guns from the Steinel stable: The Steinel GluePRO 300 and GluePRO 400 LCD, both of which are designed for everyday users and working environments.
Steinel Overview
In common with many other manufacturers, Steinel operate two separate divisions for their power tools, which are manufactured either for the consumer (DIY) market or for commercial (professional) use. The consumer grade tools are usually blue or red, while the professional grade tools can usually be identified by a grey finish (and the "Steinel Professional" labels on them). Steinel actually make a fairly diverse range of products, including Smart Home appliances, sensors and lighting systems, but they are only really known for two types of power tool: heat guns and glue guns. As mentioned above, the two new Steinel GluePRO glue guns are notable for being part of the Professional product group, alongside the industrial grade hot air tools which have become firm favourites for applications like shrinkwrapping, plastic welding and paint stripping. Steinel are no stranger to glue guns of course, having brought their first model to market back in 1980, but these new models have combined over 30 years worth of engineering expertise with contemporary technology to cater to the needs of professional users and modern working environments.
Steinel GluePRO Features
So what do professional users look for in a glue gun? Let's address some of the key advantages of the Steinel GluePRO range.
1. Reliability

The GluePRO 300: a robust and reliable glue gun

First and foremost a professional grade tool should be reliable, and GluePRO glue guns are made with high grade heating elements and electronic components which are designed to withstand long periods of continuous use. Heat is one of the biggest causes of failure in electronics and most of the cheaper glue guns are not really designed to cope with sustained operation – subsequently they are not always designed with ergonomics at the forefront either, which brings us on to…

2. Ergonomics

The GluePRO range has a number of features to improve user comfort throughout the working day. The ergonomic non-slip handle provides a secure and comfortable grip, while features like adjustable stroke rate and a large easy-action trigger help to ensure minimal fatigue: the adjustable stroke rate lets you select the amount of glue delivered through the nozzle, so you can increase or decrease the flow without worrying about the amount of pressure you're exerting on the trigger, which is designed to be activated with minimal effort to minimise discomfort during longer gluing sessions.

3. Rapid Startup

Time is money in the working environment, and these guns have some of the fastest startup times available. The powerful heating elements in the GluePRO series mean you can get to work in under 3 minutes once they're switched on, while with many cheaper alternatives you'd be twiddling your thumbs for another 5 minutes until the glue starts to melt.

4. Parts Availability

GluePRO guns have detachable nozzles, and Steinel manufacture a range of compatible nozzles. The nozzle can be swapped out for another model if you want to work with a different diameter of tip, and if the original becomes lost, worn or damaged you can always get hold of a replacement to keep the gun in service. Likewise, buying from a well established manufacturer means you should be able to get spares and accessories for years to come without too much trouble.

5. Durable Stands

The GluePRO 400 LCD has variable temperature control and an LCD display

Steinel have also paid close attention to the stands on these new guns. Most DIY grade glue guns are fitted with fairly flimsy wire stands which can be folded out into position when required, and this is all you need for occasional use around the home, but it's not likely to stand up to daily usage. The GluePRO series guns have a much more robust plastic frame which is integrated into the housing for superior stability, ease of use and long term durability. For improved access to awkward gluing areas, the stand can also be completely detached from the body when required. In addition to this, Steinel GluePRO guns also have hanging loops on the top of their housings which can be affixed to a lanyard or slotted into a hook to store the tool above a workstation for example.

6. Variable Temperature

The ability to choose your operating temperature opens up a lot more possibilities when working with a glue gun – for example, it enables you to work with glue sticks especially designed to melt at low temperatures when gluing heat-sensitive materials, or with industrial grade glue sticks that require a high melting temperature but deliver superior strength, temperature stability and resistance to ageing. Variable temperature control is a feature of the GluePRO 400 LCD but if you don't require it, the GluePRO 300 has a fixed operating temperature of 190°C.
Steinel GluePRO Models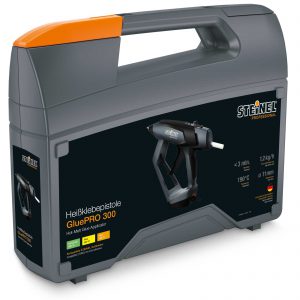 Both the GluePRO 300 & GluePRO 400 LCD are available now. The GluePRO 300 is the less expensive of these two new models and has a fixed operating temperature of 190 °C, while the GluePRO 400 LCD has variable temperature control and an LCD screen which gives an accurate readout of current temperature and lights up green when the desired temperature has been reached, letting you know instantly when the gun is ready for use. During the warming up phase, the display lights up blue and if the temperature is exceeded, it lights up red so you'll know if you need to let it cool down for a bit during temperature-critical applications. An accompanying Steinel GluePRO range of glue sticks was also released along with these machines, which includes Universal, Fast, Flex, Low Temperature and Acrylate variants. You can check out the entire Steinel GluePRO range of glue guns and glue sticks here.
---
Categories mentioned in this article: