Tool Boxes and Storage Systems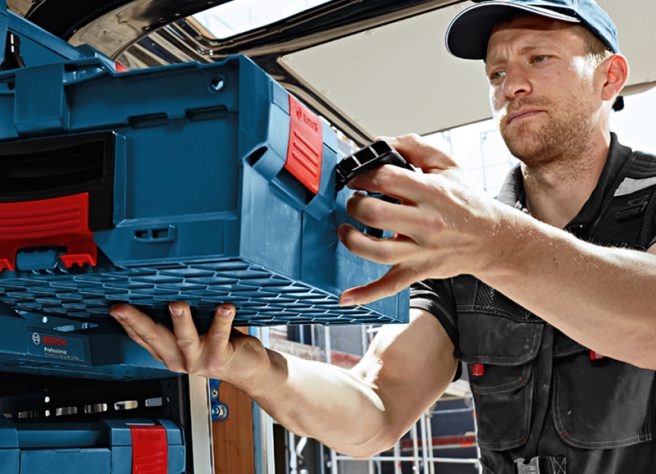 You've spent time considering all the options, the various ranges and then spent no small amount of money getting the tools, the batteries and chargers that you need in order to earn an honest living. You put them all in your van and off you go. You work hard all day and if you're lucky, you come home to a well earned dinner. You get up the next morning only to find some less than honest person, we have to be polite, has broken into your van and taken your hard earned tools for themselves! Unfortunately you have become the latest victim of an all too regular occurrence. You know you should have moved them out of the van when you got home last night, but it was dark and after a fourteen hour day you just wanted your dinner.  The ten trips with all the different tool boxes backward and forwards to the garage was something you could 'do later' – then you fell asleep in front of the TV as one night wouldn't matter.  You worked hard to pay for your tools and chances are they weren't insured.  If they were, that still didn't compensate you for all the time lost whilst replacing them, etc. Most importantly, why should somebody else have benefitted from your hard graft? This scenario can easily be avoided if you put the right system in place. Let's do things differently!
Investing in a proper stacking tool box system, preferably on a trolley, will solve your storage issues.  One or two trips at most to the garage and then indoors for your dinner (hopefully).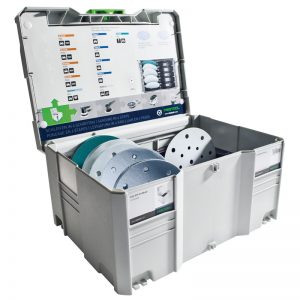 Festool have had a stacking, locking tool box system for some years: the Festool Systainer System. The boxes can be locked together and they have either a sack truck type trolley, or a wheeled base so that five to six boxes can be moved at the same time with minimum effort.  Festool Systainer tool boxes and cases can also be locked atop their dust extractor, the CTL Midi, so it instantly converts into a trolley for ease of moving about.
Now many other manufacturers have also started to market a range of locking boxes with suitable trolleys to make moving your tools in and out of your van either on site or at home quick and easy.
When deciding which system to consider, we suggest looking to the main power tool manufacturers for options.  Dewalt, Makita, and Bosch all know their stuff and luckily for you, all now make locking toolbox systems that fit together for ease of movement.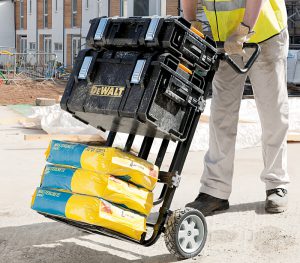 The Dewalt systems are probably the most comprehensive, their range consists of the DeWalt TSTAK System and the DeWalt Tough System. These comprise a large range of boxes and storage organisers for all of your power tools with inserts that hold the tools, batteries and chargers firmly in place.  This not only prevents damage to the tools, but prevents annoying rattles as the boxes are moved.  Both ranges have metal hinges and latches and the Tough system in particular is very heavy duty, being dust and water jet resistant, it's built to withstand the most severe weather and site conditions.  The Dewalt DWST1-75694 is a rack for the Tough system tool boxes that can be fitted into your van or garage to keep your tools tidy.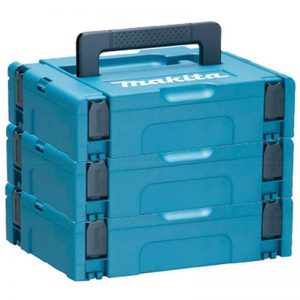 The Makita Makpac System is very similar if not as extensive. It includes five different tool boxes with different inserts for various cordless and corded power tools.
The Bosch L-Boxx System again comprises of a wide variety of boxes with inserts for various tools.
All of these systems have boxes that link together and unique trolleys or wheeled bases which allow the movement of multiple tool boxes. This means that you can transport your power tools rapidly and easily on site, but also remove them from your van overnight so that they can be securely stored.  These systems are not cheap when taken on face value, but when you think of the amount of money you have invested in your Power tool kit and the money you lose if you cannot work because you have lost your tools, then a one-off investment in a secure storage system makes every penny a good spend.
Together with the dedicated systems above there are also numerous other tool boxes from manufacturers such as Stanley, Draper, Sealey etc.  They all make a wide range of tool storage options for your other tools, which again can be stored securely and easily manoeuvred. Stanley Rolling Tool Chests in particular offer a portable solution with various sizes and configurations so that all of your hand tools can be kept secure and to hand when they are needed.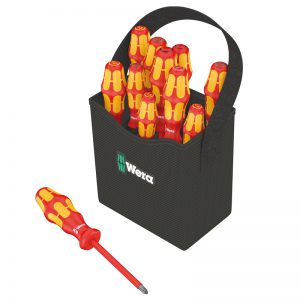 Unfortunately, when our customers have had their vans broken into, they visit our shop not only to replace the power tools they have lost, but also the drill bits, blades and cutters that accompany them at a considerable cost.  When you consider that an SDS drill bit is a minimum of £4 and a circular saw blade is a minimum of £15, the unwanted cash outlay quickly adds up, so it makes sense to keep them safe and secure.
There are now many manufacturers who have their own systems for storing their tools, such as the new Wera 2go range.  This makes it even easier find a suitable storage and security solution.
During the working day there are various ways of keeping your tools safe. We have already mentioned the Dewalt Rack for their Tough System boxes but we also have a range of Site Boxes & Truck Chests that can be bolted into the back of your van and add another layer of protection during the working day when your van is unattended.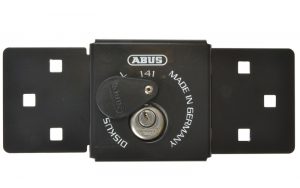 Unfortunately, van security itself is not all it could be, even in 2017 when we would all hope that the vehicle manufacturers could make an impregnable van.  It seems that whatever solutions they create, there are people who are one step ahead who are able to bypass many security systems and even sophisticated alarms.  We supply a range of Van Locks that add another layer of protection for your van doors.  The unfortunate downside of using these lock types is that fitting requires having to drill holes in the van doors.  They don't look particularly pretty, but they have proven to be a visible deterrent to the opportunist thief.
So what are we saying?  Invest in an integrated toolbox system with extra boxes for accessories and keep your tools in your possession – Don't let someone else benefit from your hard work.
Browse through our selection both in store and online and choose from a huge range of boxes, bags and organisers that will keep your tools organised, mobile and most importantly secure.
---
Categories discussed in this article: