Bosch ATINO Laser Tape Measure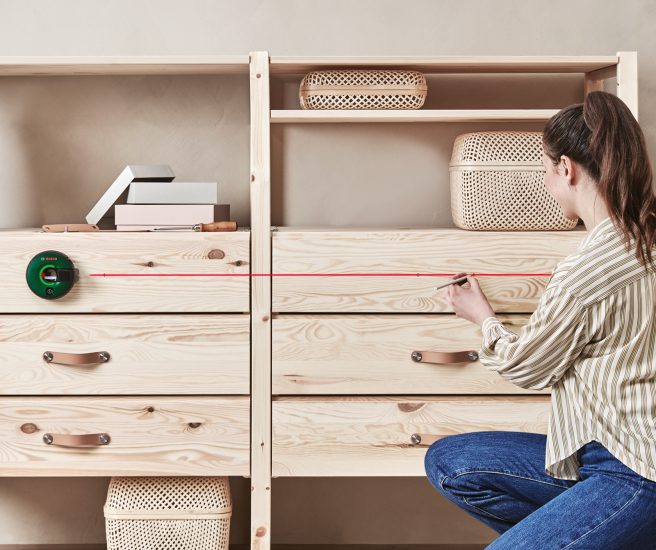 New Laser Measuring Tool from the Bosch Home & Garden Range
Have you ever painstakingly measured out equally spaced markings, perhaps when hanging a row of picture frames or putting up a line of shelf brackets, only to step back once the job is complete and realize everything is not aligned as perfectly as you'd planned? Unfortunately it can be easy for small errors to creep into these precision measurements, especially if you're working alone, but help is at hand with the new Bosch ATINO, a unique measuring tool which combines an adjustable laser level along with a pull-out tape measure designed to help with marking out spacings along horizontal surfaces.
Bosch ATINO: What is it?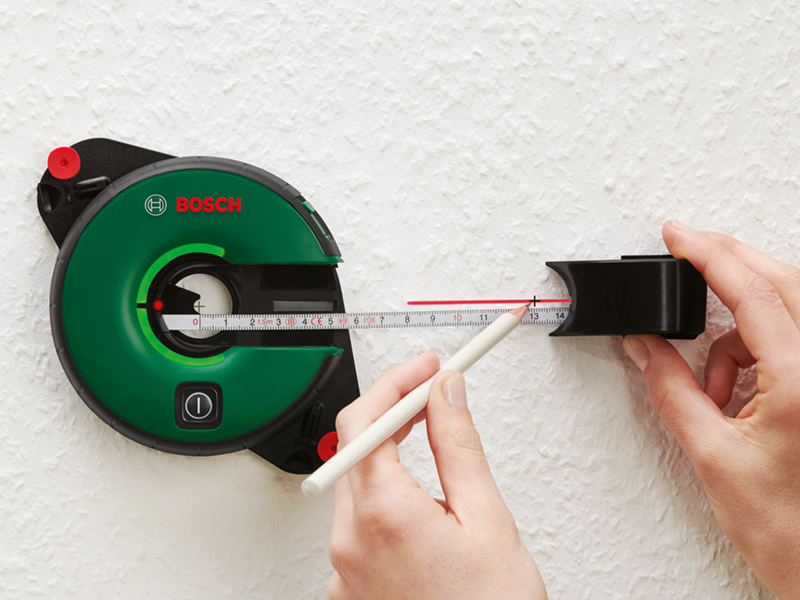 Part of the Bosch Green range of tools and designed for the home and garden market, the ATINO has been made for homeowners and DIYers, meaning its an affordable tool which is easy and intuitive to use. To attach it to a surface, you have a choice of either a sticky gel pad or a pair of fixing pins which can be mounted on either side of it. The gel pad will adhere to hard, smooth surfaces like tiles, but for softer materials the pins enable the ATINO to be affixed securely in place. The gel pad is re-usable but if you think you will be using it a lot, spares are also available, either supplied in the box as part of the complete Bosch ATINO Set, or as a separate refill pack.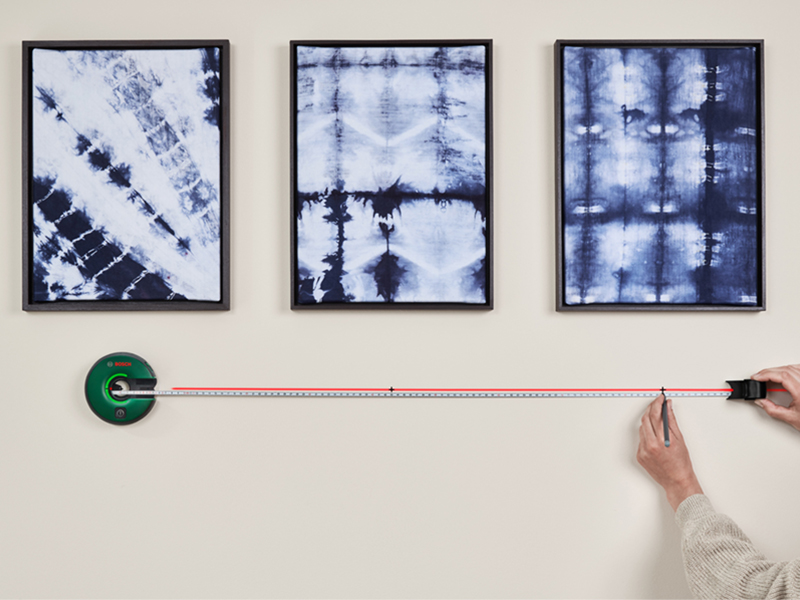 The laser line can be set to 0, 90, 180 or 270 degrees and a traffic light system built into the tool lets you know once it's been levelled perfectly – the LED goes from red to amber when you're getting close, and then green once you're spot on. It also shows you in which direction to tilt the unit so you can quickly get your line established every time.
Once you've got your perfectly straight and level laser line projected across your wall, the other clever thing about the Bosch ATINO is the tape measure inside its cylindrical housing – pulling this out enables you to quickly and easily mark out distances along the line. And because the ATINO is fixed in position, you can be sure everything stays level and consistent for perfect results.
Bosch ATINO: Do I Need it?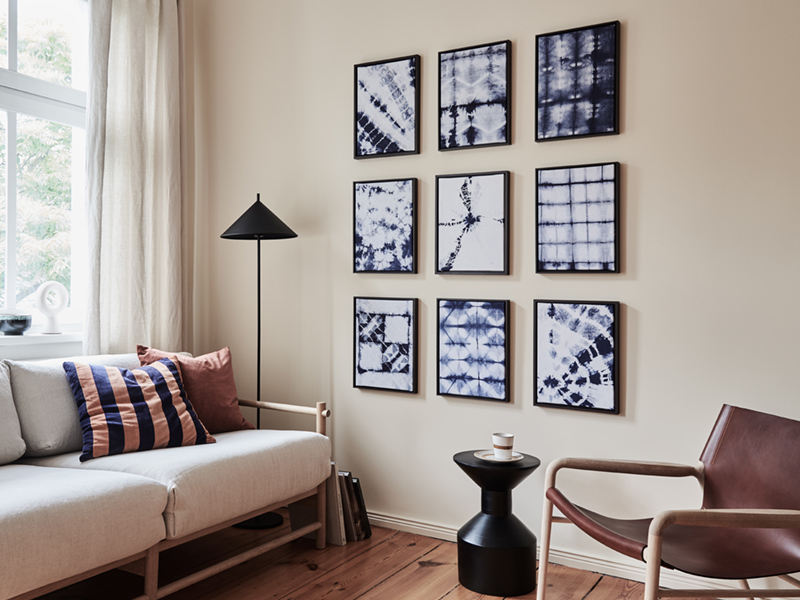 As the ATINO is ideal for accurately marking out multiple points along a straight line, it is perfect for installing fixtures like hooks and brackets and for sprucing up your surroundings with some perfectly arranged artwork. But it's not just a one-trick pony as in many cases it will do the same job as a conventional laser level too. In fact, if you only need a level for the most common applications such as fixing shelves to a wall, the ATINO could be all you need!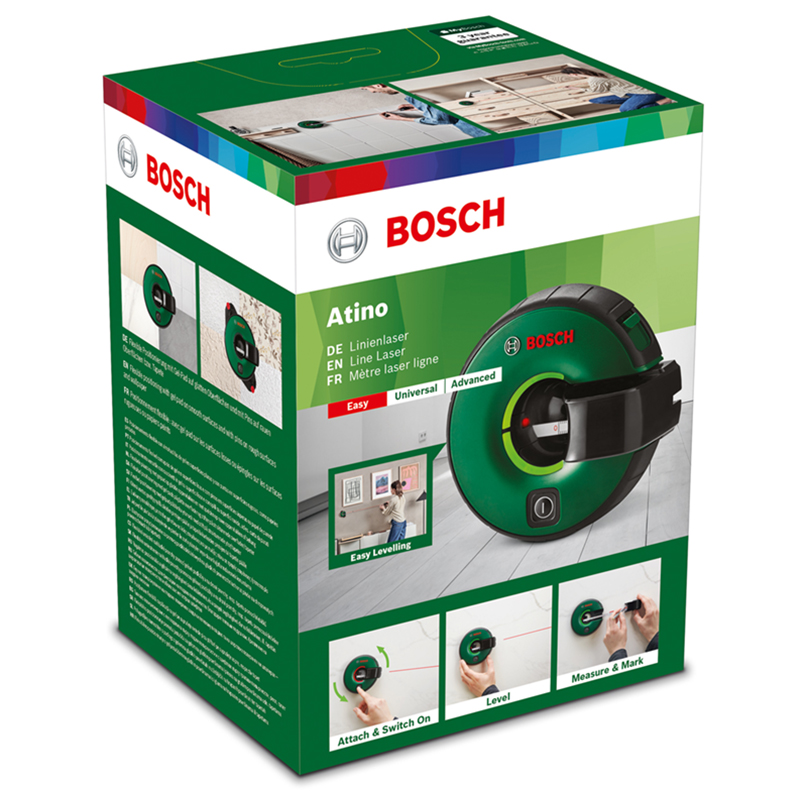 The ATINO is powered by a standard AA battery and is available now from Tooled Up, either as a basic model or a set which is intended for more heavy duty users and which comes supplied with an additional pack of gel pads, enabling you to replace the stock pad if it starts to lose its stickyness. Like all standard Bosch measuring tools, it is supplied with a three year warranty.
---
Categories mentioned in this article: