Bosch EASYMOWER 18V-32-200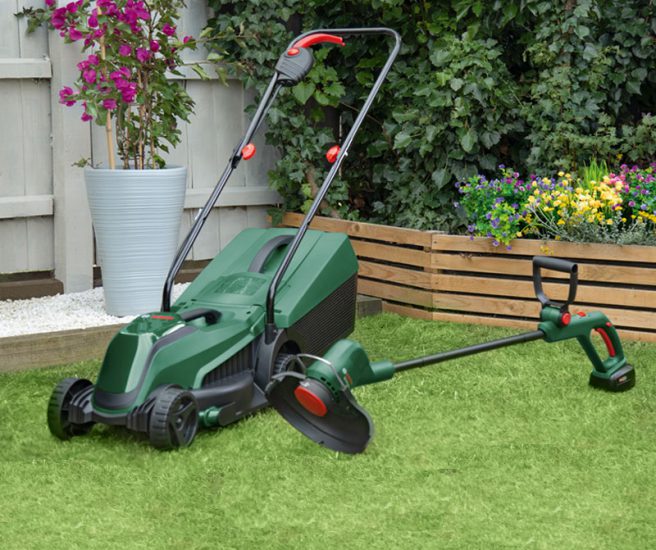 New Entry Level Cordless Lawnmower from Bosch
New for 2023, Bosch have released one of their most affordable cordless lawnmowers to date – the EASYMOWER 18V-32-200. The mower is part of the Bosch home and garden range, and comes it at the EASY end of the spectrum (Bosch now designate most of their home and garden machines as either Easy, Universal or Advanced). These entry level models are designed to provide the core essentials at a lower price point than the Universal and Advanced versions, something which often makes them an attractive proposition for users who don't require all the features of a more expensive machine. In this post we'll take a look at some of the features and benefits of this new model to see how much mower you get for your money.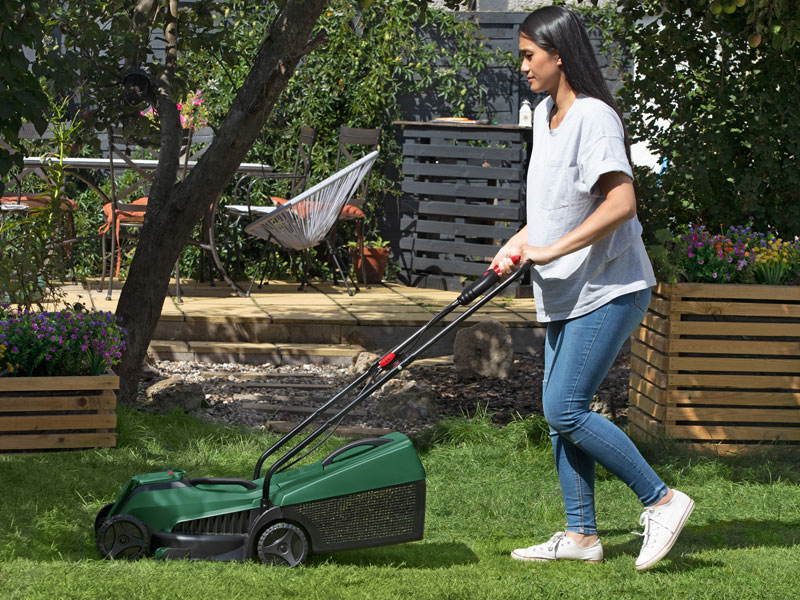 EASYMOWER 18V-32-200 Specifications
The EASYMOWER 18V-32-200 is an 18v cordless lawnmower with a 32cm blade, hence the "18V-32" part of the title. This means it runs on an 18v battery, and more of that shortly. The blade is a metal rotary blade which cuts a 320mm path, and it can be set to one of three different heights, with a minimum height of 20mm and a maximum height of 60mm. This enables you to select the appropriate cutting height depending on the condition of your grass, and the lowest 20mm setting is ideal for getting a smooth, neatly cropped lawn during the summer months when the grass is growing the most. The machine weighs just over 8kg, making it pretty lightweight for a lawnmower, and it has a built-in handle which makes it easy to lift it out of storage and carry between locations.
Part of the PowerForAll 18v Alliance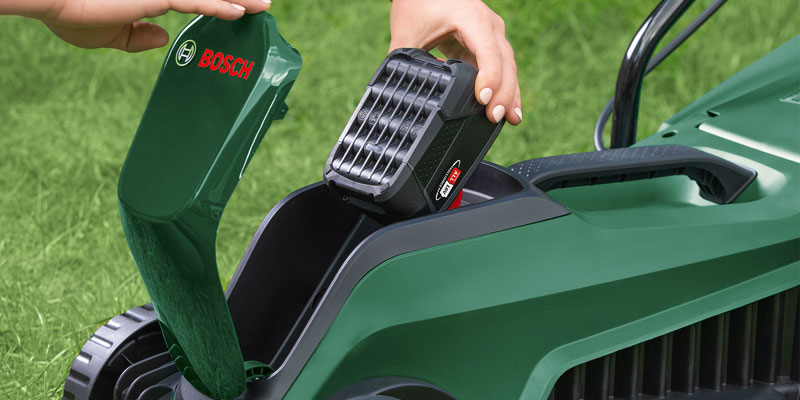 There are plenty of battery powered lawnmowers on the market these days, but the EASYMOWER 18V-32-200 has a fairly unique advantage over many of them as it is part of the PowerForAll system and shares battery compatibility with all tools in the PowerForAll 18v Alliance. Until fairly recently, PowerForAll was purely a Bosch Home & Garden (Green) battery platform, but it has now been opened up to other manufacturers as well. This includes brands like Flymo, Gardena and Husqvarna, and means that is now possible to power third party tools with a Bosch battery. Added to the existing (and fairly comprehensive) Bosch 18v PowerForAll DIY and Garden power tool range, this means there are a lot of products which will work on the same battery as the EASYMOWER 18V-32-200, most of which you'll be able to purchase as bare tools, ie without battery or charger, at reduced cost. The EASYMOWER itself can be purchased as a bare unit if you already own a suitable battery and charger, but we also sell it in a variety of kit forms which are supplied ready for immediate use with these included in the box.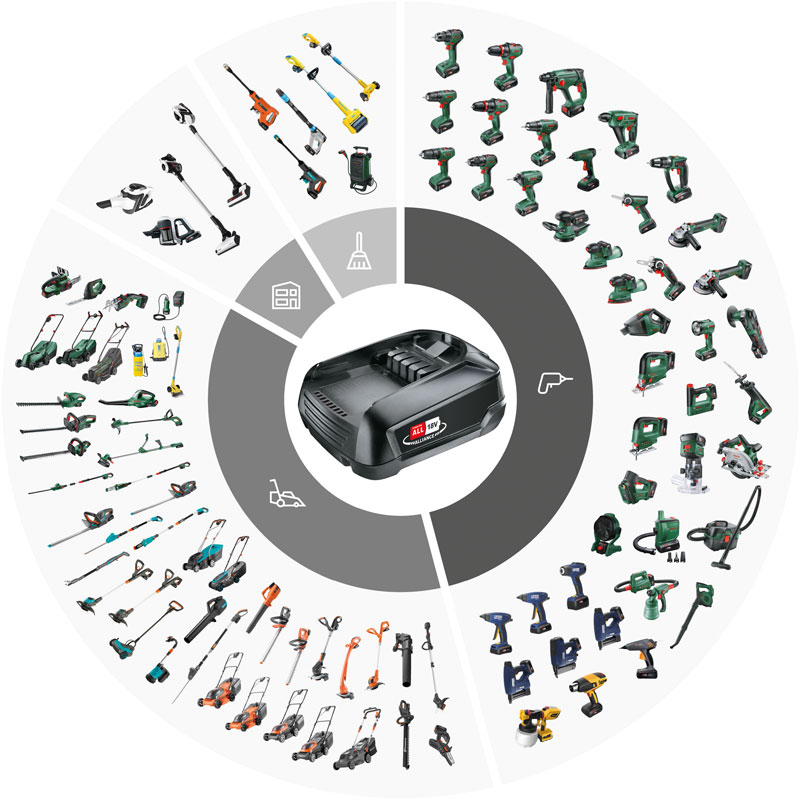 Design Features
Bosch have been making lawnmowers for a long time, and the EASYMOWER shares many similarities with their existing rotary mower designs. The main body of the mower itself, and the detachable grass collector, are both made from a durable plastic, which won't corrode or rot when stored in cold and damp environments. And speaking of storage, it has collapsible, folding handles which can be packed down to fit the mower into smaller spaces when not being used.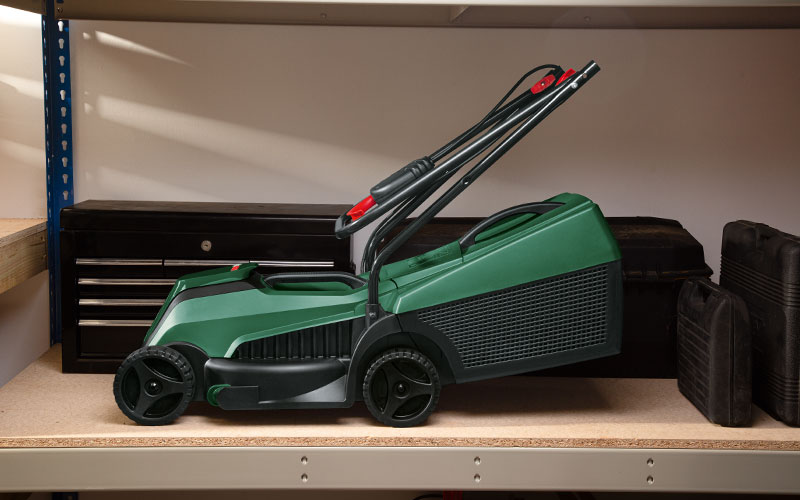 To start the mower up, it's a simple case of inserting the battery, pressing the push button start, and away you go – a much more convenient alternative to mixing fuel and yanking on starter cords, or unwinding tangled extension leads. The mower features grass combs which help to give a closer cut alongside edges and borders, and this means you'll have less tidying up to do with additional tools like grass trimmers or shears in order to get a perfect finish.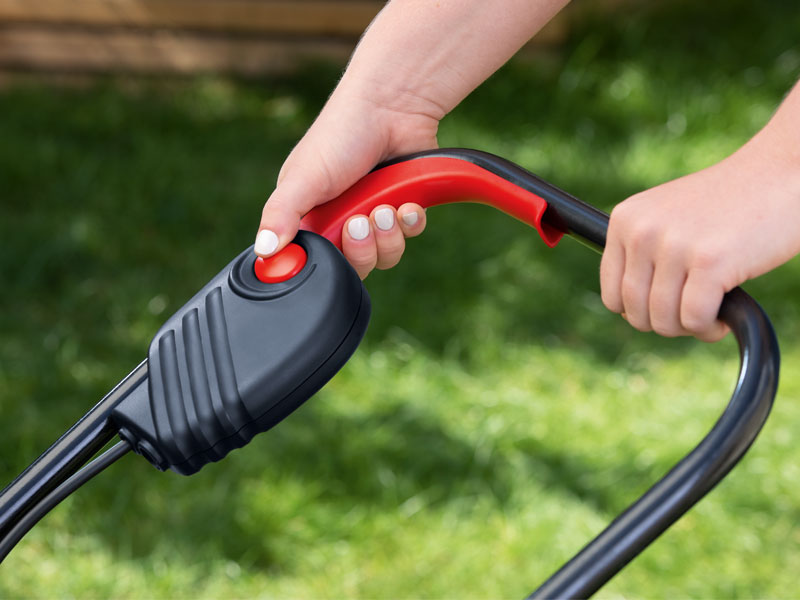 Price Point
At the time of writing, the EASYMOWER 18V-32-200 is the most affordable cordless lawnmower that Bosch offer, being substantially cheaper than the CITYMOWER 18-32 which preceded it, and with which it shares many similarities- both being PowerForAll 18v rotary mowers with a 320mm rotary blade, grass combs and an all-plastic grass collector.
So what have Bosch left out on this new cheaper model? It's mostly ergonomic niceties that have been dispensed with to cut the cost: upgrade to the CITYMOWER and you get the luxury of a single lever cutting height adjustment facility which enables you to quickly and easily change the cutting height whenever you need to, simply by adjusting the red lever on the side of the machine. The EASYMOWER instead requires you to raise or lower the individual wheels to adjust the height of the cut, so its a slightly more time consuming and less sophisticated affair.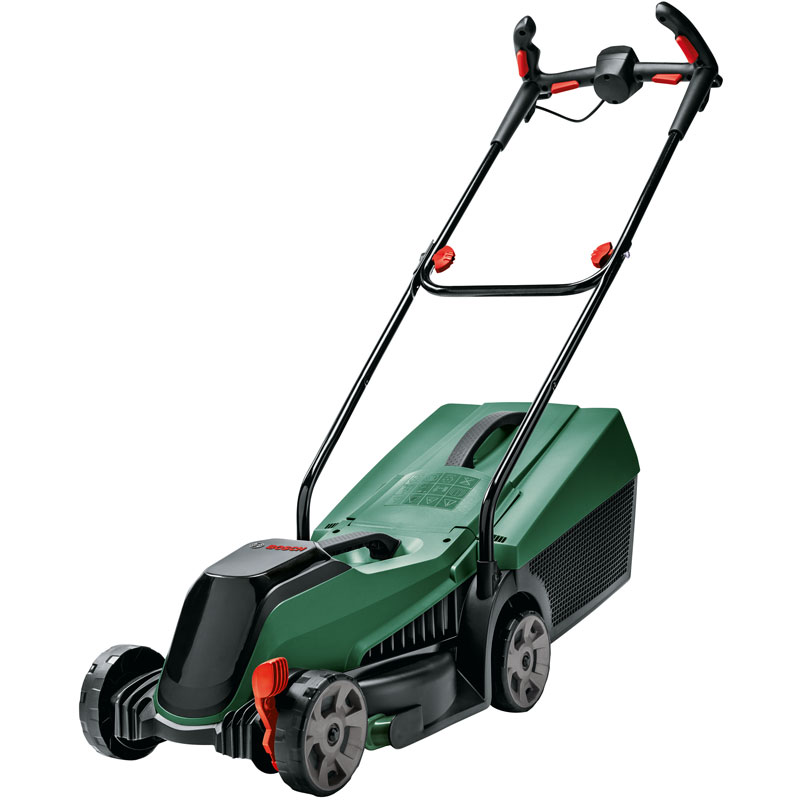 The CITYMOWER is also fitted with a Bosch Ergoflex push handle: equipped with joystick-style grips on either side, this ergonomic design is intended to help ensure a comfortable, healthy posture while pushing and steering the machine. The EASYMOWER on the other hand, comes with a basic push handle: essentially the standard lawnmower design that most people will probably have used before.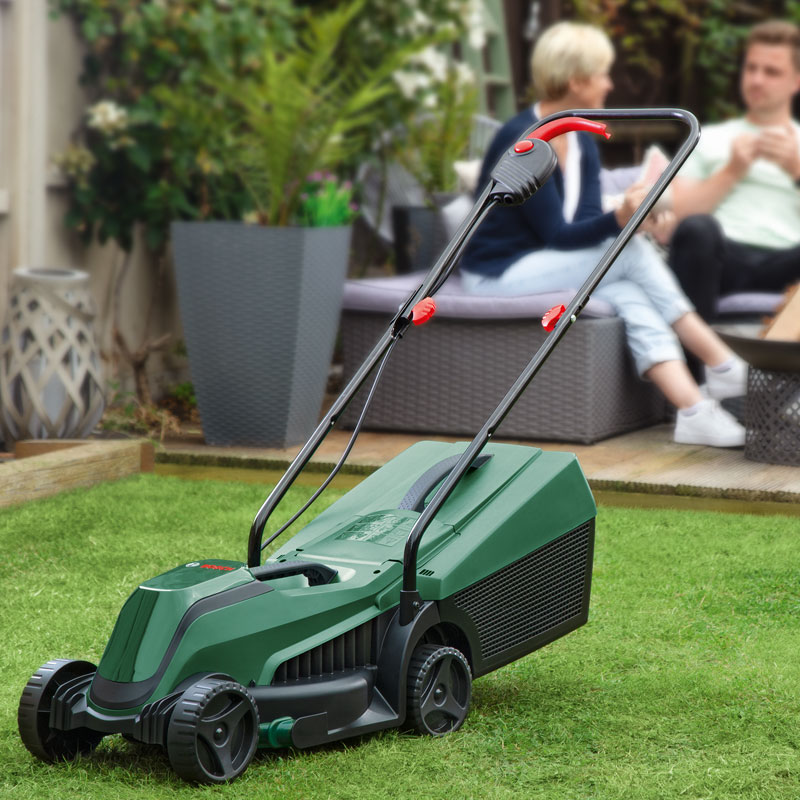 The more expensive sibling also has different wheels fitted, and a sleek black battery compartment, but other than that they share a very similar design and overall form factor.
Who is the EASYMOWER 18V-32-200 Ideal For?
Bosch say this new mower is ideal for maintaining smaller gardens, and as a rough guideline the user manual advises that under ideal mowing conditions (cutting thin, dry grass) a 3.0ah battery should be enough for up to 100 square metres of lawn, 4.0ah 150 square metres, 5.0ah 185 square metres, and a 6.0ah battery should provide enough runtime to do up to 220 square metres. It's worth bearing in mind that there are a lot of variables involved here and it is hard to measure these kinds of things precisely, but even if you have trouble getting all your grass cut before the battery runs out, you can always invest in an additional battery if you'd rather power through and get the job done in one go.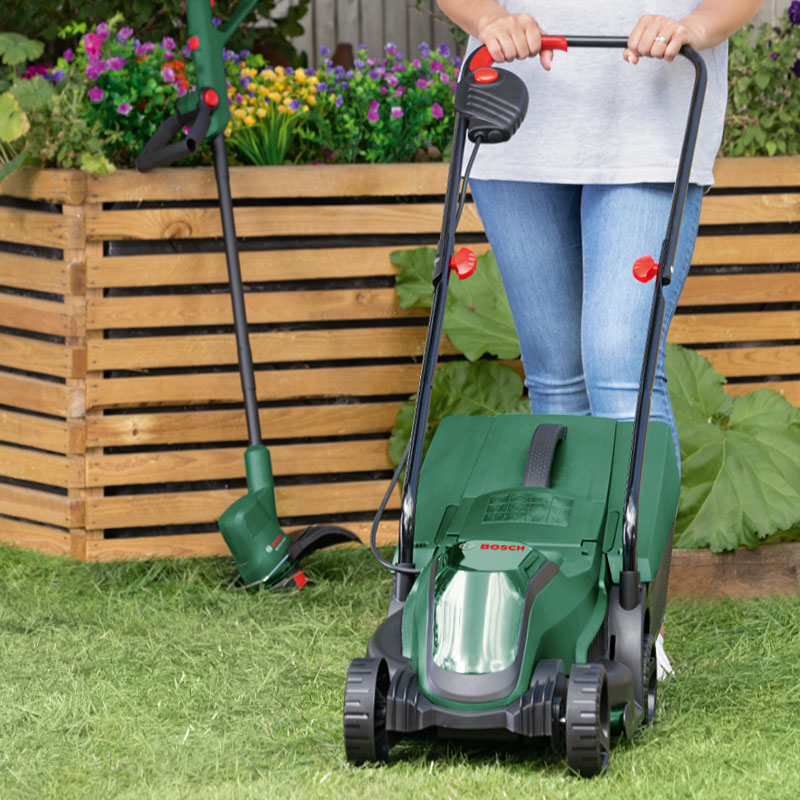 Bosch also make several cordless rotary mowers which run on their larger 36v batteries, which may be ideal if you need something with a bit more power behind it – however, one of the biggest advantages of the EASYMOWER is that as part of the PowerForAll 18v Alliance, it shares battery compatibility with a much wider variety of tools. If you already own cordless tools which are part of the PowerForAll 18v Alliance, or you're thinking you might do at some stage, then the EASYMOWER 18V-32-200 is definitely worth a look.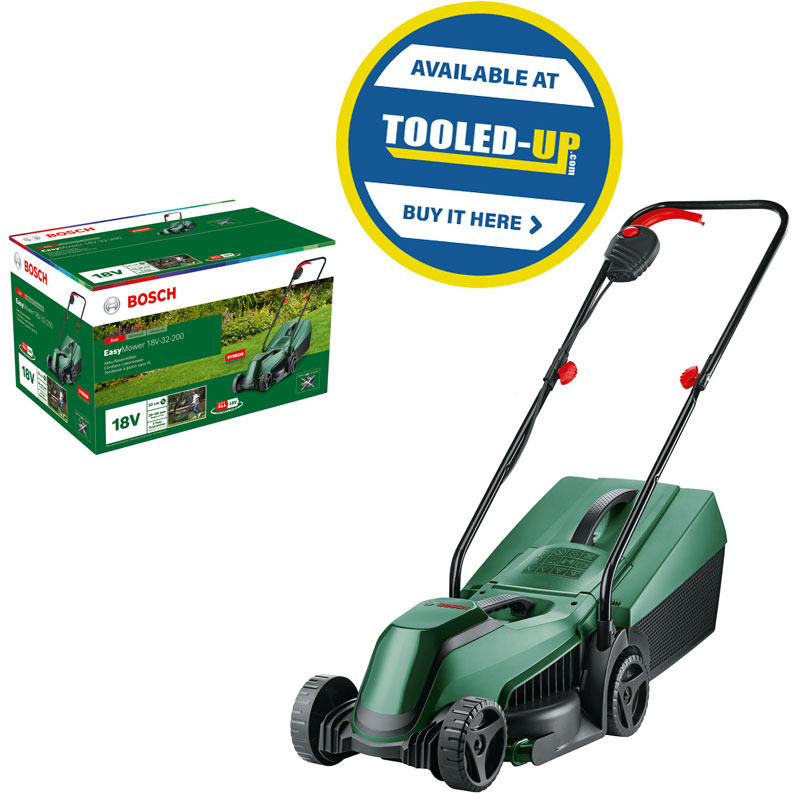 ---
Categories mentioned in this article: