Lawnmowers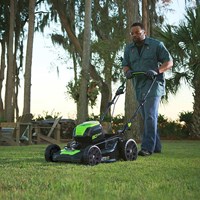 Lawnmowers Information
An essential tool for keeping grass under control during the warmer months,
lawnmowers
are one of the most common garden machines and there are a wide variety of types available on the market. In this category you will find firm favourites like the Bosch Rotak range of rotary
lawnmowers
, robotic
lawnmowers
such as the Bosch Indego and Gardena SILENO, petrol
lawnmowers
from Webb & McCulloch, Flymo Hover
lawnmowers
and many more.
Here's our quick application guide:
• Rotary
lawnmowers
– the most common type of
lawnmower
for general duty applications, these mowers are so called because they have rotary blades which spin around underneath the deck of the machine. They are often classed as Push (in which case the operator must push them along) or Self Propelled (in which case the machine is able to traverse the lawn under its own power and must simply be kept under control by the operator). Rotary mowers can be used to create striped finishes if they are equipped with rear rollers.
• Hover Mowers – Synonymous with the Flymo brand, these machines are rotary mowers which literally float on a cushion of air thanks to a powerful fan above the blades. They are exceptionally light and manouverable, can easily traverse over solid objects or uneven ground and take up little space in storage. However, due to the need to keep weight down the majority are electrically powered and not ideal for larger gardens.
• Ride on
Lawnmowers
- Ideal for maintaining large properties and public spaces, ride on mowers enable a wide area to be covered in a short time and are suitable for heavy duty mowing tasks.
• Robotic
Lawnmowers
- An ideal solution for people who dread mowing the lawn, robotic mowers only require an initial set up, after which they will set about keeping your garden maintained by themselves.
• Push Hand Cylinder
Lawnmowers
- For gardeners who prefer a more hands on approach, the push hand cylinder mower is simply pushed along under the operator's own power to cut the grass, making it an environmentally friendly machine which is always ready for use, and when looked after and properly maintained can provide a lengthy service life too. Loading...
End of content
Error - No more pages to load