Bosch X Lock Angle Grinder System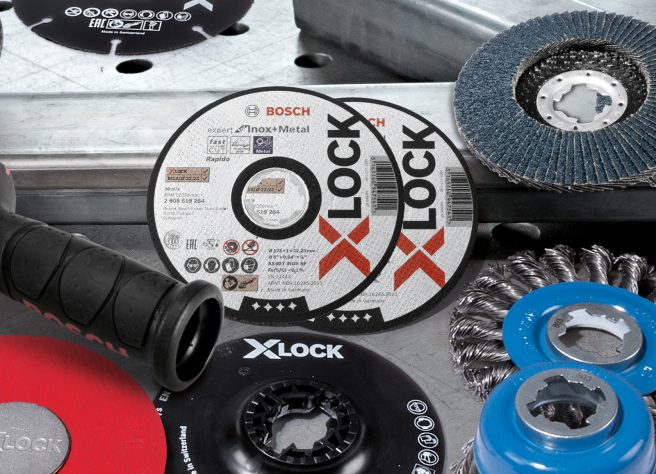 Bosch have always maintained a strong line in angle grinder accessories. If you take a look through their catalogues you'll find probably one of the most comprehensive selections available when it comes to everyday essentials like diamond blades, cutting discs, grinding discs, flap discs and wire wheels, but they're also well known for products like the SDS Clic Quick Change nut and their range of Carbide Multi Wheels. However, they have recently announced what looks to be their most innovative grinding product line to date with the new Bosch X Lock system.
The Bosch X Lock System: What is it?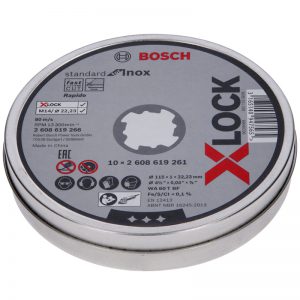 For as long as any of us can probably remember, angle grinders have been fitted with a threaded spindle at the business end and come with a backing flange, clamping nut and a pin spanner, enabling accessories to be screwed or clamped into place as required. With the X Lock range, Bosch have decided to give this system a complete overhaul, and as a result they are releasing two new product groups: a new range of X Lock angle grinders as well as a new range of X Lock accessories. Instead of a threaded spindle, these new machines have a shallow interface designed to accommodate an accessory with an X-shaped bore, which is attached simply by mounting it and then pressing it home, which engages the mechanism and securely locks it in place for a supremely quick and easy fit. Removing accessories is just as easy – they can be unlocked by releasing a switch (which is housed in place of the traditional spindle lock) for instant detachment and rapid swapouts. As can be seen in the title image above, Bosch have prepared a whole range of accessories to work with this system, including backing pads and wire brushes as well as cutting and grinding discs. According to their website, most of these accessories are designed to be backwards compatible with pre-existing angle grinders as well.
Advantages of the Bosch X Lock System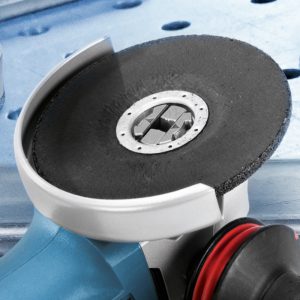 The most obvious advantage of the X Lock system is that it doesn't rely on any tools or components which can become detached from the machine. Surely only the most organised of angle grinder users has never experienced the frustration of going to swap out an accessory only to find out that the spanner, flange or nut (or all three) are missing, and for this reason alone the X Lock system promises to solve an age-old problem inherent with the traditional design. But there are other plus-points too: firstly, the X Lock interface is fast, enabling accessories to be changed over at the press of a button rather than going through the process of unscrewing and re-fastening components. Bosch say this process is up to 5 times faster than with conventional machines. Traditionally, the hassle involved in dismounting accessories like wire brushes has meant that many users will keep a whole arsenal of grinders loaded up for different applications, but the increased speed and convenience of this new system means that may no longer be necessary. The X Lock interface also ensures that accessories can't be mounted incorrectly – something that can be an issue with some directional diamond blades for example. The simple mechanism locks into place with an audible click so that even inexperienced users can be confident that accessories are safely and securely mounted to the grinder. Lastly, the shallower profile of the X Lock interface means that the grinder can be used much closer to work surfaces without the nut causing an obstruction and getting in the way.
Is it worth Upgrading?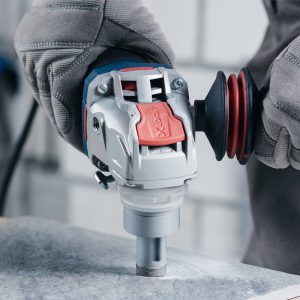 If you use an angle grinder regularly then the X Lock system definitely seems to have a lot going for it. The idea of a fast and frustration-free alternative to existing methods is a compelling one, especially since there are no components to get lost or misplaced. Many users have already dispensed with pin spanners by investing in quick change nuts for their grinders, and the X Lock interface can be viewed as an evolutionary next step in this regard. Of course, you'll have to weigh the  benefits up against the cost of these new tools and accessories, and it's fair to assume these won't be as ubiquitous as existing products on the market, at least not straight away. If you suddenly find yourself in need of a new cutting disc for example, it's unlikely you'll find a comprehensive Bosch X Lock range in Discount Derek's DIY Store (or your local high street equivalent) so preparation could be key here, but luckily these days it's never been easier to get supplies delivered to your door at short notice. And of course many of us have more than one grinder on hand anyway – and the good news is most X Lock accessories will work on either machine. DIYers who are interested in the concept may be less inclined to splash the cash on tools from the Bosch Professional range, but we've seen these kinds of things trickle down into the home & garden market before so maybe in the future there'll be a Bosch Green equivalent too? Personally I think it looks like a really good idea and could well turn out to be one of those things that once you've tried it, you'll never want to go back to the old way again.
Available Now
The good news is if you can't wait to try out these new grinders, they're available now! We've set up a Bosch X Lock range page on the Tooled-up website so you can easily check what machines and accessories are currently available. Watch this space for more info, and let us know your thoughts on this new product range below.
For more information on the Bosch X Lock angle grinder system, check out the Bosch Professional website or take a look at this video on Youtube.
---
---
Categories mentioned in this article: