Angle Grinders Loading...
End of content
Error - No more pages to load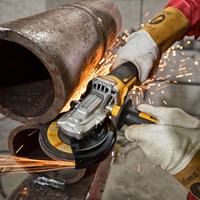 Angle Grinders Information
Angle grinders are classed according to the disc size they are designed for; typically 115mm, 125mm, 150mm, 180mm or 230mm. As well as cutting or grinding discs, they can be fitted with a wide range of accessories including wire or nylon brushes, diamond blades, backing pads & sanding dics, flap discs, abrasive cups, carving attachments and diamond hole cutters.
Here's our quick application guide:
• Small Angle Grinders – grinders at the smaller end of the spectrum operate at higher speeds and will cut or grind quickly (within the limits of the smaller accessories they are compatible with). Light and easy to control, the 115mm and 125mm class represents the most popular choice for general purpose applications.
• Large Angle Grinders – though much more heavy and unwieldy, large grinders come into their own for applications such as cutting concrete slabs, where larger disc sizes will complete the job faster and easier, and especially when cutting through deeper materials that smaller discs may not be able to penetrate.
Jobs that can be undertaken with an angle grinder:
Cutting metal
Cutting concrete
Cutting stone
Cutting Ceramics

Cutting marble
Cutting brick
Cutting asphalt
Removing mortar

Grinding
Wire brushing
Sanding
Polishing

Removing paint
Removing rust
Carving wood
Drilling tiles
Angle grinder safety:
Eye protection is essential when using an angle grinder. Wire brushes can shed steel wires at high speeds and abrasive discs can shatter under stress. The disc guard is designed to protect you against this as well as shielding your hands from the spinning accessory so ensure it is firmly secured in place before using the machine. Many grinding and cutting operations are loud enough to damage hearing and suitable ear protection should be worn. Welders gauntlets or rigger style gloves are also recommended.