Cordless Routers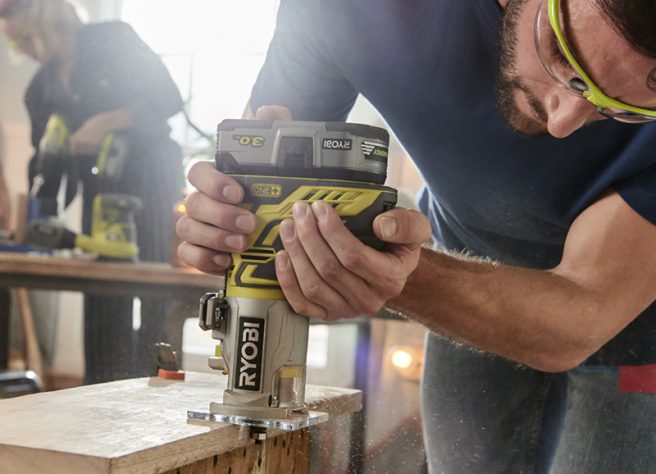 Although some battery powered tools (like cordless drills) have been around for what seems like forever, corded electricity has remained the standard means of running machines that have higher power requirements or require longer periods of continual usage. However, as battery technology has improved over the years the marketplace is starting to look very different and cordless tools that were once practically unheard of are now becoming much more commonplace. You'd have been hard pressed to get your hands on any kind of cordless router a few years back but suddenly everyone seems to releasing one. We've had the Ryobi R18TR, Bosch GKF 12 V8, Makita DRT50, and now the most recent addition to this list is the new DeWalt DCW604, all of which means that your manufacturer of choice is likely to have one of these tools either in the pipeline or in their current catalogue. Read on for more info on the cordless routers that have already hit the market.
Cordless Router Types
Although we have seen some impressively powerful cordless tools in recent times no one has yet brought out anything that will give your large 1/2″ plunge router a run for its money, and so far all the cordless routers on the market have been smaller variants which in most cases are 1/4″ trim router types suitable for one handed use and ideal for edge routing applications. The offerings from DeWalt and Makita feature interchangeable bases which also enable them to be used as plunge routers if required. All of the cordless machines on the UK market come with 1/4″ collets as standard.
Advantages of Cordless Routers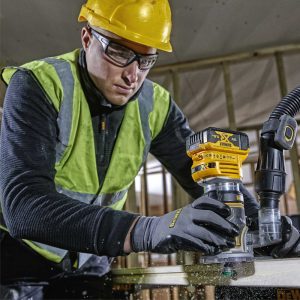 Back when we got the first Ryobi ONE+ 18v R18TR routers in stock they were flying off the shelves and I suspect many professional users bought one (even though Ryobi is classed as a DIY brand) simply because it was such a unique product at the time. Ryobi weren't the first to bring a cordless router to market, but they were probably the first manufacturer to release one in the UK and subsequently there wasn't much competition. Since then of course we've seen several other manufacturers release cordless routers and the number of models available is only going to grow in the future. So what advantages does a battery powered router have over its corded predecessors that has made these machines so sought after? There are a few of them, so we'll list them below.
1: Convenience
Plugging and unplugging machines can become pretty tiresome if you use a lot of different tools throughout the day, especially if you're moving between locations. Cordless power means you're always ready to go (as long as you remembered to charge your batteries) and you don't have a load of trailing cables to untangle at the end of the job.
2: Freedom of Movement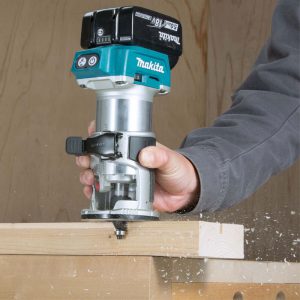 With a cordless tool you don't need to worry where the nearest available socket is or how long the cable is, and a cordless router enables you to work on longer workpieces without being brought to an abrupt halt before you've finished. Power cables can often get in the way during more intricate routing applications and cordless routers also let you tackle these kinds of jobs without getting tangled up in the process.
3: Ability to work outside
Routers produce large quantities of fine dust which can be a serious nuisance as well as a health hazard, coating everything in the vicinity and often meaning you have to spend a fair amount of time cleaning up afterwards. Most of would probably avoid working inside a dusty room if we could help it and cordless routers make it easier than ever to work outside in the fresh air and keep clean-up time to a minimum.
4: Ability to work anywhere
Another advantage of cordless routers is they can be used absolutely anywhere, something that you will find especially useful if you have to use one on construction sites or remote locations and don't always have access to a power point. Cordless tools can be used in the most challenging of jobsite environments and it is just a case of ensuring you have enough batteries on hand to see you through the day, wherever you're working.
Current Models
Now we'll do a quick rundown on the models we hold in stock at the moment. All of these are rated for professional use, with the exception of the Ryobi R18TR, which we'll take a look at first.
Ryobi R18TR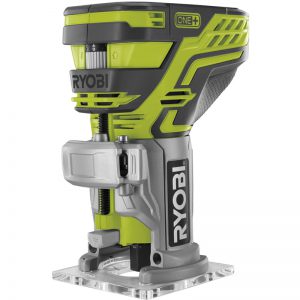 Hugely successful on release, the R18TR was the gateway to cordless routing for many users, and it runs on a ONE+ 18v battery, meaning it shares battery compatibility with a wide range of over 125 (and counting) cordless tools for the home and garden. Ryobi are especially renowned for innovation, so it's not surprising that the R18TR came from their design teams, but it also means the ONE+ system is home to many other specialist tools like the R18TP Cordless Water Pump and the R18SW3 Cordless Floor Sweeper as well as all the more common DIY and Garden essentials like cordless drills, grass trimmers, hedge trimmers and much more. We have a dedicated ONE+ range page on our store so it's easy to see what else you can power with these batteries.
Bosch GKF 12 V8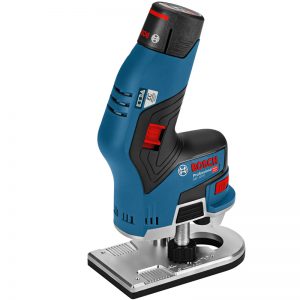 Not long after the R18TR hit the shelves, Bosch came out with an offering intended for professional users in the shape of the GKF 12 V8. Unlike the other models in this list which all use 18v batteries, the GKF runs on the Bosch Professional 12v system; this means it uses a much smaller battery which makes the design a lot more compact and streamlined than the other cordless routers we've seen so far. The Bosch Professional 12v range is undoubtedly one of the most highly regarded professional 12v power tool ranges in existence and they manufacture several high capacity batteries for the system in order to complete more challenging tasks without running out of charge. The good news if you own the older Bosch Professional 10.8v lithium ion batteries and chargers is that they're completely cross-compatible and tools and batteries will work absolutely fine with each other no matter what voltage is printed on them. (Bosch simply rebranded the 10.8v platform as 12v to achieve international consistency with the American power tool market, where it is more common to class batteries by peak voltage rather than nominal voltage)
Makita DRT50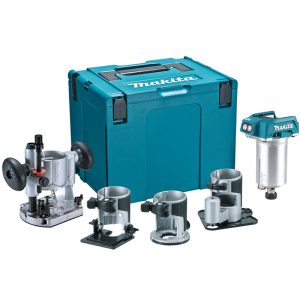 The DRT50 is part of Makita's 18v LXT platform, and it is designed to accommodate a number of different bases for increased versatility. Unlike the previous two machines, it also features variable speed control so it can be used with a wider variety of accessories. Further benefits include a brushless motor for increased energy efficiency and longer runtimes, soft start for reduced jolting on startup, dual LED worklights for improved visibility of the work area, an electronic speed control circuit which maintains cutting speed under load, and an aluminium housing for high strength with low weight. Makita's 18v LXT platform will be familiar to most professional power tool users around the world and the DRT50 shares battery compatibility with a wide variety of cordless power tools for trade and industry. Check out our 18v LXT Range Page here.
DeWalt DCW604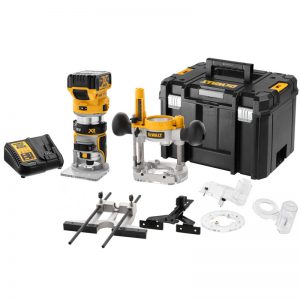 New for 2019 is the DCW604 from DeWalt, which shares many design features with the Makita DRT50. Designed to be used with interchangeable fixed or plunge bases, it too has a brushless motor with soft start,  a variable speed dial with electronic speed control, aluminium housing and dual LED worklights. We stock it as a bare machine (no battery and charger) or with a choice of one or two 5.0ah XR batteries and all current variations also come with a pair of guide fences for accurate straight cuts through the workpiece. One major advantage of the DeWalt XR cordless platform is that although the DCW604 is an 18v machine, it can be used with Dewalt's Flexvolt 54v batteries, which will give it a huge increase in runtime (up to 12.0ah per battery) if you need to tackle some intensive workloads and don't mind the extra weight of these larger batteries. All tools we stock on the 18v XR platform can be viewed here.
Conclusion
Cordless routers are a growing market and whatever your cordless platform of choice, whether DIY or Professional, you're likely to be able to find one that can be powered by your batteries in the near future (if it doesn't exist already). If you're in the market for a new router (corded or cordless) we have a wide range available on our website from brands including DeWalt, Makita, Trend, Bosch, Festool, Ryobi and more, as well as a huge selection of router cutters, jigs and other accessories. Have you integrated a cordless router into your tool kit? Let us know your thoughts below.
---
Categories mentioned in this article: