Cordless Self Propelled Lawnmowers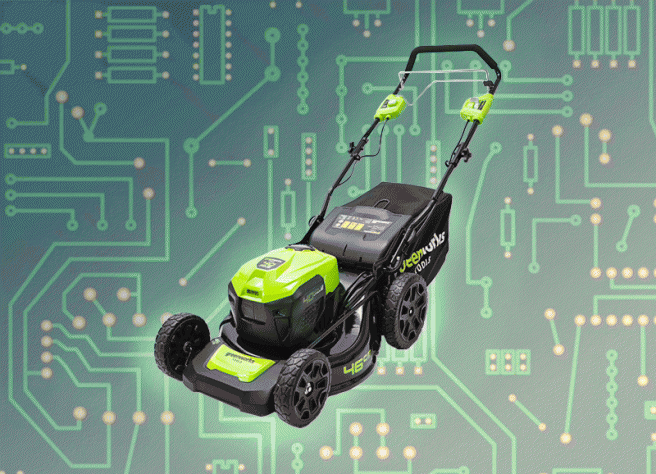 Lawnmowers might not be the first thing you think of when considering the technological advancements we've seen in the 21st century but there's no doubt that the traditional petrol rotary mower has begun to face some competition from an increasingly sophisticated range of machines of late. Probably the most striking development is in the proliferation of robot mowers, which have become a viable (if still fairly expensive) option for everyday consumers, though we have also seen powerful lithium ion battery powered rotary mowers start to wrestle a large share of the market away from their petrol counterparts. Convenience is the main benefit of lithium ion; batteries simply need to be recharged if they run out halfway through a job, you don't have to go and buy fuel or worry about transporting and storing it, while electric motors are largely maintenance-free, and run quieter than combustion engines without the associated exhaust fumes. Despite this, the increased power of a petrol engine has still maintained the edge when it comes to more demanding applications, especially self propulsion (whereby the mower moves forward under its own power). However, the first cordless self propelled lawnmowers rolled out around 2011 and they have been getting progressively cheaper, lighter and more efficient ever since. Let's take a closer look.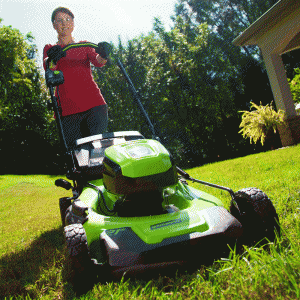 First of all, what are the advantages of self propelled lawnmowers? The majority of lawnmowers are push propelled, whether they are completely passive (like hand push cylinder mowers) or powered by mains electricity, batteries or petrol. This means the operator has to physically push them along to mow the lawn; A self propelled machine operates slightly differently – its power plant drives the cutting blades and also turns the wheels, meaning the mower will roll forward automatically at a walking pace (some models have a choice of gears, enabling the speed to be adjusted as required). This is not ideal in every scenario, especially if you have a small garden with lots of obstacles and tight corners to negotiate. However, on a large expanse of square lawn, a self propelled mower comes into its own. The consistent speed ensures a smooth, even and neat cut, while the self propelled action greatly reduces the amount of physical effort the operator has to invest in the task, making it an attractive proposition on hot summer days and for people who find mowing the lawn exhausting or difficult (for example those with back injuries). The benefits are further increased if you have to mow uphill as the machine will traverse slopes by itself instead of having to be pushed up them.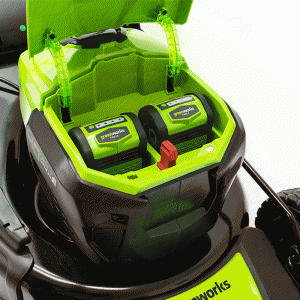 Unsurprisingly, this extra functionality comes with increased power requirements. The additional transmission for the wheels adds weight to the machine, which has to work at least twice as hard as a conventional mower. In the early days of battery powered garden machinery, standard cordless lawnmowers were restricted to maintaining small gardens and cordless self propelled lawnmowers were simply unfeasible. This perception shifted with the introduction of the CEL DM20, one of the first cordless self propelled lawnmowers on the market when it was released in 2011. The DM20 was a beast of a mower: weighing in at 44kg, it had one motor to drive a 50cm rotary blade and a separate motor for the propulsion system, both of which were powered by a huge 17.0Ah lead acid battery that could provide over an hour of runtime. Fast forward to 2018 and the universal shift to lithium ion battery technology has since seen the introduction of increasingly compact, lightweight and efficient cordless self propelled lawnmowers equipped with brushless motors and designed to be used with standard power tool batteries which can be used to power other machines too.
As you might expect, these mowers usually operate at the higher end of the cordless voltage spectrum and can drain batteries fairly quickly. As a result, it has become common to fit them with dual battery ports, enabling the machine to automatically switch to backup power if the first battery becomes depleted while in use. Alternatively, some mowers utilize twin batteries to double the voltage, enabling the user to benefit from increased power while maintaining battery compatibility with less demanding tools. The use of brushless motors (which have become the design of choice for this application) helps to ensure minimal energy wastage, ensuring maximum runtime can be squeezed out of the batteries with the additional benefit that there are no brushes to become worn out and need replacing further down the line. As well as the increased user convenience of this new generation of self propelled machines, they are more likely to appeal to your neighbours too: the electric drive system means they are much quieter than petrol self propelled alternatives, which are amongst the noisiest lawnmowers you can buy.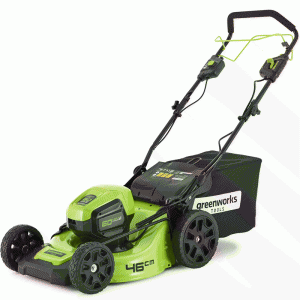 Currently we stock two cordless self propelled lawnmowers, both by Greenworks. Greenworks specialize exclusively in lithium ion battery powered tools and have 24v, 40v, 60v and 80v platforms. On their 60v platform, the Greenworks GD60LM46SP 60v Cordless Self Propelled Rotary Lawnmower has a cutting width of 460mm and a 55 litre grass collector, while on the 40v platform, the Greenworks GD40LM46SP 40v Cordless Self Propelled Rotary Lawnmower also has a cutting width of 460mm and a 55 litre grass collector but comes in at a cheaper price due to its lower power rating. Both machines are ideal for medium sized gardens.
We can only expect to see more choices in this field in the future, and that's surely good news for all of us with lawns to maintain. Have you had any experience with cordless self propelled mowers? Let us know your thoughts in the comments below.
---
Categories discussed in this article: