DeWalt Flexvolt Tools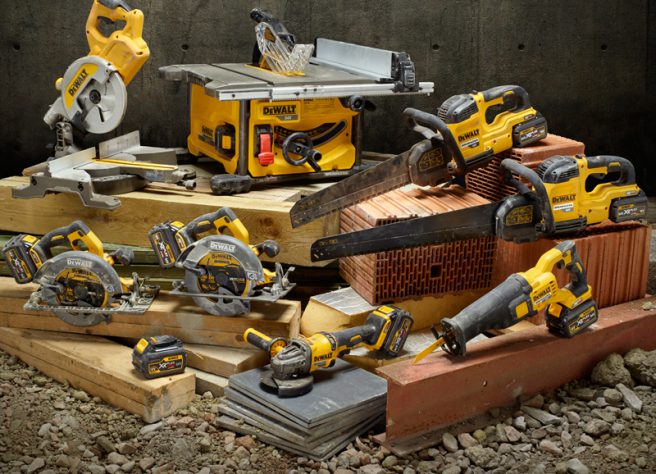 The DeWalt Flexvolt battery system revolutionised the power tool industry when it was introduced in 2016. One year on, and with the range subsequently expanded to include landscaping tools like the DeWalt DCM575 chainsaw, Tooled Up examines options on the market and the impact this new technology has had so far.
Up until fairly recently, cordless power tool platforms were all essentially closed systems, and being able to use a tool in any particular system required a considerable investment into the compatible batteries and charger – usually some of the most expensive components of a cordless power tool. This has traditionally meant most users will try to stick to as few platforms as possible to save money, and the 18v ranges offered by all major tool manufacturers have come to dominate the largest share of the market. Investing in an 18v platform usually comes with the advantage of being able to use a wide range of additional tools at a discount (ie without battery) price, and everyone is happy. But what happens if you need to use something like a big SDS machine, and find that 18v won't quite cut the mustard?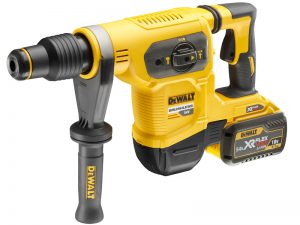 Integrating one of the higher powered cordless machines into your existing set up can be an expensive investment, especially if you won't be using it regularly. The problem is compounded by the fact that lithium ion batteries can deteriorate if left in storage for long periods without charge, meaning it is best to use them regularly or remember to top them up while not in use. Additionally, using two or more platforms often involves taking multiple batteries and chargers onto site, which can be a real inconvenience. As a result, it is not uncommon to find 36v tools which run off two 18v batteries simultaneously, enabling the dedicated 18v user to step up to higher voltages without needing entirely different batteries and chargers. The DeWalt Flexvolt system, however, has provided a new and entirely different solution to this problem.
A Flexvolt battery will run at 18v when connected to any of the vast range of tools available on the DeWalt XR 18v platform, and at a high amperage too (either 6.0ah or 9.0ah currently). However, the same battery can also be used to power the industrial strength XR 54v Flexvolt range of tools, announced at the same time the batteries came on the market. Not only did this mean that DeWalt users could invest in these higher powered machines without fear of making their existing tools and batteries redundant – and without having to cart a load of different batteries and chargers around – it also heralded the arrival of some technology that had never been seen on the job site before, notably the DeWalt DCS7485 Flexvolt Table Saw, the first cordless machine of its kind.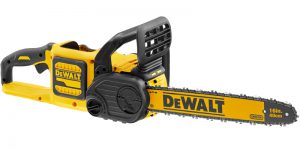 Understandably, this created a bit of a buzz in the construction industry, and DeWalt are still the only professional power tool manufacturer to offer this type of battery system. The increased power in tools like the 54v DeWalt DCS575 Circular Saw and DeWalt DCG414 Angle Grinder has been well received for the benefits in performance on the construction site, but over the past year or so the Flexvolt range has also been expanded to include a selection of other tools that people might not automatically associate with the DeWalt brand and its strong links with construction and industry; decidedly more "outdoor" machines like the DeWalt DM571 Brush Cutter, DeWalt DCM572 Leaf Blower and DeWalt DCM575 Chainsaw.
In truth (as astute readers will no doubt be aware) DeWalt have already made forays into this field with their 18v XR range, but when you think about it, the Flexvolt platform is ideal for outdoor power tools. First of all, cordless operation is more or less a must for professional landscapers, and secondly many outdoor power tools are notoriously power hungry, far surpassing the requirements of most industrial cordless power tools. It is not uncommon to find 40v, 60v and 80v platforms in the garden power tool market. These can offer excellent performance with the downsides that their specialist (and invariably expensive) batteries are compatible with far fewer machines, and on top of that they may only get used for a few months, or even weeks, a year. The beauty of the Flexvolt system is that 18v users can add a big, powerful machine like the DeWalt DCM572 Leaf Blower to their tool kit and still use the same battery for everything else while it is in storage.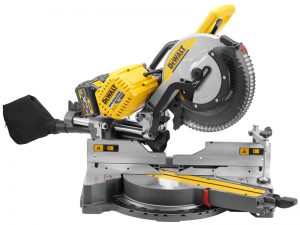 However, it's not just landscaping tools DeWalt has added to the Flexvolt range. Further recent innovations include the DeWalt DHS780 mitre saw which runs off either two(!) Flexvolt batteries or AC power in conjunction with an additional adaptor. When operated in cordless mode, DeWalt say this will make 244 cuts per charge in 90x54mm structural pine, enough to get through a standard day on site without needing to change batteries. The range of SDS drills on the Flexvolt platform has also been increased, and now includes two SDS Plus drills and the DeWalt DCH481 SDS Max Hammer Drill, one of the only cordless SDS Max machines currently available on the market.
There is no doubt Dewalt raised the game with the introduction of the Flexvolt system and it remains an innovative platform for new developments. Keep an eye on our dedicated Flexvolt Category for updates and new releases as and when they happen. In the meantime, what new tools do you think DeWalt should release on their 54v platform? Let us know in the comments below.
---
Categories discussed in this article: