Drilling with Impact Drivers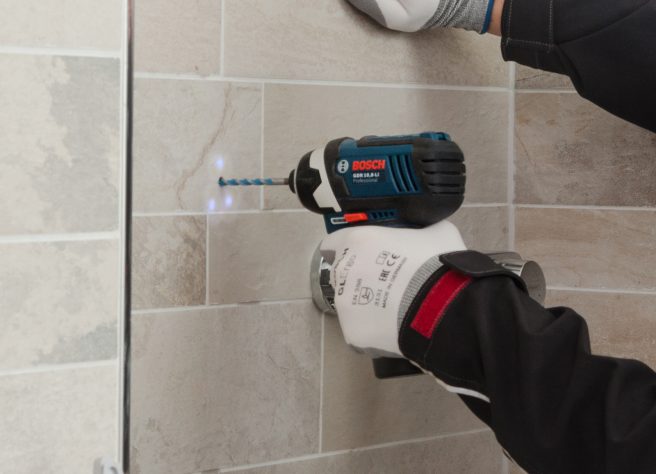 Drilling with Impact Drivers: A Tooled-Up Guide
Although they were originally developed for driving screws, you'll find plenty of accessories designed for drilling with impact drivers on the market. It's a sector that seems to be growing by the day, and in this guide we'll be looking at some of the ranges that are available from some of the main manufacturers.
Why Drill with an Impact Driver?
As we just mentioned, impact drivers weren't originally designed for drilling holes, and in many ways it shows. They can't grip onto accessories as tightly as a drill chuck, the range of accessories they can be used with is much more limited, and on top of that their powerful impact mechanism can cause many accessories to disintegrate prematurely. In fact, a dedicated drill of some sort will generally be a more favourable choice for most drilling situations. However, this does mean that you have to have a dedicated drill of some sort with you.
If you're using an impact driver to drive fasteners all day long and just need to drill a couple of holes every then (e.g to prevent splitting at the ends of boards) you'll find it a lot easier to carry a few additional drill bits with you than to carry a whole separate tool, especially when you're working at height. Another advantage of using an impact driver is that you can swap out bits more or less instantaneously, meaning you can switch between applications in a matter of seconds. You'll also be able to get into tighter spaces. Even the most powerful impact drivers are compact tools, without the added bulk of gearboxes and drill chucks, and drilling with impact drivers will often let you accomplish tasks you might otherwise need an angle drill for.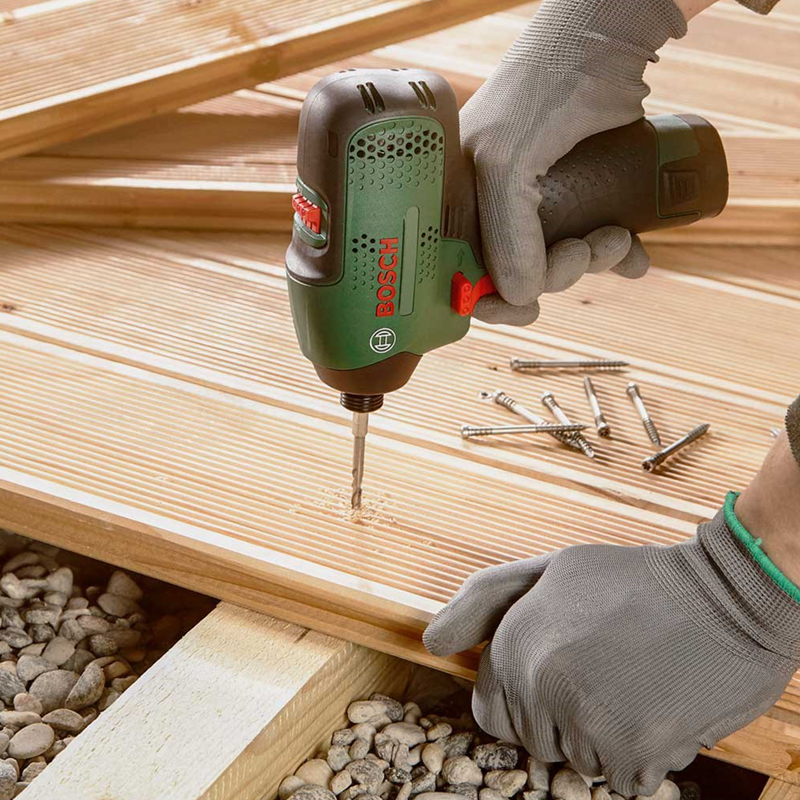 So in many situations, drilling with impact drivers can offer a much faster and more convenient alternative to carrying a separate drill with you. However, you need the right drill bits first.
What Drill Bits can I use with Impact Drivers?
Impact drivers can only be used with 1/4″ hex shank accessories, but that doesn't mean all hex shank drill bits are suitable for use with them. For example, you can find many flat drill bits with hex shanks but most of them weren't designed for drilling with impact drivers and doing so may cause them to shatter. Obviously you don't want this so the safest course of action is to look for drill bits which are specifically labelled as Impact Rated. You'll find that impact rated drill bits tend to be shorter than conventional drill bits but they are much more durable and are designed to survive the stress of repeated hammer blows should the impact mechanism kick in while you're drilling.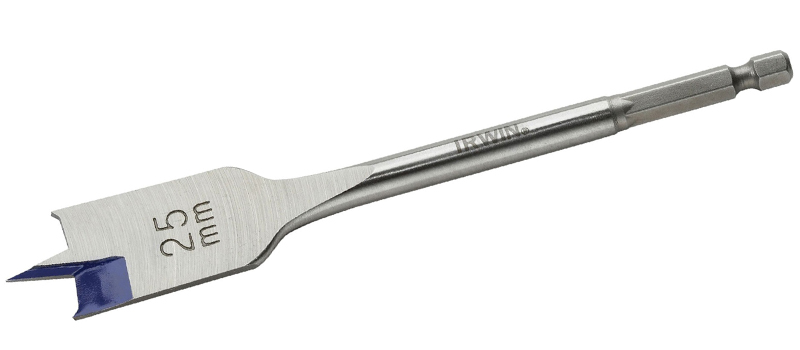 Impact screwdriver bits almost always have a dark grey to black coloured finish which helps to quickly identify them, but this isn't always the case with drill bits (and many standard HSS-R drill bits have a black finish even if they aren't impact rated) so it can take a bit more searching to find them amongst the huge variety of drill bits on the market, but luckily in this guide we've picked out some of the best selling ranges for you to take a look at! so lets get started.
Bosch Hex 9 Multi Construction Drill Bits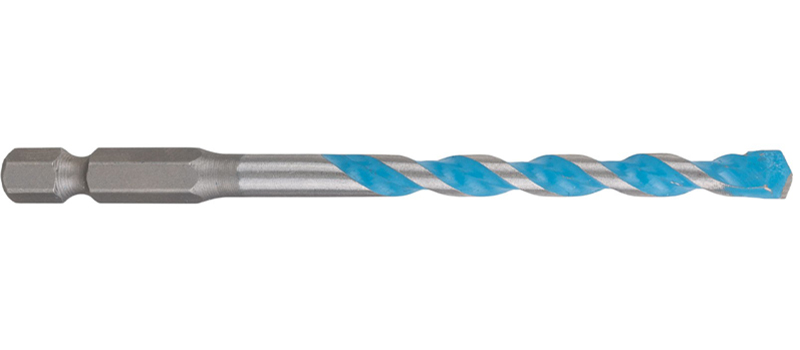 You'd be hard pressed to find a more versatile drill bit than those from the Bosch Hex-9 Multi Construction series, which is designed for drilling into a huge range of materials, including soft concrete, masonry, brick, cement asbestos, light building materials, multilayer materials, ceramics and tiles, wood, plastic, thin sheet metals and aluminium! They won't turn your impact driver into an SDS drill but you can make holes of up to around 10mm in masonry, and much more besides. Especially useful when you need to drill through wood, metal or plastic into a solid wall, the straight shank Multi Construction bits have been firm favourites in many tool kits for years, and these hex shank versions can be used with a wider variety of machines, making them particularly handy if you find yourself in a pickle at short notice. Keep one of these sets on you and you'll be well equipped to tackle any small drilling jobs that crop up while you're working.
Bosch Pick & Click Impact Control Sets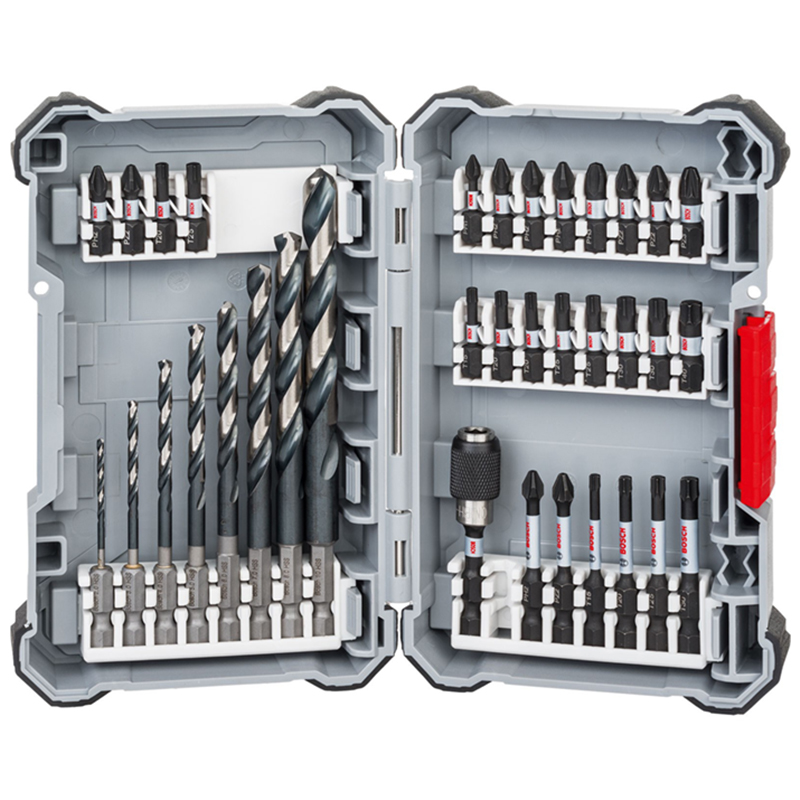 Bosch Pick & Click Impact Control accessory sets let you carry a variety of impact rated accessories in a compact case so you can get all your common drilling and screwdriving jobs done without having to go back to your van or toolbox. The best thing about the Pick & Click series is that the cases are fully customisable and Bosch have released lots of individual Pick & Click modules so you can fill up a case according to your requirements – the modules simply click in or out of a compatible Pick & Click case (of which there are currently two – medium or large). We've got a Bosch Pick & Click Range Page on our website so you can see everything that's available and choose which modules best fit your requirements.
DeWalt Tough Case Impact Accessory Sets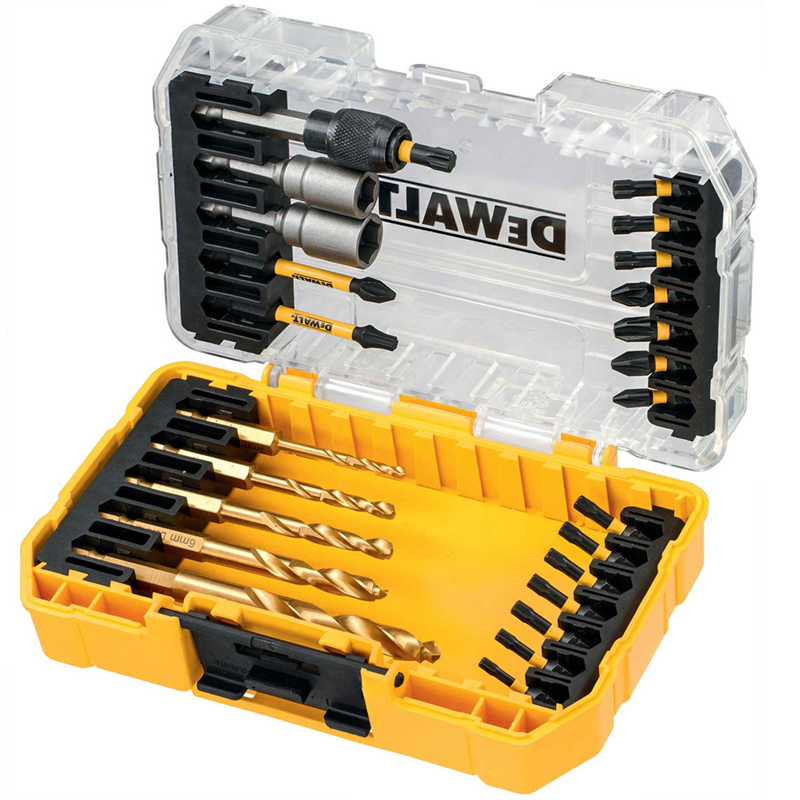 DeWalt also have a fairly large range of Tough Case Impact accessory sets, and although the majority of these are based around different types and sizes of screwdriver bits, a few (like the set pictured above) also include accessories for drilling with impact drivers. The USP of the Tough Case line is that all the individual accessory sets can be easily slotted into a DeWalt ToughSystem caddy, making it easy to keep all your accessories organised and ensuring you can get everything packed away and wheeled off to the next job in rapid time.
DeWalt Impact Flat Drill Bits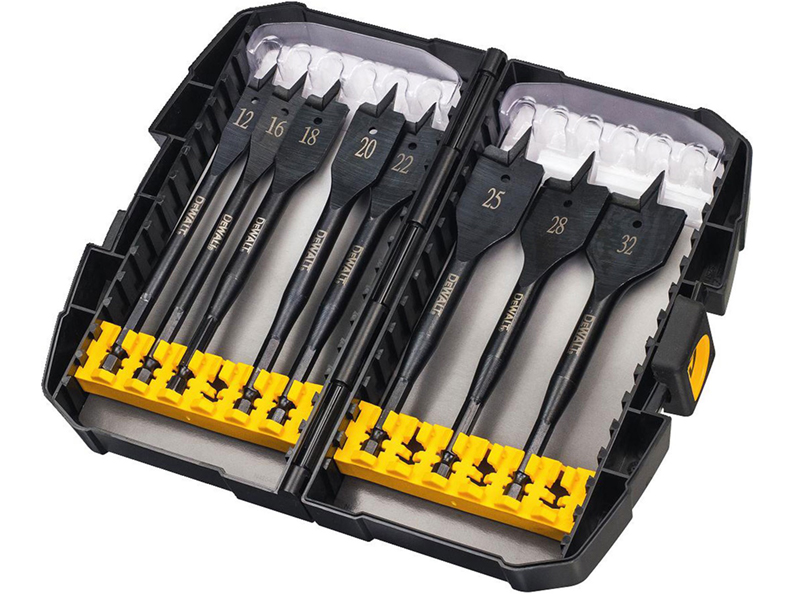 The DT7943B set from DeWalt provides you with impact rated flat drill bits in sizes 12mm up to 32mm. As mentioned before, it is common for these types of drill bit to have a hex shank (the main reason being that it helps to stop then from slipping in the chuck) but it is quite rare to find any that are impact rated and specifically designed for drilling with impact drivers. With this set, however, you're all good to go, and they'll prove useful if you need to sink the heads of larger fasteners beneath the surface of timber when you're driving them in.
DeWalt Impact Hole Saws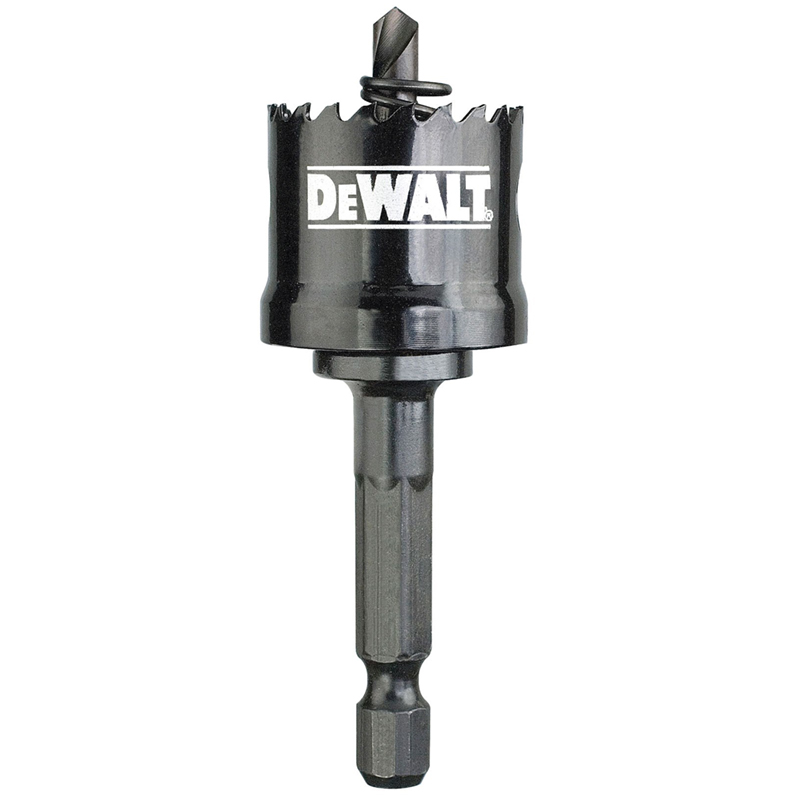 If you want to use a hole saw in your impact driver you can do that too. Dewalt's Impact Hole Saws have a tooth configuration which is optimised for fast drilling into metal and each one has an integrated hex shank and slug ejection spring for quick and easy use every time. They are available in diameters of 19mm up to 35mm.
Milwaukee Shockwave Accessory Sets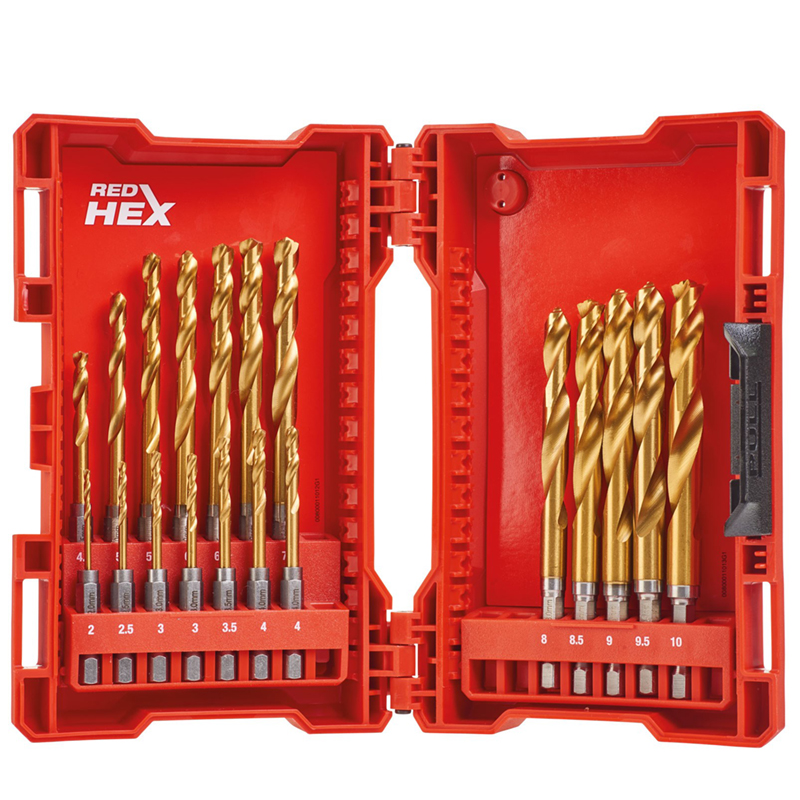 Milwaukee has a whole line of Shockwave accessories specifically designed for impact drivers and the Red Hex Shockwave HSS drill bits are ideal for drilling into metal. As with the other manufacturer's impact accessory lines, most of these accessory sets are primarily based around screwdriver bits, with a small selection of drill bits available for typical applications like drilling pilot holes, though models like the 19 piece HSS set pictured have a comprehensive selection of sizes, often with spare slots to store additional accessories if required.
Milwaukee Shockwave Step Drill Bits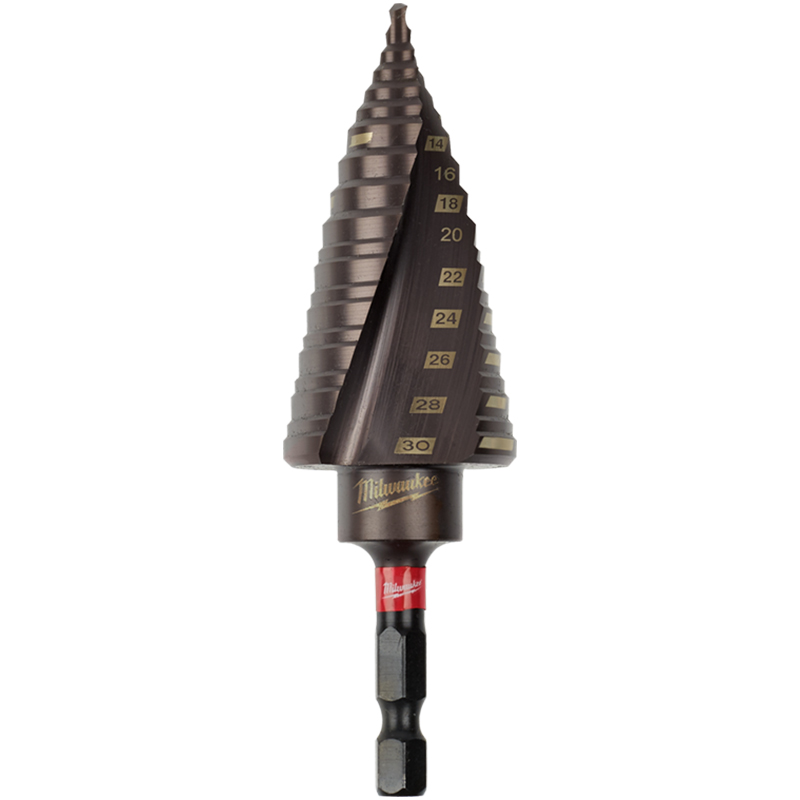 The shockwave range also includes a small selection of impact rated step bits which are ideal for drilling clean, burr-free large diameter holes in metal and plastic. The tips are designed to help with accurate starting and Milwaukee say they drill with up to twice the speed of conventional alternatives. These bits are designed to for a long service life too – they have a Titanium Aluminum Nitride (TiAIN) coating with laser etched markings to ensure you can still read the sizes after repeated use and the slender torsion zone built into the shank enables the bit to flex under heavy loads to absorb potentially damaging levels of torque. We sell these as a three piece set which encompasses a huge range of sizes in a compact and portable case.
---
Categories mentioned in this article: