Eco Friendly Leaf Blower Alternatives?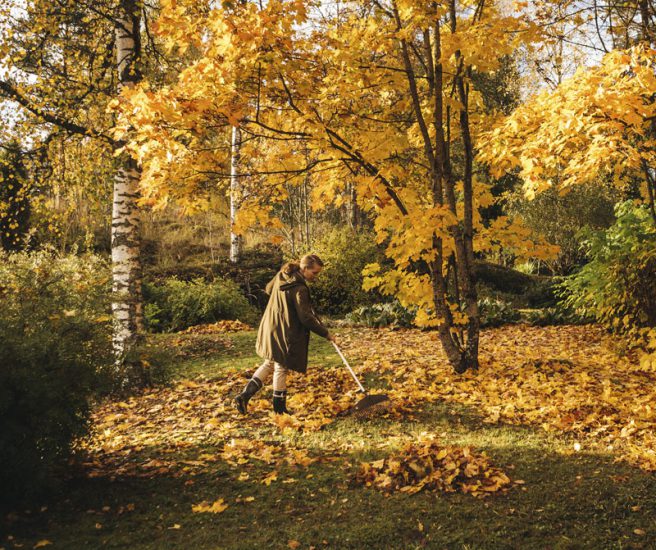 Environmentally friendly and noise-free Alternatives to the Garden Leaf Blower
It's that time of year again when the nights draw in, you start dusting off your winter clothing, and you wake up every morning to see an ever-growing pile of brown leaves building up on the ground outside. You've probably already heard the whine of engines and motors as people power up their leaf blowers to blast this airborne debris off of pavements, patios, driveways and gardens, and there's no doubt that these handy power tools have become a firm favourite with homeowners as well as maintenance teams working to keep outdoor spaces clean and tidy – but you might also be wondering if there are many eco-friendly leaf blower alternatives on the market which will enable you to do the same job without having to rely on petrol or electricity. Well, there certainly are, and we've compiled some of the best ones together in this blog post.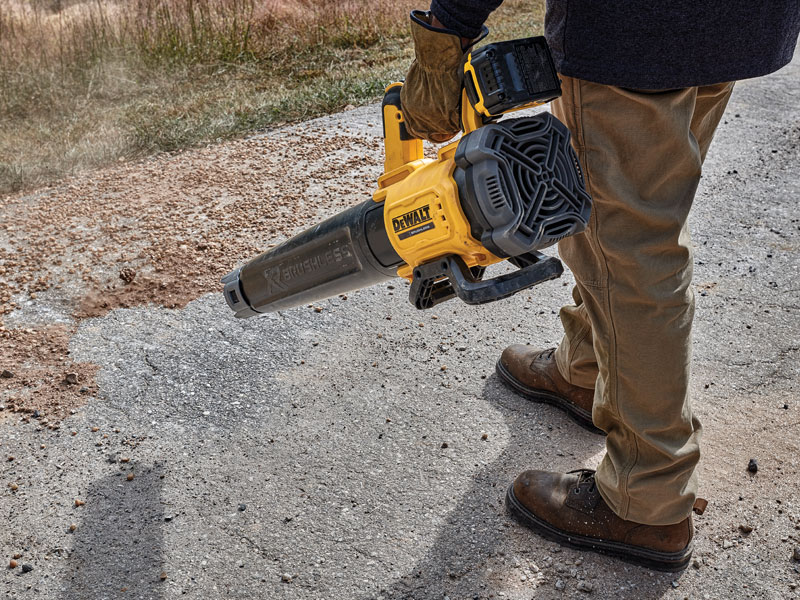 Leaf Rakes
Starting with something I imagine most people are familiar with, the leaf rake is distinct from a soil rake in that it has lighter, less aggressive tines, which are designed to gently dislodge and gather leaves from lawns without tearing the grass.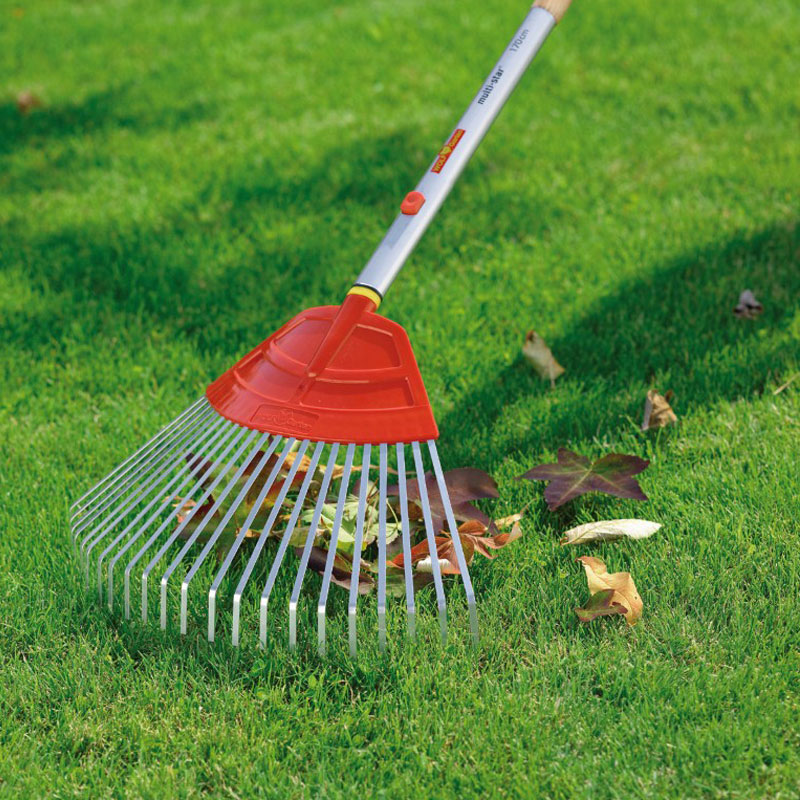 As one of the most common types of rake available, there are a few different designs to choose from – you can get leaf rakes with metal tines or plastic tines, with wide or narrow heads, as well as adjustable types which enable you to spread the tines out for raking in open spaces, or squeeze them together for improved access in narrow areas. You can get them with metal, wooden, or plastic shafts – including telescopic models which can be adjusted according to the height of the user for maximum working comfort. If you're short on storage space, you could always look at an interchangeable system like the Wolf Garten Multi Change or Gardena Combisystem ranges. These pick & mix tool systems enable you to choose a handle you're happy with and then choose from a wide range of separate tool heads which can be simply swapped out as required, enabling you to store your complete garden tool kit in a much smaller space.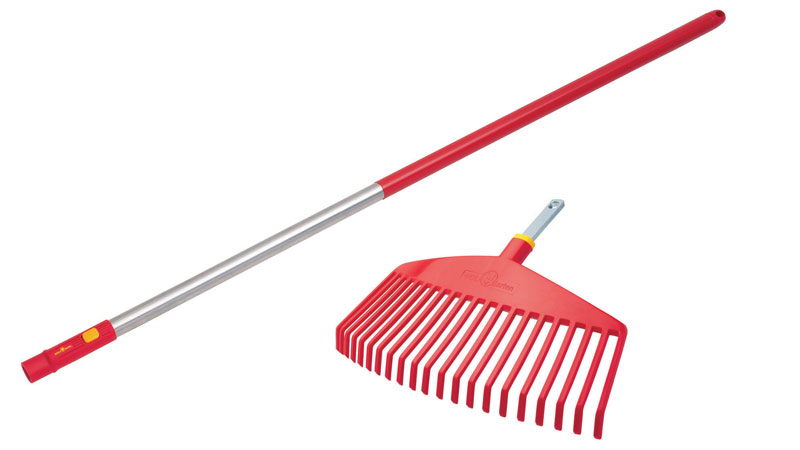 The leaf rake is such a useful tool that you'll probably still need one, even with the most powerful leaf blower at your disposal – for instance when gathering up stragglers or leaves stuck amongst foliage, when it just doesn't make sense to waste time, fuel or battery power. Simply round them up with your trusty leaf rake and it's job done.
Leaf Scoops
Leaf scoops, also known as Leaf Collectors, work a bit like extensions for your hands – you grab onto the handles and then use the scoops to gather up large quantities of leaves from the ground, making a much quicker and easier process of bagging up leaves for disposal or composting. Small, lightweight and easy to store, they are also inexpensive, making them probably the most affordable leaf collecting tool on the market. They work best in conjunction with another tool, such as a leaf rake, for herding the leaves into piles first.
Leaf Grabbers
Hand leaf scoops can require a fair amount of bending down to gather up leaves, so they may not be ideal for older users, or those with back problems. If you'd much prefer to work from a comfortable standing position, you can also get a tool that fulfils the same role but which has long handles and larger scoops, making it possible to grab, lift and deposit piles of leaves with much less physical exertion. The Spear and Jackson Leaf Grabber (also available as a very similar tool in the Kew Gardens collection, which was designed in collaboration with Spear and Jackson) is one of our best sellers here at Tooled Up and they have proved to be a huge success with older customers especially.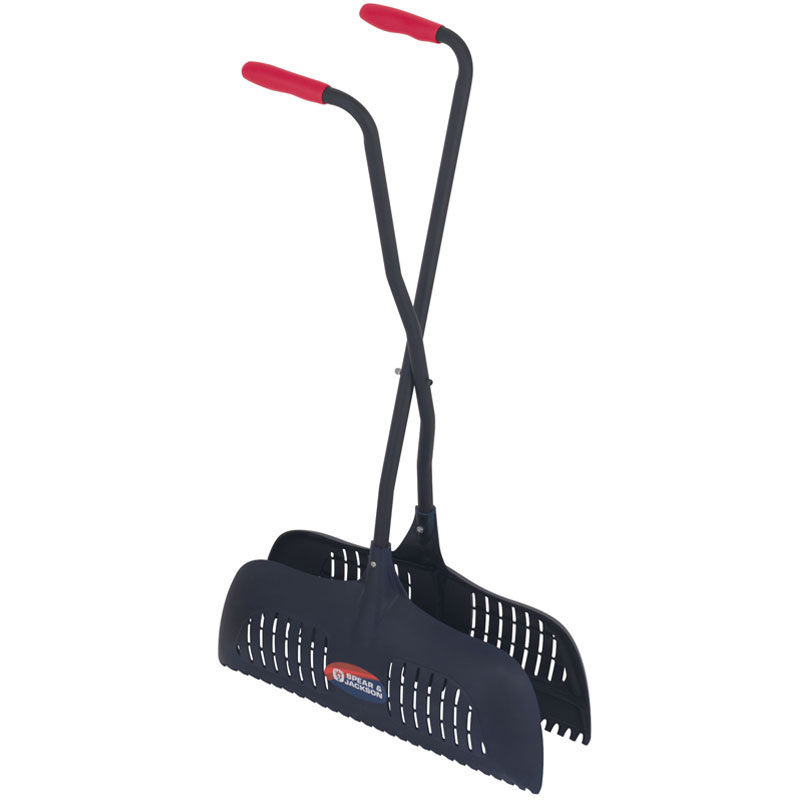 Snow Shovels
Although (as the name suggests) snow shovels are primarily designed for clearing snow, they can also be put to good use shifting leaves in the autumn as well. They are capable of gliding across lawns as well as flat, hard terrain such as tarmacked driveways or pavements, and if you suffer from a large covering of leaves every year, they should enable you to quickly round them all up without much effort at all. The shovel enables you to push large quantities of material, and unlike a rake it also provides you with a way of scooping, lifting and transporting it as required. Plus, once the winter sets in, you'll have a snow shovel too!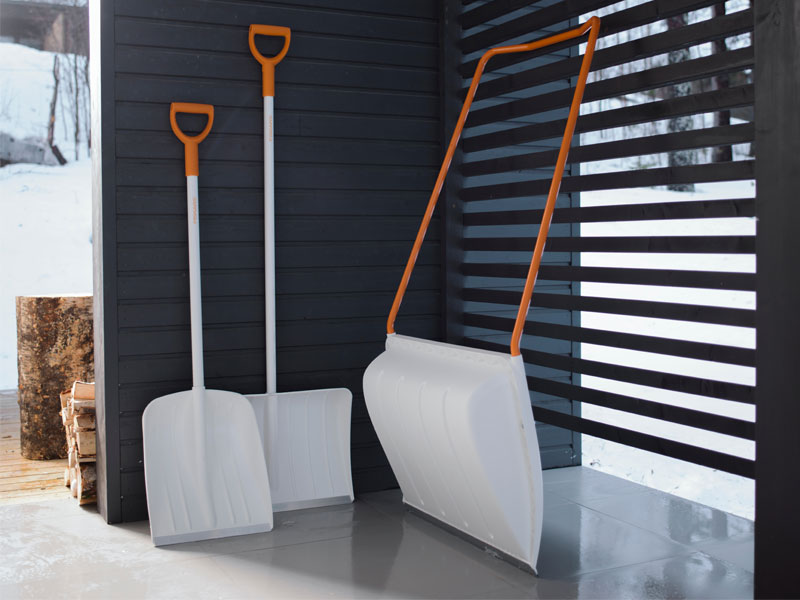 Floor Sweepers
The push floor sweeper is slightly more complex design and on first glance you might assume these machines run on some kind of battery – however tools such as the Karcher S4 Push Floor Sweeper are completely push-powered. You simply roll them over the desired area and the sweeping brushes spin round, flinging the debris into an internal container for disposal. Many businesses make use of these cleaning machines for areas like warehouse floors where they can be used to great effect sweeping up large areas with minimal effort, but they can be just as effective at cleaning patios and driveways too. The great thing about the push sweeper is it gathers the waste for disposal as you work, essentially doing two jobs in one.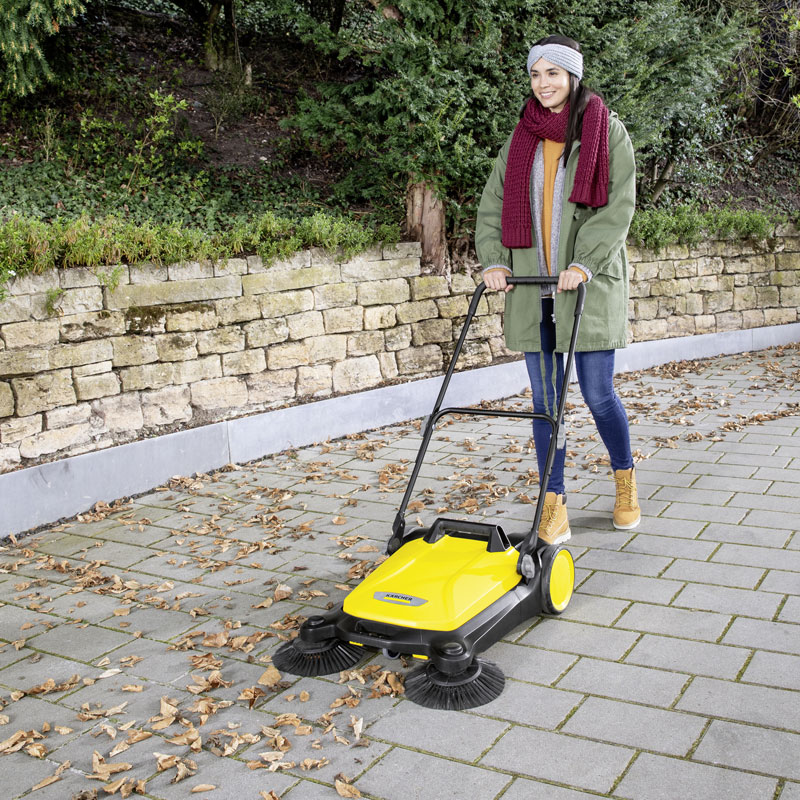 Lawn Sweepers
And finally, for the utmost ease in cleansing your lawn of autumn windfall as well as other surface debris, we have the lawn sweeper. Although similar designs have been around for years, many of which are designed to be towed behind a vehicle, the Gardena Push Leaf collector pictured below has proved to be an especially popular model since it was released a couple of years ago. The Gardena Leaf Collector has a roller with tines at the front which simultaneously rake the lawn and fling the loose material into the large collection container at the rear, so it's just a case of emptying it out whenever it gets full. The push handle means you maintain a comfortable walking position and can cover large areas without any tiresome bending or stooping.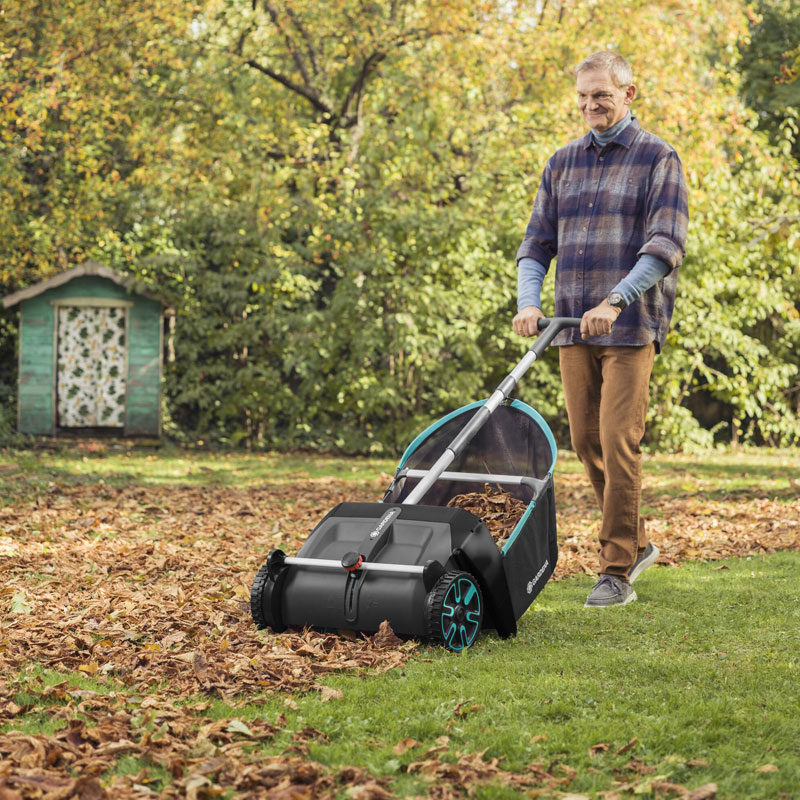 Times When a Leaf Blower is Your Best Option
All the tools mentioned in this article have their own strengths and weaknesses, and likewise there are some occasions where a powered leaf blower is probably going to be the best tool for the job. This includes, for example, when working amongst gravel or stones, when a blast of air can be all that's needed to send the leaves on their way without disturbing everything else in the process.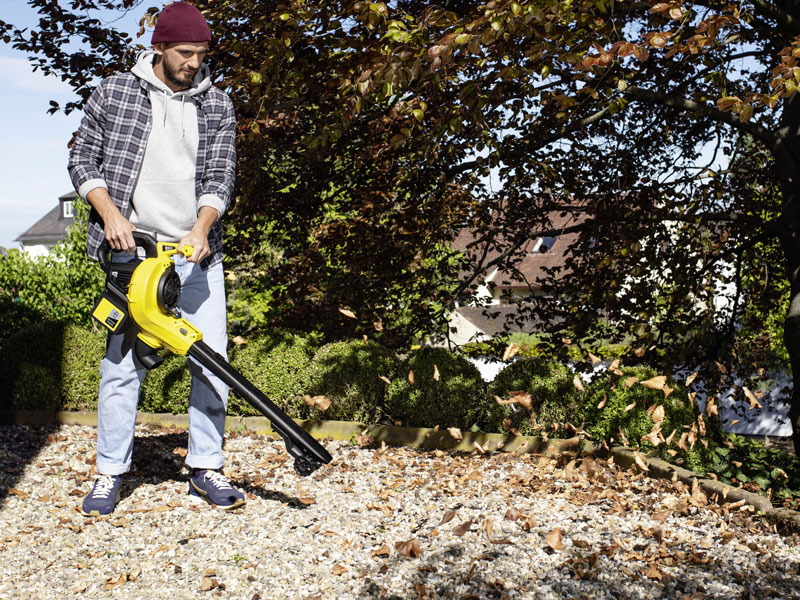 You can also get leaf blowers with additional vacuum functionality with collection bags and internal shredding fans – these are great for collecting and finely shredding piles of leaves as they are compacted down in the process, meaning they can be handled and transported easier, and will break down quicker for use as compost.
So there we have it; whether you're looking to save money, be a little kinder to the environment, or give your neighbours ears a rest, hopefully this post has given you some ideas as to what eco friendly alternatives to leaf blowers are out there. Whatever method works best for you, the good news is that autumn doesn't last forever, and once you've got the last of the windfall cleared up and out of the way you can put your feet up and relax, safe in the knowledge that most of your garden chores are out of the way for another year.
---
Categories mentioned in this article: