Gardena Automatic Hose Reels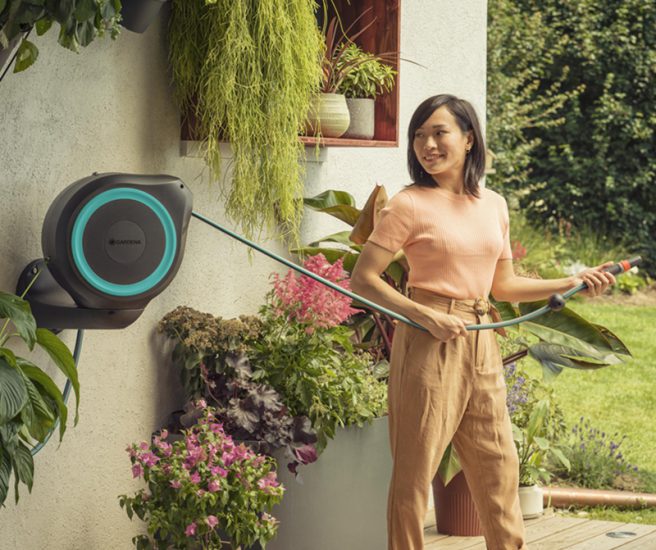 New and Updated Gardena Automatic Hose Reel Range
Hose reels provide a number of useful functions: they keep your hose protected from the elements while it's in storage, shielding it from the deteriorating effects of the sun's UV rays as well as the wind and the rain. They help to keep it out of the way of children and animals, and stop you from tripping over it, and they make it much easier to keep your garden neat and tidy – simply wind the hose back inside the reel when you've finished watering and it'll stay there neatly coiled up until you need it next. In most cases they are wallmountable designs, and the reel itself can be easily detached from the bracket if you need to move it to a different part of your garden or want to store it in a more sheltered location over the winter.
The automatic hose reel has got to be the easiest solution for keeping your hose organised in between uses. Simply extend it out as far as you need it and when you've finished, just give it a tug. It will automatically retract back into the reel, winding itself up neatly and efficiently, without getting kinked or tangled. Gardena are one of the most respected manufacturers of automatic hose reels on the planet and they've recently announced a number of additions to their range for 2021 which we'll take a look at in this post.
Gardena M/L & XL 1/2″ Automatic Wall Mount Hose Reels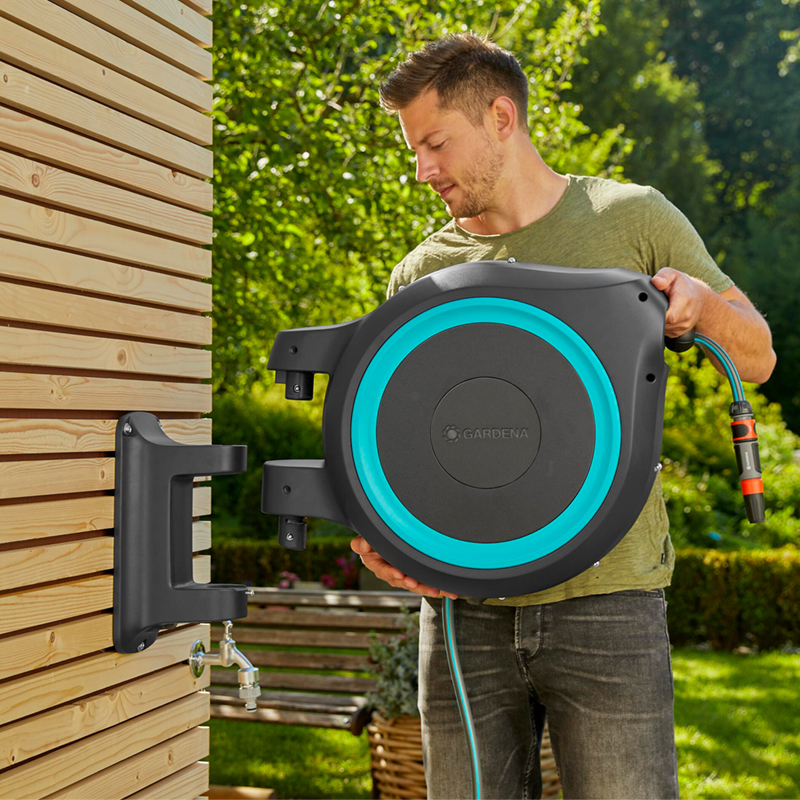 The largest models in the new range, these wall mounting hose reels come with 1/2″ hose in options of 25 metres or 35 metres. Both the M/L and the XL are supplied with wall brackets, mounting hardware, Gardena Original System connectors and a hose nozzle so you're ready to attach them to a wall and start watering straight away. These hose reels are made of extremely robust and durable materials which are UV proof and frost proof, so you can leave your hose out all year round without worrying about it getting damaged by the changing seasons. Subsequently they are designed for permanent installation and also feature anti-theft protection to help prevent any would-be burglars from making off with your brand new hose reel!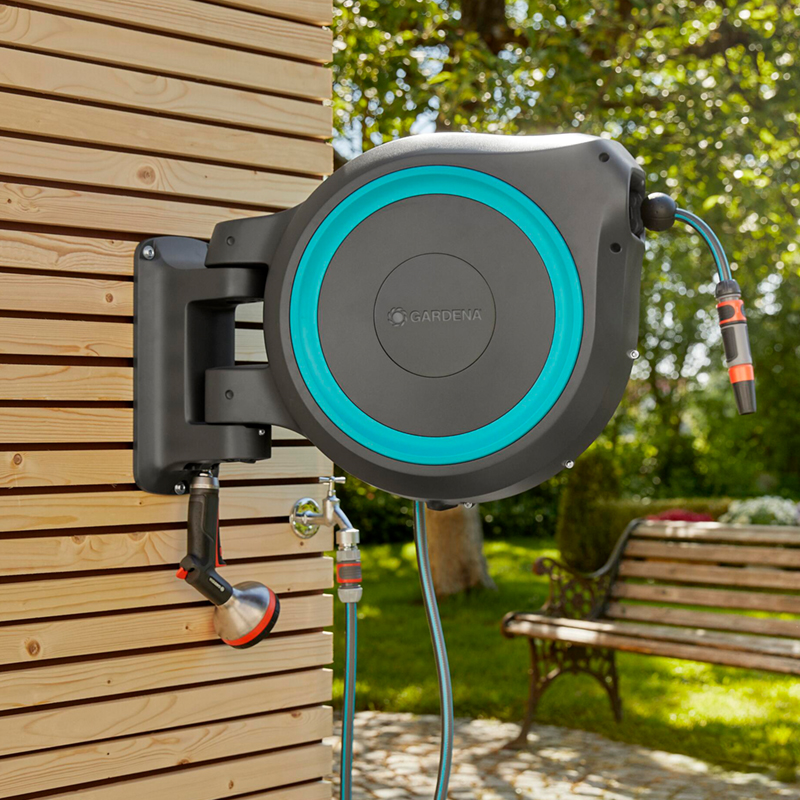 These reels feature integrated storage for additional accessories like nozzles, sprayers and wash brushes, and they are fitted with hose guides which ensure the hose is pulled back in evenly, without kinking or knotting. Both reels are supplied with a 5 year warranty.
Gardena S & M 3/8″ Automatic Wall Mount Hose Reels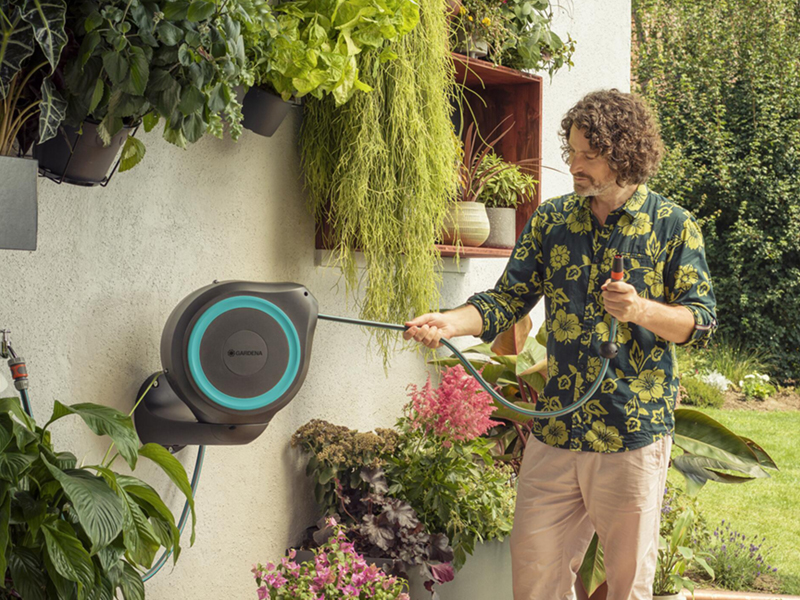 Ideal for smaller gardens, the S & M sized models have a 3/8″ hose which is available in lengths of 15 metres or 20 metres. Like the larger options above, these hose reels are frost and UV protected so you can leave them outside all year round, and they have hose guides for smooth, tangle-free retraction, as well as integrated storage space on the mounting bracket so you can keep all your accessories within easy reach. Supplied with a spray nozzle, Gardena Original connectors and the mounting bracket, these reels both come with a 5 year warranty too.
Gardena Freestanding Automatic Hose Reels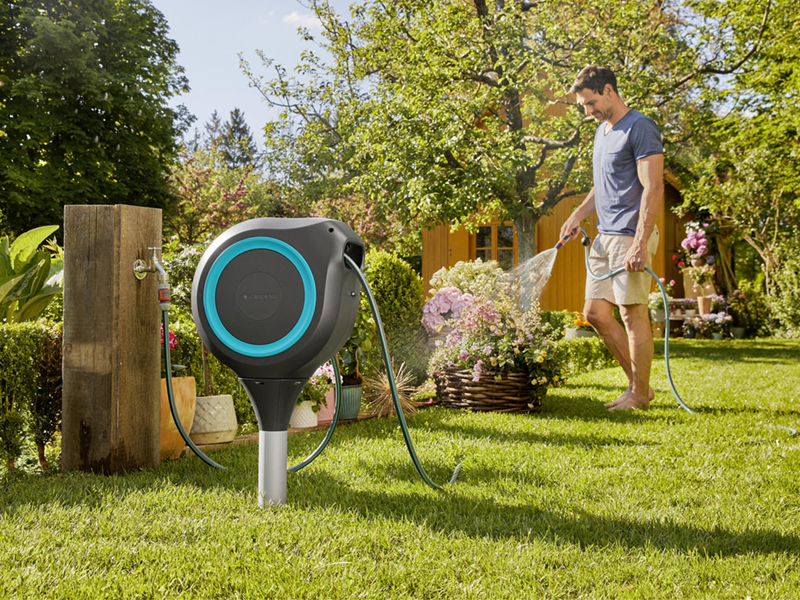 The last model in the new Gardena Automatic hose reel range is not a wall mount design but instead has a large ground spike which enables you to fix it in the ground for freestanding use. This gives you all the convenience of a fixed hose reel without having to drill holes in the wall, making it ideal for rented properties or for use with taps that are further away from buildings. Suitable for mounting into a lawn or into earthy ground like a flower bed, the detachable ground spike is shaped like a giant drill bit and comes with a mounting rod which enables you to turn it until it is fully driven into the ground. This rod can then be stored in the spike so you'll have it to hand if you ever need to reverse it back out of the ground again. Once you've affixed the hose reel on top, you can swivel it through 360 degrees to point in whichever direction you like. So far, the Gardena freestanding automatic hose reel is available in one option, which comes with 20 metres of 1/2″ hose, connectors and a spray nozzle.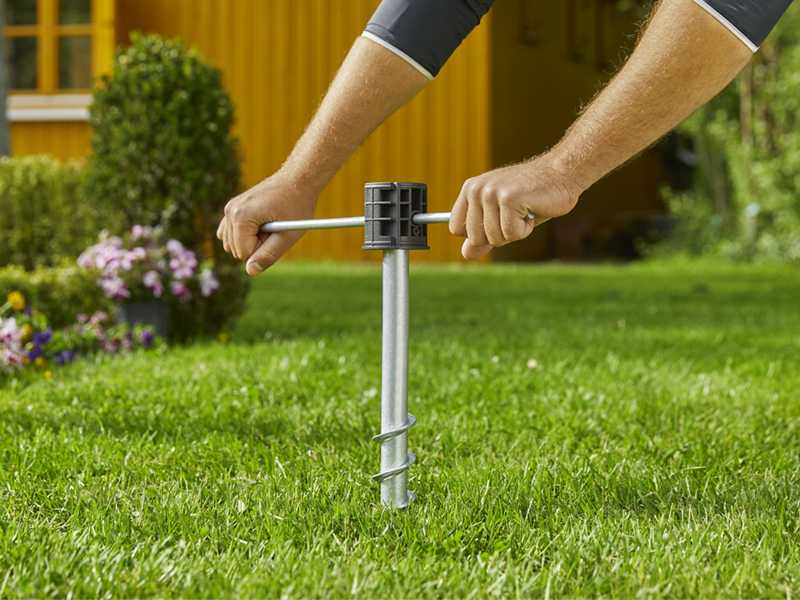 Like the other hose reels in the range, it is made from UV and frost proof materials and is supplied with a 5 year warranty.
Available Now!
To view the entire Gardena Automatic Hose Reel range, and much more besides, take a look at the irrigation and watering section of the Tooled Up website where you'll find plenty of solutions for keeping your garden watered during the warmer months.
---
Categories mentioned in this article: