Karcher Compact k Series Pressure Washers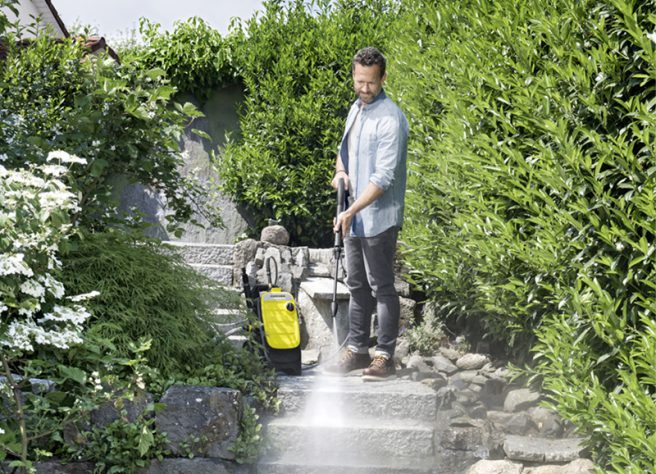 The Karcher K series of domestic pressure washers is an extremely popular range of outdoor cleaning tools and has always featured a variety of sizes to cater to different user requirements and space considerations. However the smaller end of this spectrum has just got a bit of a boost with the introduction of four machines that have received a new "Compact" designation. In this article we'll take an overview of the new Karcher Compact K series and go through some of the features and benefits they bring to the table.
Background
For anyone unfamiliar with the Karcher brand, they have enjoyed a premium position in the pressure washer market since the first machines to bear the logo rolled off the production lines in the 1950s. Karcher pressure washers were originally manufactured solely for industry and commerce, being rugged, reliable and expensive machines that were more of interest to professional cleaning facilities than the average domestic household. However, all that was to change in the 1980s when Karcher, realizing the potential for affordable and user-friendly pressure washers, entered the consumer market with a range intended for the home and garden. Eventually the professional machines all got a new a grey finish and the consumer grade products maintained the distinctive yellow colouring which can be seen in the Karcher Compact K series to this day.
Standard K Series Design Features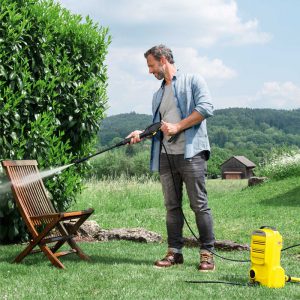 All of Karcher's current domestic pressure washers are part of the K series, each one having a "K" prefix in it's name (for example the new K4 Compact). Unlike the professional range, which features quite a diverse array of machine types, K series machines tend to share a lot of the same design fundamentals. Firstly, unlike some of the 110v and petrol powered professional units, they all come with a standard mains plug for connection to the electrical supply. Pressure washers need water as well as power and K series machines are typically supplied with an adaptor kit for connection to an outdoor tap. As probably the best established pressure washer range in the home & garden market, these machines additionally benefit from a wide variety of available accessories, including an assortment of nozzles, lances, patio cleaners, sandblasting attachments, and drain or gutter cleaning kits, all of which can be purchased from your Karcher dealer for use with your machine. Integrated accessory storage has become a hallmark of Karcher's designs and all K series pressure washers have clips and holders built into them to attach essential components like hoses and lances, making it much easier to store and transport them without misplacing the rest of your equipment.
New Compact K Series Design Features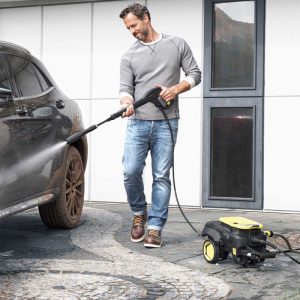 One of the most notable upgrades to the Compact K series (excepting the K2 Compact) is that unlike with previous generations, these machines can be used whilst stood upright or lain down. This increases the scope of their usage, enabling them to be used vertically for ease of access to all controls and placement on narrow spaces like steps, or laid down horizontally for increased stability and placement on raised surfaces. All models in the range have raised front panels which enable the high pressure hoses to be wound around for them for easy access from the front of the machine. They also feature integrated suction hoses for application of detergent. As the name suggests, they are all compact pressure washers which are ideal for storage in space-strapped properties and perfect for use on spaces that might be awkward to access with a larger machine – smaller front gardens, balconies, rooftops and flights of steps for example. Lightweight and easy to carry, they all feature integrated handles for lifting them in and out of storage or carrying them through the house.
The Karcher Compact K series currently consists of four pressure washers: the K2 Compact, K4 Compact, K5 Compact and K5 Compact.
Karcher K2 Compact Pressure Washer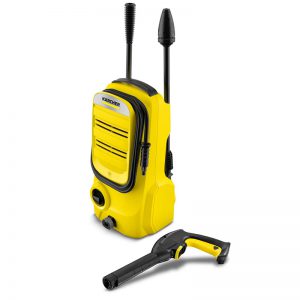 The entry level model in the range, the K2 Compact is the only machine in the Karcher Compact K series which is not designed to be used horizontally due to the location of the hose port on the rear of the chassis. Surely one of the lightest pressure washers in existence at just 3.7kg excluding accessories, the K2 Compact can be transported effortlessly and its streamlined chassis is devoid of features like wheels or hose reels, meaning it can be stowed away in the smallest of cupboards in between uses. Supplied with a choice of two lances, this 1400 watt machine can supply up to 360 litres per hour at 110 bar pressure.
Karcher K4 Compact Pressure Washer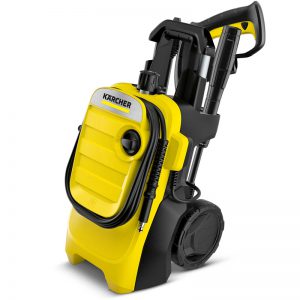 A step-up from the K2 in terms of power and performance, the K4 Compact has a larger chassis and weighs a slightly heftier 11kg. However, like the rest of the models in the range, it is equipped with wheels and a telescopic handle which means it can be pushed or pulled over flat surfaces, while a secondary carrying handle built in to the base of the chassis enables it to be lifted and carried with two hands for a secure and comfortable grip. This 1800 watt pressure washer can supply up to 420 litres per hour at 130 bar pressure. All K4 – K7 Compact models have water cooled motors for reliable long term performance.
Karcher K5 Compact Pressure Washer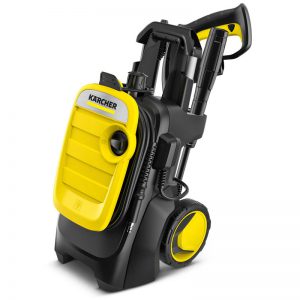 The K5 Compact is a wheeled machine with a telescopic aluminium handle like the K4 Compact but it is marginally larger and its 2.1 kilowatt motor can deliver up to 500 litres of water an hour at 145 bar pressure. It also provides the user with an extended reach, being supplied with an 8 metre hose. This makes it ideal for pressure washing cars and vehicles or larger outdoor areas without having to constantly reposition the machine. At 12kg, it is still lightweight enough to pick up and carry without too much effort and it comes supplied with Vario Power and Dirtblaster spray lances.
Karcher K7 Compact Pressure Washer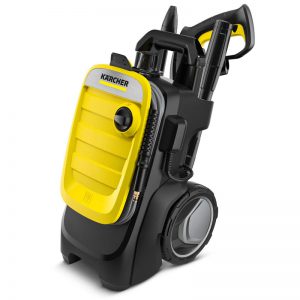 Currently the most powerful and full-featured model of all the Karcher Compact K series pressure washers, the K7 Compact is a 3000 watt machine which can deliver up to 600 litres of water an hour at 180 bar pressure. It comes with 10 metres of anti-twist hose and is suitable for the application of hot water up to 60°C. Like the K4 and K5 models, the K7 Compact comes with a Vario Power spray lance which enables the water pressure to be dialled back for sensitive surfaces or boosted to maximum for intensive cleaning of deeply ingrained dirt and grime.
Karcher Compact K Series Pressure Washers: Conclusion
At the time of writing, spring has sprung and its the time of year when many people start dragging their pressure washers out of storage to begin cleaning up outdoor spaces ready for the summer months ahead. If you're tempted to invest in one of the new Karcher Compact K series pressure washers, the good news is they're all available for purchase already! We stock all of the Compact K series, along with a wide selection of standard K series and Karcher Professional pressure washers on our website. Check out the links below to browse all the options.
---
Categories mentioned in this article:
Karcher Compact K Series Pressure Washers
Karcher K Series Pressure Washers