Karcher HD 4/8 & 4/10 X Pressure Washers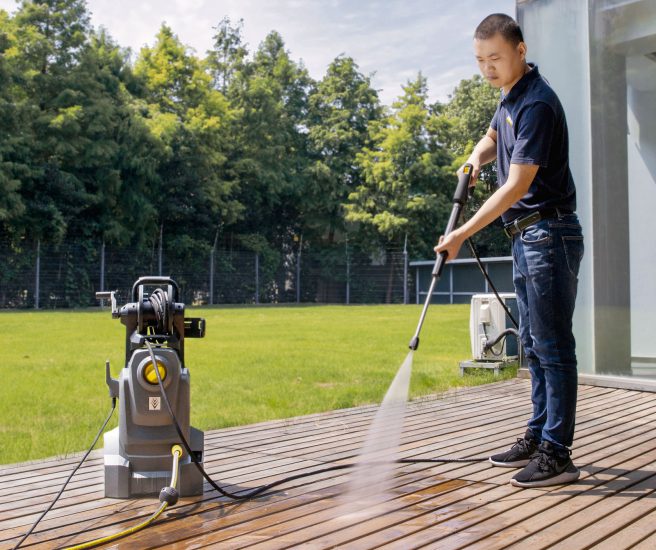 New HD Class Professional Pressure Washers for 2022
For 2022, Karcher have broadened their HD series of Professional washers with two new compact electric models which are affordable enough that they'll probably get lots of interest from the home and garden market as well as from professional users in sectors like construction and agriculture, especially those looking for basic, portable machines to carry out smaller cleaning jobs which don't require a larger professional pressure washer. We offer both of these models in a range of kit options and we'll discuss some of their features and benefits in this blog post to help you decide whether any of them are right for you.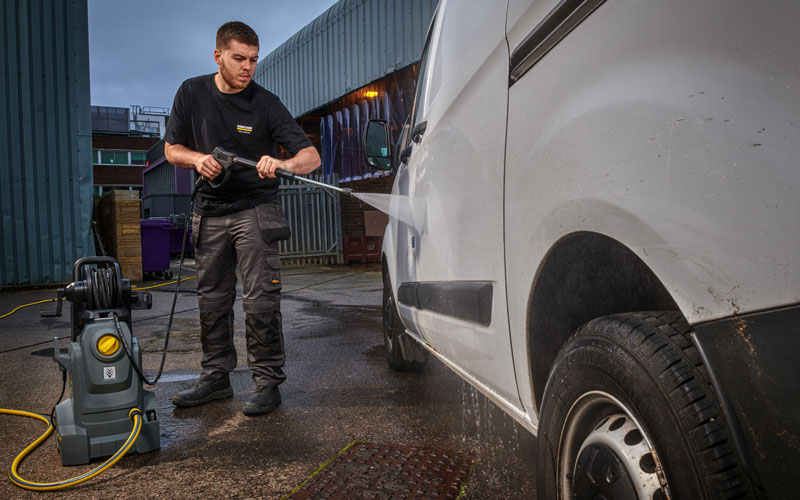 HD 4/8 and 4/10 X Classic Overview
The HD 4/8 Classic and HD 4/10 X Classic have both been designed with portability in mind. Compact and lightweight, with wheels and integrated handles, they can easily be wheeled around larger worksites and will fit into tight spaces, whether you're transporting them in a vehicle or storing them in between uses. Like all Karcher Professional products, they are fully guaranteed for everyday use in working environments and are made with robust, hardwearing and durable professional grade components. On both of these models, this includes an automatic pressure relief system which is designed to protect the hydraulic parts from wear, and long-life motors intended to prolong their service life. At the time of writing they are only available as 240v machines for powering from a standard UK mains socket.
Karcher HD 4/8 Classic Pressure Washer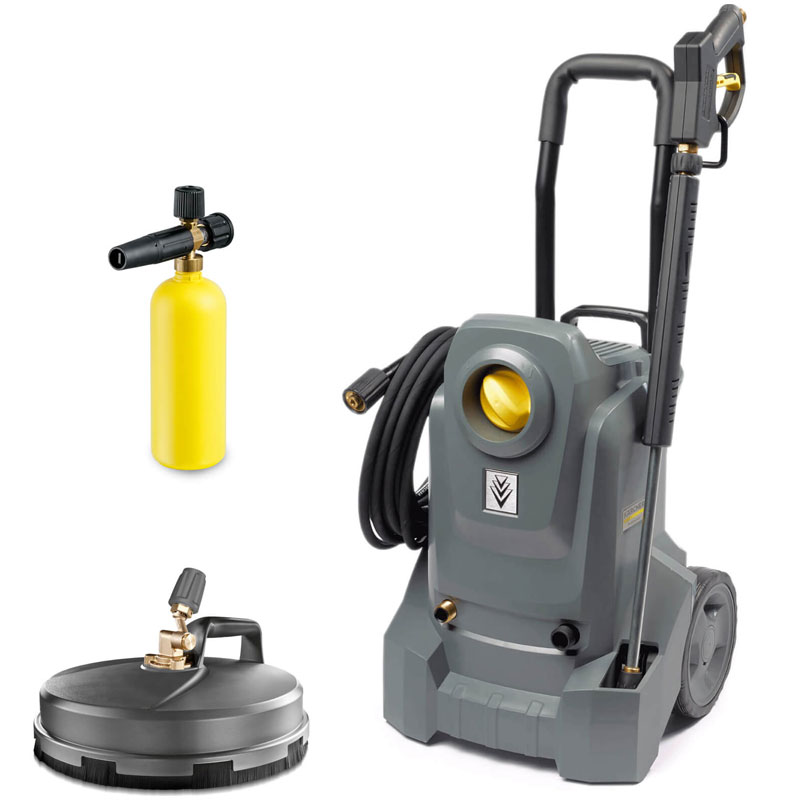 Capable of delivering pressure up to 120 bar and powered by a 1.4kW motor, the HD 4/8 Classic starts a a price point not normally seen in the Karcher Professional range. Karcher recommend it as a suitable machine for professional users and businesses looking for a smaller pressure washer for lighter and occasional work (as opposed to the larger Karcher Professional washers which are commonly used for heavy duty cleaning throughout the day). With an integrated carry handle on the top of the housing, it is also going to be ideal for mobile use around larger sites, especially if that involves going up and down stairs or traversing other awkward terrain. At around 16kg including accessories, it's one of the lightest professional pressure washers on the market and like most Karcher cleaning tools in the HD series, the housing features integrated storage for the hose and the gun so they can be transported along with the machine when wheeling it along the ground or lifting and carrying it.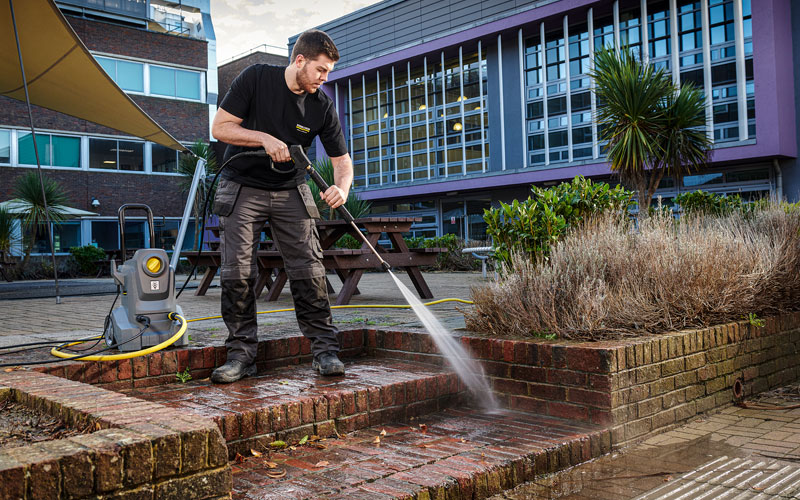 We sell the HD 4/8 Classic as the basic kit (and at the time of writing we have a limited offer on where you can get a free hose connection kit if you purchase one) but we also offer three additional options – the Car Kit, which includes an additional adjustable foam nozzle for applying vehicle detergents, the Home Kit, which includes a hard surface cleaner for walls and paving, or the complete Car and Home Kit which includes the whole package.
Karcher HD 4/10 X Classic Pressure Washer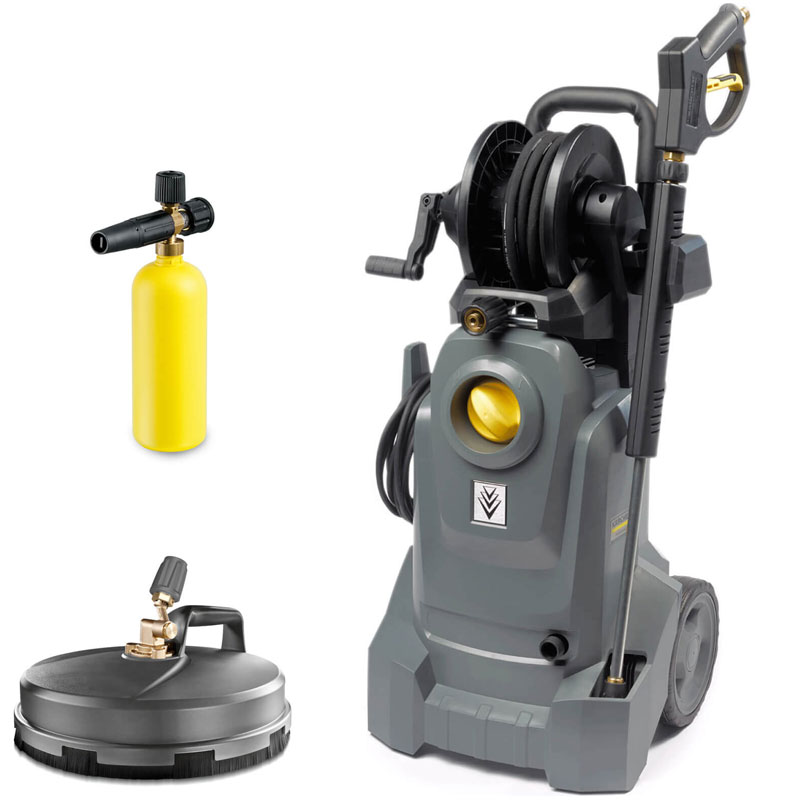 The HD 4/10 X is a slightly higher spec'd machine and most noticeable difference is the addition of a hose reel on the top of the housing. This helps to save time and frustration when starting and finishing a job as by simply cranking the handle you can wind or unwind the hose as required, with the added benefit that the hose stays neatly coiled up, out of the way and ready for use on the machine – something that should also help prevent it from getting snagged, tangled or damaged in busy working environments like construction sites.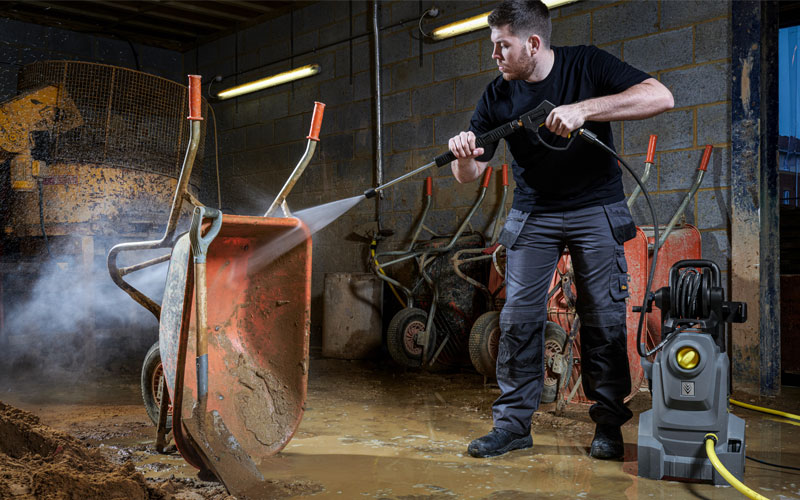 It also has a more powerful motor at 1.8kW and a maximum pressure rating of 145 bar. Due to the extra bulk and weight of the hose reel it won't be quite as convenient to carry as the HD 4/8 but at 18.5kg (including accessories) it shouldn't present much of a problem for most users.
Like the HD 4/8, we offer the HD 4/10 X Classic in four options – there's the basic kit (and likewise, if you purchase one at the time of writing you can get a hose connection kit thrown in free) as well as a Car Kit, Home Kit, or the complete Car and Home Kit.
Conclusion
With these two new models, Karcher are clearly targeting a slightly lower price bracket than the majority of their professional pressure washers, and they are keen to point out that the automatic pressure relief system helps to protect the hydraulic components and ensures a long lifetime with low maintenance and repair costs. One of the benefits of the Karcher Professional system is the availability of spare parts as well as dedicated service centres that can keep these machines operational long after their original purchase date, so either of these models would be a cost effective investment for intermittent or lighter duty cleaning tasks in working environments – however, as mentioned at the start of the article I'm sure they will appeal to plenty of domestic users too. As 240v machines they are powered by standard plug sockets, and the Karcher Professional build quality means they offer a serious upgrade to most of the standard DIY-grade pressure washers on the market – only in this case, there's not such a serious upgrade to the price as well.
Available Now!
The HD 4/8 Classic and HD 4/10 X Classic are both available from Tooled Up now. Why not also take a look at our Karcher HD Pressure Washers range here or view the complete Karcher Professional range of cleaning tools on our website. For more information on Karcher, you can also visit the Karcher website here.
---
Categories mentioned in this article: