Karcher Professional Pressure Washers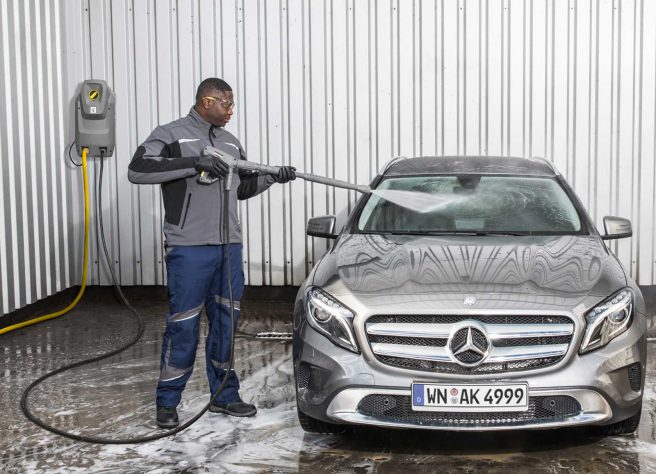 The Karcher Professional Class of High Pressure Cleaners
Karcher are probably the best known manufacturer of pressure washers worldwide, and they split their product range into two classes. The domestic range is what you'll encounter on display in larger DIY and Home Improvement stores, and these bright yellow machines are designed for use around the home and garden. Today we'll be taking a look at the second range: the Karcher Professional class, which is designed for heavier duty use.
Like the other Karcher Professional ranges (which include vacuum cleaners, steam cleaners and carpet cleaners) these machines are easily identified by their industrial grey finish, and although you may see them in use by commercial facilities, they are not as widely available as the domestic class of pressure washers and can only be purchased through a smaller group of selected retailers.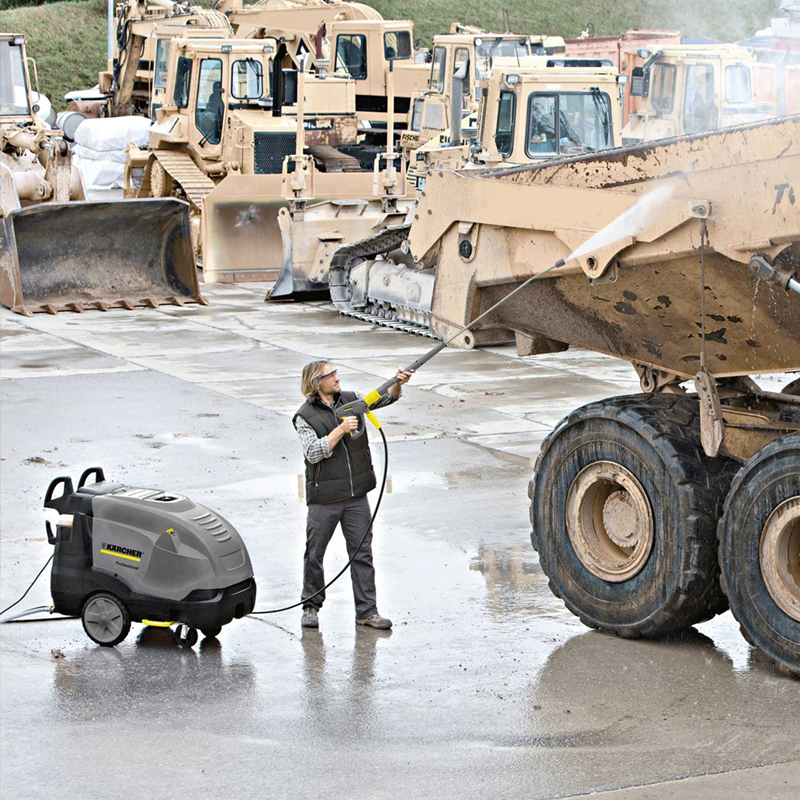 Who are Karcher Professional Washers designed for?
The Karcher Professional pressure washer range is designed for commercial use, and especially for individuals or businesses who need to use a pressure washer on an everyday basis. These demanding users include, for example, those working in garages and vehicle depots, in the construction industry, on agricultural facilities and in heavy industry: however, they are available to anyone, trade or consumer.
Unlike the domestic (yellow) range, all Karcher Professional machines are fully guaranteed for commercial use. As the domestic range is not designed for heavy duty usage, these machines are not covered by warranty if purchased for business purposes. With Karcher's Professional range, you get access to spares, repairs and replacements so that if anything goes wrong with the machine, downtime is kept to a minimum and you can be back up and running without too much impact on your business – in most cases, a comprehensive selection of spare parts will be available for years to come so you can be assured of long term product support even once the machine is out of warranty.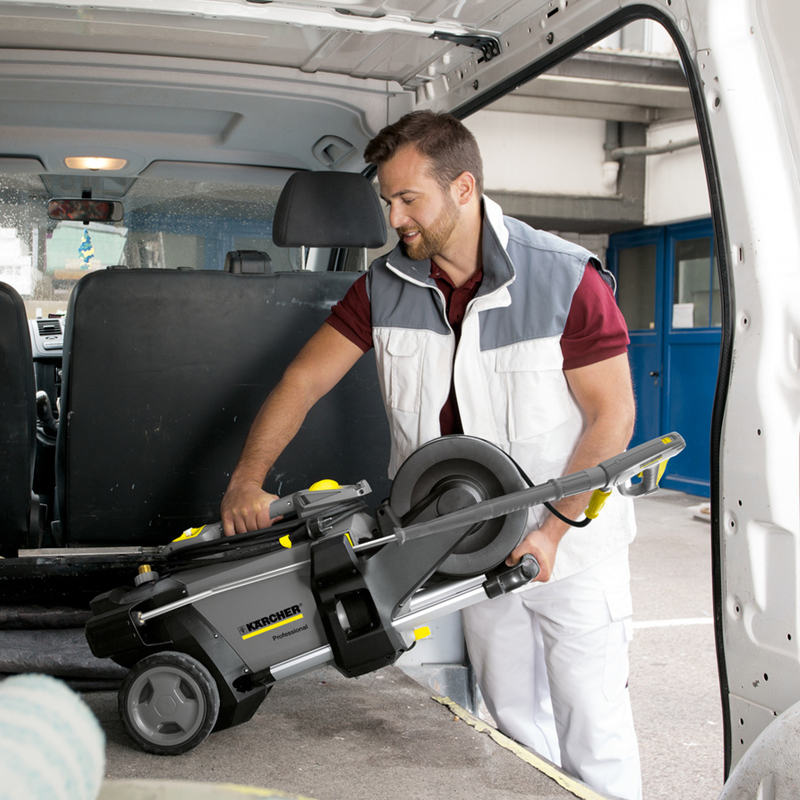 What are the Advantages of Karcher Professional Pressure Washers?
As you'd expect from machines intended for working environments, the Karcher Professional range benefits from robust build quality, with high grade components that have been tried and tested under demanding conditions. But durability isn't the only concern if you use a pressure washer on a regular basis, and Karcher are also continuously looking to improve the ergonomics of these tools: recently they introduced a new Easy!Force gun which is included as standard with all new machines in the range. Once an Easy!Force gun is switched on, the recoil of the high pressure jet pushes a large switch into the palm of the user's hand, enabling them to carry on spraying without holding down the trigger. This makes for much more comfortable working over the course of the day, without painful hand cramps from continual squeezing. When you want to switch off the jet, simply relax your grip and the water flow is shut off instantaneously.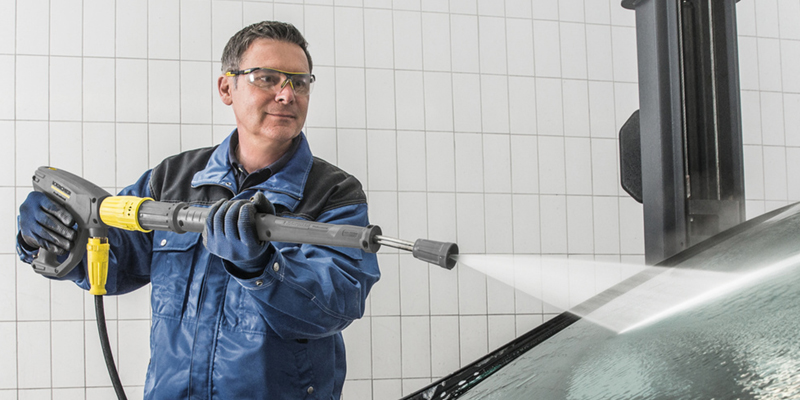 Alongside this new and improved trigger design, Karcher have also recently developed the Easy!Lock accessory attachment system, which makes it easy and intuitive to swap out accessories when required, and enabling you to switch between a wide selection of different lances, nozzles and specialist tools without difficulty.
Karcher know that professional users can't always rely on mains power so they also provide a number of alternative solutions to the standard 240v corded machines. Several models are available in 110v versions so they are suitable for use with step down transformers as used for increased safety on building sites and in other industrial environments. You can also buy Karcher Professional pressure washers which run on petrol, and can therefore be run independently from any kind of electric supply.
Types of Karcher Professional Pressure Washer: Hot or Cold
Karcher Professional pressure washers are split into two main product groups: hot water pressure washers, and cold water pressure washers. The cold water pressure washers operate in much the same way as the kind of pressure washer you'd use around the home, but the hot water machines offer more intensive cleaning capabilities and tend to be larger and more expensive as a result. Hot water delivers powerful, thorough cleaning, and is especially effective on substances like caked on grease, fats and oils which are much easier to wash away after they have been loosened up by heating. When using these pressure washers, you do not have to rely solely on high water pressure to blast everything off, so they can be used to gentler effect on some surfaces. Additionally, the hot water kills germs and dries off much quicker so your equipment is clean and dry in record time.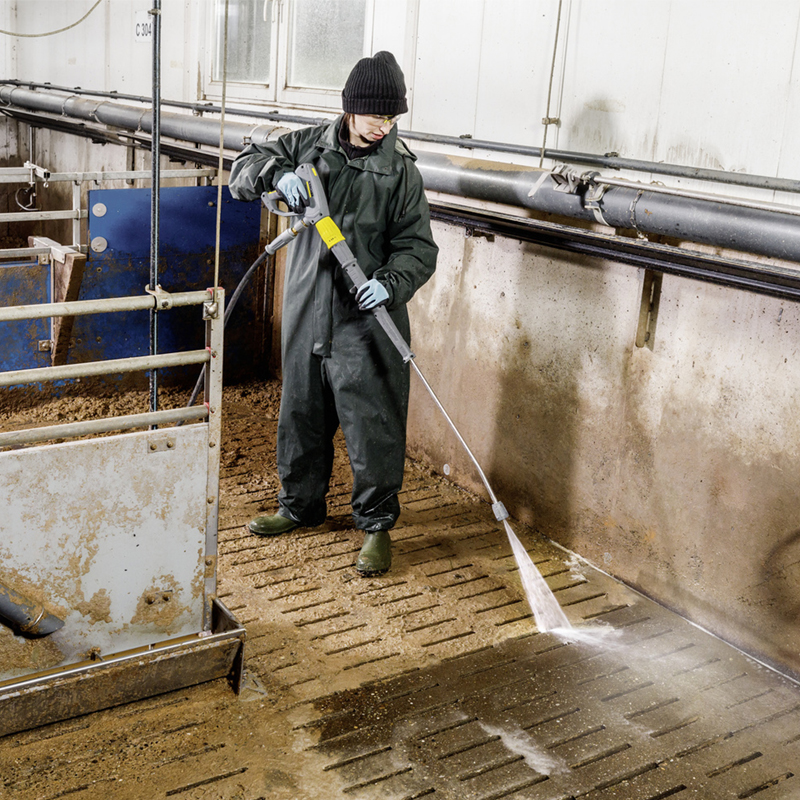 Conclusion
If you need a pressure washer for your business – whether you're or a tradesperson or a multinational company – the Karcher Professional range is one of the best places to start looking. This comprehensive range offers a wide variety of solutions for professional working environments, backed up by a huge selection of accessories, and a reliable spares and repairs service that will help to ensure long term use. You can view the Karcher Professional washers we stock here at Tooled Up by following the links below, and if you'd like more information or advice on choosing the best machine for your requirements, feel free to drop into our trade counter in North London or give our customer services team a call on 020 8805 3535.
For more information on the Karcher Professional range of cleaning solutions, you can also view there UK website here.
---
Categories mentioned in this article: